Took a very basic cheap toy keyboard and turned it into a rad sequenced control voltage input device. Check it out and learn how to do it yourself!
Perhaps the perfect Xmas gift for your kids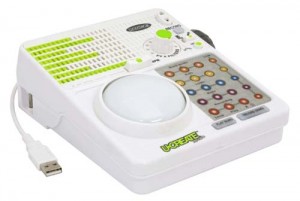 UCreate Music is an easy to use digital musicmaking system that allows kids to become a professional music producer! Kids and teens can express themselves though creating their own songs, performances and remixes with the fun and innovative interface. They can record samples, mix and match loops, share creations with friends and update and explore new content on the music website at myucreate.com. Build from a collection of tracks, special effects and filters from the huge online library.
Something for the kids perhaps

The Critter and Guitari Pocket Piano is one of the coolest toys we've had the pleasure to come across in quite awhile. It's very portable at 10 inches long and it weighs just a pound. The built-in speaker plays nice and loud. You can also run it into an amp or console from the 1/4″ jack on top.

There are six modes: Vibrato Synth, Harmonic Sweeper, 2-Octave Arpeggiator, Octave Cascade, Mono FM Synth and FM Arpeggiator.

There are 4 waveforms: Sine, Square, Triangle and Sawtooth.

The Pocket Piano operates from a standard 9 volt battery or a 9 volt wall wart (positive center).

Thanks to Josh Flynn for shooting the video!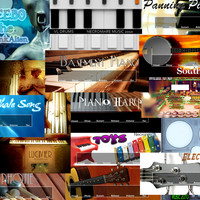 Necromare has released some more free sample-based VST instruments for Windows.
What can I say I love building instruments. I think it's part of being a composer, to finally make the sounds you need and want. I keep coming up with ideas for instruments and there seems to be no end. I already have 50 plus most in the testing stages. Looks like I will be releasing them well into next year.
New Necromare plug-ins
The Panning Piano – Simple piano that automatically pans left and right slowly as you play. Good for filing out a mix. The last octave includes some piano screeches.
Piano Harp – Imagine if you played the piano like a harp? What would it sound like? It would sound like this VST great sound for mystical or romantic moods. Included in the last octave are Gliss samples for effect.
Simple Acoustic Guitar – Straight Foward guitar. Good for picking or sketch work.
Soft Mallet Xylophone – The xylophone played with a soft mallet. Velocity sensitive over 4 octaves.
Toys – Toy Piano, a small scale piano with a tiny sound + an electronic children's piano with baby xylophones instrument.
VL-1 Drum – Drum sounds from the Casio VL-1 keyboard/calculator.
Zeboo Drum Kit – Acoustic drum kit, GM Mapped. The last octaves are samples of Zeboo himself!
Lucivier – The keyboard produces a celesta like tone while pipes produce flute like sounds at the same time. The bottom octave and the last are the sounds produced by using the three pedals on the bottom.
Kazoo – The only instrument you need little to no experience to play. So why not try a VST. It's a bit harsh but fun to knock around with.
Gamelan Music – Three Gamelan instruments: Reyong, Gangsa and Calung.
Electric Bass – Simple Electric Bass, keys are velocity sensitive to give a short note on harder strikes. The upper octaves include a classic bass slide.
Whale Song – Made from CC whale song files. Includes a whale purr, a trumpet, gentle underwater sound fx, and more.
Sinsonic Drums – Like many old toys from the past some have actually been used by pros. Mattel Synsonic drums have been used by kraftwerk and others. This is a knock off the original pays tribute to our toys of a bygone era.
Basement Piano – Most homes might have one of these lurking in there corner basement. An old upright that you may have learned to play piano on or liked to beat on. Either way this pleasant piano will convey a warm nostalgic sound for your next tune.
Southern Banjo – For some there is nothing like the sound of a picked banjo. for others they can do without. This is an attempt to faithfully recreate the sound of a great instrument.
The Necromare instruments are available as freeware VST plug-ins for Windows PC.
More information: Necromare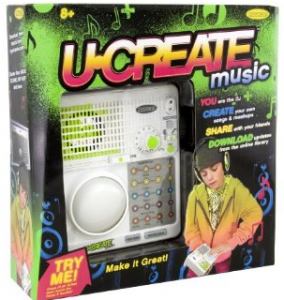 Couldn´t agree more with this guy it truly is an amazing toy, strangely enough it seems to have been built in the 80´s
First of all, I want to thank my sister Fujii for buying my son Nathaniel this cool toy for Christmas…it now belongs to me. It's probably the most advanced and cool little gadget ever. Iphone's got nothing on this!! I've decided I'm going to implement the U-CREATE into my next album! 😀
* Easy-to-use digital music-making system
* Allow kids to mix music just like a music producer
* Kids and teens can express themselves through creating their own songs
* Share creations with friends and update and explore new content on the music website at myucreate.com
* Build from a collection of tracks, special effects and filters from the huge online library
Anyways, check out this beat I made in 2 mins with this kid toy. Oh how I wish I were a DJ.
Five modified toy pianos circulate the gallery on five elevated wooden tracks. Each piano is equipped with small speakers to play amplified sounds picked up from conductive tape on the tracks. Each piano also contains small motors which intermittently spin to strike the toy pianos' tone bars, adding acoustic elements to the overall soundtrack of the work. The installation also features five video monitors, which display images of five different real landscapes to compliment the abstract landscape of the wooden tracks. As the pianos begin to move around the gallery, these video landscapes are also populated by a seemingly infinite stream of mobile pianos. The video documentation composites footage of the installation in the gallery with footage shown on the monitors within the installation. This work was originally exhibited at the Museum of Contemporary Art, San Diego.

Toy Instruments comprises an eye-popping collection of musical toys from around the world made between the 1950s and today. Culled from author Eric Schneider's personal collection, Toy Instruments is the first book to explore this niche of the toy industry doing so with an informative and humorous approach. With an intro from the author and a foreword from world-renown experimental electronic and hip-hop musician Paul D. Miller a.k.a. DJ Spooky That Subliminal Kid, the book collects the toy instruments you may remember from your past, and the wacky ones you'll find hard to believe ever existed.
From the late 70s to the early 80s, the heyday of these bleeping, chirping, thrumming and keening devices, while children were busy driving their parents crazy with battery-powered sounds, adults were incorporating the unique tones into the earliest samples of electronic music and techno. And, just as dazzling as the cacophony of sounds produced by these toys are the designs of the toys, as well as their packaging. Made all over the world, the predominately gender-neutral design applied to the products and packaging is at times more fascinating than the toys.