Toys can be useful sometimes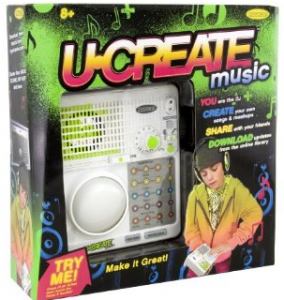 Couldn´t agree more with this guy it truly is an amazing toy, strangely enough it seems to have been built in the 80´s
First of all, I want to thank my sister Fujii for buying my son Nathaniel this cool toy for Christmas…it now belongs to me. It's probably the most advanced and cool little gadget ever. Iphone's got nothing on this!! I've decided I'm going to implement the U-CREATE into my next album!

* Easy-to-use digital music-making system
* Allow kids to mix music just like a music producer
* Kids and teens can express themselves through creating their own songs
* Share creations with friends and update and explore new content on the music website at myucreate.com
* Build from a collection of tracks, special effects and filters from the huge online library
Anyways, check out this beat I made in 2 mins with this kid toy. Oh how I wish I were a DJ.
Comments