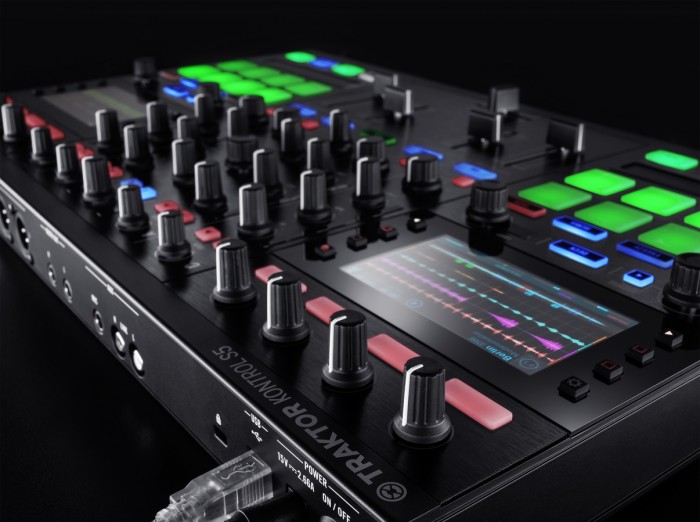 Native Instruments has announced Traktor Kontrol S5, the latest all-in-one DJ system and the next step in the evolution of creative, on-the-go DJing with Traktor.
With a compact size and solid construction, TRAKTOR KONTROL S5 puts familiar hardware control, fluid touch-and-see workflow, and Stems* compatibility into a modern DJ experience. TRAKTOR KONTROL S5 builds on hardware design made popular by the revered TRAKTOR KONTROL S4, with innovative modern technology in a portable format made to feel instantly familiar in the hands of any DJ. TRAKTOR KONTROL S5 will be available online and at retailers worldwide on October 1, 2015.

TRAKTOR KONTROL S5 is designed to provide everything DJing demands – modernized by advanced touch-and-see workflow. The mixer section features key controls such as four channels with EQ and Filter controls, and FX assigns. Touch-sensitive controls bring smart views, performance modes, and pop-up panels to life on two full-color displays – touching an effect knob for example, instantly reveals and hides a deck's FX values. TRAKTOR KONTROL S5's deck types also switch intelligently to match the track, Stem file, or Remix Set being loaded into the included TRAKTOR PRO 2 software. Live remixing with enhanced Remix Decks workflow is seamless – loops can be captured from a running track to instantly sample, for example. And cueing, nudging, or seeking through tracks is made simple and precise with motion-sensitive touch strips that respond naturally to finger swiping.

TRAKTOR KONTROL S5 becomes the fourth addition to the family of Stems-ready TRAKTOR controllers, integrating powerful, customized control of Stems – the open audio format for creative DJ performance.
The Stem View shows Stem files as 4 color-coded, stacked waveforms on the displays. The 16 performance pads map and color-match automatically to each stem when a Stem file is loaded. DJs can mute and unmute different musical elements with the pads or control volume, filter, and effect routing of individual stems, creating spontaneous a cappellas, instrumentals, and mixes that make DJ sets stand out.

TRAKTOR KONTROL S5's compact build and essential on-board connectivity make the unit ideal for mobile professional use. Built using the same premium standards as TRAKTOR KONTROL S8, TRAKTOR KONTROL S5's build quality is designed to resist heavy touring. And it measures to the same size as the popular TRAKTOR KONTROL S4, allowing for protected transport with the TRAKTOR KONTROL S4/S5 FLIGHTCASE**. The built-in 24-bit/48kHz audio interface features both XLR and RCA master outputs, plus one ¼ inch booth output to connect the unit to any type of sound system. And the independent stand-alone RCA or ¼ inch AUX channel input can be used to connect a mic, MP3 player, or any additional line-level device.
Traktor Kontrol S5 will be available on October 1st, 2015, priced at $799 USD / 799 EUR / £579 GBP. Preorder is also available.
Native Instruments has announced Traktor Kontrol D2, the next-generation pro deck controller for Traktor Pro 2.
Designed for creative DJ performance that takes the DJ's focus away from the laptop, TRAKTOR KONTROL D2 offers groundbreaking touch-and-see workflow in a compact format optimized for easy set-up with club equipment. TRAKTOR KONTROL D2 will join TRAKTOR KONTROL S8 as one of the first DJ hardware controllers to support Stems* – an upcoming, open audio format that allows multi-channel mixing with individual musical parts. Robust, lightweight, and compact, the D2 is the ideal performance deck for the touring DJ.

TRAKTOR KONTROL D2 creates a multisensory DJ experience thanks to its touch-and-see technology. Tracks appear on a full-color display as vector waveforms while several key views and pop-up panels are revealed when a corresponding control is touched. The Browse Knob for example, triggers the Browse View for track selection directly from the controller. Performance Panels appear over track waveforms to view and modify BPM, key, filter, or effect values when activated by touch-sensitve knobs. And an LED-guided touch strip provides motion-sensitive pitch bending, track seeking, vinyl scratch emulation, and keeps track of phase in dark environments.

TRAKTOR KONTROL D2 naturally delivers enhanced TRAKTOR deck functions that empower pro DJs to develop their own trademark sound. Samples and loops are easily accessible for mixing with the four dedicated Deck faders when using a Remix Deck. Eight color-coded pads can trigger sounds, juggle cue points while in Hotcue Mode, or rearrange a playing track on the fly in Freeze Mode. Similar to Remix Deck usage, the D2's touch-sensitive performance knobs and faders will instantly correspond to a loaded Stem file's different 'stem' parts.

Designed to minimize bulk and setup time, TRAKTOR KONTROL D2 is highly transportable for DJs on the go. The lightweight, yet robust build features four foldable rubber-padded feet that extend to raise the unit to industry-standard height, or incline it for contoured comfort. Though one D2 alone can navigate through two TRAKTOR decks, two USB ports found on the rear panel allow a second D2 to be daisy-chained to one computer USB port for a two-unit setup. Connections are further simplified with an included power supply splitter cable that allows two units to be powered using one power supply unit.

Fueling the technology behind TRAKTOR KONTROL D2 is the included TRAKTOR PRO 2 software. An innovation in and of itself, TRAKTOR PRO is the award winning DJ software used by countless professionals. Four software decks, over 30 studio-grade effects, and powerful advanced features for creative looping and cueing have provided DJs all over the world with inspiring and customizable DJ possibilities.

TRAKTOR KONTROL D2 will be fully compatible with Stems on public release of the format in summer 2015.
Traktor Kontrol D2 will be available for $499 USD/499 EUR/£429 GBP on May 4th, 2015. Preorder is also available.
A new audio format from Native Instruments has been announced that allows DJs to break apart tracks into individual elements: get all of the details here: http://wp.me/pa1fv-bYb
Stems is an open audio file format that basically stores four 'stem' tracks (for example – bass, drums, melody & vocals) along with the full mix. The format is designed to simplify live remixing of tracks, because it provides a standard way to deliver remix-friendly audio.
When playing a track, the Stems format makes it easy to do drop out any of the four stem parts. Native is aiming at broad adoption by making Stems an open format. They also plan to release a free tool for creating Stems files, Stem Creator Tool.
Two things make Stems notable:
It's being introduced by Native Instruments, one of the leading creators of DJ software and hardware; and
It's an open format, so that it can be freely supported by musicians, labels and other hardware and software manufacturers.
A revolution is underway: Mixfader is the first connected crossfader provided with a dedicated DJ app that dematerializes the classic turntables on any smartphone and tablet. Anyone can now mix and scratch anywhere and anytime.
Designed by sound engineers in collaboration with professional turntablists, Mixfader is both an intuitive and powerful solution that meets professional requirements.
Control your crossfader as a pro to create perfect sound cutting and original compositions through returning movements.
Create your own routines by reinventing scratching and mixing techniques. You have never been so close to become the next C2C.
Facebook: https://www.facebook.com/Mixfader
Google+: https://plus.google.com/u/5/110485939…
Website: http://www.edjing.com/mixfader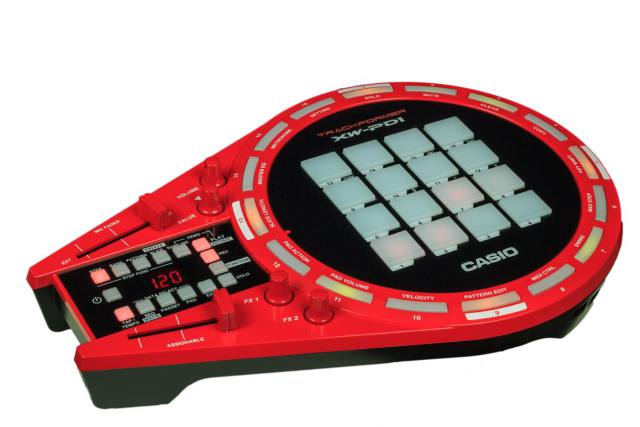 Casio has introduced two new Trackformer DJ products, the XW-DJ1 DJ Controller and XW-PD1 Groove Center. 
XW–PD1 Groove Center
The XW-PD1 Groove Center, above, is equipped with the sound engine from Casio's XW series of synthesizers The XW-PD1 design includes 16 velocity-sensitive pads and 4 knobs for fast real-time music production.
The XW-PD1 features an outer ring containing 16 buttons, which let you visualize the current rhythm pattern at a glance. Users can create rhythms and phrases with the pads as well as apply DSP effects such as roll, filter, bit crusher, break, and pitch shifter.
The XW-PD1 includes drum sounds for a variety of electronic styles, including Hip Hop, Trap, and House. It also features a synthesizer engine, a variety of effects and can sample sounds.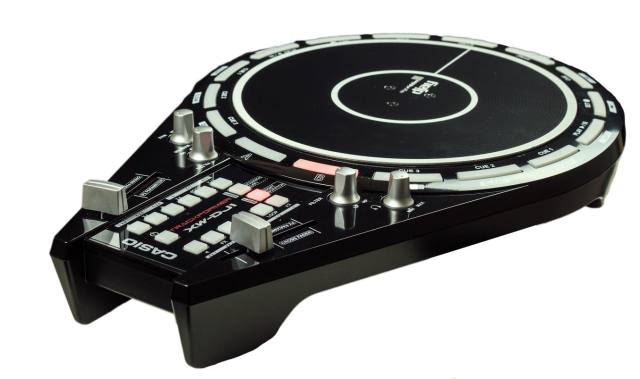 XW–DJ1 DJ Controller
Casio's XW-DJ1 DJ Controller, above, features a 7-inch platter that provides the feel of an analog turntable, filter controls and cross fader. The XW-DJ1 is compatible with Algoriddim's djay2 apps.
The XW-DJ1 integration with djay2 provides direct controls for cue points, tempo sync, effects and looping. Additionally, the XW-DJ1 is portable because it is battery-powered and offers a built-in-speaker.
The two Trackformer controllers can also be used in tandem. The audio output of the XW-DJ1 can be connected to the audio input of the XW-PD1. This lets users do remix performances, using the unique capabilities of each product.
Pricing and Availability
The XW-DJ1 DJ Controller will be available, beginning January 2015, for an MSRP of $299.00.
The XW-PD1 Groove Center will be available beginning March 2015 for an MSRP of $399.00.
This Model DJ claims to be using Traktor, not overly convinced we must say
Remix your tracks like never before with the new SuperSlicer for Traktor DJ. Slice-up your tracks and rearrange your loops using Scratch, Brake, Reverse, Slice or even Pitch-shift effects.
TRAKTOR DJ 1.5 for iPad is now available at the iTunes App Store.
http://ow.ly/kzEGz
Also available for iPhone.
http://ow.ly/kzEzo
Product description: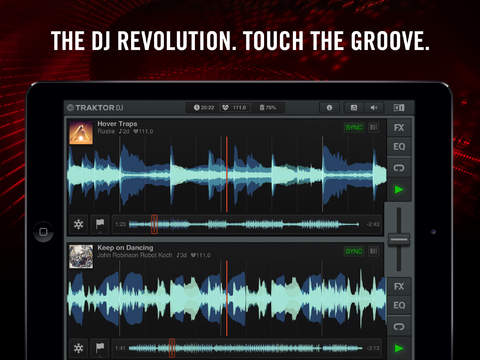 The world's #1 pro DJ software brings high-impact DJing to iPad. Touch your tracks and create stunning mixes in seconds.

"Incredibly well designed and packed with great features." (WIRED)
"Traktor DJ for iPad is better than turntables." (Gizmodo)
"It's wonderfully tactile and a lot of fun." (The Guardian) 
"Traktor DJ brings real DJ tools to the masses." (The Verge)
"They worked on every little detail to get the app just right." (Loop Insight)

///ABOUT TRAKTOR DJ

– Revolutionary DJ app by Native Instruments – makers of the leading pro DJ software
– Touch the groove using familiar iPad swipe and pinch gestures
– Familiar DJ mixer layout with crossfader, 3-band EQ, and filter on each channel
– Direct access to your iTunes music library from TRAKTOR DJ
– Stylish waveform display allows for simple looping and ultra-tight scratching
– Intelligent browser recommends songs based on compatible tempo and key
– Automatic tempo and key detection plus BPM sync for super-smooth mixing
– Innovative Notification Center gives you in-app access to essential tips and undiscovered techniques
– 8 built-in pro DJ effects including Reverb, Delay, and dramatic glitch effects like BeatMasher
– Plug-and-play integration with hardware controllers TRAKTOR KONTROL Z1, TRAKTOR KONTROL S2 and S4
– External mixer mode for sending individual deck outputs to separate mixer channels (if used with TRAKTOR hardware or splitter cable)
– Use TRAKTOR DJ CABLE for pre-listening to the incoming track before the crowd hears it
– Enhanced time-stretching, powered by élastique efficient V2 engine by zplane.development
– New Flux mode – remix your tracks live, then drop back in at exactly the right moment
– Record your mixes live in high-quality on the iPad and share with your friends
Serato has introduced Serato Flip, a new Expansion Pack for Serato DJ that allows you to create custom edits, extend and re-imagine your music.
Available this September with Serato DJ 1.7 – Flip allows you to record your cue point and censor actions which can be saved and looped, ready to re-trigger and start an instant. Use Serato Flip to create and save up to 6 Flips per track, ready for playback in the studio or the club.

The original idea of being able to record and playback cue point information in a simple way was first pitched to us by NZ producer P Money, who was already using Serato to put beats together by manually triggering cue points.

Not only a great beat sketch pad, Serato Flip can also be used as a powerful DJ tool. The simple, yet effective control set designed with the DJ in mind allows you to use it in your set in a number of ways:

Make clean edits of your tracks by recording censor actions.
Extend intros, breakdowns or outros for better mixing.
Create transition sections in your songs for changing tempo or beat structure.
Advanced tone-play and performance.
Auto-skipping verses or choruses in songs.
Making beats.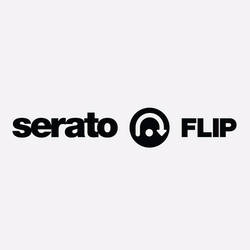 Serato Flip features
Record Cue Point & Censor Automation — Click record once to arm recording. Once you hit the first cue or censor, recording begins. Hit record again to set the end point of your Flip.
Prepare & Edit Tracks In Offline Mode — Use Serato Flip without your hardware connected.
Flip Saving — Save 6 different Flips per track. Serato Flip information is saved to your tracks metadata and doesn't edit the audio of the track. You can delete cue points and your Flip will still be remembered.
Hardware Controls, Keyboard Shortcut & Midi Mappable — Control Flip directly from your computer or your controller with a keyboard shortcut and hardware controls being mapped for supported current and future hardware. Flip controls are also MIDI mappable for use with the MIDI controller of your choice.
Looping / Loop Snap — Choose whether your recorded Flip plays through once or loops. Select whether your looped Flip will snap to an end-point that's on beat with your track.
Recall and Replay — Turn Flips ON / OFF and start your Flip on track load or whenever you like.
Make perfect edits — Platter movements aren't recorded so you can move the platter to an exact point and trigger a cue point to make the perfect Flip.
Name your Flips — Just like Serato DJs nameable Cue Points you can also name your Flips. The name of your Flip will appear in the deck info area when the track is loaded.
Serato Flip will be available as a paid Expansion Pack in Serato DJ 1.7, coming this September. It will be available for purchase in-app and on the Serato Online Store for $29 USD.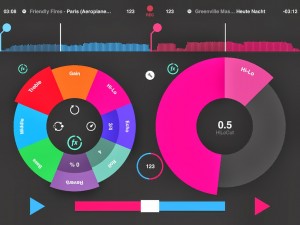 If you know your mobile music history you'll remember that Pacemaker originally brought out their handheld DJ device in 2007. Two years ago it arrived on BlackBerry. Now they've brought their DJ skills to your iPad. Here's what to expect from the app (and it's free).
MILLIONS OF TRACKS AT YOUR FINGERTIPS
The first DJ-app with a revolutionary Spotify connection. Your iTunes favorites works too.
With its carefully crafted design, Pacemaker makes djing easy, beautiful and fun.
Sync with the tap of a button; and
with a full set of colorful effects and a crossfader, you'll have unlimited creative influence over the music you love!
MIX IT
Spotify – Connect with Spotify and mix millions of tracks.
iTunes – Your iTunes favorites works too.
Sync – Automatically keeps everything in sync so you don't have to.
Scratch – Put the needle to the groove and scratch like the grandmaster.
Crossfade – Swipe to blend your tracks together. Voilà! A mix has been born.
LOOP IT
With a tap you can loop it, extend it, half it and re-loop it.
DROP IT
Build it up, maximize the tension and take it through the roof. Everybody's waiting. It's time to kill the effects. It's time to push the Drop button.
JUMP IT
Hop back and forth between the beats in a track to create your live remix with Beatskip.
BLEND IT
Adjust the Bass, Middle and Treble of your tracks and glue them together.
SAVE IT
Record the mix on the fly. Play it, cue it and rewind it (only with iTunes).
PEEK
Split the output and preview a track with the headphones crossfader before blending it into your mix (using the optional Urbanears Slussen adapter).
UPGRADE IT
Pick and choose from a wide range of colorful effects at the Pacemaker Store:
Hi-Lo – Remove the high or low frequencies from your tracks to create a swooping sound effect.
Echo – Echo echo…
Roll – Create a loop that spins on top of a track.
Reverb – Make the track sound as if it's being played in a small hut or the largest of cathedrals.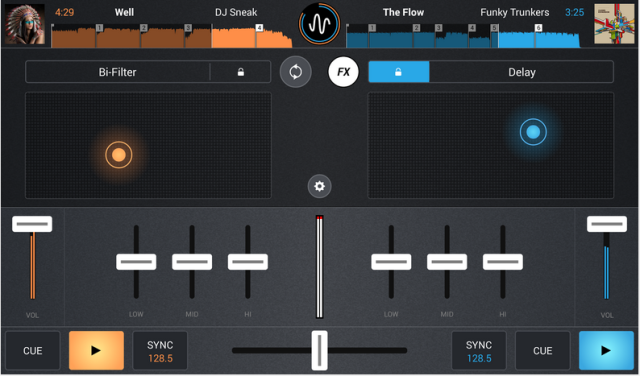 MixVibes has released Cross DJ for Android, an app they call the 'first pro DJ app' for the platform.
Features:
Mix in Sync

Accurate BPM detection, right down to the last decimal.
Sync button: one-press, and the 2 tracks never go out of phase.
Manual pitch & pitch bend.
Beat-grid editing, to sync your old tracks correctly.
Parallel waveforms: to visually check if your tracks are synced.
Quantize mode: set hot cues & loops automatically on the beat.
Smart-seek: Tap on the waveform to fast-forward & get a seamless jump.

Audio Performance

Low latency: music reacts instantly to your actions.
Extremely realistic scratch sound.
15 effects (Bi-filter, Low-pass, Hi-Pass, Delay, Echo, Phaser, Flanger, Cut, Crush, Bliss, Brake, Roll, etc.)
No loading time when starting-up the app.

Interface

1 crossfader, 2 turntables, 3-band EQ mixer.
Direct access to your device's music( MP3s, AAC & more.)
Multiple music sorting options: title, artist, album, BPM or length.
Large control pads: XY effect pad, 16 hot-cues pads.
HQ live recording of your mixes.
Optimized for display on 4″, 7″ & 10″ devices.

Minimum Configuration

Android 4.1
Android 4.3 for recording
4″ screen
RAM: 1GB
Dual-core processor
Cross DJ for Android is $4.99 – Get it here >>