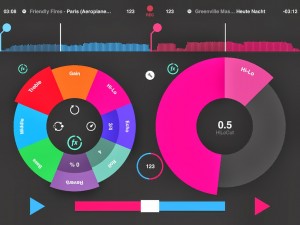 If you know your mobile music history you'll remember that Pacemaker originally brought out their handheld DJ device in 2007. Two years ago it arrived on BlackBerry. Now they've brought their DJ skills to your iPad. Here's what to expect from the app (and it's free).
MILLIONS OF TRACKS AT YOUR FINGERTIPS
The first DJ-app with a revolutionary Spotify connection. Your iTunes favorites works too.
With its carefully crafted design, Pacemaker makes djing easy, beautiful and fun.
Sync with the tap of a button; and
with a full set of colorful effects and a crossfader, you'll have unlimited creative influence over the music you love!
MIX IT
Spotify – Connect with Spotify and mix millions of tracks.
iTunes – Your iTunes favorites works too.
Sync – Automatically keeps everything in sync so you don't have to.
Scratch – Put the needle to the groove and scratch like the grandmaster.
Crossfade – Swipe to blend your tracks together. Voilà! A mix has been born.
LOOP IT
With a tap you can loop it, extend it, half it and re-loop it.
DROP IT
Build it up, maximize the tension and take it through the roof. Everybody's waiting. It's time to kill the effects. It's time to push the Drop button.
JUMP IT
Hop back and forth between the beats in a track to create your live remix with Beatskip.
BLEND IT
Adjust the Bass, Middle and Treble of your tracks and glue them together.
SAVE IT
Record the mix on the fly. Play it, cue it and rewind it (only with iTunes).
PEEK
Split the output and preview a track with the headphones crossfader before blending it into your mix (using the optional Urbanears Slussen adapter).
UPGRADE IT
Pick and choose from a wide range of colorful effects at the Pacemaker Store:
Hi-Lo – Remove the high or low frequencies from your tracks to create a swooping sound effect.
Echo – Echo echo…
Roll – Create a loop that spins on top of a track.
Reverb – Make the track sound as if it's being played in a small hut or the largest of cathedrals.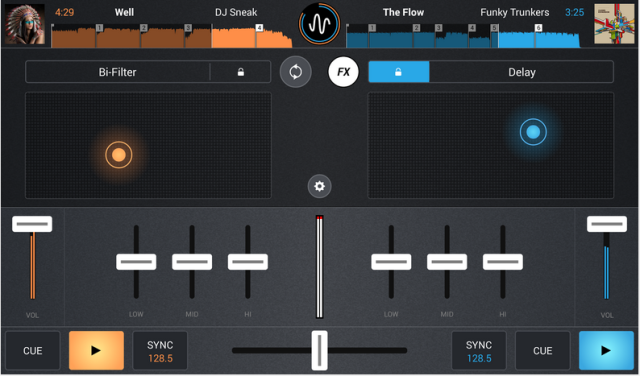 MixVibes has released Cross DJ for Android, an app they call the 'first pro DJ app' for the platform.
Features:
Mix in Sync

Accurate BPM detection, right down to the last decimal.
Sync button: one-press, and the 2 tracks never go out of phase.
Manual pitch & pitch bend.
Beat-grid editing, to sync your old tracks correctly.
Parallel waveforms: to visually check if your tracks are synced.
Quantize mode: set hot cues & loops automatically on the beat.
Smart-seek: Tap on the waveform to fast-forward & get a seamless jump.

Audio Performance

Low latency: music reacts instantly to your actions.
Extremely realistic scratch sound.
15 effects (Bi-filter, Low-pass, Hi-Pass, Delay, Echo, Phaser, Flanger, Cut, Crush, Bliss, Brake, Roll, etc.)
No loading time when starting-up the app.

Interface

1 crossfader, 2 turntables, 3-band EQ mixer.
Direct access to your device's music( MP3s, AAC & more.)
Multiple music sorting options: title, artist, album, BPM or length.
Large control pads: XY effect pad, 16 hot-cues pads.
HQ live recording of your mixes.
Optimized for display on 4″, 7″ & 10″ devices.

Minimum Configuration

Android 4.1
Android 4.3 for recording
4″ screen
RAM: 1GB
Dual-core processor
Cross DJ for Android is $4.99 – Get it here >>
Watch FRITZ KALKBRENNER perform "Wes" and "Sky And Sand" live and in 1080p HD video at Electronic Beats Festival in Zagreb (08 November 2013) — Hashtag is #EBFest13
Find more live videos here: http://www.youtube.com/ElectronicBeat…
Read our review of the entire festival and see more pictures here: http://bit.ly/1iTBBme
King Britt fills us in on his big week in the Asheville area. He is here for the LEAF Festival, the Bob Moog Foundation and for a big show at the Mountain Oasis Festival with Pia Ercole, and more…
King Britt is an American DJ and record producer from Philadelphia, Pennsylvania.
Version 2 of the DJ mixing application works either as a standalone program or as a VSTi inside your favourite host. Deckadance can also host any VST compliant softsynth or effect. Control Deckadance using MIDI controllers, timecoded vinyl and CD systems. Choose 2 OR 4 decks. Smart knobs link many interface targets to one knob. GrossBeat automated glitch, stutter & scratch functions. Isolator FX chain up to three FX per deck and apply to Low/Mid/High or all bands. Customizable interface and Smart panels select Cue, Grid, DVS, Key, Smart Knob and Tempo controls.
MIDI Script Here: http://support.image-line.com/redirec…
Deckadance 2: http://www.image-line.com/documents/d…
Music Credits:
Deck A1: Toby Emerson – http://www.image-line.com/documents/p…
Deck B: Christoph Maitland, Toby Emerson Feat: Veela – http://www.image-line.com/documents/p…
Deck A2: Seamless – http://www.youtube.com/user/SeamlessR
Mad Zach in a mind-blowing routine using the upcoming all-in-one controllers S4 and S2 on laptop, iPad, and iPhone. More: http://native-instruments.com/traktor
From cue point juggling to on-the-fly Remix Deck and Flux Mode improvisation, Mad Zach performs a controllerist routine on a variety of setups, combining the new Traktor Kontrol S4, the new S2, Traktor Pro 2 and Traktor DJ on iPad and iPhone.
Track: Mad Zach – Tunnel Vision
Follow Mad Zach here: https://www.facebook.com/Mad.Zach.Off…
The redesigned TRAKTOR KONTROL S4 and S2 are now plug-and-play with TRAKTOR DJ for iPad and iPhone. New aluminum-plated jog wheels, RGB buttons, and more let you ignite the dancefloor like never before, on your laptop or iOS device.
Exploring the idea of using the Leap Motion, along with the GECO gestural MIDI app, as a DJ controller for Traktor. DJ SelArom is not using the Leap Motion as a replacement for a traditional DJ controller, but to augment it with new gestural controls, more info below:
I recently got the Leap Motion Controller, and here is the first attempt to use it mixing live. Still getting used to doing this without flailing around like an idiot, but it's definitely a lot more fun that it looks!
If there is enough interest I'll write up a blog about the software and mappings, sound off in the comments and let me know what you think!
Leap Motion: https://www.leapmotion.com
Geco Software: https://airspace.leapmotion.com/apps/…
Music:
Felguk – All Night Long (Darth & Vader Mix)
http://www.felguk.com
https://soundcloud.com/darthvaderlive
Beltek – Go!
http://www.beltek.si
https://soundcloud.com/beltek
Traktor DJ Cable is an ideal solution for beginner DJs starting out with Traktor DJ.
Traktor DJ Cable lets you pre-listen to your next track for smoother mixing. Unlike standard splitter cables, it splits your A and B decks onto separate outputs, so you can listen to each one independently. With a standard splitter cable, you'd hear the same audio from both outputs.
More about Traktor DJ. http://www.native-instruments.com/tra…
Going over the features and demonstrates the controls of the Numark Orbit wireless DJ controller.
The Numark Orbit has the standard DJ controls you can come to expect from other popular DJ controllers. There are some obvious differences but you have everything you need to get mixing and performing, right out of the box. While many DJ controllers tout the "plug and play" functionality but require a few extra steps to get going, the Numark Orbit and it's companion Orbit DJ software synched as soon as I got connected. So if you are someone who is just starting out with audio and DJ software, you can rest assured that the Numark Orbit will not put up a fight when it comes to getting started right out of the box.

The pads, the bank buttons, the bumpers, and the endless rotary, all have a great feel and the controller itself is built very well. Using the rotary wheel in the middle is certainly a different way to DJ. It can be used to control volume, EQ levels, and act as a crossfader depending on what function you have it assigned to control. The wheel itself responds well to the touch and has a nice LED indicator for your level control.

Next to the wireless capabilities, the built in accelerometer is sort of what the Numark Orbit is all about. You can control all the parameters of your effects by tapping the bumpers and manipulating the controller in the proper fashion. Each bumper can control a parameter of a selected effect on its own, or you can hold down both bumpers and open the full function of the accelerometer control. You can lock the Numark Orbit's accelerometer by double tapping the bumper, which eliminates the need to hold the bumper down when controlling effects.
The carefully redesigned DJ performance controller for TRAKTOR PRO 2 is coming soon. http://www.native-instruments.com/x1
Witness the evolution of TRAKTOR KONTROL X1. A new multi-purpose touch strip lets you nudge, needle drop, or get creative with loops and effects – at the swipe of a finger. Touch-sensitive encoders provide smart, reactive TRAKTOR integration. Command your decks as RGB back-lit buttons provide constant feedback, even in the darkest clubs.
Power, precision, and portability under maximum control – you've never felt closer to the music.
Featured music:
Jack Dixon & Rick Grant – Muted (ManMakeMusic / MMAKEM002)
George Fitzgerald – Hearts (ManMakeMusic / MMAKEM001)
October – Singularity Jump (Tanstaafl / TANS002)