A revolution is underway: Mixfader is the first connected crossfader provided with a dedicated DJ app that dematerializes the classic turntables on any smartphone and tablet. Anyone can now mix and scratch anywhere and anytime.
Designed by sound engineers in collaboration with professional turntablists, Mixfader is both an intuitive and powerful solution that meets professional requirements.
Control your crossfader as a pro to create perfect sound cutting and original compositions through returning movements.
Create your own routines by reinventing scratching and mixing techniques. You have never been so close to become the next C2C.
Facebook: https://www.facebook.com/Mixfader
Google+: https://plus.google.com/u/5/110485939…
Website: http://www.edjing.com/mixfader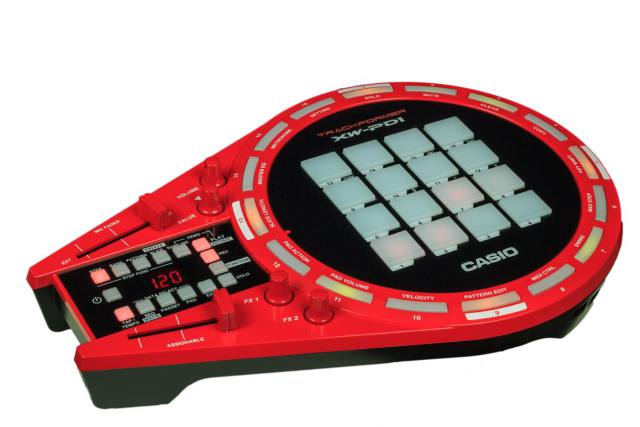 Casio has introduced two new Trackformer DJ products, the XW-DJ1 DJ Controller and XW-PD1 Groove Center. 
XW–PD1 Groove Center
The XW-PD1 Groove Center, above, is equipped with the sound engine from Casio's XW series of synthesizers The XW-PD1 design includes 16 velocity-sensitive pads and 4 knobs for fast real-time music production.
The XW-PD1 features an outer ring containing 16 buttons, which let you visualize the current rhythm pattern at a glance. Users can create rhythms and phrases with the pads as well as apply DSP effects such as roll, filter, bit crusher, break, and pitch shifter.
The XW-PD1 includes drum sounds for a variety of electronic styles, including Hip Hop, Trap, and House. It also features a synthesizer engine, a variety of effects and can sample sounds.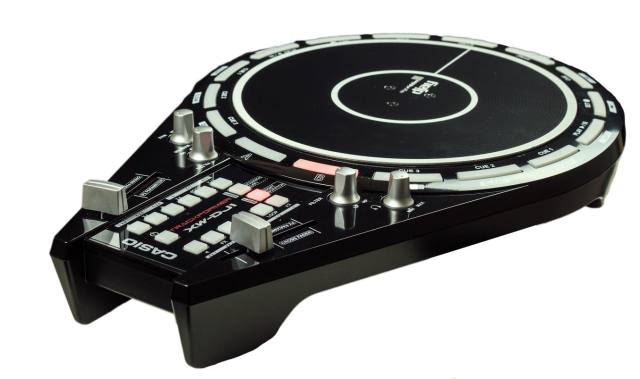 XW–DJ1 DJ Controller
Casio's XW-DJ1 DJ Controller, above, features a 7-inch platter that provides the feel of an analog turntable, filter controls and cross fader. The XW-DJ1 is compatible with Algoriddim's djay2 apps.
The XW-DJ1 integration with djay2 provides direct controls for cue points, tempo sync, effects and looping. Additionally, the XW-DJ1 is portable because it is battery-powered and offers a built-in-speaker.
The two Trackformer controllers can also be used in tandem. The audio output of the XW-DJ1 can be connected to the audio input of the XW-PD1. This lets users do remix performances, using the unique capabilities of each product.
Pricing and Availability
The XW-DJ1 DJ Controller will be available, beginning January 2015, for an MSRP of $299.00.
The XW-PD1 Groove Center will be available beginning March 2015 for an MSRP of $399.00.
This Model DJ claims to be using Traktor, not overly convinced we must say
Remix your tracks like never before with the new SuperSlicer for Traktor DJ. Slice-up your tracks and rearrange your loops using Scratch, Brake, Reverse, Slice or even Pitch-shift effects.
TRAKTOR DJ 1.5 for iPad is now available at the iTunes App Store.
http://ow.ly/kzEGz
Also available for iPhone.
http://ow.ly/kzEzo
Product description: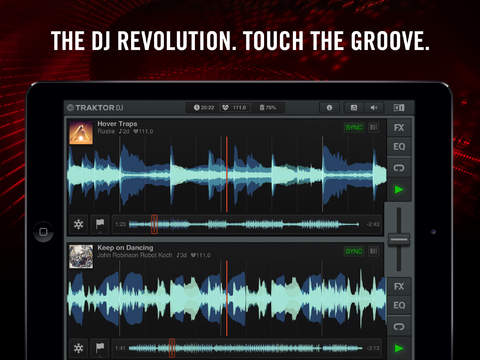 The world's #1 pro DJ software brings high-impact DJing to iPad. Touch your tracks and create stunning mixes in seconds.

"Incredibly well designed and packed with great features." (WIRED)
"Traktor DJ for iPad is better than turntables." (Gizmodo)
"It's wonderfully tactile and a lot of fun." (The Guardian) 
"Traktor DJ brings real DJ tools to the masses." (The Verge)
"They worked on every little detail to get the app just right." (Loop Insight)

///ABOUT TRAKTOR DJ

- Revolutionary DJ app by Native Instruments – makers of the leading pro DJ software
- Touch the groove using familiar iPad swipe and pinch gestures
- Familiar DJ mixer layout with crossfader, 3-band EQ, and filter on each channel
- Direct access to your iTunes music library from TRAKTOR DJ
- Stylish waveform display allows for simple looping and ultra-tight scratching
- Intelligent browser recommends songs based on compatible tempo and key
- Automatic tempo and key detection plus BPM sync for super-smooth mixing
- Innovative Notification Center gives you in-app access to essential tips and undiscovered techniques
- 8 built-in pro DJ effects including Reverb, Delay, and dramatic glitch effects like BeatMasher
- Plug-and-play integration with hardware controllers TRAKTOR KONTROL Z1, TRAKTOR KONTROL S2 and S4
- External mixer mode for sending individual deck outputs to separate mixer channels (if used with TRAKTOR hardware or splitter cable)
- Use TRAKTOR DJ CABLE for pre-listening to the incoming track before the crowd hears it
- Enhanced time-stretching, powered by élastique efficient V2 engine by zplane.development
- New Flux mode – remix your tracks live, then drop back in at exactly the right moment
- Record your mixes live in high-quality on the iPad and share with your friends
Serato has introduced Serato Flip, a new Expansion Pack for Serato DJ that allows you to create custom edits, extend and re-imagine your music.
Available this September with Serato DJ 1.7 – Flip allows you to record your cue point and censor actions which can be saved and looped, ready to re-trigger and start an instant. Use Serato Flip to create and save up to 6 Flips per track, ready for playback in the studio or the club.

The original idea of being able to record and playback cue point information in a simple way was first pitched to us by NZ producer P Money, who was already using Serato to put beats together by manually triggering cue points.

Not only a great beat sketch pad, Serato Flip can also be used as a powerful DJ tool. The simple, yet effective control set designed with the DJ in mind allows you to use it in your set in a number of ways:

Make clean edits of your tracks by recording censor actions.
Extend intros, breakdowns or outros for better mixing.
Create transition sections in your songs for changing tempo or beat structure.
Advanced tone-play and performance.
Auto-skipping verses or choruses in songs.
Making beats.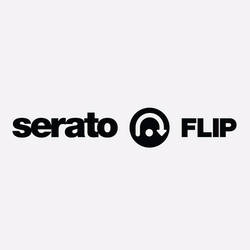 Serato Flip features
Record Cue Point & Censor Automation — Click record once to arm recording. Once you hit the first cue or censor, recording begins. Hit record again to set the end point of your Flip.
Prepare & Edit Tracks In Offline Mode — Use Serato Flip without your hardware connected.
Flip Saving — Save 6 different Flips per track. Serato Flip information is saved to your tracks metadata and doesn't edit the audio of the track. You can delete cue points and your Flip will still be remembered.
Hardware Controls, Keyboard Shortcut & Midi Mappable — Control Flip directly from your computer or your controller with a keyboard shortcut and hardware controls being mapped for supported current and future hardware. Flip controls are also MIDI mappable for use with the MIDI controller of your choice.
Looping / Loop Snap — Choose whether your recorded Flip plays through once or loops. Select whether your looped Flip will snap to an end-point that's on beat with your track.
Recall and Replay — Turn Flips ON / OFF and start your Flip on track load or whenever you like.
Make perfect edits — Platter movements aren't recorded so you can move the platter to an exact point and trigger a cue point to make the perfect Flip.
Name your Flips — Just like Serato DJs nameable Cue Points you can also name your Flips. The name of your Flip will appear in the deck info area when the track is loaded.
Serato Flip will be available as a paid Expansion Pack in Serato DJ 1.7, coming this September. It will be available for purchase in-app and on the Serato Online Store for $29 USD.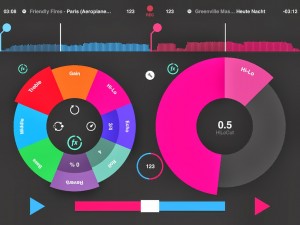 If you know your mobile music history you'll remember that Pacemaker originally brought out their handheld DJ device in 2007. Two years ago it arrived on BlackBerry. Now they've brought their DJ skills to your iPad. Here's what to expect from the app (and it's free).
MILLIONS OF TRACKS AT YOUR FINGERTIPS
The first DJ-app with a revolutionary Spotify connection. Your iTunes favorites works too.
With its carefully crafted design, Pacemaker makes djing easy, beautiful and fun.
Sync with the tap of a button; and
with a full set of colorful effects and a crossfader, you'll have unlimited creative influence over the music you love!
MIX IT
Spotify – Connect with Spotify and mix millions of tracks.
iTunes – Your iTunes favorites works too.
Sync – Automatically keeps everything in sync so you don't have to.
Scratch – Put the needle to the groove and scratch like the grandmaster.
Crossfade – Swipe to blend your tracks together. Voilà! A mix has been born.
LOOP IT
With a tap you can loop it, extend it, half it and re-loop it.
DROP IT
Build it up, maximize the tension and take it through the roof. Everybody's waiting. It's time to kill the effects. It's time to push the Drop button.
JUMP IT
Hop back and forth between the beats in a track to create your live remix with Beatskip.
BLEND IT
Adjust the Bass, Middle and Treble of your tracks and glue them together.
SAVE IT
Record the mix on the fly. Play it, cue it and rewind it (only with iTunes).
PEEK
Split the output and preview a track with the headphones crossfader before blending it into your mix (using the optional Urbanears Slussen adapter).
UPGRADE IT
Pick and choose from a wide range of colorful effects at the Pacemaker Store:
Hi-Lo – Remove the high or low frequencies from your tracks to create a swooping sound effect.
Echo – Echo echo…
Roll – Create a loop that spins on top of a track.
Reverb – Make the track sound as if it's being played in a small hut or the largest of cathedrals.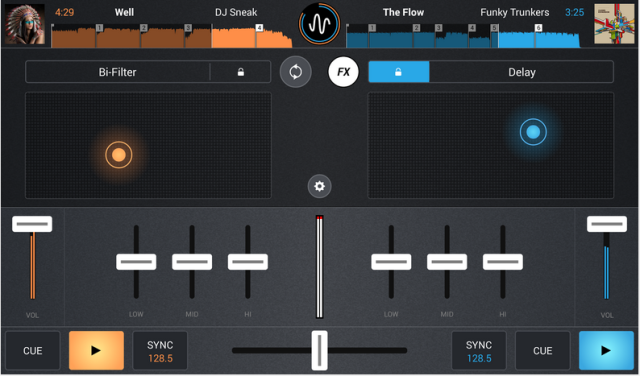 MixVibes has released Cross DJ for Android, an app they call the 'first pro DJ app' for the platform.
Features:
Mix in Sync

Accurate BPM detection, right down to the last decimal.
Sync button: one-press, and the 2 tracks never go out of phase.
Manual pitch & pitch bend.
Beat-grid editing, to sync your old tracks correctly.
Parallel waveforms: to visually check if your tracks are synced.
Quantize mode: set hot cues & loops automatically on the beat.
Smart-seek: Tap on the waveform to fast-forward & get a seamless jump.

Audio Performance

Low latency: music reacts instantly to your actions.
Extremely realistic scratch sound.
15 effects (Bi-filter, Low-pass, Hi-Pass, Delay, Echo, Phaser, Flanger, Cut, Crush, Bliss, Brake, Roll, etc.)
No loading time when starting-up the app.

Interface

1 crossfader, 2 turntables, 3-band EQ mixer.
Direct access to your device's music( MP3s, AAC & more.)
Multiple music sorting options: title, artist, album, BPM or length.
Large control pads: XY effect pad, 16 hot-cues pads.
HQ live recording of your mixes.
Optimized for display on 4″, 7″ & 10″ devices.

Minimum Configuration

Android 4.1
Android 4.3 for recording
4″ screen
RAM: 1GB
Dual-core processor
Cross DJ for Android is $4.99 – Get it here >>
Watch FRITZ KALKBRENNER perform "Wes" and "Sky And Sand" live and in 1080p HD video at Electronic Beats Festival in Zagreb (08 November 2013) — Hashtag is #EBFest13
Find more live videos here: http://www.youtube.com/ElectronicBeat…
Read our review of the entire festival and see more pictures here: http://bit.ly/1iTBBme
King Britt fills us in on his big week in the Asheville area. He is here for the LEAF Festival, the Bob Moog Foundation and for a big show at the Mountain Oasis Festival with Pia Ercole, and more…
King Britt is an American DJ and record producer from Philadelphia, Pennsylvania.
Version 2 of the DJ mixing application works either as a standalone program or as a VSTi inside your favourite host. Deckadance can also host any VST compliant softsynth or effect. Control Deckadance using MIDI controllers, timecoded vinyl and CD systems. Choose 2 OR 4 decks. Smart knobs link many interface targets to one knob. GrossBeat automated glitch, stutter & scratch functions. Isolator FX chain up to three FX per deck and apply to Low/Mid/High or all bands. Customizable interface and Smart panels select Cue, Grid, DVS, Key, Smart Knob and Tempo controls.
MIDI Script Here: http://support.image-line.com/redirec…
Deckadance 2: http://www.image-line.com/documents/d…
Music Credits:
Deck A1: Toby Emerson – http://www.image-line.com/documents/p…
Deck B: Christoph Maitland, Toby Emerson Feat: Veela – http://www.image-line.com/documents/p…
Deck A2: Seamless – http://www.youtube.com/user/SeamlessR