More info: http://bit.ly/TjYhoo
Dubspot teamed up with Richie Hawtin and Sennheiser to present CNTRL: Beyond EDM – a series of seminars at colleges across North America addressing the current state of technology, production, performance, and creativity in electronic music. In this video, Richie Hawtin and Loco Dice along with Carl Craig and DJ Sneak discuss the tour and the meaning behind it.
Bangarang by Skrillex, remixed on Noisepad. Noisepad, a powerful soundboard, sequencer and live-set DJ app, available for iPad & iPhone. Load your own samples or use the in-app shop, create beats, apply real-time effects, be creative!
Soundbanks: Each bank holds 12 samples Load unlimited samples: Organize, create, (re)name, add and remove soundbanks
Sequencer: The onboard sequencer allows you to program up to 12 patterns on-the-fly, each with their own duration (1 – 99 bars).
Rhythm: Set BPM manually. Tap button for BPM: Set amount of swing (0% 100%)
Import / Export: Export individual patterns (.wav) Share samples/patterns between apps with AudioCopy/Paste
Sample settings: Noisepad offers a number of settings which determine how samples are played. Cut, hold, volume , mute, solo.
Effects panel: Real-time effects such as pitch, delay, cut-off, phase, reverb and bit-crush will bring your noise to life.
Austrialian tech house producer, live remixer and finger drummer Bass Kleph shares some of his tips and tricks he uses when building a performance on his Maschine.
Learn more about Maschine here: http://bit.ly/PjED9I
Check out Bass Kleph's site here: http://www.basskleph.com/
Radioactive orchestra is a cross-boundary collaboration of nuclear physicists, a DJ and one media artist. The project wishes to inspire young people to learn about the natural sciences, but it also has an artistic aim to find new musically interesting patterns. By giving every radioactive isotop its own sound based on scientific algorithms they turn nuclear science into music, hence making a world available to us that our senses can not otherwise percieve.
http://youtu.be/NgF_TbALpJQ
A short unboxing video of the beatMaker DJay app by Keith McMillen Instruments
DJ, Producer, engineer and Sample creator Dom Kane takes us on a tour of his studio.
DJ Zinkus speaks about his own vision of EDM Live performance at events and makes live performance demo of personally designed music control panel on iPad (Lemur).
www.djzinkus.com
Native Instruments 214: DJing With Traktor Pro by Olav Basoski
Video 1 of 28 for Native Instruments 214: DJing With Traktor Pro
Traktor Pro 2.5 gives the modern DJ countless creative alternatives when performing their sets or crafting that perfect remix. Master DJ Olav Basoski turns on the inspiration in this detailed look at Native Instruments' amazing digital DJ-ing software and hardware.
There is lots to learn here and Olav dives right in with a tour of the interface that will get you comfortable navigating around Traktor Pro. You'll quickly learn how to cue up your tracks and, using Traktor's high-quality analysis tools and how to move around the music while staying perfectly in sync between your digital decks. The looping feature gives you even more creative control: you can loop that break and build it up on the fly to make your set as high energy as you want!
Olav also shows you the awesome Traktor Kontrol F1 hardware controllera must for any serious Traktor Pro user! The Kontrol F1 really shines when using the remix decks: it makes creating loops and quantizing or pitch-shifting super intuitive.
When you've learned and marveled at what Traktor Pro and Traktor Kontrol F1 has to offer, stick around for a while and dive into our ever-expanding collection of Native Instruments courses!
More info on this title: http://j.mp/PwdAFG
The brand new Traktor Z2 DJ 2+2 Mixer, soundcard and controller from Native Instruments. We had a visit from the NI team on their way to BPM and they gave us the lowdown on their first pro DJ club mixer hardware.
Pricing and Availability:
TRAKTOR KONTROL Z2 will be available at retailers worldwide and at the NI Online Shop from November 1, 2012. Pre-orders are currently being taken.
$899 / 799 € / 83800 ¥
Traktor Kontrol Z2 is the first 2+2 control mixer designed from the ground up for Traktor. Watch it in action in this new 4-deck video — controllist guru Ean Golden performs a chilled-out, downtempo composition, showcasing the all-new Macro FX and Flux Mode in the upcoming Traktor software version, using 2 Traktor Kontrol F1 Remix Deck controllers with the Z2.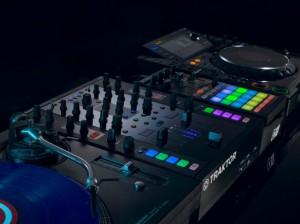 Traktor Kontrol Z2 excels equally as a control hub, or as a standalone mixer, with its aircraft-grade aluminum chassis and rock-solid, ultra-dependable Innofaders™. Step up to the future of mixing — in stores November 1, 2012.
More information: http://www.native-instruments.com/z2-dj-mixer
The features of the Z2:
Aircraft-grade aluminum – which, by the way, is what we just saw in the DIY Apollo 13 controller yesterday
Traktor Pro software bundled (and integrated with the controller features).
Innofader-brand faders, "high-quality" knobs.
Multi-colored LED buttons, assigned to Remix Decks and cue points. (For those of you who hate the color disco-fication of NI's hardware, sorry, there's more.)
Two standalone mixer channels for external analog inputs – think Pioneer CDJs or turntables.
Two channels from the soundcard for independent control of the Traktor Remix Decks, cue points, and effects (and, for audio signal, anything you want to route from your computer).
Dedicated Remix Deck section, and Master section for Traktor file browsing, Sync and Quantize.
Macro FX, so that you can combine multiple effects on one control. (Also known as "Skrillexing." Joke. Yes, you can also do classic breakdowns.)
24-bit internal soundcard with – at last – XLR balanced outputs.
Separate booth output, separate mic input. (This is a DJ mixer, after all.)
Additional aux input, atop the turntable connections. (iPad, perhaps?)
HID controller implementation.
USB hub
The new DJ Rig from IK Multimedia that we have been featuring earlier this week has now been released in the AppStore. They say that DJ Rig for iPad takes professional mobile DJ mixing to a completely new level, providing a comprehensive suite of professional DJ mixing tools, all in one convenient app. DJ Rig for iPad greatly expands the feature set from DJ Rig for iPhone, offering numerous new capabilities that previously have only been available on professional DJ software for the Mac and PC.
With DJ Rig for iPad, mobile DJs will possess the virtual equivalent of a full professional DJ setup — two turntables or CD players, a DJ mixer, a DJ multi-effects unit, a phrase sampler and more, all in an portable package to take their spin to the next level, anytime and everywhere. With DJ mixer, a DJ multi-effects unit, a phrase sampler and more, all in a portable package to take their spin to the next level, anytime and everywhere.
DJ Rig for iPad is a fully self-contained DJ environment that can be directly connected to a sound system, but even more functionality is available when it's used in tandem with IK's new iRig MIX ultra-compact mobile DJ mixer. iRig Mix offers complete physical track control, thanks to its full-length channel faders and crossfaders, additional EQs, and direct connections for headphones, microphones, loudspeakers or a PA system. When used together, DJ Rig and iRig MIX provide a comprehensive DJ setup that packs all the features the most demanding DJs need — all in an ultra-light combo rig that can be up and running in seconds.
Professional DJing for the first time on iPad
Familiar double Deck configuration with a triple twist — When first launched, DJ Rig for iPad looks and feels very familiar — its interface accurately replicates a full dual-deck hardware rig with each deck routed through the audio output jack on the iPad (split stereo). What's different is that each deck has three visual modes: "Vinyl" for traditional creative scratch effects, "Digital" jog for a more traditional CD manipulation and the new "Waveform" view for accurate cue placement, synchronization and visualization of beats.
Sync, mix & scratch — DJ Rig for iPad with CloneDeck™ technology allows DJs to mix and scratch on their iPads, just like they would with hardware counterparts. The built-in dual-deck system with a crossfader allows them to mix with ultra-accurate precision, and the Tempo Sync, X-Sync and Beat Match functions automatically align the beats from any two sources for flawless transitions. The new AutoMix feature will automatically crossfade and mix music to keep the beat going even when the DJ steps away.
New creative DJ effects provide unlimited sonic possibilities – DJ Rig for iPad features 18 available BPM-synced DJ effects for customizing mixes and build-ups, always at the perfect tempo. Effects include Delay, Flanger, Crush, HP filter, LP filter, BP filter, Compressor,Wah, Phaser, Fuzz, Reverb, and Stutter, plus 6 completely new effects: Noise, Tail, Brake, Spin, Twist UP and Twist DOWN. The X/Y effects interface provides full creative control and real-time manipulation that will inspire DJs to be their creative best.
On-board sampler with expandable sound banks – DJ Rig for iPad features an "on-the-fly" sampler with 9 accessible and assignable pads for adding sound bites and samples to mixes. For even more creative flexibility, DJ Rig for iPad provides "live sampling" and "looping" functions for completely customizing and personalizing the mix.
DJ Rig for iPad features:
Customizable deck display with Vinyl, Waveform or Digital Deck interface with accurate scratching engine with CloneDeck™ technology
Waveform display mode for ultra-precise visual cueing
Fast BPM detection and beat map analysis with Tempo Sync and Beat Match
X-Sync mode detects the BPM from external audio sources and automatically syncs the audio/tempo of internal decks to external devices (when used with iRig MIX)
Advanced looping section with continuous loop surface; create loops with tempo divisions always to the beat; manual and slip mode available
18 effects: Delay, Flanger, Crush, HP filter, LP filter, BP filter, Compressor, Wah, Phaser, Fuzz, Reverb, Stutter and more, with X/Y touch interface control
6 new creative effects: Noise, Tail, Brake, Spin, Twist UP and Twist DOWN
On-the-fly expandable sampler machine with 9 pads and 4 banks slot
Live sampling functionality with volume and pitch control
5 visual cue points per song and Auto Cue for automatic first beat positioning
3 crossfader curves for customizing fades and crossfade filter
Direct access to iPod Music library and playlists
AutoMix Feature for automatic mixing of playlists or entire library
Live recorder allows recording of full mixing gigs
Supports/plays all major digital audio formats including MP3, AAC, WAV, AIFF
Multiple output configurations for virtually any audio setup
Pricing and Availability:
DJ Rig for iPad is available at an introductory price of $19.99/€15.99 from the App Store on iPad. A limited free version of DJ Rig for iPad is also available for download.
More information: