FREE Kick Drum VSTi synthesizer…NO SAMPLES just synthesis.
Download for free with no limitations athttp://hintonandfairchild.co.uk/bigro…

BIGROOMKIXSYNTH is a VSTi specifically created for making Kick Drums and Bass Drums. Unlike the competition, this is a true Synth, it uses no samples only 100% synthesis to achieve a thick meaty UMPH to your track with ultimate control to the sound.
he sound is split into 4 sections, SUB, BODY, TRANSIENT and HAT/NOISE with lots of controls to fine-tune each characteristic of the layer. It has a compressor an EQ boost and a Key Select…you can even change the background colour…… Below you can get more details on the controls.
The Synth is FREE to use and share providing you do not try and sell it yourself.
Version 2 of the DJ mixing application works either as a standalone program or as a VSTi inside your favourite host. Deckadance can also host any VST compliant softsynth or effect. Control Deckadance using MIDI controllers, timecoded vinyl and CD systems. Choose 2 OR 4 decks. Smart knobs link many interface targets to one knob. GrossBeat automated glitch, stutter & scratch functions. Isolator FX chain up to three FX per deck and apply to Low/Mid/High or all bands. Customizable interface and Smart panels select Cue, Grid, DVS, Key, Smart Knob and Tempo controls.
MIDI Script Here: http://support.image-line.com/redirec…
Deckadance 2: http://www.image-line.com/documents/d…
Music Credits:
Deck A1: Toby Emerson – http://www.image-line.com/documents/p…
Deck B: Christoph Maitland, Toby Emerson Feat: Veela – http://www.image-line.com/documents/p…
Deck A2: Seamless – http://www.youtube.com/user/SeamlessR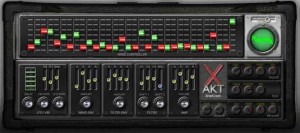 Krakli Synths has released the XaKT synth. A spokesperson had this to say, "A completely new plugin from the Krakli dungeon. This spectral synth is gifted at dark textures and sounds with plenty of movement. Take the time to become accustomed to its unusual interface and you will have a real beast on your hands."
Pricing and Availability:
Free download.
More information:
M-RGT has announced the release of psyGEN, an experimental granular synthesizer plug-in for Windows.
Using granular synthesis as a basis it adds extensive Modulation and FX capabilities to take any type of .wav file source and turn it into a multi-layered composition of great complexity.

With the built-in 16 track sequencer, long evolving ambient/drone sounds can be created and cross-faded with other sounds to create dense tapestries of sound. Also, the sequencer allows for more rhythmic based compositions or patches as well. It is possible to create an entire composition with just one track incorporating many variations.

psyGEN can be used as a standalone synthesizer with a plug-in like SaviHost or similar program or can be installed as a VSTi with a Host DAW.
The psyGEN plug-in for Windows (VST) is available to purchase for $33.50 USD.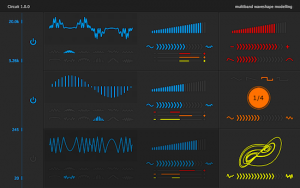 Sinevibes has announced the release of Circuit, its latest Audio Unit effect plugin for multiband waveshape modelling.
Circuit splits the signal into three frequency bands, and passes each band through its own processing engine which offers 12 different algorithms – from sine-based waveshape transformers and foldback distortion, to circuit-bent filters, lo-fi and ring modulation. These models can be further modulated by an input envelope follower, tempo-synchronized LFO or two-dimensional Lorenz attractor. All this is wrapped into a stylish, colour-coded interface based on Sinevibes' innovative design language, which makes it incredibly fun to work with.
Circuit features
Morph lifeless waveforms into entirely new, rich and dense sounds.
Transform synth basses and leads into completely different, layered material.
Re-synthesise and mangle electronic drum loops beyond recognition.
Circuit is available to purchase for $29 USD. It is also included in the Sinevibes plug-in bundle for $119 USD.
Have you ever seen inside a VST plugin – how its made? Ourafilmes is, probably, the first to show you!
Here´s a nice video that take you inside the SB-2 monster synth and shows its main features!
This synth is now free and is included in the Ourafilmes Facebook Pack – available in www.facebook.com/ourafilmes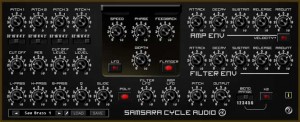 Thursday morning freebee stuff – Saw Wave synth, details below:
Samsara Cycle Audio has released the Saw Wave SynthesizerVSTi.
Features:
4 Pitch controls with selectable 'feet' switch in the range of 32′ 16′ 8′ 4′ 2′
Filter Section: Cutoff Resonance with individual level controls
Filter Pass Mix Section: Low Pass, High Pass, Band Pass and Q settings
Glide
Mono / Poly Selector
Filter and AMP section LFO Level Control
AMP and Filter Envelope Sections: Attack, Decay, Release, Sustain and Amount
LFO Section – Selectable Host Sync Function
Flanger effect: Speed, Phase, Feedback and Depth Controls
Pitch Control
Output Level Control
Midi Learn
Pricing and Availability:
Free download.
More information:

Samsara Cycle Audio tells us that Boxxy D is a VSTi for simulating the effect of a Mississippi Drum Machine.
They say that the plug-in also simulates Bass Drum instruments for use in many styles of music, especially Dubstep.
Features:
Bass and Treble EQ controls
Stomp EQ – controls EQ via velocity
Volume control
Envelope: Attack, Decay, Release
Style switch
Octave switch
Pricing and Availability:
Free.
More information:
"G-Storm Plugins has announced the release of the String Concerto II VST plugin and standalone application for Windows. The String Concerto II is a recreation of the Logan String Melody II. The emulation is made possible by synthesis and effects DSP techniques, not samples.
No additional effects were added to the audio. Audio demo presets are, in order:
1. Logan Classic
2. Logan Wide
4. Bass+Viola
5. Cello+Bass"
Padshop Pro is the next step in the evolution of Steinberg's acclaimed granular synthesizer Padshop and offers exciting new features that open the door to new levels of sound design. The pro version comes with a drag and drop sample import function, a 3-band parametric EQ, a high-quality algorithmic reverb and 50 new presets.
Steelberry Clones reader Dan A from IMEA tipped us on their new Groove Drums Synth that now has been released, here's what he tells about it:
VSTi plugin and Application, its architecture combines a sequencer, a sampler, a synthesizer and the randomization tool of Groove Drums that allows you to create easily and intuitively grooves and drums loops.
The standalone version allows you to use the plugin without the need for a host sequencer and so be able to export drum loops independently.
The difference with GROOVE DRUMS is to affect the channels to a sampler and a synthesizer that allows you to create synthetic percussions.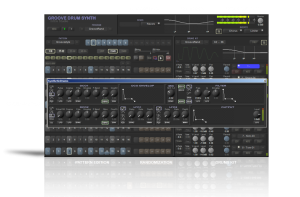 Features:
• Pattern based drum machine engine + Sampler + Synthesizer.
• Innovative tool for randomization.
• Ability to export audio loops.
• 12 channels.
• 3 parametric filters per channel.
• 2 effect sends per channel.
• Independent outputs.
• 16 patterns of 64 steps per channel.
• Drag & Drop patterns.
• SCALE mode for velocity on the tune that selects the closest note in an editable range.
• Master equalizer and insert effects.
• Comes with Chorus, Compressor, Delay, Filter, Flanger, Limiter, Reverb and Overdrive.
• Comes with standalone version allows the use of the VSTi without the need for a host sequencer.