Little demo of the Paraphonic Scene for the Moog Voyager in the iPad app "Patch Morpher" from Jazzman Ltd.
This is not just an editor and a patch morpher allows to create new sound morphing from one sound to another, but allows your Moog Voyager to become a real paraphonic synthesizer, with all the three oscillators perfectly in tune!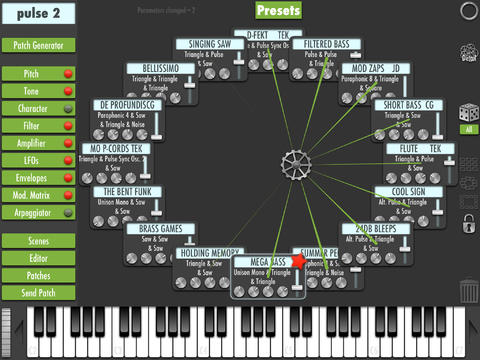 Patch Morpher is a patch librarian & editor for hardware synthesisers – with a twist: its powerful and innovative sound generator allows you to easily create your own totally original sounds without the hassle of editing 100s of parameters by hand.

This is truly innovative technology with all 5-star reviews from enthusiasts to professional sound designers.

Start with your favourite patches, then morph, blend & randomise them to create new sounds – editing 100s of parameters in real-time.

Patches can be organised into scenes for live performance, and you can then morph or mutate between them to create totally original new sounds & patches, controlling hundreds of parameters with one finger, all in real-time. You can even keep playing your synth as the sound evolves.

The fully-featured editor allows you to further tweak your sounds, taking advantage of the iPad's touch screen to give you full control whilst allowing you to view many parameters at a single glance with no hidden menus. Patches can be saved on your iPad so you won't run out of storage slots on your synthesiser.

Play the Moog Voyager paraphonically – addressing each of its three oscillators independently!

Automatically convert patches between the Prophet 08 and the Prophet 12.

Patch Morpher uses Core MIDI: connect to your synth via WiFi, the Apple camera connection kit or a compatible MIDI interface. 

Patch Morpher is compatible with the following synthesisers:
– Moog Voyager
– Access Virus TI
– Waldorf Blofeld
– Waldorf Pulse 2
– Dave Smith Mopho
– Dave Smith Prophet 08
– Dave Smith Prophet 12
– Korg KingKorg
– Mutable Instruments Shruthi-1

Please see our web-site for a video demo, user manual & free patch downloads.

Patch Morpher is an invaluable tool if you own one of these hardware synthesisers. Its revolutionary approach to patch generation makes it very easy & fun to create new & inspiring sounds. Allow your music to stand out with its own totally original sounds!
TimeFlux, the ultimate time stretching, morphing, and spectral effects processing software.
TimeFlux takes your sound to a whole new level of control and sonic manipulation. Just like time is endless, the possibilities in
TimeFlux are endless as you can Morph between 8 snapshots using our custom Orb controller area. Control TimeFlux with your
mouse, or as an added bonus control it with an optional Leap Motion controller and harness the powers of time in your hand!
You can load up to 4 sounds and up to 4 VSTs in TimeFlux, record your performance and export it as a .WAV file, or record straight into your DAW. Time and space will never be the same!
TimeFlux also contains 3.6Gb of custom made sound design revolving around the theme of time manipulation. All sounds included were carefully crafted by SoundMorph and Ivo Ivonav of Glitchmachines. Both experimental and practical, the included sound design complements the TimeFlux software, and also is quite usable on it's own.
FEATURES:
– Load up to 4 sound files
– Load up to 4 VST plugins within TimeFlux
– 8 snapshot Orb Controller
– Optional Leap Motion controller. Leap Motion sold separately here: https://www.leapmotion.com/
– 2 time stretchers
– 1 morphers
– 4 filters
– Record and Export your performance in wave files
– 3.6Gb TimeFlux sound design soundpack included made by SoundMorph and Ivo Ivanov
– Compatible with Mac and PC (32 bit and 64 bit)
In this video, Rishabh Rajan shows a technique of morphing from one plugin preset to another using automation.
A short demonstration of the Synthesis Technology Morphing Terrarium E350 as an LFO.
Sound and Video by Raul Pena .©2013 Raul Pena.
Sneak peek from the studio featuring the sampling techniques from the new Csound-based iOS app by Boulanger Labs, csSpectral. Deepak Gopinath (Lead iOS Developer) is using csSpectral to play back a simple beat and transforms the rhythms into a unique percussion track that morphs beyond glitch. This aspect of the app is well-suited for many applications ranging from advanced sound design for film to a mashup of your favorite track.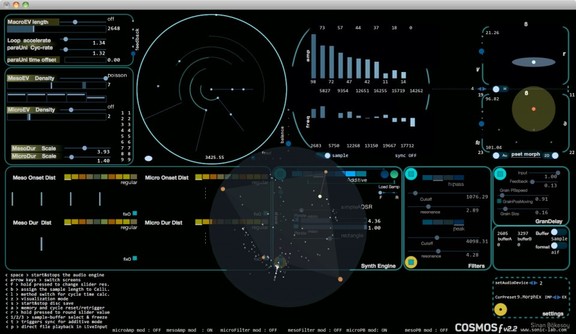 sonicLAB has announced version 2.2 of Cosmosƒ, a real-time dynamic stochastic synthesis engine.
newest update: Cosmosƒ V2.2 offers a powerful and unique preset morphing mechanism. With 2D / 3D control interface + homogeneous and heterogeneous micro waveform handling, it "rethinks" for you what you know as "morphing"…

A sonic morphing process defines a metaphor of exploring the sonic shape and timbral evolution on intermediate levels. Cosmosƒ V2.2 gives the possibility to manipulate its composants responsable for its bottom-up sonic construction within necessary correspondance, precision and smoothness.

Changes in Cosmosƒ v2.2

2D / 3D preset morphing mechanism. Up to 4 different preset parameter space can be morphed by traveling inside a 3D sphere by adjusting the polar coordinates within a unique interface design.
Stochastic morphing with distribution range for altering the morphing position, speed and interpolation control.
Built-in mathematical functions to automatically and precisely move the morphing pointer in the space.
Precise audio rate parameter update with the possibility of reaching amazing morphing speeds (44100times a second!)
turns Cosmosƒ into a super oscillator by accumulating up to 4 different presets in heterogeneous micro event mixing mode prior to the morphing phase.

Cosmosƒ for Windows and Mac is available to purchase for 89 EUR.
In this video tutorial sound design course designer/instructor Evan Sutton,  explores the sonic capabilities of "morphing waves" in Native Instruments' Absynth software.
"Evan Sutton is one of Dubspot's esteemed instructors by day and a sonic alchemist by night with his Astrolith (Space is the Place) music project which employs wobbling, funky bass lines under pitch-modulated vocals and synths. In this new video, Sutton shares his creative process of "adding a counterpoint" to his signature wobble using Native Instruments' Absynth instrument. "At the core of this sound is the morphing wave. This is a really cool feature that Absynth has, and one of the only places where additive synthesis is used in Native Instruments' Komplete (aside from Reaktor library instruments)," explains Sutton. In this tutorial he uses Logic as a DAW, but also explains that the process for using Absynth is exactly the same if you use Ableton or another DAW."
M-RGT has announced the release of psyGEN, an experimental granular synthesizer plug-in for Windows.
Using granular synthesis as a basis it adds extensive Modulation and FX capabilities to take any type of .wav file source and turn it into a multi-layered composition of great complexity.

With the built-in 16 track sequencer, long evolving ambient/drone sounds can be created and cross-faded with other sounds to create dense tapestries of sound. Also, the sequencer allows for more rhythmic based compositions or patches as well. It is possible to create an entire composition with just one track incorporating many variations.

psyGEN can be used as a standalone synthesizer with a plug-in like SaviHost or similar program or can be installed as a VSTi with a Host DAW.
The psyGEN plug-in for Windows (VST) is available to purchase for $33.50 USD.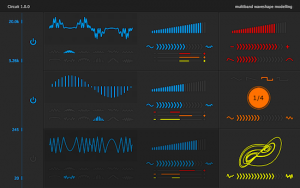 Sinevibes has announced the release of Circuit, its latest Audio Unit effect plugin for multiband waveshape modelling.
Circuit splits the signal into three frequency bands, and passes each band through its own processing engine which offers 12 different algorithms – from sine-based waveshape transformers and foldback distortion, to circuit-bent filters, lo-fi and ring modulation. These models can be further modulated by an input envelope follower, tempo-synchronized LFO or two-dimensional Lorenz attractor. All this is wrapped into a stylish, colour-coded interface based on Sinevibes' innovative design language, which makes it incredibly fun to work with.
Circuit features
Morph lifeless waveforms into entirely new, rich and dense sounds.
Transform synth basses and leads into completely different, layered material.
Re-synthesise and mangle electronic drum loops beyond recognition.
Circuit is available to purchase for $29 USD. It is also included in the Sinevibes plug-in bundle for $119 USD.

Syncersoft tells us that Analog Warp is a warp and morph effect designed to deliver the clear, penetrating sounds favoured by live musicians. They believe that it's ideal for use in trance, dance, techno, dubstep, electronica, drum n bass, big beat, dub, reggae and all other styles. Syncersoft says that the LFO modulation section was designed specially for Dubstep genre but can be used in other styles too.
The plug-in contains:
Main section.
Filter section.
LFO section.
Morph section.
Pricing and Availability:
Free download.
More information: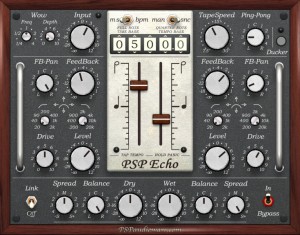 PSP Echo – the echo processor previously only available within Wave Machine Labs' Auria 48-track DAW iPad app – is now available in standard plug-in form for use in your favorite DAW.
Echo's powerful and unusual features combined with its smooth operation makes it ideal for all kinds of creative uses from simple slap back and sustain effects through ping-pong delays and spacious echoes. Use the delay sliders to add special tape echo effects for even more unique effects. The tape wow control and built in ducker further extend the creative potential of PSP Echo.
Internally, the Echo is like a combination of four mono tape delays — two for the initial ping-pong pre-delay and two for the main stereo echo. PSP Echo also comes with a set of useful factory presets that cover a wide range of the plug-in's settings.
PSP Echo is available in AudioUnit, VST, RTAS AAX formats for Mac OSX (Universal Binary); and VST, RTAS and AAX for Windows.
Two nice plug-ins for free this morning, enjoy

Xenium Audio tells us that X-Tube is a Microsoft Windows VST plug-in that simulates a tube amplifier saturation effect.
Features
Type of vacuum tube for simulation – 12AX7.
Mono, Stereo, Qudro and 5.1 audio track support.
64-bit floating point processing.
Easy to use and operate.
Zero latency processing.
1x, 2x, 4x, 8x, 12x, 16x oversampling mode.
IIR-type 3 Band equalizer with ±12dB range.
Separate adjustment of drive and bias.
12 Factory presets / 8 User presets
Pricing and Availability:
Free download.
More information:
Syncersoft tells us that the freeware Lizard Morph is a detune and morph effect designed to deliver the powerful, penetrating sounds favoured by trance musicians. They say that it's ideal for use in trance, dance, techno, dubstep, electronica, drum n bass, big beat, dub, reggae and all other styles. The LFO modulation section was designed specially for Dubstep but Syncersoft says that it can be used in other styles too.
Pricing and Availability:
Free download
More information: