Splitter is a granular beat production environment animated by a special old-school vibe to it that makes it extraordinarily fun and satisfying to use. Let's check it out…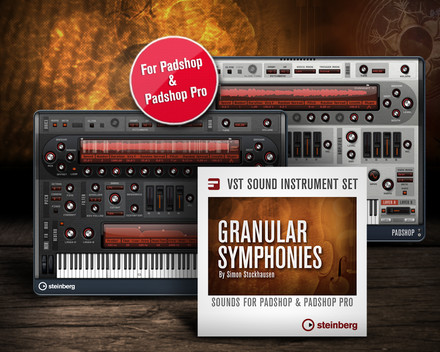 Steinberg has released Granular Symphonies, an expansion pack for Padshop/Padshop Pro, created by the acclaimed composer and sound designer Simon Stockhausen.
Here's what they have to say about it:
With beautifully intricate textures, pads and leads, Granular Symphonies spans 2 GB of exquisite content, featuring instrumental and vocal samples recorded and edited by the man himself plus 260 supplementary presets.
Simon Stockhausen said he hopes that "this library will inspire many composers around the world and expand their sonic palette to paint beautiful, haunting, wondrous and enchanting musical pictures."
Features:
260 new presets with sounds designed by sound designer, composer and multi-instrumentalist Simon Stockhausen
2 GB of exclusively recorded samples including strings, brass, mallets, vocals and experimental content
Available as download only
Windows and Mac installer included
Granular Symphonies is priced at $29.99 and is available as download through the Steinberg Online Shop.
A short video showing a granular synthesis sound design session in Absynth 5.
Notes on setting up the oscillator for granular synthesis.
1) I loaded an audio clip with a computer voice counting from 1-8
2) I set to synth method to Granular
3) Remember Absynth envelopes only subtract so you need set oscillator settings to Trans to 0 and Start to 97. In this way the lowest value of the envelope is the beginning of the sample and the largest values is the end of the sample.
4) In the Mod panel, Time % needs to be set 0 thereby freezing the speed of playback allowing the envelope to control playback speed.
Notes on envelope modulation:
1) The envelope controls the play head.
2) Each envelope segment can have an LFO which further modulates the play head
Machine Machine (2013) is a 32″ touchscreen installation that functions as an electronic instrument. Granular synthesis is used to loop "grains" of sound and video at variable lengths and frequencies. These parameters are based on the y-axis of the touch point on the monitor. The x-axis determines the position of the grain within the timeline. The piece was exhibited last month at the Northrup King Building in Minneapolis during Art-a-Whirl and for Visual Storage; the MCAD MFA thesis exhibition.
Within the piece there are five different segments that can be manipulated. Each segment provides the sound and visuals of a particular machine doing its job. These include a magnetic scrap crane, a train engine, a hydraulic metal cutter, tanker cars, and foot traffic. The video demonstrates some of the range and subtlety possible with the device.
See more at: http://audiocookbook.org/machine-mach…
ArcWave is a granular re-synthesiser for Native Instruments Reaktor that uses samples in place of oscillators allowing very diverse waveform generation from virtually any conceivable sound source.
The Demo Track "UnderWater ArcLight" was improvised live using ArcWave, no other synths, effects or sounds have been used.
The track was recorded in Logic on a MacBook Pro and uses only 9 patches.
Each part was independently bounced down before playing the next, leaving 9 recorded audio tracks at the mixing stage, two of the tracks had a small amount of EQ cut at about 500 Hz to remove some of the energy, plus a bit of automation was then used to control the track levels.
The finished mix was then bounced through a 5 band compressor in Logic to produce the 24bit master, no post processing has been added.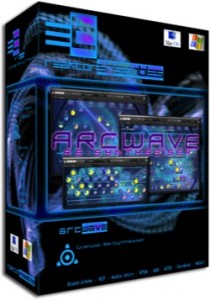 EverythingTurns has released ArcWave, a granular re-synthesiser ensemble for Native Instruments Reaktor.
ArcWave is a granular re-synthesiser that uses samples in place of oscillators allowing very diverse waveform generation from virtually any conceivable sound source.

An independent multipoint envelope generator bidirectionally scans the sample without affecting pitch, producing an ever changing waveform output feed to the filters.

The scan cycle, flow, motion, start point and length along with gain, pan, pitch and fine tune are all definable, plus the scan cycle can be disabled and set to static mode.
ArcWave is available to purchase for £12 GBP. It includes a separate ensemble of the Atmospheara effect processor included in ArcWave.
Standuino π [pi] – mysterious drone synth (receiving MIDI clock from frauAngelico)
standuino.eu/musical-instruments/pi/
frauAngelico – drum synth with sequencer
standuino.eu/musical-instruments/frauangelico/
microGranny – granular sampler
standuino.eu/musical-instruments/microgranny/
buy: standuino.eu/buy-musical-instruments/
Loupe 2 for Reaktor is a sample slicing and manipulation tool that also does granular synthesis and delay. It's available at http://www.reaktortips.com/2013/04/lo…
In this video one explores basic sample map mode.
MOTU's Matt LaPoint demonstrates MachFive 3′s IRCAM-based granular synthesis engine by applying simple, yet effective, granular techniques to the main Star Wars theme.