Borderlands Granular is a new musical instrument for the iPad. Touch, transform, and explore sound with this new interface for granular synthesis, a technique that involves the superposition of small fragments of sound, or "grains", to create complex, evolving timbres and textures.
You can get Borderlands Granular here at the app store.
https://itunes.apple.com/us/app/borde…
You can get Audioshare here too.
https://itunes.apple.com/us/app/audio…
And if you want to get Crystalline.
https://itunes.apple.com/us/app/cryst…
And you can get Node Beat here also.
https://itunes.apple.com/us/app/nodeb…
sound designing with new amazing music app borderlands granular 2.0
Appstore links are
BORDERLANDS GRANULAR—– https://itunes.apple.com/us/app/borde…
AUDIOBUS —- https://itunes.apple.com/us/app/audio…
A Box In The Sea, captures a live granular sampling synth jam, Alpha Seed.
My concept in this piece was to use the Strymon big sky reverb to modulate and process all of the granular sampling I'm doing with the Octatrack.

I'm using 2 Midi tracks on the Octa to constantly modulate (using LFO's and P-locks) 6 different parameters on the Big Sky (Midi CC's on a reverb pedal of this standard is brilliant).

The sounds you hear are created with custom impulse responses I made (inspired byDiego Stocco) and reprocessing the same sound with itself (blowing my mind in the process).

The Cocoquantus is being modulated by a Sidrax. I've routed the Sidrax through an SSF Ground Control so I can apply DC bias and visualize it with a Dave Jones O'tool.
Madrona Labs has released Kaivo, a semi-modular software synthesizer that combines two ways of making sound: granular synthesis and physical modeling.
Developer Randy Jones says:
"Today we release Kaivo, our new software synthesizer. 'Kaivo' is Finnish for 'well,' as in, a deep well of sounds, and I've been working on deepening that well over the last month or so. Kaivo's models include metal, nylon and gut strings, different sizes of chimes and springs (yes, springs), wooden instrument bodies, membranes and metal plates. "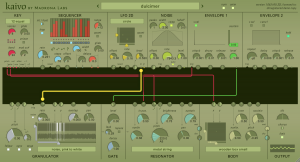 Kaivo brings 'some of the latest academic research in physical modeling to a patchable package for the first time.' Mathematically speaking, its finite difference time domain (FDTD) models let the player affect the internal vibrations inside the instrument at any point. This allows for a fine degree of realistic detail, like the bridge rattles on a "gut string" model, for example. Developers say Kaivo is also designed to apply this subtlety to more abstract creations.
Every time a model is triggered, it makes a slightly different sound due to the initial conditions when the sound starts. This subtle variety can quickly give a very lifelike quality to sounds that would be tedious to recreate with sampling. Kaivo has eight different types of tuned resonators, including strings, chimes and springs, each with its own complex response to sound. As for instrument bodies, there are four, including two wooden body models, a metal plate, and a frame drum—all true 2D models.
Grab it now at http://sound-guru.com. A trailer and short demo of The Mangle, a new granular synthesizer plugin for AU on Mac and (soon) VST on Windows.
Key Features:
Animated granular display – Visualize your grain stream. Individual grains move across the waveform in real time. Amplitude, pitch and envelope are also represented.
Drag & drop modulation – Creating new modulations is easy – just drag the modulator to its target, then set the amount with in-place markers showing changes.
Resizable vector interface – The Mangle's interface is rendered dynamically as vectors – resize it with no loss in quality. Handy for live performance.
Dual sequencers – The Mangle is also great for making rhythmic patterns. A pair of sequencers can be used to modulate any parameter.
Multiband waveform display – Quickly and easily see where high, mid and low frequencies are in your audio, for clearer sound setup and tweaking.
Multi-timbral – Each instance of the plugin has 8 full 'slots' each with their own audio & parameters. Map them to any MIDI range for multi-timbral patches.
Splitter is a granular beat production environment animated by a special old-school vibe to it that makes it extraordinarily fun and satisfying to use. Let's check it out…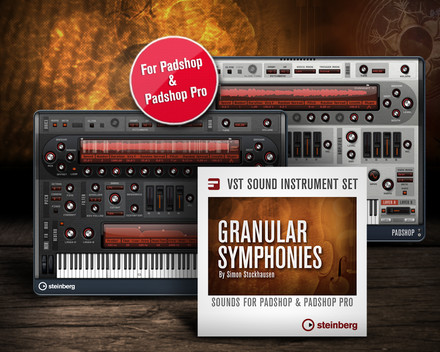 Steinberg has released Granular Symphonies, an expansion pack for Padshop/Padshop Pro, created by the acclaimed composer and sound designer Simon Stockhausen.
Here's what they have to say about it:
With beautifully intricate textures, pads and leads, Granular Symphonies spans 2 GB of exquisite content, featuring instrumental and vocal samples recorded and edited by the man himself plus 260 supplementary presets.
Simon Stockhausen said he hopes that "this library will inspire many composers around the world and expand their sonic palette to paint beautiful, haunting, wondrous and enchanting musical pictures."
Features:
260 new presets with sounds designed by sound designer, composer and multi-instrumentalist Simon Stockhausen
2 GB of exclusively recorded samples including strings, brass, mallets, vocals and experimental content
Available as download only
Windows and Mac installer included
Granular Symphonies is priced at $29.99 and is available as download through the Steinberg Online Shop.

A short video showing a granular synthesis sound design session in Absynth 5.
Notes on setting up the oscillator for granular synthesis.
1) I loaded an audio clip with a computer voice counting from 1-8
2) I set to synth method to Granular
3) Remember Absynth envelopes only subtract so you need set oscillator settings to Trans to 0 and Start to 97. In this way the lowest value of the envelope is the beginning of the sample and the largest values is the end of the sample.
4) In the Mod panel, Time % needs to be set 0 thereby freezing the speed of playback allowing the envelope to control playback speed.
Notes on envelope modulation:
1) The envelope controls the play head.
2) Each envelope segment can have an LFO which further modulates the play head
Machine Machine (2013) is a 32″ touchscreen installation that functions as an electronic instrument. Granular synthesis is used to loop "grains" of sound and video at variable lengths and frequencies. These parameters are based on the y-axis of the touch point on the monitor. The x-axis determines the position of the grain within the timeline. The piece was exhibited last month at the Northrup King Building in Minneapolis during Art-a-Whirl and for Visual Storage; the MCAD MFA thesis exhibition.
Within the piece there are five different segments that can be manipulated. Each segment provides the sound and visuals of a particular machine doing its job. These include a magnetic scrap crane, a train engine, a hydraulic metal cutter, tanker cars, and foot traffic. The video demonstrates some of the range and subtlety possible with the device.
See more at: http://audiocookbook.org/machine-mach…
ArcWave is a granular re-synthesiser for Native Instruments Reaktor that uses samples in place of oscillators allowing very diverse waveform generation from virtually any conceivable sound source.
The Demo Track "UnderWater ArcLight" was improvised live using ArcWave, no other synths, effects or sounds have been used.
The track was recorded in Logic on a MacBook Pro and uses only 9 patches.
Each part was independently bounced down before playing the next, leaving 9 recorded audio tracks at the mixing stage, two of the tracks had a small amount of EQ cut at about 500 Hz to remove some of the energy, plus a bit of automation was then used to control the track levels.
The finished mix was then bounced through a 5 band compressor in Logic to produce the 24bit master, no post processing has been added.