The WaveChaser is a sample player that uses a granular synthesis engine to play any sample with independent control over pitch and time. Generating lush sequenced effects that scan and morph around the eight dimension windows, producing never ending midi playable wave sequencing textures.
For more information visit http://www.everythingturns.com/
The WaveChaser places the same sample in each of the eight windows, and then reads the waveform as the sequencer jumps from window to window in a repeating loop, each time a window becomes active it plays the waveform as it scans to the position set by the crosses in each window, the crosses set the sample position and playback length.

You can play a static window via MiDi to achieve a granular synthesis effect or you can get the WaveChaser to play 2 or more windows in a sequence and play them via MiDi or just let it do it's thing and record the loop via Reaktor's in built recorder, drag the loop to the desktop and then use it in your sequencer.
The show dedicated to making music on touch devices – this time we look at Gestrument – a brand new App for generative music/intelligent arpeggiator and two new Granular synthesis apps from Apesoft
Borderlands Granular jam with iPad, specs below:
Borderlands Granular is a new musical instrument for the iPad.
NOTE: Borderlands Granular is designed for iPad 2 and 3. It will run on the iPad 1, but with potentially slower performance due to the heavy requirements of the audio processing.
Explore, touch, and transform sound with this new interface for granular synthesis, a technique that involves the superposition of small fragments of sound, or grains, to create complex, evolving timbres and textures.
Borderlands Granular emphasizes gestural interaction over knobs and sliders. Create, drag, and throw pulsing collections of grains over a landscape of audio files, or use the built-in accelerometer to sculpt sound with gravity. Record and share performances on the web.
More information including demo videos and examples is available at www.borderlands-granular.com
Doepfer Filter & iPad BORDERLANDS & BOSS SE-70
M-RGT has announced the release of psyGEN, an experimental granular synthesizer plug-in for Windows.
Using granular synthesis as a basis it adds extensive Modulation and FX capabilities to take any type of .wav file source and turn it into a multi-layered composition of great complexity.

With the built-in 16 track sequencer, long evolving ambient/drone sounds can be created and cross-faded with other sounds to create dense tapestries of sound. Also, the sequencer allows for more rhythmic based compositions or patches as well. It is possible to create an entire composition with just one track incorporating many variations.

psyGEN can be used as a standalone synthesizer with a plug-in like SaviHost or similar program or can be installed as a VSTi with a Host DAW.
The psyGEN plug-in for Windows (VST) is available to purchase for $33.50 USD.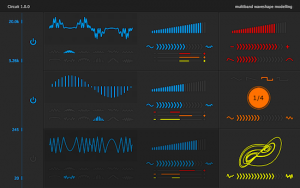 Sinevibes has announced the release of Circuit, its latest Audio Unit effect plugin for multiband waveshape modelling.
Circuit splits the signal into three frequency bands, and passes each band through its own processing engine which offers 12 different algorithms – from sine-based waveshape transformers and foldback distortion, to circuit-bent filters, lo-fi and ring modulation. These models can be further modulated by an input envelope follower, tempo-synchronized LFO or two-dimensional Lorenz attractor. All this is wrapped into a stylish, colour-coded interface based on Sinevibes' innovative design language, which makes it incredibly fun to work with.
Circuit features
Morph lifeless waveforms into entirely new, rich and dense sounds.
Transform synth basses and leads into completely different, layered material.
Re-synthesise and mangle electronic drum loops beyond recognition.
Circuit is available to purchase for $29 USD. It is also included in the Sinevibes plug-in bundle for $119 USD.
iPulsaret for iPad brings all the powerful Density/Pulsaret (Mac/Win standalone) Granular Synthesis tools to the world's most popular tablet. densitygs.com
iPulsaret is a new real-time software capable of all time-domain varieties of granular synthesis. A genuine granular playground able to generate a wide range of usual and not so usual effects: time/pitch shifting, time/pitch jittering, intricate textures, grain fountain/pulverizer, recording and manipulation of buffers, dynamic envelope shape and many more. iPulsaret for iPad will give you all the basic and advanced tools you need to manipulate sound in subtle and surprising ways. All these features are packed in an optimized, user-friendly, visually sharp interface that is easy to access when fast-improvising live, composing in a studio, or sound designing at home and on the go! You will have the power, freedom, and flexibility to create like never before – on your iPad! iPulsaret allows you to load from some built-in sound samples, record audio directly with your iPad mic and/or add your own WAV, AIFF files via iTunes.
With iPulsaret it is possible to capture the stereo output (of granulation) into the documents folder while play the keyboard or moving granulation parameters in real-time.
Control and shape grains, anytime, anywhere with iPulsaret for iPad.
- 16 Polyphony Voices
- ADSR Note Envelope
- Aftertouch Y scrubbing
- Snapshots Presets and Snapshots Morphing Pad
- Documents folder sharing via iTunes
- Sonoma Audio Copy and Paste
- Dropbox Supports
- Sound File and Snapshots rename
- Granulation Wave source: Prototypes WavePad, Trainlet and Sampled Sound
- Grain Envelope Deformation
- Grain Glisson sweep
- Grainlet linkage
- FX chain: Echo, Ring Modulation, Lowpass Moog Diode Ladder and High Shelf filters, Reverb FDN and Dynamic Compressor/Expander
- Record audio directly with iPad mic
- Auto load audio after recorded ( on/off ) in Grab Audio
- Capture Master Audio Output
- Run Audio in Background
- Sliders and Knobs double tap switch to Default/Last values
- Sliders and Knobs Fine step increment/decrement
- Fine exponential Slider
- Settings: AfterTouch Y step
- Settings: Load last UI state
- Settings: Polyphony Grains Overlapping Controls
- Settings: Sampling Rate and Buffer Size
- Quick Help embedded
Here's something that has the potential of driving innovation in the tablet space relative to music creation

Coming VERY soon to the App store. Borderlands Granular has been submitted and is currently waiting for review by Apple.
Stay tuned for a step-by-step tutorial video, which will be posted on release day.
Twitter: twitter.com/BorderlandsiPad
Facebook: facebook.com/BorderlandsGranular
stochastic granular drum machine!
soon, for iOS

Playing back a few of the included presets on my Little deFormer Limited Edition. All sounds are made with the included sampling bank. The sound is recorded directly from the Little deFormers output. I hope you will enjoy this:) More info:
www.gotharman.dk
Granular effects processor with sampler and sequencer
Gotharman's Little deFormer combines a granular effects processor with special effects like TimeStretcher, Step-Granulator and PitchShaper and more usual effects like Reverb, delay, distortion, compressor, filters and bit manipulation, with some special parameters, with a 100 minutes sampler and a step sequencer. A MIDI Note Randomizer is also included.
Both the samplings and external gear, connected to it's 2 audio input can be effected. A complete list of effects can be found in the specs section. Watch and hear Little deFormer in action, in the video's section. I have planned to use the Little deFormer as a platform for engineering new effects, so additional effects will be added now and then, which will be available as free downloads on this site. These updates will be available as MIDI sysex files in".syx" format, and you will need a program like Midi-Ox to download these to Little deFormer.
The 4-note polyphonic sampler makes it possible to record your own samplings directly from the 2 audio inputs, or re-sample it's audio output. Samplings are stored in FLASH RAM for instant recall, without any loading times. Up to 100 minutes/999 samplings can be kept. Start and end points can be changed in realtime and modulated, and it also has functions like AutoChop, for a conveniant and easy way to cut up long samplings. Each sampling has it's own Phaze effect and filter with LPF, BPF, BPF8, HPF, ADD, BEF, BASS and LO-FI modes, and a filter mix parameter. It is also possible to adjust the filter response, to create filter types, that have never been heard before. The Little deFormer comes loaded with samplings of other Gotharman gear.
The Little deFormer comes with an expansion port. Right now, only an analogue expansion box, that adds CV inputs and trigger inputs/outputs are available, but it is my plan, to add more expansions later.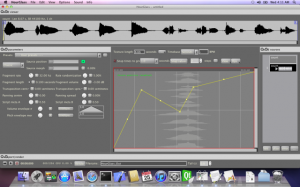 Xenakios has released a free granular effects processor for Windows, HourGlass:
HourGlass is a standalone application intended for radical sound processing by taking fragments (more commonly referred to as "grains" in other similar software) from sound recordings, to create sound textures. It is not intended for minor transparent corrections of playback speed or pitch, but is rather placed firmly in the sound mangling/glitch territory.
A Mac version is also in the works. Download HourGlass at the Xenakios blog.