Here's something that has the potential of driving innovation in the tablet space relative to music creation

Coming VERY soon to the App store. Borderlands Granular has been submitted and is currently waiting for review by Apple.
Stay tuned for a step-by-step tutorial video, which will be posted on release day.
Twitter: twitter.com/BorderlandsiPad
Facebook: facebook.com/BorderlandsGranular
stochastic granular drum machine!
soon, for iOS

Playing back a few of the included presets on my Little deFormer Limited Edition. All sounds are made with the included sampling bank. The sound is recorded directly from the Little deFormers output. I hope you will enjoy this:) More info:
www.gotharman.dk
Granular effects processor with sampler and sequencer
Gotharman's Little deFormer combines a granular effects processor with special effects like TimeStretcher, Step-Granulator and PitchShaper and more usual effects like Reverb, delay, distortion, compressor, filters and bit manipulation, with some special parameters, with a 100 minutes sampler and a step sequencer. A MIDI Note Randomizer is also included.
Both the samplings and external gear, connected to it's 2 audio input can be effected. A complete list of effects can be found in the specs section. Watch and hear Little deFormer in action, in the video's section. I have planned to use the Little deFormer as a platform for engineering new effects, so additional effects will be added now and then, which will be available as free downloads on this site. These updates will be available as MIDI sysex files in".syx" format, and you will need a program like Midi-Ox to download these to Little deFormer.
The 4-note polyphonic sampler makes it possible to record your own samplings directly from the 2 audio inputs, or re-sample it's audio output. Samplings are stored in FLASH RAM for instant recall, without any loading times. Up to 100 minutes/999 samplings can be kept. Start and end points can be changed in realtime and modulated, and it also has functions like AutoChop, for a conveniant and easy way to cut up long samplings. Each sampling has it's own Phaze effect and filter with LPF, BPF, BPF8, HPF, ADD, BEF, BASS and LO-FI modes, and a filter mix parameter. It is also possible to adjust the filter response, to create filter types, that have never been heard before. The Little deFormer comes loaded with samplings of other Gotharman gear.
The Little deFormer comes with an expansion port. Right now, only an analogue expansion box, that adds CV inputs and trigger inputs/outputs are available, but it is my plan, to add more expansions later.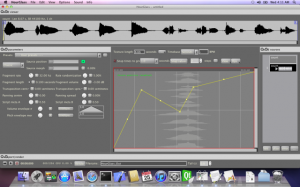 Xenakios has released a free granular effects processor for Windows, HourGlass:
HourGlass is a standalone application intended for radical sound processing by taking fragments (more commonly referred to as "grains" in other similar software) from sound recordings, to create sound textures. It is not intended for minor transparent corrections of playback speed or pitch, but is rather placed firmly in the sound mangling/glitch territory.
A Mac version is also in the works. Download HourGlass at the Xenakios blog.
A "grain cloud" may be added to the screen under the current mouse position with the press of a key. This cloud has an internal timing system that triggers individual grain voices in sequence. The user has control over the number of grain voices in a cloud, the overlap of these grains, the duration, the pitch, the window/envelope, and the extent of random motion in the XY plane. By selecting a cloud and moving it over a rectangle, the sound contained in the rectangle will be sampled at the relative position of each grain voice as it is triggered. By moving the cloud in along the dimension of the rectangle that is orthogonal to the time dimension, the amplitude of the resulting grain bursts changes.
We will provide more details on this as soon as we have them
Enjoy for now

Background information:
A project I'm doing for a university assignment. It's a 3d exploration-based granular synthesis engine. It evolved from my previous sine web project, but it's still in the early stages. It has a sonified particle system with gravity.
SOON AVAILABLE HERE : http://designthemedia.com/thegranulizator
Requires Max for Live
Features
– buffer size from 1ms to 10s
– 5 parameters to control grains (pitch, noise pitch, length, gain, stereo)
– 2 sources possible (grab audio from input OR use a sample from your disk)
The Granulizator is a tool inside the granular synthesis realm.
It is also and firstly the tool used by protofuse (http://protofuse.net) digital artist.
Especially, an ep has been made and unreleased for the moment but soon.
You have to read more about the granular synthesis:
– http://en.wikipedia.org/wiki/Granular_synthesis
– http://www.granularsynthesis.com/guide.php
– http://adagio.calarts.edu/~eric/gs.html
– http://www.artesonoro.net/tesisgran/portadagran.html
Testing the next Curtis for iPhone
The Strange Agency has introduced MegaCurtis, its latest iteration of the Curtis granular synthesizer.
Here's what they have to say about it:
The app was completely rewritten for better performance, longer recording time, session recording, polyphony, Retina display and more!
We've added jitter, LFOs, amp envelope control, and even a proper keyboard.
More awesome features are on their way to the app store as free updates, but the launch version is only $.99 for a limited time.
No mention is made of MIDI support.
MegaCurtis is $.99 in the App Store.
iDensity for iPad brings all the powerful Density/Pulsaret (Mac/Win standalone) Granular Synthesis tools to the world's most popular tablet. 

http://www.densitygs.com
iDensity 1.2
– Background Audio
– FX chain: Echo, Ring Modulation, Parametric and High Shelf filters, Reverb and Dynamic Compressor
– Independent Y scrubbing and X scrubbing at the same time for grains density/length
– Time limit of samples removed ( you could load files as big as your free iPad RAM )
– New wavePad pinch gesture ZOOM for long samples
– Sliders and Knobs could switch to Default/Last values
– Fine increment/decrement mode in Sliders and Knobs behavior
– New Rewind button in toolbar for quick jump at the start time position
– Preferences: waveform color and resolution are customizable
– Preferences: Y and second finger step resolution are customizable
– Preferences and last UI state is stored
– Auto load audio after recorded ( on/off )
– Stereo Input audio recorder (if device is stereo)
– Sound File and Snapshots rename
– Quick Help embedded
– Some bugs fixed
Coming straight from the Steinberg sound lab, Padshop is a state-of-the-art granular synthesizer that provides out-of-this-world atmospheres and far-out effects — and a user interface that's a breeze to work with.
Granular synthesis is one of the most fascinating fields of experimental sound design, but the conversions for programming sounds based on granular synthesis algorithms have always been too complex for every-day sound design or too shallow for serious in-depth sound manipulation.
With Padshop, Steinberg offers a granular synthesizer that raises the standard in terms of handling, flexibility, musicality and sound.
Top features:
• Advanced granular synthesis engine with 2 independent layers and individual oscillator, edit and FX sections
• Up to 8 grain streams per oscillator for impressively rich and spacious structures
• Intuitive user interface for effective usability and direct accessibility
• More than 400 presets dedicated to atmospheric pads and evolving textures
• SoftGrain Wave ROM with hundreds of sounds for custom presets
The Padshop VST Granular Synthesizer will soon be available as a download product from the Steinberg Online Shop. So, fasten your safety strap and get ready to expand your universe with this high-class virtual synth.
Find out more and listen to audio demos on www.steinberg.net
Features at a glance
Advanced granular synthesis engine with 2 independent layers, each with individual oscillator, edit and FX sections
Up to 8 grain streams per oscillator for impressively rich and spacious structures
Intuitive user interface for effective usability and direct accessibility
More than 400 presets dedicated to atmospheric pads and evolving textures
SoftGrain Wave ROM with hundreds of sounds for custom presets and individual tweaks
10-stage Modulation Matrix with Note Expression support for unlimited flexibility
12 different high-quality filter types for each layer
Step Modulator for rhythmic triggering of oscillators, filters, amp and pan
2 LFOs and ADSR for filters and amp envelopes
Mono and Poly Mode with Legato and Glide
FX Section with high-class modulation and delay effects
VST 3 compatible host application support