The BOSS DR-220E is a little programmable digital rhythm machine. This is the "E" version – it means E-DRUM sounds (very Simmons-like). The DR-220 has a twin brother with acoustic drums sounds – the DR-220A.
Although the DR-220 is from 1986, it lacks MIDI – but it has SYNC IN and OUT. It has nice Simmons-like eighties drums! It is similar to the Korg DDM-110/DDM-220, but it has better sounds in my opinion.
Generative Music with Ableton Live
http://en.wikipedia.org/wiki/Generati…
Dsi Prophet 08 launching clips in Ableton Live
Moog Voyager + Moog MF Delay
Moog Little Phatty
DSI Evolver
Akai VX 90
Roland Alpha Juno 2
Novation Bass Station 2
Jomox AirBase 99
Lexicon MX 300
TC Electronic M 350
Boss CE 20
Korg Monotron Filter on Cymbals
Allen & Heath Zed 428
Vintage gear demo featuring the Boss DR-55
supported by UVI: http://bit.ly/retrosound-uvi
Boss DR-55 "Dr.Rhythm" analog drum machine from the year 1979
4 Instruments (BD, SD, HH, RS), Accent, Tone, 2x Trigger Out,
step by step programming,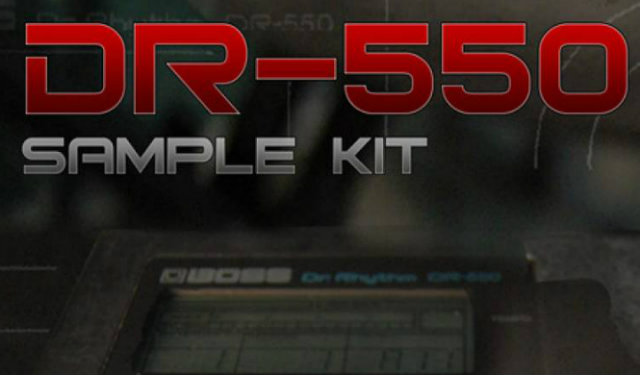 Desert Sound Studios tells us that their free DR-550 Kit features every sample of the Boss DR-550 digital drum machine in 24-bit WAV format. They say that samples were captured with a Fosusrite ISA preamp and RME converters.
Gear:
Korg Volca Keys
Korg Volca Beats
Korg Volca Bass
Boss DR-660 with Line 6 M13 multi effects
A little piece of a new track jam session!
Background video description:
This video isn't the best. I'm sleepy and I didn't even notice that the mixer channel with the DR-110 was panned to the side, so the drum machine is only on one channel. The rest of the video is just noodling with the synths, but I just wanted to put something out that showcased the sounds.
Roland SH-1000: synth bass
Roland Juno-60: synth strings
Boss DR-110: drum machine
Alesis Midiverb: reverb
Borderlands Granular jam with iPad, specs below:
Borderlands Granular is a new musical instrument for the iPad.
NOTE: Borderlands Granular is designed for iPad 2 and 3. It will run on the iPad 1, but with potentially slower performance due to the heavy requirements of the audio processing.
Explore, touch, and transform sound with this new interface for granular synthesis, a technique that involves the superposition of small fragments of sound, or grains, to create complex, evolving timbres and textures.
Borderlands Granular emphasizes gestural interaction over knobs and sliders. Create, drag, and throw pulsing collections of grains over a landscape of audio files, or use the built-in accelerometer to sculpt sound with gravity. Record and share performances on the web.
More information including demo videos and examples is available at www.borderlands-granular.com
Doepfer Filter & iPad BORDERLANDS & BOSS SE-70
Background information:
I"III" plays the Roland system 100 ( 101 and 102) . Just trying out some baseline. It easily turns into EBM with these machines. Sorry for the bad audio, but we think that this is better than a lot of other stuff that is out there, and we will do better in the future. Sequencer used is the Oberkorn from Analogue Solution, recommended if you like experimental stuff. Drums from Roland TR-626. FX: Korg signal delay SD200 , and then there are some reverb coming out of Boss RX-100 .
Keep it right, keep it analogue!
Brief about the Boss RX-100:

This analog stereo reverb was available in the early 80s. Somewhat unorthodox to see that one channel has input and output jacks on the front while the other channel has input and output jacks placed at the back of the enclosure. Stereo output can be generated from a mono input signal by phase shifting one channel 180 degrees. This is controlled using the mode switch on the front panel.
Just a bit of fun, here's the details. Impressive set up from DinSync. DinSync is a blogger focusing on vintage analog Roland "x0x" musical instruments. Primarily focusing on the SH-101, MC-202, TB-303, TR-606, TR-808, TR-909. Also featuring eurorack modular synthesis and DIy projects.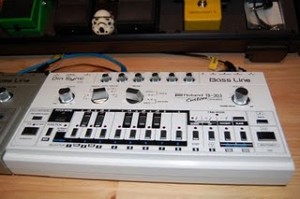 DinSync.info TB-303 Special Edition
MPC1000 TR-707 kick
Bongo #1 Doepfer A-111-5 fm'd internally -> Makenoise QMMG Ch4,
Bongo #2 DinSync.info OSC303 fm'd by Makenoise Maths -> Makenoise QMMG Ch3
Hats Doepfer A-117 -> Doepfer A-106-5
Cowbells Doepfer A-117 -> Doepfer A-106-1
Additional drums Boss DR-110
FX Boss RE-20 Space Echo, Boss PH-3, Behringer VD400
Cranada11 provides another nice video featuring among other things the Boss reverb:
The very definition of getting carried away. I bought a Boss RRV-10 reverb last night, and just wanted to test it out to make sure it was all working, and 5 hours later, here we are.
This piece is done with no sequencing at all. A Max patch does the dirty work, and everything you hear except the snare drum is coming from the hardware synths, six of 'em. I'm arranging things by turning specific metro objects on and off in Max via the Korg nanoControl; they're all quantized to the Global Clock.