The very definition of getting carried away. I bought a Boss RRV-10 reverb last night, and just wanted to test it out to make sure it was all working, and 5 hours later, here we are.

This piece is done with no sequencing at all. A Max patch does the dirty work, and everything you hear except the snare drum is coming from the hardware synths, six of 'em. I'm arranging things by turning specific metro objects on and off in Max via the Korg nanoControl; they're all quantized to the Global Clock.
This time he is focusing on the Boss DR-55 and the Roland Jupiter-4
Boss DR-55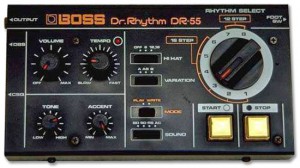 The DR-55 Dr. Rhythm was released in 1980 and was one of the first step-write-style drum machines, and it was the first rhythm machine in BOSS' successful Dr. Rhythm Series. It was small, inexpensive and easy to use – perfect for musicians at any level. Incredibly basic controls and sounds made this drum machine an instant hit among guitarists and other musicians looking for drum accompaniment to practice along with and even record into their home recordings.
The DR-55 could store up to six 16-step drum patterns plus an additional two 12-step patterns. The 12-step patterns allowed for 3/4 and 6/8 rhythms. A variation switch allowed you to, on-the-fly, alter the pattern playing. There were only four sounds in the DR-55 which included Snare Drum, Kick Drum, Rim Shot and Hi-Hat. The sounds are comparable to Roland's CR-series of rhythm machines as well as some of Roland's cheaper TR-machines (like the TR-505, TR-606). You can globally adjust the Volume, Tempo, Tone and Accent for the drum sounds.
Roland Jupiter 4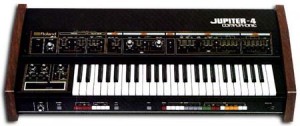 The first Jupiter synth. It was among one of the first poly synthesizers (4 individual voices which could be synced together for one fat monophonic lead), it had a pitch wheel that could be assigned to the VCA, VCF, VCO or all together, there are 8 memory locations and a cool arpeggiator – the arpeggiator can in the Duran Duran classic, "Rio". It also has a very slow LFO for those ever-so-long filter sweeps. Pretty good for 1978!
Not so cool however, are the 10 preset sounds which sound nothing like the piano, brass or strings they claim to be. The placement of all the preset buttons below the keyboard can be inconvenient, especially while playing it. And as with most old analog synths, the Jupiter 4's tuning can go out often. Still it is a nice analog synth for creating weird trippy analog sounds. It's used by >Meat Beat Manifesto, Gary Numan, Thomas Dolby, Saint Etienne, the Cars, BT, Simple Minds, Moog Cookbook, Vangelis, The Human League, Duran Duran, Spandau Ballet, Heaven 17, and film-maker Satyajit Ray.
This time an 80s clubstyle track, with new Korg Polysix and SCI Prophet VS. More to follow
Korg Electribe S mkII: TR808, Oberheim DMX, Linndrum sounds
SCI Pro One: bass, claps, stabs
Korg Polysix: rhodes, strings
Sequential Prophet VS: arps, strings
Minikorg 700S: lead
Crumar Performer: layered strings
Boss SE70: fx, vocoder
John Travolta's great SNF performance copyright Paramount 1977. I felt it fitted best. In case of any complaints by copyright holders, just contact me directly and the video will be replaced.
Some really nice tweaking going on by Chris Carter and it is nice to hear the BC8 in action
This is a brief tribute I made to the experimental work of the BBC Radiophonic Workshop who recently staged a performance in London, that I couldn't attend. All the sounds and loops originate from the BC8 synth, the Gakken SX-150 synth and the BugBrand Weevil synths. All the effects and processing is done with the Boss pedals. Oh yeah… and I did the whole thing 'upside down'.
Don´t really know what the Mercedez mark has to do with anything, but there sure is plenty of synths around
dr.squ 1995:
– Atari 1040STE
– C-Lab/Emagic Notator SL
– C-Lab Unitor 2
– Emagic Export
– Boss BX-16
– Yamaha FX900
– E-mu Esi32
– Korg Wavestation SR
– Roland Juno-106
– Yamaha TG500
– Casio VL-Tone
– Yamaha PSS-110
[youtube=http://www.youtube.com/watch?v=n0CBWw0M4vo&eurl=http://matrixsynth.blogspot.com/&feature=player_embedded]
What the author says about the demo:
"Quick demo running through the presets of this early 90's fx unit. I have a simple sequence playing on a Roland HS-80 (Alpha Juno 2 with speakers) using an unfiltered saw wave without chorus running into the left channel and a couple of preset patterns from a Roland TR-626 Rhythm Composer in the right channel. There are some algorithms (such as Stereo Mixer and "x" + "y") that have seperate parameters and/or effects for each channel. In Vocoder mode, the HS-80 acts as carrier signal and drum machine as modulator. Using half the width of a single rack space, this compact unit is great for live situations. With a street price of $400 back then, the SE-50 gave a lot of bang for the buck."
Enjoy

[youtube=http://www.youtube.com/watch?v=KyVOv955oD8]
A short movie clip of some Moog Voyager running through a Boss RE 201 Space Echo which is based on the legendary Roland RE201 tape echo. Nice!!