Just playing with some of the factory preset FX from this great app by Sugar Bytes
Turnado is a revolutionary multi-effect tool, crafted especially for massive real-time audio manipulation. It combines unique and dynamic effects with the most intuitive and immediate control you can imagine. Just turn it on and crank it up.
In the studio, simply dial in your effect from a super-sweet selection of 24 pro-quality algorithms, then mash up your audio content with minimum fuss, quickly adding dynamic variation to your arrangements. Take it to the stage and unleash Turnado's true power. With instant access to eight effects and immediate control over key parameters, Turnado is guaranteed to cause devastation on the dance floor, shredding beats and crunking breaks to insane proportions.
The idea is simple:
Turn a knob and the effect is on.
Turn the knob further to adjust effect parameters and apply modulations.
Turn the knob down and the effect is off.
With its instantaneous, one-knob, multi-parameter modulation features, Turnado will lay waste to the audio landscape. Giving you the power to crunch, chop, twist, mash and elevate your music to new levels, Turnado will have you creating wicked new sounds that will blow any crowd away.
Unlocking the power of your MIDI controller each effect requires only one knob to control it. Underneath this simplicity lies a matrix of effect parameters and modulation engines, all controlled by the main knob. This control matrix provides serious depth to the plugin and gives you the ability to create original and truly unique effect programs.
If the power of one-knob action still doesn't rock your boat, the awesome "Dictator" mode will sink your battleship. It allows you to animate all the main knobs and run that animation with just one fader. That's one fader, controlling up to 8 different effects, with potentially hundreds of parameter changes!
Turnado's primary focus is on beat manipulation, so you will find lots of loopers, slicers and grain tools in the rack. Alongside these beat-mashing effects are an arsenal of distortions and filters as well as first-class delays and reverbs. With extensive modulation possibilities each effect can produce millions of unbelievable variations that can be morphed and twisted into something new every time you tweak those knobs.
Turnado will inspire you again and again, delivering completely new variations of your original sounds and grooves every time, so what are you waiting for…turn it on.
Turnado comes for Mac/PC as Standalone application and VST/AU/RTAS/AAX plugin.
Turnado takes realtime audio manipulation to the next level.
Just assign effects to knobs and crank them up! Lots of new
granulizing, freezing, filtering, slicing, looping and scratching effects
have been developed to make Turnado the best effect you ever had!
This track is a live improvisation using 2 sequences programmed on Korg Radias, one sequence on Mopho, the drum line fron Electribe ESX-1, the pad from Nord Lead 3 and the fulte from Vrius Ti2.
All sounds are created by Alba Ecstasy and if you like them, you can visit the store:
http://www.albaecstasy.ro/blog/store
Version 1.6 now available. This free upgrade offers great new features such as "Audiobus" for streaming of audio between apps, iCloud backup, Retina display support, and Virtual MIDI for MIDI communication between iOS music creation apps. Also includes a Korg's new Beat Flutter mode, which allows you to vary patterns in real time and at random for further creative inspiration!
Get iELECTRIBE at a 50% discount – now through Dec 31st 2012!
[US] http://itunes.apple.com/us/app/korg-ielectribe/id363714043?mt=8
Background video description:
New live Electro Mix on Youtube.My Electro Mix (2012) "ANDROID" has been made with my Korg EMX1 (Electribe). Just trying to continue with more live original music mix with my favorite groovebox, music software, and application on Ipad and Android. This pattern is all about taking out the Android voice of my Korg Electribe's box. Still enjoying to mess up with these toys and I hope you will enjoy this new groove. Follow and support DJ Galactic's Channel by sending your ratings and subbing the channel!
One technique for doing side-chain compression on the Electribes using Ableton Live.
"Just wanted to share with you all my technique for doing side-chain compression on Electribes by running them thru Ableton Live. I use a combination of Audio and MIDI routing for a quick and easy effect."
Techno live set utilizing
-Korg Electribe S
-Korg Monotron
-Nanoloop
-Echopark
-TR-626 (MIDI and sync-trigger master)
Gameboy and Electribe (not the Monotron filter LFO) are synchronized via MIDI or trigger pulses from the TR-626 sync master. The Delay is synced manually by tapping.
—————————————————————–
https://sites.google.com/site/synthaquarium/
Depeche Mode's classical tune performed with the following gear:
electribe emx1+microkorg+oto
Nice Kraftwerk cover featuring the OTO Bisquit:
oto biscuit+electribe emx (only waveshaper fx)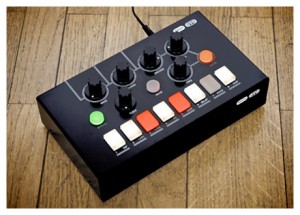 Add depth, texture and organic behavior to synths, basslines, drum machines and virtual instruments from computers with BISCUIT !
Using true 8-bit converters, digital processing and analog resonant filters, Biscuit opens up a wide range of sounds from harsh distortion, digital and aliasing artifacts to warm and fat 8-bit sounds.
Producers, deejays, musicians and sound lovers can use BISCUIT to extend their sound creation possibilties.
Monotron DUO – using cv signals to control pitch and filter cutoff – using ribbon to control filter cutoff.
Sequencer based on Velleman MK107 led kit
(endless fun

)
"DJ Galactic new Electronic Music (Chill / Groovy) live with Korg Electribe and Kaoss Pad. Enjoying beat making of this new pattern, with my groovebox Korg EMX (Electribe. As always electronic music, with some sound tweaking. Have fun! Comments and ratings more than welcome! Peace"