Sonic got a sneak preview at BPM of the brand new Korg Electribe, although perhaps not in the ideal environment. So we jumped at the chance to have a visit from Ian at Korg UK and James (aka Mista Bishi) to give us a more detailed look at the new unit.
With a King Korg derived synth engine the Electribe features a 24 voice synth engine for 16 parts, each part also has an insert effect and then there's a final Master Effect buss too.
Plenty of filter types and a revamped effect processor gives the Electribe a full ambient sound, at least in the hands of Mista Bishi.
If you want to hear a more complete version of the track James played portions of, here's a link to a vocal version.
https://www.youtube.com/watch?v=fmGde…
The new electribe Music is a next-generation electronic music production and performance tool. With a combination of powerful analog modeling, a huge collection of samples, and intuitive controls, you'll be creating music faster than ever, and performing with flexibility and expression.
See more informations:
http://www.korg.com/electribe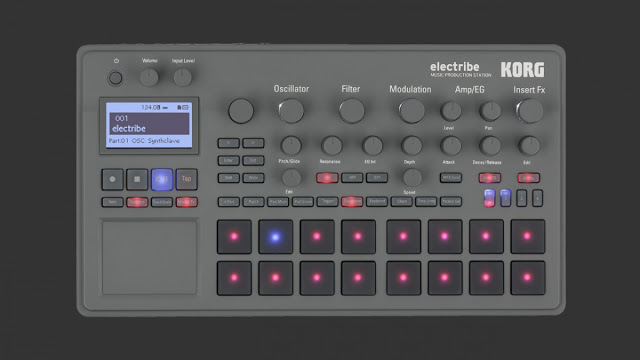 Empowering musicians to compose in a creative and influential way, the new Electribe has evolved to include such features as polyphonic synth playback, sixteen freely-assignable parts, and compatibility with Ableton Live. Featuring sixteen back- lit Trigger pads and an intuitive X/Y Touch pad, the new Electribe is easy enough for a beginner to understand, yet sophisticated enough to satisfy even the most experienced performers. Due to its sleek, compact design and battery power (optional AC adapter available), users can easily compose and play any style of electronic music, no matter where they are. In addition to making some of the world's most popular synthesizers, Korg has a long history of captivating electronic dance musicians. From the revolutionary KAOSS line, to the Legacy virtual instruments, to the original Electribe Music Production Stations, Korg has given producers the tools they need to make music that inspires.

The new Electribe's synthesis includes 409 waveforms, covering analog modeling and sample playback. The advanced analog modeling is distilled from the KingKORG synthesizer, and includes filters that model those of classic analog synthesizers. The synth engine is capable of unison, sync, ring modulation, cross modulation, and much more. The PCM portion provides numerous rhythmic samples, but also includes some multi-samples for keyboard input. Collaborations with Sample Magic, Loopmasters, and Prime Loops are also included in the Electribe.

The Electribe's evolved step sequencer allows the player to create patterns while receiving visual feedback and instantly hearing the set changes. The pads can function as a chromatic keyboard for real-time input, or as a traditional step sequencer. The "Motion Sequence" function records knob and button operations, and plays them back to create smooth or stepped modulation and other effects. The X/Y Touch pad has several functions, such as a Kaossilator-style "Touch Scale," which plays a scale when the player slides a finger across the pad. It can also control effects and modulation sources. Effects such as compression and overdrive are provided for each part, allowing each of the sixteen available parts to have their own sonic signature. Groove templates can also be specified for each part. Live performance is more intuitive than ever, due to the "Pattern Set" function which allows the player to instantly switch patterns by pressing the Trigger pads. 

Based on a partnership with Ableton, the new Electribe features the ability to export Ableton Live clips, enabling a direct link between Electribe production and one of the world's most popular DAWs. In addition to MIDI IN/OUT, Sync IN/OUT jacks are provided, allowing synchronized performances with the Volca series, Monotribe, or MS-20 Mini. This newest edition to the Korg family will certainly impress even the most profound musicians."

Specifications:
Maximum Polyphony 24 voices*1 (Pseudo-polyphonic*2)

Number of parts 16

Sampling Frequency 48.0 kHz

Number of Oscillator Types 409

Number of Filter types 16

Number of Modulation types 72

Memory Capacity 250 patterns

Insert effects 38 types

Master effects 32 types

Sequencer
Up to 64 steps for each part
Up to 24 modulation sequences for each pattern
Last Step can be varied for each part

Trigger Pads 16 (Velocity sensitive is supported)

Connectors

Audio
L/Mono Output (Standard Phone jack)
R Output (Standard Phone jack)
Headphones (Stereo mini jack)
Line Input (Stereo mini jack)

MIDI
In, Out (Use an included MIDI adapter cable)

USB
Type micro B

Sync In, Out (Stereo mini jack)

External storage device SD Card (More than 1GB), SDHC Card (Up to 32GB)

Power Supply
AC Adaptor or AA battery x 6
(Alkaline battery or Nickel metal hydride battery)
Battery Life: Approximately 5 hours
(POWER SAVING: ON, with Nickel-Metal Hydride battery)
Current Consumption is less than 500 mA

Chassis Zinc die cast

Dimensions
(W x D x H)
339 mm x 189 mm x 45 mm / 13.35" x 7.44" x 1.77"

Weight
1.6 kg / 3.53 lbs

Operating temperature
0- +40℃ (non-condensing)

Accessories
AC Adaptor (KA-350) , MIDI adapter cable x 2, Ableton Live 9 Lite (License card included)
*1: The polyphony of the entire pattern varies depending on the Oscillator, Filter, and Insert Fx type.
*2: Independent parameters for each voice have been simplified; four voices share the parameters of one conventional voice.

*All product, company, and standard names are trademarks or registered trademarks of their respective holders.
*Appearance and specifications of products are subject to change without notice.
Another composition using the Korg EMX alone (well, some of its sounds
went through the eventide space).
The Bleep Drum + MIDI controlled by an Electribe EMX-1
Get your own MIDI controllable rad-fi drum machine at bleeplabs.com
Available fully built or as a kit.
Video by Thomas Fang and Cordey Lopez
This machine, normally associated with beats, can transmit MIDI notes from each of the drum triggers. I tuned the first seven triggers to the Eb scale, with the further three notes on the lower octave.
The accent control functions in the same way, allowing you to vary it`s relative level.
Second half of the video has the synth output going into the ER-1, allowing the use of `Motion Sequence` and `Tempo Delay` effects.
This video features the exceptional Kawai K5000 and its capabilty for tweakable PADs.
The pad is Kawai K5000R only. Single sound. 1 layer. No overdub on this track.
The other instruments:
MAM ADX1, Korg Electribe SX.
The train ride is from Berlin Central Station to Berlin Alexanderplatz.
"A little different than what I'm used to. The EMX houses some awesome sounds within it, though."
The ELECTRIBE MX is a major step up in power and quality from the original ElecTribe series of dance music sequencer/synthesizers from Korg. The EMX-1 comes in a sturdy metal chassis with larger back-lit LCD display, expanded memory, voices & multitimbrality, more real-time controllers and vacuum tubes! Effects, Motion Sequencing, and Pattern length have also been expanded. And a new ribbon controller and slider have been added, providing a remarkable realtime interface for accessing the powerful arpeggiator.
Starting with its synth engine, the EMX-1 uses MMT synthesis (Multi Modeling Technology) which offers sixteen different oscillator algorithms, providing powerful analog synthesis models as well as sophisticated additive, PCM, chord, unison, combination, wave shaping, formant models and more. The built-in PCM library includes 207 drum PCM sounds and 76 synth PCM sounds ready for immediate use, ranging from powerful kicks and snares through amazingly unique organic sounds. External audio signals can be manipulated using the Comb Filter oscillator algorithm, and then further processed by the internal filter and effects. The EMX-1 allows you to create up to nine drum parts, five synth parts, plus accent parts that let you add dynamic accents to the drum and synth parts (for a total of 16 parts). Each part features extensive LFO and EG modulation. Each algorithm of the synthesis engine has two realtime adjustable parameters, plus some other menu-based parameters like waveform type, or chord quality. The brand-new filter lets you chose Low Pass, High Pass, Band Pass or Band Pass Plus.
The two Vacuum tubes (Valve Force Circuitry) create an analog tube circuit to add warmth and presence to your sounds. The tube gain knob adjusts the level of the output signal passing through the vacuum tubes, creating dynamic sounds with the distinctive tonal quality that only tubes deliver. Three stereo effect processors are available for simultaneous use. Each part can be independently routed to any of the three effects processors, and you can even use the Chain function to link multiple effects in series. Each processor offers 16 effect types including reverb, delay, flanger and chorus, tempo-based delay, talking modulator, grain shifter, decimator and more. The edits you make to each of the effects processors can be saved with each pattern.
As for the sequencing capabilities, up to 256 patterns can be created and stored to the internal memory. The EMX-1 ships with 196 assorted patterns covering house, hip-hop, R&B, electronica, drum n bass, techno, trance and more. You can combine patterns, add mute data and knob movements to create up to 64 songs, the EMX-1 ships with 3 demo songs. Favorite patterns can be assigned to Pattern Sets for instant access. Data can be quickly saved and loaded via SmartMedia cards. Realtime recording lets you record phrases as you perform, and step recording allows you to input the timing, pitch and duration one note at a time. Motion Sequencing records your realtime knob tweaks and plays them back as part of the pattern. Two types of motion sequence are provided; one for effects and one for parts, and you can also edit the value of individual steps. Up to 24 motion sequences can be used in a single pattern, allowing you to control virtually every sound parameter. And, using Auto BPM detection, the EMX-1 can follow the tempo of an external audio source. You can also use Tap Tempo to input the beat, set the tempo internally, or sync up to an external MIDI clock.
Just playing with some of the factory preset FX from this great app by Sugar Bytes
Turnado is a revolutionary multi-effect tool, crafted especially for massive real-time audio manipulation. It combines unique and dynamic effects with the most intuitive and immediate control you can imagine. Just turn it on and crank it up.
In the studio, simply dial in your effect from a super-sweet selection of 24 pro-quality algorithms, then mash up your audio content with minimum fuss, quickly adding dynamic variation to your arrangements. Take it to the stage and unleash Turnado's true power. With instant access to eight effects and immediate control over key parameters, Turnado is guaranteed to cause devastation on the dance floor, shredding beats and crunking breaks to insane proportions.
The idea is simple:
Turn a knob and the effect is on.
Turn the knob further to adjust effect parameters and apply modulations.
Turn the knob down and the effect is off.
With its instantaneous, one-knob, multi-parameter modulation features, Turnado will lay waste to the audio landscape. Giving you the power to crunch, chop, twist, mash and elevate your music to new levels, Turnado will have you creating wicked new sounds that will blow any crowd away.
Unlocking the power of your MIDI controller each effect requires only one knob to control it. Underneath this simplicity lies a matrix of effect parameters and modulation engines, all controlled by the main knob. This control matrix provides serious depth to the plugin and gives you the ability to create original and truly unique effect programs.
If the power of one-knob action still doesn't rock your boat, the awesome "Dictator" mode will sink your battleship. It allows you to animate all the main knobs and run that animation with just one fader. That's one fader, controlling up to 8 different effects, with potentially hundreds of parameter changes!
Turnado's primary focus is on beat manipulation, so you will find lots of loopers, slicers and grain tools in the rack. Alongside these beat-mashing effects are an arsenal of distortions and filters as well as first-class delays and reverbs. With extensive modulation possibilities each effect can produce millions of unbelievable variations that can be morphed and twisted into something new every time you tweak those knobs.
Turnado will inspire you again and again, delivering completely new variations of your original sounds and grooves every time, so what are you waiting for…turn it on.
Turnado comes for Mac/PC as Standalone application and VST/AU/RTAS/AAX plugin.
Turnado takes realtime audio manipulation to the next level.
Just assign effects to knobs and crank them up! Lots of new
granulizing, freezing, filtering, slicing, looping and scratching effects
have been developed to make Turnado the best effect you ever had!
This track is a live improvisation using 2 sequences programmed on Korg Radias, one sequence on Mopho, the drum line fron Electribe ESX-1, the pad from Nord Lead 3 and the fulte from Vrius Ti2.
All sounds are created by Alba Ecstasy and if you like them, you can visit the store:
http://www.albaecstasy.ro/blog/store
Version 1.6 now available. This free upgrade offers great new features such as "Audiobus" for streaming of audio between apps, iCloud backup, Retina display support, and Virtual MIDI for MIDI communication between iOS music creation apps. Also includes a Korg's new Beat Flutter mode, which allows you to vary patterns in real time and at random for further creative inspiration!
Get iELECTRIBE at a 50% discount – now through Dec 31st 2012!
[US] http://itunes.apple.com/us/app/korg-ielectribe/id363714043?mt=8