Background video description:
New live Electro Mix on Youtube.My Electro Mix (2012) "ANDROID" has been made with my Korg EMX1 (Electribe). Just trying to continue with more live original music mix with my favorite groovebox, music software, and application on Ipad and Android. This pattern is all about taking out the Android voice of my Korg Electribe's box. Still enjoying to mess up with these toys and I hope you will enjoy this new groove. Follow and support DJ Galactic's Channel by sending your ratings and subbing the channel!
One technique for doing side-chain compression on the Electribes using Ableton Live.
"Just wanted to share with you all my technique for doing side-chain compression on Electribes by running them thru Ableton Live. I use a combination of Audio and MIDI routing for a quick and easy effect."
Techno live set utilizing
-Korg Electribe S
-Korg Monotron
-Nanoloop
-Echopark
-TR-626 (MIDI and sync-trigger master)
Gameboy and Electribe (not the Monotron filter LFO) are synchronized via MIDI or trigger pulses from the TR-626 sync master. The Delay is synced manually by tapping.
—————————————————————–
https://sites.google.com/site/synthaquarium/
Depeche Mode's classical tune performed with the following gear:
electribe emx1+microkorg+oto
Nice Kraftwerk cover featuring the OTO Bisquit:
oto biscuit+electribe emx (only waveshaper fx)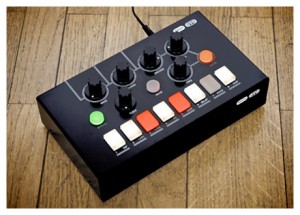 Add depth, texture and organic behavior to synths, basslines, drum machines and virtual instruments from computers with BISCUIT !
Using true 8-bit converters, digital processing and analog resonant filters, Biscuit opens up a wide range of sounds from harsh distortion, digital and aliasing artifacts to warm and fat 8-bit sounds.
Producers, deejays, musicians and sound lovers can use BISCUIT to extend their sound creation possibilties.
Monotron DUO – using cv signals to control pitch and filter cutoff – using ribbon to control filter cutoff.
Sequencer based on Velleman MK107 led kit
(endless fun :D)
"DJ Galactic new Electronic Music (Chill / Groovy) live with Korg Electribe and Kaoss Pad. Enjoying beat making of this new pattern, with my groovebox Korg EMX (Electribe. As always electronic music, with some sound tweaking. Have fun! Comments and ratings more than welcome! Peace"
Nice way to start of the new week with some minimal techno, enjoy
a little live session with KP3, Electribe, synthstation25 with synthapp on ipod and maschinedrum
download 320kbit mp3 here for free
http://hotfile.com/dl/134666023/131df19/New_Live_Elements.mp3.html
By the way while we are at it let us watch a japanese techno girl working the Animoog on the iPad:
"she began Animoog practice.
performing in front of the small general dealer in a shopping center. "
Animoog
http://www.moogmusic.com/products/apps/animoog
camera crew : karsin
http://karsin.net/
New track by "harlemnightsmusic" in early 80s disco synth style
Synths: SCI Pro One, Sequential Prophet VS, Korg Polysix, Minikorg 700S
Drums: Korg Electribe SX (with Oberheim DMX sounds)
Original Studio 54 clips compiled by crap1453
Featured hardware:
The MiniKorg 700s is an old and simple monophonic analog keyboard from Korg. It is a dual-oscillator synth related to Korg's first monosynth, the single oscillator MiniKorg 700. Most of the controls are located in an odd place beneath the keyboard so as to make room above the keyboard for a sheet-music stand. Some controls have bizarre names like Bender, Traveler and Expand for the auto-bend, filter and envelope, respectively.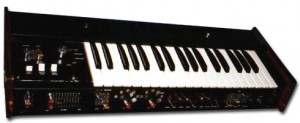 It has three ring modulators for some strange sounds and noises. Sometimes a decent bass sound for techno music can be achieved using the MiniKorg's hi-pass and low-pass filters. The two oscillators can be de-tuned and they offer triangle, sawtooth and square waveforms. There are some strange analog effects built-in as well such as portamento, a rudimentary repeat-delay, auto-bend (bender), vibrato and Chorus and Noise waveforms.
Time to go to Finland I guess, to get that summer lake inspiration

The ELECTRIBE-SX is a major step up in power and quality from the original ElecTribe series of dance music sequencer/synthesizers from Korg. The ESX-1 comes in a sturdy metal chassis with larger back-lit LCD display, expanded memory, voices & multitimbrality, more real-time controllers and vacuum tubes! Effects, Motion Sequencing, and Pattern length have also been expanded. And a new ribbon controller and slider have been added, providing a remarkable realtime interface for accessing the powerful arpeggiator.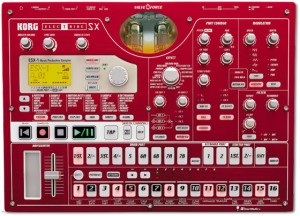 Using sample based sound creation, the ESX-1 can generate a total of 16 parts that can be used for building patterns. A generous 285 seconds of memory (at 44.1kHz) can be used to create up to 384 of your own samples. Nine parts are set up to play as "one-shot" samples, or Drum Parts. Two additional Keyboard Parts allow samples to be played melodically at various pitches right from the step keys or a MIDI input device. Sampled loops can be assigned to the Stretch Parts. As Stretch Parts, their tempos can be freely adjusted without affecting their pitch. This allows two sample loops recorded at different tempos to be used in the same piece of music. Phrase samples can be "Sliced," or divided up at the rhythmic peaks of the sample. Once sliced, individual samples can be muted to generate new grooves. Pitch, filter and effect settings can be applied to the individual sliced samples (or Motion Sequenced) to transform the original phrase into something unique. Two Accent parts introduce added dynamics. Reverse and Roll commands can be used to quickly generate complex sounding patterns. Additional Sample edit commands include Normalize, Truncate and Start Point. The ESX-1 ships with 196 preloaded samples covering a wide variety of styles. All samples (.WAV/AIFF format) can be imported and exported via SmartMedia cards.

The two Vacuum tubes (Valve Force Circuitry) create an analog tube circuit to add warmth and presence to your sounds. The tube gain knob adjusts the level of the output signal passing through the vacuum tubes, creating dynamic sounds with the distinctive tonal quality that only tubes deliver. Three stereo effect processors are available for simultaneous use. Each part can be independently routed to any of the three effects processors, and you can even use the Chain function to link multiple effects in series. Each processor offers 16 effect types including reverb, delay, flanger and chorus, tempo-based delay, talking modulator, grain shifter, decimator and more. The edits you make to each of the effects processors can be saved with each pattern. A brand-new filter lets you chose Low Pass, High Pass, Band Pass or Band Pass Plus. Audio inputs allow you to process external signals through the on-board filter and effects, and an extra pair of assignable outputs has been added as well.

As for the sequencing capabilities, up to 256 patterns can be created and stored to the internal memory. The ESX-1 ships with 128 assorted patterns covering house, hip-hop, R&B, electronica, drum n bass, techno, trance and more. You can combine patterns, add mute data and knob movements to create up to 64 songs, the ESX-1 ships with 3 demo songs. Favorite patterns can be assigned to Pattern Sets for instant access. Data can be quickly saved and loaded via SmartMedia cards. Realtime recording lets you record phrases as you perform, and step recording allows you to input the timing, pitch and duration one note at a time. Motion Sequencing records your realtime knob tweaks and plays them back as part of the pattern. Two types of motion sequence are provided; one for effects and one for parts, and you can also edit the value of individual steps. Up to 24 motion sequences can be used in a single pattern, allowing you to control virtually every sound parameter. And, using Auto BPM detection, the ESX-1 can follow the tempo of an external audio source. You can also use Tap Tempo to input the beat, set the tempo internally, or sync up to an external MIDI clock.