Background info:
Equipment: Korg Electribe EA1, EM1, ER1, ES1 & KP3 Kaoss pad.
Hardware only. Synths just as they are.. no overdubs.
'Here Come The Warm Jets' written by Brian Eno (1974).
Publisher: UMPG Publishing (Witchsphere has tried to contact these people).
This cover version is recorded and played by Witchsphere.
Video: Witchsphere and Public Domain sources.
Trip to the moon courtesy of NASA and Apollo 17.
This published content copyright Witchsphere 2011.
All rights reserved.
The TR-707 is a great source for cheap 909 samples. It has some other cool features too such as its Matrix display which clearly maps out your pattern for you in an easy to read display panel. It also features both MIDI in/out and DIN sync control – the best of both worlds. Why this unit even has individual outputs for each of its drum tones! For programming, it features a shuffle and flam effect and its programming abilities are very impressive. But it does have its limitations, the only adjustment you can make to each drum tone is volume.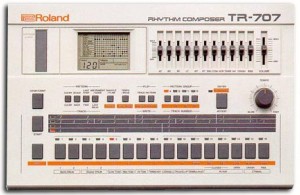 In this video:
This time, tributing early house tracks of 1986-1987 era, based on the Roland TR707 drummachine.. As always, all tracks selected and recreated by ear. None of the original tracks were sampled.
All TR-707 & additional TR-727 and TR-808 beats were rebuilt on a Korg Electribe SX sampler (no stock sounds). Basses and some synth parts were loosely remade with my analog synths (see below).
Tracklist:
Rick Astley – Never gonna give you up (707, 727)
Michael McDonald – Sweet Freedom (707, 727)
Taylor Dayne – Tell it to my Heart (house mix) (707, 808)
Mr Fingers (Larry Heard) – Washing Machine
Rick & Lisa – When you gonna (707, 808)
Jungle Wonz – The Jungle
Wired – To the Beat of the Drum (707, 808)
Marshall Jefferson – Move your Body
Phuture – Your only Friend
Joe Smooth – Promised Land (707, 727)
Similar beats are for sale @ www.zenhiser.com/1980 series.
Synthesizers used:
Sequential Prophet VS (pads), Moog Source (most basses), Roland Juno 60 (Mr Fingers, Wired, Phuture), Roland S10 sampler (M1 piano), Korg Polysix (Promised Land), Yamaha DX200 (When you gonna), SCI Pro One (Wired bass)
http://youtu.be/vY7-D9v_d_E
MAM MB33 MKII spits some Acid.
Pattern set with the ES-1 for Roland emulation with some Tr505 drums .
Bluetooth or NFC may both be good candidates and alternatives to all those chords going forward:
MIDI sync over Bluetooth using two iPads running Korg's MS-20 synthesizer and iElectribe drum machine. now possible with Korg's implementation of wireless sync-start technology (WIST) and no latency even over built-in speakers! shot w/ iPhone 4 in left hand.
http://www.youtube.com/watch?v=0m5oVLRibvI
Live remix of Lady Gaga Born this way by DJ Galactic.
Electronic music, with Roland MC-909 + Korg Electribe MX-1; I created this beat last week, and the idea was to make a funky gaga groove. http://www.djgalactic.com
Lady Gaga Born this Way remix (DJ Galactic)
This time an 80s clubstyle track, with new Korg Polysix and SCI Prophet VS. More to follow
Korg Electribe S mkII: TR808, Oberheim DMX, Linndrum sounds
SCI Pro One: bass, claps, stabs
Korg Polysix: rhodes, strings
Sequential Prophet VS: arps, strings
Minikorg 700S: lead
Crumar Performer: layered strings
Boss SE70: fx, vocoder
John Travolta's great SNF performance copyright Paramount 1977. I felt it fitted best. In case of any complaints by copyright holders, just contact me directly and the video will be replaced.
DirectEMX is a VST editor for the Korg Electribe MX.
You can use it in a VST compatible host like Cubase, Live or FL Studio.
More info at: www.directsynth.com
Vote for the new DirectSynth product!
To vote in this poll, go to http://twtpoll.com/kcp3lw
DirectEMX is a VST editor for the Korg Electribe MX. You can use it in a VST compatible host like Cubase, Live or FL Studio.
More info at: www.directsynth.com
Features:
Full parameters control and automation from a VST host software (5 Synth parts and 9 drum parts).
Interface specially designed for the EMX.
Total recall: The whole state of the EMX is saved in the DAW project and can be loaded back.
System-Exclusive dumps: Get all the patterns of your EMX in the DirectEMX interface, then modify and reverse-engineer existing patches easily.
DirectEMX is available now for PC (VST) for 25 EUR. A demo version is also available.
Harlem Nights – I have a MOOG! (MG-1, Electribe TR-808).
this is of course a typical "gear show" video, but worth to listen to, it's nice..