Absynth version of Brian Eno – An Ending Ascent. This was all done using Absynth's envelopes.
Here's an updated version of Eno's favourite chubby girl, but rendered with a slimline synthesis model. All in an attempt to get this runnable on a single Raspberry Pi. This uses the non-oversampled synth, so everything is computed at 44.1kHz. It's using the newer variant of the BPCVO model, in particular the revised bandlimiting code to attack aliasing hard at source, and I've redone all the synth presets to remove the filter on everything pitched to eliminate that particular computation burden. There are tricks you can play to bring back a 'filtery' sound in the absence of a filter – for example, morphing from sin to saw or sin to square sounds like a filter opening up as harmonics get introduced, and that trick has been exploited to turn the pair of "Brass" into pure 1980s digital filter-free synthesis. But despite the trick (early ramp via EG to morph from sin to saw, giving a harmonic enrichening over the first 100ms or so of the sound) you simply can't replace a filter with tricks, so the sounds do suffer as a result. But hey, no free lunches here, the goal was to make it burn less CPU and still get a decent sound, so I'm thankful it sounds as good as it does. The "Fat Lady" bass has also gone filterless – with a reduction in its Phase Distortion and a more sin-like wave shape to de-fizz in the absence of actual filtering. Ditto the Warm Jets 'guitar', which actually prefers being filterless as it likes to sizzle, ditto Phil's Wiggly Manzanera which still needs work. The percussive elements remain filtered because they just have to be, they totally rely on the spectral shaping and in most cases the self-oscillating resonance of the filter to generate anything at all apart from ugly noise.
And the result is, after most of the the filter removal and all the new performance tuning, this version runs in exactly 24% of an iPad 2. Only 24% – it may actually run on a Pi in this form. Think about that for just a second – there is a damn good chance that £20 of woefully underpowered educational computer will be able to synthesize this piece in real time, without resorting to a Pocket Orchestra. Bear in mind, 'this' is now 14 notes of polyphony, many stereo delays (seven? eight??), a global reverb and 10 separate synths. And I repeat, no samples – every single waveform is computed, constructed by segments of quadratics and cubics, and the waves are being wiggled by the mod matrix, by the 4 LFOs and 4 EGs. My God it's full of code.
Audio was captured from the iPad and not processed in any way, these are exactly the bytes that I computed. Cool, eh? Plus, big bonus, you get the Eerie Noise – which is actually a combination of a dedicated 'Eerie Noise' synth and the pair of brasses, turned way down and pitch bent to buggery. Yay!
Next step – get this codebase rebuilt on a Pi and actually run it.
This is a track that was made using the Scape iPad app by Brian Eno and Peter Chilvers. The track is made up of three recordings. The parameters were manipulated in real time during recording. The recordings were edited and manipulated in various ways for the sake of the composition. For example, some parts were slowed down, others were reversed. Some outboard effects were used in post production.
The Eno • Hyde app is available to download free athttp://smarturl.it/enohydeapp and works around your vinyl copy of Someday World (or online at http://enohyde.com/app).
"Like cities built on hills…"
Brian Eno and Karl Hyde
Brian Eno, Karl Hyde and Warp have partnered with Lukasz Karluk, the creator of 'HoloDecks' and creative studio 'Toby and Pete' to present an interactive 'Augmented Reality' iOS app, available now on the App Store for free download. Learn more about the project at http://bit.ly/enohyde-app
'Someday World' is out now, the special edition 2CD, CD, LP and digital download are available from,
iTunes - http://smarturl.it/up619h
Bleep - http://smarturl.it/v6xxs8
Amazon - http://smarturl.it/pi66zd
Google Play - http://smarturl.it/f4623k
Enoshop - http://smarturl.it/71qr7b
Underworldlive - http://smarturl.it/n8aak8
Subscribe to Warp Records,
https://www.youtube.com/user/warpreco…
Released on May 6th on Warp Records, the result of the collabroation between Brian Eno and Underworld front man Karl Hyde is titled Someday World. Hyde and Eno make for an interesting pair, with Hyde's visual, lyrical mind and Eno's unusual take on the creative process, we can expect something unique.
In this recently released preview track Daddy's Car , we hear the combination of live instrumentation and rock solid edits.
'Daddy's Car' is the second song to be heard from the 'Someday World' album and follows the album's first track 'The Satellites'.
Learn more and preorder the album from enohyde.com
Brian Eno – Brass, Piano, Abayomi Synth, 2nd Voice, End Lyric, Backing Voice
Karl Hyde – 1st Voice, Main Lyric, Backing Voice, Guitar
Fred Gibson – Foundation, Drums, Brass, Backing Voice
Don E – Bass Synth
John Reynolds – Drums
Chris Vatalaro – Drums
Marianna Champion – Backing Voice
Produced by Brian Eno with Fred Gibson
Brian Eno's – An Ending (Ascent) with images from Chantal Akerman news from home.
All music was done using Native Instruments Absynth
Want more? Check out: http://win.gs/avjLrK
Brian Eno speaks to Red Bull Music Academy about his visual artwork.
A unique visual adventure through the ideas and work of one of art's most vital luminaries, Brian Eno. In this short film, we examine the themes that inform and inspire Eno's particular vision of light and time manipulation. Shot with RGB+D cameras and featuring the New York exhibit of 77 Million Paintings, this is the definitive short film about Brian Eno as a visual artist.
——
Visit our official website: http://win.gs/avjLrK
——
Follow us on Twitter: http://bit.ly/Lx4wQy
——
Like us on Facebook: http://on.fb.me/12N5Ch0
——
Produced by http://mssngpeces.com
Anthony Distefano's Absynth version of Eno's "An Ending (Ascent)" from Apollo: Atmospheres and Soundtracks. This was all done using Absynth's envelopes.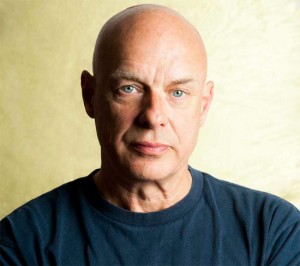 Brian Eno is set to release a new solo album through Warp this autumn. Entitled LUX, it's set for release on November 12th and features a single 75-minute long compilation divided up into four tracks of just over 20 minutes. The composition itself is made up of 12 sections, and originally evolved from a work of Eno's that's currently housed in the Great Gallery of the Palace of Venaria in Turin.
In the text accompanying the album announcement, it's described as "expanding upon the types of themes and sonic textures that were present on such classic albums as Music For Films, Music For Airports and Apollo: Atmospheres and Soundtracks … Eno sees it as a continuation of his 'Music for Thinking' project that includes Discreet Music (1975) and Neroli (1993)."
LUX will be released on double vinyl and CD via Warp.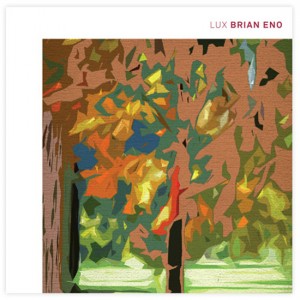 Scape
Available now for iPad
http://www.generativemusic.com
Scape makes music that thinks for itself. From Brian Eno and Peter Chilvers, creators of Bloom, Scape is a new form of album which offers users deep access to its musical elements. These can be endlessly recombined to behave intelligently: reacting to each other, changing mood together, making new sonic spaces.
Can machines create original music? Scape is our answer to that question: it employs some of the sounds, processes and compositional rules that we have been using for many years and applies them in fresh combinations, to create new music. Scape makes music that thinks for itself.
- Brian Eno, Peter Chilvers
Includes 15 original scapes
Scapes can be saved into a gallery and added to a playlist
Plays in background of other apps (excluding iPad 1)
Generates random scapes
Scapes can be shared by email
Supports AirPlay and Retina display
Headphones or external speakers recommended
Brian Eno
Synthesiser, found sound, bells, bass guitar, strategies, images, art direction
Peter Chilvers
Synthesiser, chapman stick, structures, probability networks, additional images, software design