Eno was interviewed in June, 2011 by Riz Khan on his show, "One on One." The full interview (25 min) can be seen on the Al Jazeera website:http://www.aljazeera.com/programmes/o…
Start up sound REMASTERED for the 21st Century!
In a 1996 interview, Eno explained the origin of The Microsoft Sound:
The idea came up at the time when I was completely bereft of ideas. I'd been working on my own music for a while and was quite lost, actually. And I really appreciated someone coming along and saying, "Here's a specific problem — solve it."
The thing from the agency said, "We want a piece of music that is inspiring, universal, blah- blah, da-da-da, optimistic, futuristic, sentimental, emotional," this whole list of adjectives, and then at the bottom it said "and it must be 3 1/4 seconds long."
I thought this was so funny and an amazing thought to actually try to make a little piece of music. It's like making a tiny little jewel.
In fact, I made 84 pieces. I got completely into this world of tiny, tiny little pieces of music. I was so sensitive to microseconds at the end of this that it really broke a logjam in my own work.
Then when I'd finished that and I went back to working with pieces that were like three minutes long, it seemed like oceans of time.
Eno actually also created the iconic sound on a Mac. In a 2009 interview, Eno admitted "I wrote it on a Mac, I've never used a PC in my life; I don't like them."
Animation by The Brothers McLeod
TWITTER: @BROTHERSMCLEOD
WEBSITE: http://www.brothersmcleod.co.uk/
'Warszawa' by David Bowie appears on the album 'Low' (1977). It's a tremendously great album.
Here's one of the places you can buy it: https://itunes.apple.com/gb/album/low…
Written and voiced by Adam Buxton
TWITTER: @AdamBuxton
WEBSITE: adam-buxton.co.uk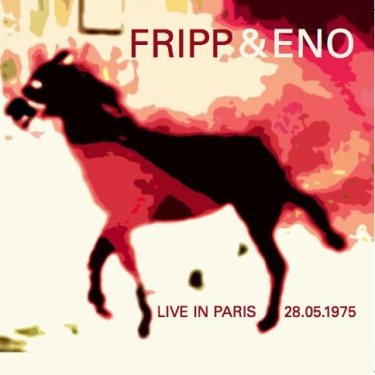 A rare live performance by Brian Eno and Robert Fripp is now available on a new album called 'Live in Paris 28.05.1975'.
Hearing the tapes in fully restored audio quality, it's easy to understand why it attracts such reverence now and perhaps, why the shows attracted such hostility then. No Roxy Music hits, No King Crimson riffs, just a duo sitting in near darkness with a reel to reel tape recorder, improvising over the pre-recorded loops with a filmed background projection.
Replace the reel to reel machine with a couple of laptops/iPads/sequencers and the core of much current live performance from electronica to hip-hop was there some thirty years in advance. At the time, audiences responded to such a glimpse of the future with booing, walkouts and general confusion.
Thanks to the discovery and restoration of the original backing tapes, it was possible to isolate, de-noise and match the live elements from the performance tapes to the studio loops to produce the final recording.
Show Notes, by Archivist Allan Okada:
Starting with the pre-recorded primordial drone 'Water on Water', the duo eventually walks on stage. Fripp begins playing through the "Enotronic system" (since Eno, not Fripp operated the tape machines on this tour). It's important to note that at this time, the mechanics of the Revox tape delay system was a mystery to the guitarist. This must have surely added a heavy dose of Eno's "idiot glee" to the entire proceedings.
Fripp moves this piece into uncharted territories with short volume pedal sweeps of lunacy before detaching from the delay system and beautifully soloing over the familiar backing loop of 'Swastika Girls'. Very astute listeners will detect the unrealized main theme from King Crimson's 'Blue' off the top.
An intermission has the audience treated to Eno's seminal 'Discreet Music' before the duo return to the stage with another improvised loop morphing into the now familiar 'Wind On Water' landscape. The sublimely serene 'A Near Find in Rip Pop' follows with Fripp soloing over a beautiful, strummed guitar piece (from the 'Evening Star' sessions) enhanced with synthetic animal screeches utilized months later on Eno's 'Zawinul/Lava' track. Then just as you feel relaxed, Eno's loop changes to something akin to a gigantic, looming dark cloud as Fripp hits the distortion pedal and fires off some solos of truly monstrous intensity.
Eno gently takes the proceedings back down to Earth again by introducing the now infamous 'Evening Star' backing loop over which Fripp treats us to yet another wonderful solo before leaving the stage again, while 'An Iron Frappe' continues to envelop the crowd. The duo reappears for the final 'Softy Gun Poison' complete with tapes of sinister laughter and mysterious chatter (foreshadowing moments of Fripp's upcoming 'Exposure'), before leaving the stage for the last time, while (the then unknown) 'An Index of Metals' terrorizes the bewildered audience as they exit the venue.
All in all, this lucky Paris audience was treated with the entirety of both classic albums as well as enough new material to constitute a third. As a bonus, we are also presented with Eno's stage tapes in pure format including Test Loops from the sound check. What more could you ask from a live recording? Absolutely essential listening.
Contents:
CDs 1 & 2 feature the complete concert with full audio restoration synched with the original studio backing loops as used in the performance.
CD3 features the backing loops without overdubs.
CD3 also features the reversed loop for Wind on Water as used on the Evening Star album.
CD3 also features Later On, edited from No Pussyfooting & originally the b side of Eno's first solo single Seven Deadly Finns.
Absynth version of Brian Eno – An Ending Ascent. This was all done using Absynth's envelopes.
Here's an updated version of Eno's favourite chubby girl, but rendered with a slimline synthesis model. All in an attempt to get this runnable on a single Raspberry Pi. This uses the non-oversampled synth, so everything is computed at 44.1kHz. It's using the newer variant of the BPCVO model, in particular the revised bandlimiting code to attack aliasing hard at source, and I've redone all the synth presets to remove the filter on everything pitched to eliminate that particular computation burden. There are tricks you can play to bring back a 'filtery' sound in the absence of a filter – for example, morphing from sin to saw or sin to square sounds like a filter opening up as harmonics get introduced, and that trick has been exploited to turn the pair of "Brass" into pure 1980s digital filter-free synthesis. But despite the trick (early ramp via EG to morph from sin to saw, giving a harmonic enrichening over the first 100ms or so of the sound) you simply can't replace a filter with tricks, so the sounds do suffer as a result. But hey, no free lunches here, the goal was to make it burn less CPU and still get a decent sound, so I'm thankful it sounds as good as it does. The "Fat Lady" bass has also gone filterless – with a reduction in its Phase Distortion and a more sin-like wave shape to de-fizz in the absence of actual filtering. Ditto the Warm Jets 'guitar', which actually prefers being filterless as it likes to sizzle, ditto Phil's Wiggly Manzanera which still needs work. The percussive elements remain filtered because they just have to be, they totally rely on the spectral shaping and in most cases the self-oscillating resonance of the filter to generate anything at all apart from ugly noise.
And the result is, after most of the the filter removal and all the new performance tuning, this version runs in exactly 24% of an iPad 2. Only 24% – it may actually run on a Pi in this form. Think about that for just a second – there is a damn good chance that £20 of woefully underpowered educational computer will be able to synthesize this piece in real time, without resorting to a Pocket Orchestra. Bear in mind, 'this' is now 14 notes of polyphony, many stereo delays (seven? eight??), a global reverb and 10 separate synths. And I repeat, no samples – every single waveform is computed, constructed by segments of quadratics and cubics, and the waves are being wiggled by the mod matrix, by the 4 LFOs and 4 EGs. My God it's full of code.
Audio was captured from the iPad and not processed in any way, these are exactly the bytes that I computed. Cool, eh? Plus, big bonus, you get the Eerie Noise – which is actually a combination of a dedicated 'Eerie Noise' synth and the pair of brasses, turned way down and pitch bent to buggery. Yay!
Next step – get this codebase rebuilt on a Pi and actually run it.
This is a track that was made using the Scape iPad app by Brian Eno and Peter Chilvers. The track is made up of three recordings. The parameters were manipulated in real time during recording. The recordings were edited and manipulated in various ways for the sake of the composition. For example, some parts were slowed down, others were reversed. Some outboard effects were used in post production.
The Eno • Hyde app is available to download free athttp://smarturl.it/enohydeapp and works around your vinyl copy of Someday World (or online at http://enohyde.com/app).
"Like cities built on hills…"
Brian Eno and Karl Hyde
Brian Eno, Karl Hyde and Warp have partnered with Lukasz Karluk, the creator of 'HoloDecks' and creative studio 'Toby and Pete' to present an interactive 'Augmented Reality' iOS app, available now on the App Store for free download. Learn more about the project at http://bit.ly/enohyde-app
'Someday World' is out now, the special edition 2CD, CD, LP and digital download are available from,
iTunes – http://smarturl.it/up619h
Bleep – http://smarturl.it/v6xxs8
Amazon – http://smarturl.it/pi66zd
Google Play – http://smarturl.it/f4623k
Enoshop – http://smarturl.it/71qr7b
Underworldlive – http://smarturl.it/n8aak8
Subscribe to Warp Records,
https://www.youtube.com/user/warpreco…
Released on May 6th on Warp Records, the result of the collabroation between Brian Eno and Underworld front man Karl Hyde is titled Someday World. Hyde and Eno make for an interesting pair, with Hyde's visual, lyrical mind and Eno's unusual take on the creative process, we can expect something unique.
In this recently released preview track Daddy's Car , we hear the combination of live instrumentation and rock solid edits.
'Daddy's Car' is the second song to be heard from the 'Someday World' album and follows the album's first track 'The Satellites'.
Learn more and preorder the album from enohyde.com
Brian Eno – Brass, Piano, Abayomi Synth, 2nd Voice, End Lyric, Backing Voice
Karl Hyde – 1st Voice, Main Lyric, Backing Voice, Guitar
Fred Gibson – Foundation, Drums, Brass, Backing Voice
Don E – Bass Synth
John Reynolds – Drums
Chris Vatalaro – Drums
Marianna Champion – Backing Voice
Produced by Brian Eno with Fred Gibson
Brian Eno's – An Ending (Ascent) with images from Chantal Akerman news from home.
All music was done using Native Instruments Absynth