House on the Roland TR707
The TR-707 is a great source for cheap 909 samples. It has some other cool features too such as its Matrix display which clearly maps out your pattern for you in an easy to read display panel. It also features both MIDI in/out and DIN sync control – the best of both worlds. Why this unit even has individual outputs for each of its drum tones! For programming, it features a shuffle and flam effect and its programming abilities are very impressive. But it does have its limitations, the only adjustment you can make to each drum tone is volume.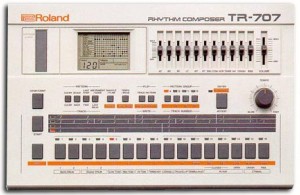 In this video:
This time, tributing early house tracks of 1986-1987 era, based on the Roland TR707 drummachine.. As always, all tracks selected and recreated by ear. None of the original tracks were sampled.
All TR-707 & additional TR-727 and TR-808 beats were rebuilt on a Korg Electribe SX sampler (no stock sounds). Basses and some synth parts were loosely remade with my analog synths (see below).
Tracklist:
Rick Astley – Never gonna give you up (707, 727)
Michael McDonald – Sweet Freedom (707, 727)
Taylor Dayne – Tell it to my Heart (house mix) (707, 808)
Mr Fingers (Larry Heard) – Washing Machine
Rick & Lisa – When you gonna (707, 808)
Jungle Wonz – The Jungle
Wired – To the Beat of the Drum (707, 808)
Marshall Jefferson – Move your Body
Phuture – Your only Friend
Joe Smooth – Promised Land (707, 727)
Similar beats are for sale @ www.zenhiser.com/1980 series.
Synthesizers used:
Sequential Prophet VS (pads), Moog Source (most basses), Roland Juno 60 (Mr Fingers, Wired, Phuture), Roland S10 sampler (M1 piano), Korg Polysix (Promised Land), Yamaha DX200 (When you gonna), SCI Pro One (Wired bass)
Comments