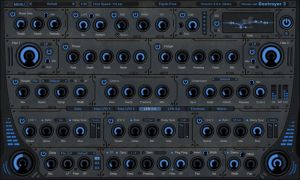 rf Music has released Destroyer 3, a Multi-FX VST plug-in for Windows.
Destroyer 3 is a collection of effects gathered in a single plugin with a designed to be easy to use interface and flexible signal routing. In addition to the effects, there are also LFOs, step LFOs and envelops that can be used to modulate some of the main parameters of the plugin and create movements and morphing sounds.
Features:
Noise gate / Expander.
Over drive.
Distortion.
Lo-Fi: Sample and bit rate reduction.
Cabinet simulator.
2 Filters.
Parametric EQ.
Phaser.
Flanger.
Chorus.
3 Delay units.
Reverb.
Stereo control.
Trance gate.
6 LFOs.
2 Step LFOs.
3 Envelopes.
Price: $69.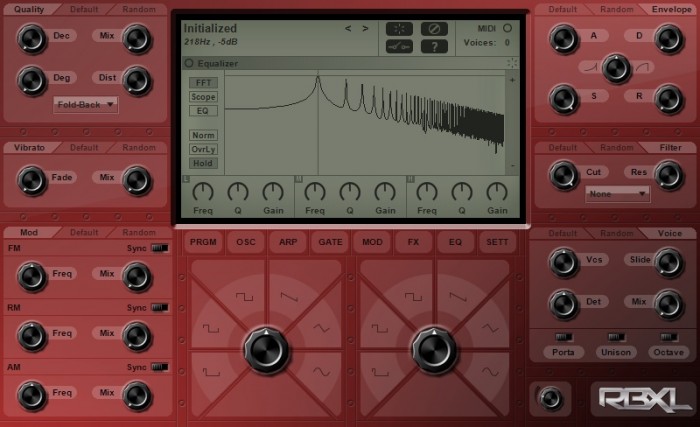 Sound-Base Audio has announced the release of RBXL, a synthesizer instrument for Windows.
RBXL is a full-size, dual oscillator subtractive hybrid VST plug-in combined with FM, RM, and AM. This synth also has built-in effects, an EQ, and an arpeggiator. RBXL is the bigger brother of Retro Boy and was made for retro quality sounds.
RBXL features
Dual seven shape oscillators: 12.5% Pulse, 25% Pulse, 50% Pulse, Saw, Triangle, Sine, Noise.
1 to 64 note polyphony with portamento and slide.
16 step arpeggiator with adjustable oct/semi/fine tuning, gate, and velocity.
16 step mono gate.
LFO, sequence, and envelope modulation for 20+ parameters.
Low usage reverb, delay, chorus, stereo, and phaser effects.
Built in parametric EQ and FFT/scope analysis.
Multi slope lowpass, highpass, bandpass, and band reject filters.
Frequency, ring, and amplitude modulation with frequency syncing.
Unison mode with detune and octave spread.
User settings and personalization features.
RBXL is available for purchase for $59 USD.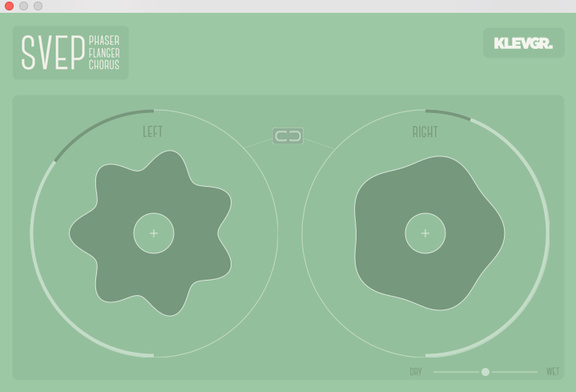 Klevgränd Produktion has announced the release of an AudioUnit and VST plug-in version of Svep, its modulation effect processor previously released for iOS.
Svep is a stereo modulation filter effect suitable for any sound. All parameters are easily editable in one screen and the clean and responsive user interface encourages creativity. Tweak it to produce anything from old-school phasers to subtle choruses.
Svep is available as a free download.
Klevgränd has also released a VST plug-in version of SquashIt, the multiband distortion effect. The plug-in is available for purchase for $7.99 USD.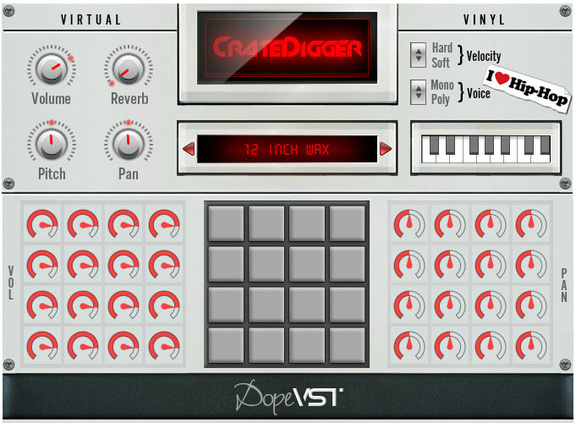 Plugin Boutique has introduced Crate Digger, a virtual vinyl system by DopeVST.
Crate Digger is an innovative VST / AU plug-in for PC or MAC. We have designed this "instrument" to give beat makers and crate diggers an instant library of royalty free, vinyl style Hip Hop samples.

The software contains 800 unique hand crafted samples distributed across 50 included patches and with a new "crate" expansion pack released monthly, you will never be short of ideas in the lab.
Crate Digger features
800 quality crafted classic samples including stabs, chops, loops, FX and more.
50 themed patches all EQ'ed mixed and key grouped for instant use.
100% Royalty Free, all these samples are made from scratch by our own team of producers.
16 separate volume and pan controls.
Velocity selection and Mono/Poly modes..
Built in flexible pitch and drive controls.
Includes a built in analog style reverb.
New "crate" expansions will be released monthly.
Ultra low CPU usage [perfect if you own a laptop / tablet / low spec PC/MAC].
Ultra fast patch loading [flick through patches in lightening quick times].
Program your chops manually or use a MIDI/USB controller/keyboard/MPD Royalty Free Hip Hop Samples.
Crate Digger is available from Plugin Boutique for £60.50 GBP.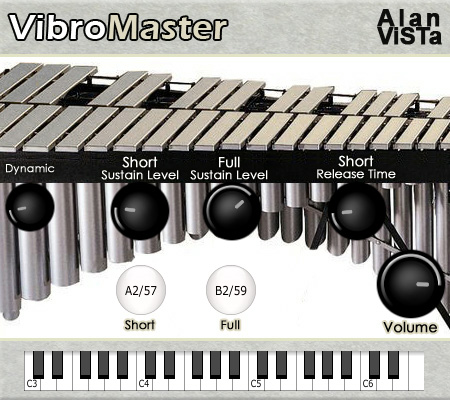 VibroMaster is a sampled vibraphone containing 42 stereo samples from the
University of Iowa Electronic Music Studios public domain library.
You can use a sustain pedal to play with full release notes,
but if you don't have one, you can switch from Short to Full release
with the midi notes A2 (57) for short and B2 (59) for full.
These 2 notes can be triggered from the GUI.
– 42 stereo 24 bit samples.
– 2 groups: Short / Full release.
– Release time control for the short group.
– Sustain levels for each group.
– Amplitude dynamic range control.
– Main volume.
-Ugly GUI.
Available in :
VST 32 and 64 bit for Windows
VST for Mac
Audio Unit for Mac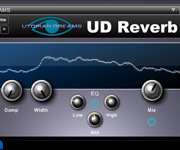 California contemporary jazz band Utopian Dreams has released a collection of free VST plugins for Windows.
The VST's include:
You can download the free Windows VST plugins from the UD site.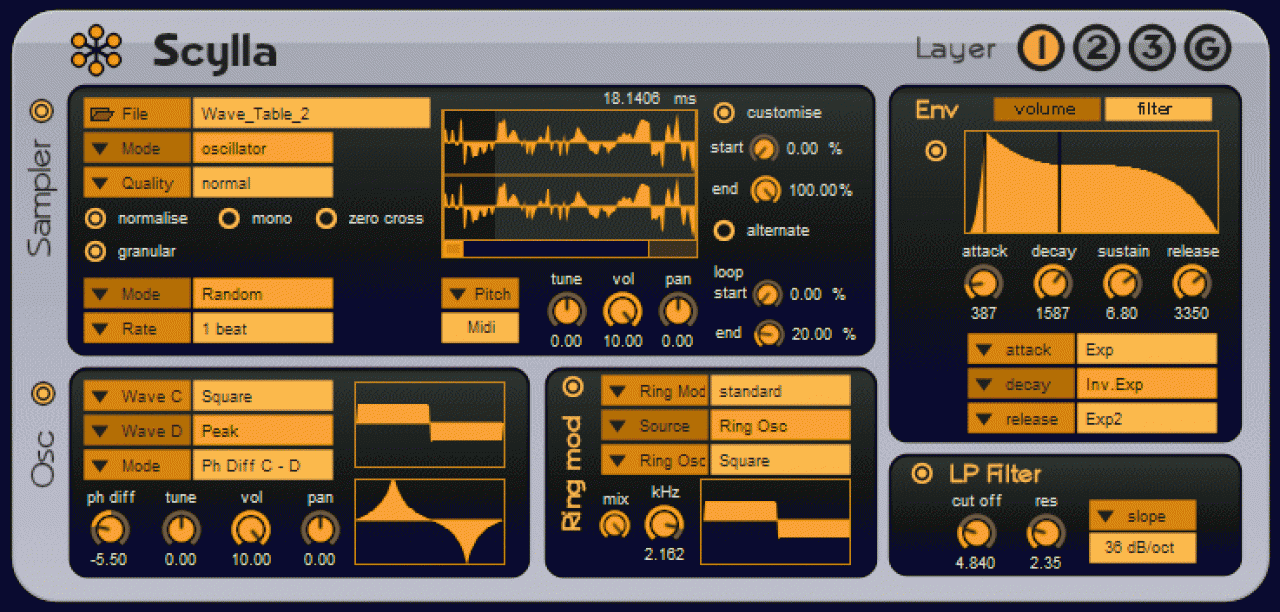 De La Mancha has released Scylla – a 32 bit Windows VST instrument – as a free download.
Scylla is capable of sample playback, combined with subtractive synthesis, to produce a wide variety of sonic possibilities, ranging from lush pads, soundscapes and effects, leads and bass.
Scylla includes three different types of oscillators that can be modified to a wide variety of styles and three built-in samplers that can accommodate .wav audio samples, which can be played back in grain table, waveform, sample or single hit format. All the audio can be modified and modulated through LFO, volume and filter envelopes, Ring-Modulation, and Unison.
Scylla has a tabbed interface with a different tab for each of the 3 layers and a Global tab for effects and LFOs. Each Layer is identical except each has a different type of oscillator, with a Cross-modulation osc, a Morphing osc and a Spectral osc
Features:
Three layers of programmable audio sources
Each layer consists of:

Sample player capable of loading full-length samples and custom waveforms
Oscillator (Dual-OSC with cross-modulation, Morphing OSC, Spectral OSC)

Each sampler features:

Playback: Oscillate, Play-Once, Loop-Release
Basic audio playback features (normalize, stereo to mono, zero-crossing)
Customizable Loop points
Granular and Wavetable playback
Loads any WAV format sample from your own library

96MB of sample content, including waveforms, samples and loops
128 presets by brian botkiller
All audio sources have independent tune, volume, and pan
Ring-Modulation per layer
Variable stage Filter per Layer
Adjustable Amp and Filter Envelopes per layer (Envelope contours can be changed)
Layer Assignable Granulator engine
2 layer assignable LFO effects for modulating ring-mod, cutoff (filter), and phase of one LF
Adjustable Global Amp Envelope
Mix level of each audio source can be adjusted
Mix level of each layer can be adjusted
Master Volume
Each audio source, envelope, ring-mod and filter can be switched off to save CPU
Midi CC support
Scylla is free to download.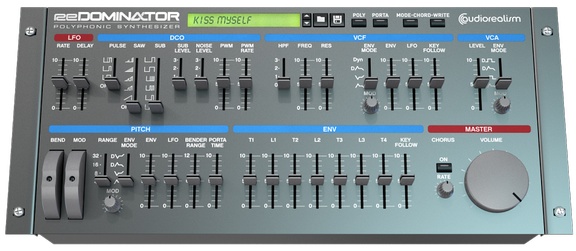 AudioRealism has announced the release of the VST/AU version of ReDominator, a synthesizer instrument for Windows and Mac.
ReDominator is an emulation of the classic Alpha Juno 1/2 (JU-1/2), a polyphonic DCO (digitally controlled oscillator) based synth from 1986.

The JU-1/2 became popular in the early 90′s techno and rave scene particularly by the classic Hoover sound (which ReDominator emulates accurately). But beyond those niche sounds there lays a versatile synthesizer that does bass, pads, leads, organs and a lot of other sounds waiting to be discovered!
ReDominator VST/AU features
Accurate emulation of the Alpha Juno 1/2 including the famous Hoover patch.
14 different low aliasing waveforms including a unique PWM-sawtooth.
High quality full range 24dB/octave low-pass filter.
Unique 8 parameter envelope generator which enables much more complicated and expressive sounds than a standard ADSR.
200+ bundled patches (of which many are sysex converted from our own JU-2).
Patch importer which allows importing sysex patches from your own Alpha Juno and play them in ReDominator.
Chord Memory function.
ReDominator for Windows and Mac is available for purchase for 55 EUR incl. VAT.

B.Serrano tells us that IO is a set of VST effects for Windows driven by a sophisticated GUI envelope. He says that duration is theoretically infinite, so the envelope can run from 1 nanosecond to several minutes,even hours. Here's B.Serrano's descriptions of the individual effects:
Paraphonic multifilter
Multimode filtering: LP, HP, BP, Peak
Cascade filtering up to 4 stages (stack)
Advanced GUI envelope up to 32 stages
Loopable or 1 shot
Host-Bpm syncable
Individual curve-type for each segment
High precison editing
Stereo Phaser
4, 8 or 12 stages
Advanced GUI envelope up to 32 stages
Loopable or 1 shot
Host-Bpm syncable
Individual curve-type for each segment
High precison editing
Multi level adjuster
Advanced GUI envelope up to 32 stages
Loopable or 1 shot
Host-Bpm syncable
Individual curve-type for each segment
High precison editing
Multi level Auto-Pan
Advanced GUI envelope up to 32 stages
Loopable or 1 shot
Host-Bpm syncable
Individual curve-type for each segment
High precison editing
Ring Modulator
Advanced GUI envelope up to 32 stages
Loopable or 1 shot
Host-Bpm syncable
Individual curve-type for each segment
High precison editing
Pricing and Availability:
Free download.

B. Serrano has launched Selena, a free synthesizer instrument for Windows.
Downsized version of Horus.
Just strings, but not only…
Full MIDI learn
32 voices polyphonic
CPU friendly
The plug-in is available for Windows (VST).