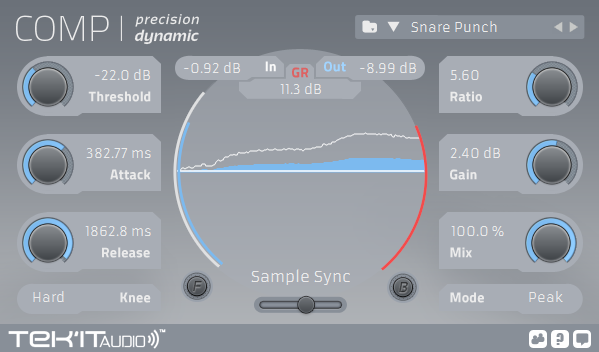 Tek'it Audio has announced the release of Comp, a compressor plug-in in VST format. Comp is a modern compressor that is designed to provide visual tools to help a user visualize the dynamics applied to a sound.
Features:
Real time visualization.
RMS and Peak compression.
Soft and Hard knee.
Attack range from 0.01ms to 0.9s.
Ratio up to 30:1.
Wet/Dry mix for parallel compression.
Input, Output, Gain reduction readouts and VU.
Scope visualization at sample sync to 200ms window.
Zero Latency.
Full MIDI automation support.
Easy MIDI learn on all parameters.
Use 7-bit MIDI Continuous Controller or High resolution 14-bit MIDI NRPN and RPN.
Integrated Preset manager, rename, copy, save, load…
Price: €29 / $39. A demo version of "Comp" is available to download as a VST plug-in for Windows. The full version is available to purchase for.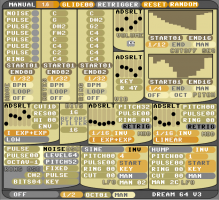 Odo Synths has announced the release of version 3.0 of Dream 64, the free Chip Synth VST instrument plug-in for Windows.
Dream 64 is not an SID emulator, but it's a plug-in that can recreate sounds that are used in chip-music. It's inspired by the SID chip from the old but good Commodore c64 but with some extra features for fun.
Main features:
All sequencers have a start and end loop but start always at step one.
Start-step never can be higher than the end.
Every sequencer has its own BPM rate or all have one manual rate.
8 step Wavetable sequencer with audio on/off (gate effect).
8 step Arp sequencer notes from c to c3 and one c4 note.
8 step Ring modulation sequencer notes from c to c3 and one c4 note.
A Bitcrusher only for the ringmod. This is nice if you use the Wavetable.
16 step easy to edit filter-sequencer. Can be used for nice bass sounds because it has an end step (will sustain).
Waveforms for the oscillator are saw, triangle, pulse, noise, ringmod mode. The noise is very special – it can be pitched by key or fixed.
Oscillator octaves from -3 to 2.
Ring modulation oscillator notes from c to c3 and one c4 note and a bitcrusher (this is nice for the wavetable sequencer).
2 LFOs with 21 waveforms BPM rates and manual with inverter.
The LFOs can start (key sync) (host sync) and (free run).
Destinations of the LFOs are pitch/pulse/ring osc and Filter.
2 modulation envelopes with inverter and BPM retrigger.
Destinations Pitch/pulse/ring modulation.
Filter Envelope can be switched to the filter sequencer.
filters lowpass/hipass/bandpass/low and hipass/band and hipass/band and lowpass.
Random for most of the controls.
Reset most of the controls.
Double click is reset for most of the controls.
Bitcrusher before and after filter.
Dream 64 is a free download at http://chips.site90.com
Humanoid Sound Systems lets us know that the Enzyme Player VST/AU synth plugin contains the complete synthesis engine from their Enzyme synth, which has won awards for its innovative design and sound, and has all the essentials for music creation (access to all of the parameters, and the saving of presets is available with the full version).
They say that the synth uses a unique combination of wavetable and physical modeling synthesis to create rich, dynamic musical timbres. Hybrid Scanned / FM synthesis is also on offer for even more sonic possibilities.
8 bits drum VST plugin, by DSK Music.
Features:
– 8 sound slots (C3 to C4 white keys)
– Pitch control for each sample
– Level and pan control
– 6 full kits + extra sounds
– Midi automation
– Velocity response
– Preset selector
Info and download: http://www.dskmusic.com
RAZ Audio has released the N6 stereo EQ VST for Windows. They say that the N6 offers a natural work flow – just pick an EQ band and move it around to get the desired effect.  If you prefer to use knobs, they are there for you with "control+click" for returning to default and "shift+click" for fine tuning. They tell us that the users interface keeps all the data you need without creating "graphical noise" or clogging the control screen and that N6 uses their brand new computational engine and controls for high precision, low CPU and rock solid stability.
"Music production tools should serve the user, not the other way round. This is why we offer the N6 EQ for free, no licensing, registration or locking devices needed. We did our best to get you what you need – a free 'no strings attached' precision tool, which is easy and intuitive to use. We hope you enjoy it."
Features:
High precision EQ tool
+/- 18 [Db] gain per band
Various band shapes: low Pass, high pass, peak (& notch), low shelf and high shelf
Precision FFT reading with: Off, Pre-EQ & Post-EQ mode
Zero latency
Easy, natural GUI
Supports any sample rate (auto detection from host)
Clipping LED's and Input/Output controls for avoiding signal clipping
Pricing and Availability:
Free download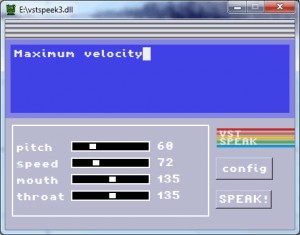 VST Speek is a free vocal synthesis VST plug-in for recreating the old skool robotic text to speech. You simply choose a preset, type any text and get the speech.
VST Speek – http://www.vstplanet.com/News/2014/Wa…
Developer: Wavosaur
Official audio demo!
– you can trigger the speech with MIDI keyboard (velocity sensitive)
– you can use MIDI pitchbend
– you can change original pitch or mouth/throat parameters while it's speaking
This is not a vocal synth like "Vocaloïd", it's intended to do crunchy robotic lofi techno voices! It's not intended for good quality speech synthesis too, better speech synthesis softwares exist now.
– 64 bit version
– MAC version
– ability to assign different text to MIDI notes
– ability to read longer text (and / or read from text file)
– assign pitchbend or midi CC to voice parameters.
– Android version ?
– more parameters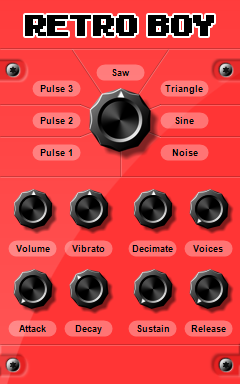 Sound-Base Audio has released Retro Boy, a free chiptune synthesizer instrument for Windows.
Retro Boy is a virtual analog chiptune synthesizer/emulator. It does not specifically emulate a single device or sound chip, but it was made with a certain handheld gaming system in mind.

The goal was to make a simple, minimal, synth that could create "8-bit music" without being overly complicated or requiring much knowledge from the end-user.
Retro Boy features
Single oscillator with seven different waveforms: Pulse 1 (12.5% duty cycle), Pulse 2 (25% duty cycle), Pulse 3 (50% duty cycle), Saw, Triangle, Sine, Noise.
Volume, vibrato, decimation, ADSR envelope, and voice control (adjustable from 1 to 4 voices).
Low CPU usage, <1% on an i5 processor.
Retro Boy for Windows (VST) is available to download as freeware.
http://www.alyjameslab.com
HD audio https://soundcloud.com/alyjameslab/se…
SUPER PSG VST IS OUT NOW! Full SPECS in the free user manual (on the website).
SPSG is not simply an ultra accurate SN76489 emulator, it adds many extended features to squeeze to most of the sound chip and a huge user friendly GUI! It is a fantastic synth suitable for chip music and SEGA nostalgic pleasure and also a powerful 8-bit tool for modern music production.
"It is a fantastic synth suitable for chip music and SEGA nostalgic pleasure and also a powerful 8-bit tool for modern music production. The SN76489 PSG was the natural buddy of YM2612 FM chip on the Sega Megadrive console but it was the principal and only sound chip of the legendary Sega Master System. I grew up playing some great games on the Master System too. So, I thought it also deserves the same kind of attention and accuracy I did with the FMDrive VSTi. You may think, the SN76489 chip is basically square waves & noise… but there is more…clever programming tricks can unlock some awesome potential!"

Prysm Audio has released Monosc, a free VST synth for Windows.
FEATURES:
One oscillator (Sine, Saw, Triangle, Square).
Unison, from 1 to 16 voices.
Unique filter with 4 filter types.
Polyphony (Monophonic Portamento)
Easy-to-use

J1000 has released two new free VST plug-ins for Windows. Here's the details:
MQ55
Parametric mixing equalizer based on MQ57. Most of the functions are the same, except that MQ55 operates only in stereo mode, has more flexible pass filters and has gain ratio that acts like dry/wet control. This is my go-to EQ for music production.
SX36
Three-band stereo processor that separates audio into low, mid and high frequencies and lets you manipulate their stereo properties – width and panning or rotation. Crossover points are easily adjusted with single knob. It has simple meters for each range showing correlation or panning. High-pass filter cuts unwanted frequencies on side channel for more stable bass.