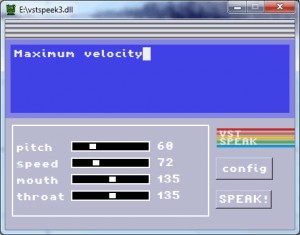 VST Speek is a free vocal synthesis VST plug-in for recreating the old skool robotic text to speech. You simply choose a preset, type any text and get the speech.
VST Speek - http://www.vstplanet.com/News/2014/Wa…
Developer: Wavosaur
Official audio demo!
- you can trigger the speech with MIDI keyboard (velocity sensitive)
- you can use MIDI pitchbend
- you can change original pitch or mouth/throat parameters while it's speaking
This is not a vocal synth like "Vocaloïd", it's intended to do crunchy robotic lofi techno voices! It's not intended for good quality speech synthesis too, better speech synthesis softwares exist now.
- 64 bit version
- MAC version
- ability to assign different text to MIDI notes
- ability to read longer text (and / or read from text file)
- assign pitchbend or midi CC to voice parameters.
- Android version ?
- more parameters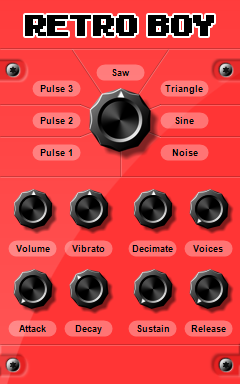 Sound-Base Audio has released Retro Boy, a free chiptune synthesizer instrument for Windows.
Retro Boy is a virtual analog chiptune synthesizer/emulator. It does not specifically emulate a single device or sound chip, but it was made with a certain handheld gaming system in mind.

The goal was to make a simple, minimal, synth that could create "8-bit music" without being overly complicated or requiring much knowledge from the end-user.
Retro Boy features
Single oscillator with seven different waveforms: Pulse 1 (12.5% duty cycle), Pulse 2 (25% duty cycle), Pulse 3 (50% duty cycle), Saw, Triangle, Sine, Noise.
Volume, vibrato, decimation, ADSR envelope, and voice control (adjustable from 1 to 4 voices).
Low CPU usage, <1% on an i5 processor.
Retro Boy for Windows (VST) is available to download as freeware.
http://www.alyjameslab.com
HD audio https://soundcloud.com/alyjameslab/se…
SUPER PSG VST IS OUT NOW! Full SPECS in the free user manual (on the website).
SPSG is not simply an ultra accurate SN76489 emulator, it adds many extended features to squeeze to most of the sound chip and a huge user friendly GUI! It is a fantastic synth suitable for chip music and SEGA nostalgic pleasure and also a powerful 8-bit tool for modern music production.
"It is a fantastic synth suitable for chip music and SEGA nostalgic pleasure and also a powerful 8-bit tool for modern music production. The SN76489 PSG was the natural buddy of YM2612 FM chip on the Sega Megadrive console but it was the principal and only sound chip of the legendary Sega Master System. I grew up playing some great games on the Master System too. So, I thought it also deserves the same kind of attention and accuracy I did with the FMDrive VSTi. You may think, the SN76489 chip is basically square waves & noise… but there is more…clever programming tricks can unlock some awesome potential!"

Prysm Audio has released Monosc, a free VST synth for Windows.
FEATURES:
One oscillator (Sine, Saw, Triangle, Square).
Unison, from 1 to 16 voices.
Unique filter with 4 filter types.
Polyphony (Monophonic Portamento)
Easy-to-use

J1000 has released two new free VST plug-ins for Windows. Here's the details:
MQ55
Parametric mixing equalizer based on MQ57. Most of the functions are the same, except that MQ55 operates only in stereo mode, has more flexible pass filters and has gain ratio that acts like dry/wet control. This is my go-to EQ for music production.
SX36
Three-band stereo processor that separates audio into low, mid and high frequencies and lets you manipulate their stereo properties – width and panning or rotation. Crossover points are easily adjusted with single knob. It has simple meters for each range showing correlation or panning. High-pass filter cuts unwanted frequencies on side channel for more stable bass.
A free VST virtual analog drum synthesizer with eight outputs, a separate effects section featuring a granulator and waveshaper for each output pair, MIDI automation and flexible sound design capabilities.
EXD-80 can produce a wide variety of drum and percussion sounds, from emulations of classic drum machines to mangled, glitchy madness. All sounds are synthesized, no samples are used. It is suitable for many EDM styles including electro, glitch, industrial, ambient, dubstep, drum & bass and hip hop.
To download the VST plugin or hear an audio demo go to:
http://www.thirdharmonic.net/exd80-fr…
Sonic XTC lets us know that their new monophonic bass line synthesizer, B-Line 303, captures the vibe and sound of classic EDM and Acid techno music synthesizers from the 70′s and 80′s. They say that B-Line 303 can easily dial up the classic Acid bass sound with all the squelch and buzz of the original classics, giving producers the unique ability to shape their sound with sub oscillators, distortion, distortion intensity, and built in Waveshaper unit.  B-Line 303 comes with 14 presets to get you started but has room for up to 64 user presets. In order to create the entire Acid bass sound experience, B-Line 303 comes equipped with a Stereo "Doppler" Chorus effect and a Stereo Echo effect.
In the beginning of the song B-Line 303 sounds like your standard Roland TB 303. In the middle of the song it sounds like a Roland SH-101. At the end of the song the B-Line 303 gives you a glimpse of why we think it is special! Only used Deep 606, Deep Mono, and B-Line 303 to create this track. Side chain compression on the Deep 606 kick only external effect used.
Highlights
64 user presets
14 custom presets
Midi automation
Doppler Chorus, Stereo Echo effect
VST 2.4 effect
$14.95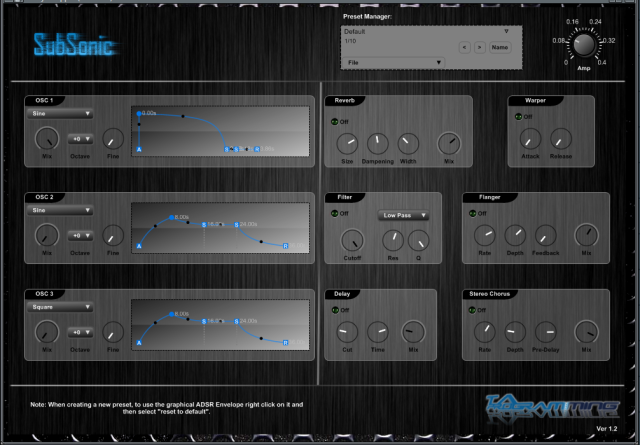 TA Programming has released a new free subtractive software synthesizer, SubSonic.
Features:
3 Oscillators (Sine, Sawtooth, Triangle, Square, Noise) with detune
Graphical ADSR Envelope
Multiple filter selection: Low Pass, High Pass, Band Pass, Band Reject, and Peaking.
Fully customisable reverb module
Delay Module for standard Echo delay effects.
Stereo Chorus
The Flanger module is versatile and powerful, combining overall sound of the 3 oscillators and using a sine wave to phase invert the sounds before adding feedback. This can give 'unearthly sci-fi like textures'.
The Warper: This module is an envelope modulator. Aviss notes that some 'wacky timbres can' be made using this.
Amp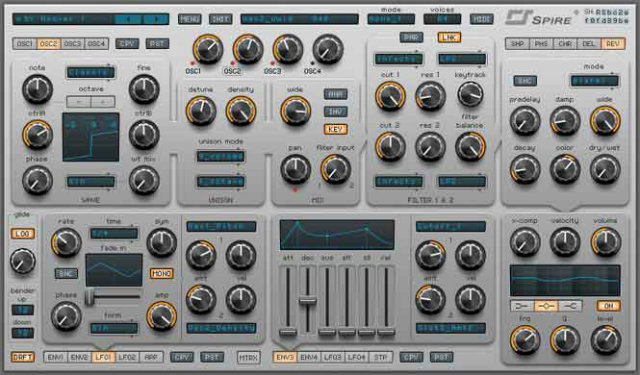 Reveal Sound tell us that they are a company founded by musicians and programmers in 2009 for creating first-class audio plug-ins. They say that the purpose of their company is to prove that the sound of soft-synths can be amazing and that they are constantly improving their algorithms to achieve the perfect result.
Their first product is Spire, a software polyphonic synthesizer that they say combines powerful sound engine modulation and flexible architecture with a graphical interface that  provides unparalleled usability.
conTRAPtion is one of the most innovative VSTs to come out in recent memory, a plug-in that can take any song and convert it into trap! Created by Icelandic software company Polarfoils Industries, conTRAPtion combines elements of Southern rap music with EDM synths and sounds.
conTRAPtion opens up new directions in trap music production! This VST is guaranteed to meet the demands of today's DJs and trapaholics everywhere.
Load any song you want and after a brief analysis conTRAPtion slows down the tempo, rolls off the low end and adds distorted 808 kicks. Then it adds syncopated hi-hats alternating between 1/8th-note and 1/16th-note patterns. The final layer is classic trap sounds like gun shots, air horns, explosions, and of course "Damn Son, Where'd You Find This?"
conTRAPtion has multiple settings. If you want a subtle track spin on it, simply apply the first setting SWAG.
If SWAG isn't cutting it and you need to get more hard in the paint, that's what TURNT UP is for.
The next setting, MAYBACH MUSIC, adds flair, snares, and track IDs. And when there's no turning back and you need to turn the trap up to 11, simply apply "Damn Son, Where'd You Find This?"
conTRAPtion also has a "chopped and screwed" feature, simply flip the CHOPPED & SCREWED switch to apply the effect.