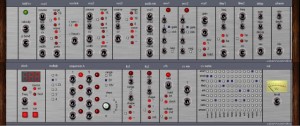 Meesha has released a free modular synth for Windows, Datmatriks:
Damatriks is a "classic" modular synthesizer system VST plugin, inspired by the modular analog synths. With many different modules in place, endless creativity is guaranteed. These modules can be patched using a CV (control voltage) matrix module, creating complex CV patches.
Modules:
MIDI/cv
vco type 1 (2)
vco type 2
vco link (sync/Xmod)
mixer (with noise gen)
envelope type 1 (2)
vca type 1
filter type 1
filter type 2
delay
phaser
clock (with multiplier)
stepsequencer
lfo type 1
lfo type 2
s/h
cv mixer
cv matrix 9->14
output
It's a free download at the Meesha site.
Vintage Space Chorus VST Demo by Softrave:
Vintage Space Chorus is intended to create unusual stereo chorus space effects good for rock, electronica, disco and experimental styles of music
Price is 11 Eu \ 15 usd
you can purchase plugin here
http://www.tikov.com/softrave/vschorus.htm
New Reason rack extensions – DR-1, AP-12 and VE-3:

Synapse Audio has announced the release of its DR-1, AP-12 and VE-3 Rack Extensions Propellerhead's Reason.
Synapse Audio Software introduces three high quality Rack Extension effect plugins for Propellerhead's Reason: DR-1 Deep Reverb, AP-12 Analog Phaser, and VE-3 Vintage Equalizer.
New Synapse Audio Rack Extensions
DR-1—Inspired by a high-end 1980s outboard reverb, the Synapse Deep Reverb DR-1 delivers a deep, lush sound not found in modern software reverbs. Rather than trying to imitate real spaces, the DR-1 gives an uncolored and pleasant reverb sound that is especially well suited for synthetic material and lead sounds.
AP-12—The Synapse AP-12 emulates vintage analog phasers, which are composed of a series of phase shifting stages with a feedback path wrapped around them. The phase shifting stages (switchable between 6 and 12 stages) are modulated by a LFO, which can be synchronized to the current song tempo.
VE-3—he Synapse Vintage EQ-3 is a precise model of a 3-band analog tone stack, as found in late 50s guitar amplifiers. The unique sound of these devices is due to the coupled, passive circuits employed, where changing any parameter affects the entire network in a complex way. This is different from a digital parametric EQ, which operates on just one isolated region of interest.
The DR-1 and AP-12 are available to purchase at 32 EUR each, VE-3 is 25 EUR.
Twin Bass free bass synth plugin: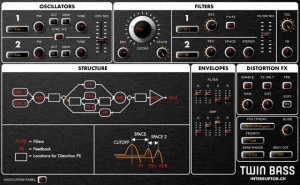 The Interruptor has released version 1.1 of the Twin Bass bass synthesizer instrument for Windows.
VSTi Bass Synthesizer with a double filter architecture allowing to create rich mid-range bass textures together with a solid sub bass foundation. Also vocal-like timbres can be easily created. Features an extensive modulation matrix and individual outs for the filters.
Twin Bass features
2 Oscillators: Sine, Saw, Ramp, Triangle, Pulse, Noise.
2 Filters operating in parallel (connection in series is also possible).

Filter 1: 2 x Low pass, 2 x High pass, Bandpass.
Filter 2: stereo filter with separate cut-off for left and right side (2 x Low pass, 2 x High pass, Bandpass).

Feedback loop for the entire filter section.
Distortion effect with two modes

hard: metallic distortion sound.
soft: tube-like warm distortion.

Modulation

3 x LFO, synchronized to host application.
3 x ADSR Envelope.
Matrix: 5 modulation slots connect 12 modulation sources to 26 modulation destinations. Pitch bend, amplifier envelope and filter envelope are pre-wired.

Process external signals: In Oscillator 2 an external signal can be selected as the waveform.
MIDI learn: Right-click any control to assign a midi control and automate the parameter from your DAW.
Monophonic modes with glide.
Polyphonic modes with max. 8 simultaneous notes.
Individual Outs are available for the two Filters.
Structure display shows the signal flow of the synth as it results from your settings of the filter and FX routings.
Pop-up hints: While the mouse hovers over a control a hint appears explaining the function of the control.
The Twin Bass is available to download as a freeware VST plug-in for Windows.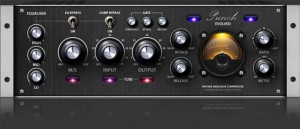 Minimal System Instruments releases Punch Evolved compressor VST for Windows
The original Punch compressor is one of Minimal System's most popular and respected plug-ins and is an up-to-date version of one of the all time classic analogue compression and limiting processors, the 1176AE. They say that the new Punch Evolved plug-in takes this even further with a completely redesigned engine and the addition of new sound shaping features such as Mid/Side processing, EQ, and Gate sections.
Features:
Ultra-fast attack time.
Unique Analogue Modelled characteristics.
FET Gain Reduction Emulation.
Input & Output Gain Adjustment Knobs with adjustable Attack and Release Settings.
An array of ratio's including 2:1, 4:1, and 8:1 perfect for compression duties – but there is also the 20:1 ratio designed for full limiting applications.
Mid/Side Processing.
Gate with controls for Threshold, Attack, and Release.
EQ with controls for Low/Mid/High.
Custom Output Transformer Emulation design.
Full automation capabilities.
Flexible VU metering options.
LED Visual Feedback.
Professionally designed GUI.
Fantastic Presets produced by Movie Iga and Kendal Osborne.
Based on the 1176AE Limiting Amplifier Compressor.
Fantastic on drums!
Pricing and Availability:
£19.99
XTS1 is a new virtual instrument for your DAW. Create awesome sounds with just a few controls. 3 smooth sounding dynamic waveforms, multi-mode filter as well as chorus, vibrato, noise, drive, 3 envelopes and powerful velocity and LFO mapping.
Get it at http://www.energy-xt.com/xts1
Specifications:
Windows/Mac OS X compatible
32-voice virtual synthesizer
32 presets
3 dynamic waveforms: (1) saw to sin, (2) pulse width and (3) phase modulated
Chorus, Noise and vibrato
Multi-mode filter cutoff, q and drive
Poly/legato/mono and glide mode
Master envelope
Filter envelope
Waveform envelope (saw to sin, pulse width, pm amount)
Velocity: vol, pan, waveform, cutoff, filter-sustain, noise level
LFO: vol, pan, cutoff, waveform. Freerun mode with tempo-sync.
Pitch bend
New video guide from Loopmasters producer Andre Touhey as he explores the DarkStar Synth VST Plug-in from Minimal System Instruments (MSI).
DarkStar is a monster analogue modelled synth. With its 4 oscillators you can easily create the sounds you need.

In this video Andre gives us an overview of the DarkStar synth's main features, with a examples of the synth at work in a track. For more information on the Minimal System Instruments Line synth and purchase – please visit the http://www.PluginBoutique.com store.
Slate Digital has released Virtual Tape Machines tape emulation plug-in. It is designed to add the big, fat, warm, deep, rich, sound of Analog Tape Machines to DAW mixes.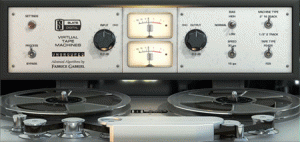 To capture the sound of tape is to capture a living, breathing sound that dynamically reacts to the music going on to it. Slate Digital has utilized their electrical engineering resources as a foundation for a comprehensive study of the physical processes that occur when recording to analog tape through a tape machine.
Two industry-standard machines were precisely modeled including a 2 inch 16 track from NRG Recording, and a ½ inch 2 track machine from Howie Weinberg Mastering. The VTM is designed to give mixes an authentic analog vibe with dimension, fatness, depth, and warmth.
Features:
Two tape machine types:
2″ 16 track.
1/2″ mastering deck.
Two tape formulations.
Two speeds: 15 ips and 30 ips.
Noise reduction control and auto mute.
Wow & Flutter control.
Bass alignment control.
Normal, Low & High Bias settings.
Level Calibration.
VU ballistics.
Grouping control.
Settings global or per channel.
Tape reels start and stop in sync with DAW transport.
Price: $249 ($199 with customer loyalty voucher).
Formats: 32- / 64-bit Windows and Mac OS X; VST, AU and RTAS.
Vintage Double Phaser VST by Softrave
Softrave says that their new Vintage Double Phaser VST plug-in for Windows provides a classic phase shift effect and some extended possibilities. They tell us that you can create phase shift effect on left and right channel separately for a strange unique sound. This plug-in was apparently inspired by The Worm guitar pedal by Electro-Harmonix.
http://www.tikov.com/softrave/vdphaser.htm
Vintage Double Phaser Vst is providing classical phase shift effect and some extended possibilities. You can create phase shift effect on left and right channel separately that makes strange unique sound. Or just enjoy classic phaser sound. Its good for guitars, pads, drums and percussion lines. This plugin was inspired by The Worm guitar pedal by Electroharmonix.
Price is 11 EU – 15 USD
Music in this demo is some stems from the album of the band Green Dragonfly
taken by permission of band members
http://www.greendragonfly.net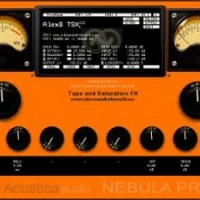 The European software developer Alessandro Boschi aka AlexB has released "Tape and Saturators FX Pro," his latest library for the Nebula VST plugin.
Nebula, from Acustica Audio, uses libraries sampled to extremely high specifications to emulate different types of vintage gear, including equalizers, filters, microphones, preamps, compressors, reverb and generic time-variant processors.
The prices are 20.00 EUR for the library, or $25.09 USD at today's exchange rates, and 65,00 EUR special "Welcome" price for the TSX library bundle, or $81.54 USD at today's exchange rates.
In short, the newest release from AlexB includes:
. 4 units sampled: ANM, DTE, FTS, MWT
. 38 differents programs at 7K and 5K
. Clean and Driven programs
. Real "Saturation" and "Warmth" controls
. Internal HPF SideChain for the compressors
. Special skin
. Over 1GB library programs
. Available as single library or as discounted bundle
More from AlexB, as he tells it:
"A collection of the best hardware tape emulators FX.
ANM
The ANM Tape Simulator is the first product that uses the analog process for modeling complex analog circuitry entirely in the analog domain Unlike digital plug-ins or processor-based outboard gear. The result is a faithful recreation of the original response, without using the original analog hardware. The circuit has been improved and a custom dard has installed.
DTE
DTE is a homemade unit that simulates a vintage tube tape machine with a mastering tube compressor and a tube saturator stage built in. Class A design, real tape and head circuitry digitally controlled.
FTS
It's a modern digitally controlled analog device that offers many of the "musical non-linearities" exhibited by the older tube, class A discrete, and magnetic tape mediums. The unit has several compressor "types" with fixed attacks and releases. The unis has been enhanced for better sound characteristics.
MWT (Modern White Tape FX)
The MWT provides a remarkable simulation of true tape sound through the inclusion of genuine tape drive circuitry. This emulation circuit provides the nostalgic rounding and compression usually only achieved by the use of tape. This typically offsets the harshness often found in digital recordings. The unit has been enhanced in the DC and audio path with top grade audio components.
The programs:
Carefully sampled @96kHz and @44.1kHz in a professional recording studio with hi-quality audio and digital cables and master grade converters with audio levels perfectly matched and calibrated. They are precisely programmed without normalizing or other destructive digital processing. The programs don't sound processed, harsh or digital as most plugins do, but instead sound like a natural extension of the original audio, gluing your tracks in the mix with an analog vibe.
Free demo available.
Programs characteristics and details in the user manual: http://www.alessandroboschi.eu/alexb/doc/Tape_and_Saturators_FX_Manual.pdf"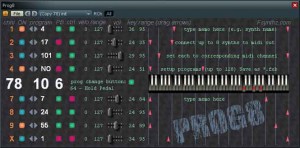 ProgAte is a MIDI processor/router, which allows you to control up to 8 synths with one MIDI keyboard.
"You send midi program changes, together with all the rest midi events, to ProgAte. ProgAte splits and filters the stream, remaps the ProgChange messages – and outputs the processed midi stream, one channel per synth (up to 8 for one instance of ProgAte)."
Pricing and Availability:
Free download
More information:
A short video demonstration of Delta Modulator VST/AU plugin by Xfer Records.
Xfer Records has released Delta Modulator, a free bitcrusher VST/AU plugin based on a signal modulation technique found in Nintendo NES video game console's delta modulation channel.
I just threw Delta Modulator together out of mild curiosity of how it sounded compared to traditional sr/bit-reduction.
more info: http://bedroomproducersblog.com/2012/06/03/delta-modulator-free-nintendo-nes-…
download: http://xferrecords.com/freeware/