A free VST virtual analog drum synthesizer with eight outputs, a separate effects section featuring a granulator and waveshaper for each output pair, MIDI automation and flexible sound design capabilities.
EXD-80 can produce a wide variety of drum and percussion sounds, from emulations of classic drum machines to mangled, glitchy madness. All sounds are synthesized, no samples are used. It is suitable for many EDM styles including electro, glitch, industrial, ambient, dubstep, drum & bass and hip hop.
To download the VST plugin or hear an audio demo go to:
http://www.thirdharmonic.net/exd80-fr…
Sonic XTC lets us know that their new monophonic bass line synthesizer, B-Line 303, captures the vibe and sound of classic EDM and Acid techno music synthesizers from the 70's and 80's. They say that B-Line 303 can easily dial up the classic Acid bass sound with all the squelch and buzz of the original classics, giving producers the unique ability to shape their sound with sub oscillators, distortion, distortion intensity, and built in Waveshaper unit.  B-Line 303 comes with 14 presets to get you started but has room for up to 64 user presets. In order to create the entire Acid bass sound experience, B-Line 303 comes equipped with a Stereo "Doppler" Chorus effect and a Stereo Echo effect.
In the beginning of the song B-Line 303 sounds like your standard Roland TB 303. In the middle of the song it sounds like a Roland SH-101. At the end of the song the B-Line 303 gives you a glimpse of why we think it is special! Only used Deep 606, Deep Mono, and B-Line 303 to create this track. Side chain compression on the Deep 606 kick only external effect used.
Highlights
64 user presets
14 custom presets
Midi automation
Doppler Chorus, Stereo Echo effect
VST 2.4 effect
$14.95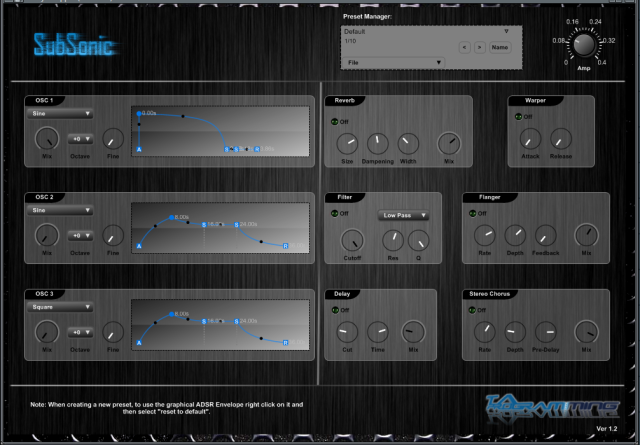 TA Programming has released a new free subtractive software synthesizer, SubSonic.
Features:
3 Oscillators (Sine, Sawtooth, Triangle, Square, Noise) with detune
Graphical ADSR Envelope
Multiple filter selection: Low Pass, High Pass, Band Pass, Band Reject, and Peaking.
Fully customisable reverb module
Delay Module for standard Echo delay effects.
Stereo Chorus
The Flanger module is versatile and powerful, combining overall sound of the 3 oscillators and using a sine wave to phase invert the sounds before adding feedback. This can give 'unearthly sci-fi like textures'.
The Warper: This module is an envelope modulator. Aviss notes that some 'wacky timbres can' be made using this.
Amp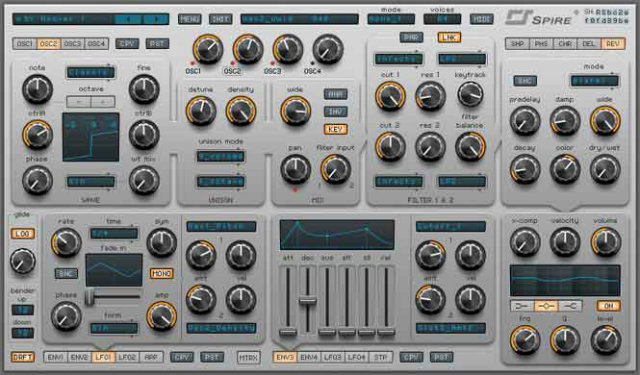 Reveal Sound tell us that they are a company founded by musicians and programmers in 2009 for creating first-class audio plug-ins. They say that the purpose of their company is to prove that the sound of soft-synths can be amazing and that they are constantly improving their algorithms to achieve the perfect result.
Their first product is Spire, a software polyphonic synthesizer that they say combines powerful sound engine modulation and flexible architecture with a graphical interface that  provides unparalleled usability.
conTRAPtion is one of the most innovative VSTs to come out in recent memory, a plug-in that can take any song and convert it into trap! Created by Icelandic software company Polarfoils Industries, conTRAPtion combines elements of Southern rap music with EDM synths and sounds.
conTRAPtion opens up new directions in trap music production! This VST is guaranteed to meet the demands of today's DJs and trapaholics everywhere.
Load any song you want and after a brief analysis conTRAPtion slows down the tempo, rolls off the low end and adds distorted 808 kicks. Then it adds syncopated hi-hats alternating between 1/8th-note and 1/16th-note patterns. The final layer is classic trap sounds like gun shots, air horns, explosions, and of course "Damn Son, Where'd You Find This?"
conTRAPtion has multiple settings. If you want a subtle track spin on it, simply apply the first setting SWAG.
If SWAG isn't cutting it and you need to get more hard in the paint, that's what TURNT UP is for.
The next setting, MAYBACH MUSIC, adds flair, snares, and track IDs. And when there's no turning back and you need to turn the trap up to 11, simply apply "Damn Son, Where'd You Find This?"
conTRAPtion also has a "chopped and screwed" feature, simply flip the CHOPPED & SCREWED switch to apply the effect.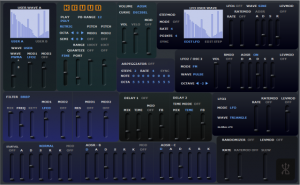 Xenobioz has released Kruud, a free hybrid Synthesizer that offers 'a lot of modulation capabilities.'
Features:
1 Oscillator with low resolution user waveforms, and a few normal waveforms inlcuding
noise.
1 LFO with OSC,FM, Audio rate modes.
1 LFO with low resolution user waveforms, and a few normal waveforms inlcuding noise.
A Randomizer
3 ADSRs
A Filter with 9 different modes
1 Delay with tuned mode for physical modelling.
1 normal delay
Both delays can be modulated
1 Arpeggiator
1 Step modulator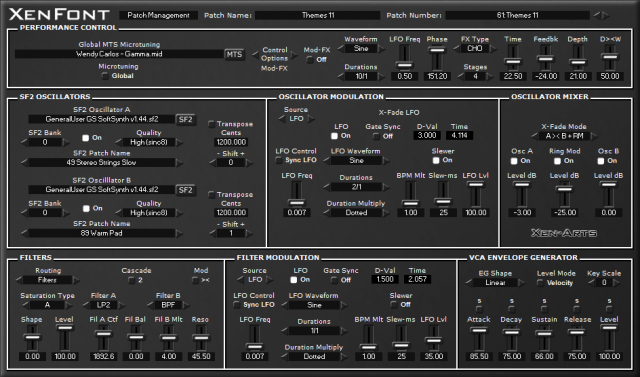 Xen-Arts has released XenFont – a two oscillator, hybrid SF2 SoundFont & Subtractive Synthesis VST for Windows.
It features full-controller MIDI Pitch Microtuning, using the MTS (MIDI Tuning Standard) format, where any MIDI Note Number can be freely microtuned to any desired pitch across the MIDI range, enabling computer musicians and composers to explore the expressive possibilities of composing music with alternative intonation systems.
XenFont is 'a microtonal sound-designer's SF2 sample-based synthesizer', with a carefully designed workflow for quickly creating powerful sounding and musical useful timbres. The instrument lets you load your own SF2 SoundFont files. Routing the SF2 SoundFont Oscillators through the internal synthesis functions of the VSTi, provides a way to radically transform the original sounds and create new synthesized timbres.
XenFont is also an educational tool for learning about computer music sound-design, sampling and subtractive sound synthesis, as well as musical instrument intonation (aka microtuning and xenharmonics).
Key Features:
Load your own SF2 SoundFonts into a fully microtonal, hybrid sampling & subtractive synthesis based VSTi.
A 'knob-less' design featuring slider controls only, which enables intuitive direct control with a computer mouse.
A dedicated control signal system mapped to the most important synthesis functions.
Settings are made by typing values into fields, dropdown lists, left-and-right arrows, switches and sliders.
Specify precise microtonal pitch-bend settings.
Features arbitrary microtonal oscillator transposition settings.
Velocity modulation of harmonics enables dynamically playing harmonics of the fundamental pitch.
Envelope generators with per-stage ADSR keyboard tracking.
RHYTHMUS by ELECTROSTUDIO
A free vst plugin that is an emulations or inspired by of vintage classic rhythm machine and drum machines
for more information visit
http://www.elektrostudio.ovh.org/
http://www.elektrostudio.ovh.org/index2.php
Rhythmus is inspired by an old rhythm machine. There are ten buttons available, each button can play two different rhythm sections so essentially there are about 20 different rhythmic loops offered, such as samba, mambo, tango, waltz, rumba etc. When you click "open", you can change the tune, volume, pan of each rhythm component such as snare, bongo, cowbell, hi-hat, etc. You can mix these rhythmic sections with Tambourine, Guiro, Quijada sounds.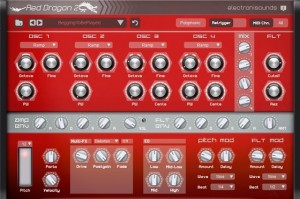 Electronisounds has announced version 2 of its Red Dragon software synthesizer for Windows.
Changes in Red Dragon 2
Completely re-coded engine.
NEW GUI.
NEW built-in FX (Chorus, Delay, Distortion, Flanger).
614 ALL-NEW presets, plus the original 384 presets for a total of 998 presets.
Built-in preset browser.
and more.
Polyphonic Full-Modular Synthesizer with Patch-cable system, "Kamioooka"
VST Instrument 32/64bits for Windows freeware.
Participated in KVR Developer Challenge 2012.
http://www.kvraudio.com/kvr-developer-challenge/2012/
Kamioooka is a full-modular synth with patch cable system developed by g200kg (known mainly from nice pitch correction "auto-tune" plugin called Kerovee). Kamiooka scored third place in KVR Developer Challenge 2012, which is the fourth free-for-all audio plug-in / audio application / soundware design event, where people vote and there are prizes, hand shakes etc 😉

First of all, it's very low CPU consumption plugin. It offers real (well it's modular ) flexibility. If you need to, you can choose ie. five voltage controlled oscillators, or few LFOs and connect everything with nice cables I would say that Kamiooka is a very interesting plugin especially for those who like program (modular) synths. If you're a preset player then there aren't many presets available. The factory bank contains only 38 patches (first 5-6 are more like a tutorial), but luckily you can extend it – there's an additional 30 patch bank available on official website.