Download full set at: http://dataline.bandcamp.com/album/da…
Analog Four, Octatrack, Machinedrum and Monomachine in action.
More info: http://www.elektron.se/
https://www.facebook.com/Project.Data…
https://soundcloud.com/dataline
The undulating noise machine comes with 2 modules. A player which loops samples of white, pink and brown noise (the sound at the same speed as the resting human heart rate (60 bpm) ). The second module allows you to create an ambience by adding effects and rhythmic motions by simply drawing a motion on the dedicated pad. Unfortunately, there is no record feature, despite this I will rate it as a Killer App, because of its great UI and for the fun that you have in creating an ambience.
RHYTHMUS by ELECTROSTUDIO
A free vst plugin that is an emulations or inspired by of vintage classic rhythm machine and drum machines
for more information visit
http://www.elektrostudio.ovh.org/
http://www.elektrostudio.ovh.org/index2.php
Rhythmus is inspired by an old rhythm machine. There are ten buttons available, each button can play two different rhythm sections so essentially there are about 20 different rhythmic loops offered, such as samba, mambo, tango, waltz, rumba etc. When you click "open", you can change the tune, volume, pan of each rhythm component such as snare, bongo, cowbell, hi-hat, etc. You can mix these rhythmic sections with Tambourine, Guiro, Quijada sounds.
Background description below:
The conversation, filmed and presented above, fits the spirit of collaboration that surrounds these four musicians – Foxx' new album, Evidence includes a track recorded with Gazelle Twin, who is herself working with Scanner on a project looking at the very workings of the human body.
The four musicians start off discussing how in electronic music they're a great freedom to play with identity, from Gazelle Twin's costumes to Scanner sending people away to play live events on his behalf. Foxx, though, has a warning: "it gives you the opportunity to step away from your old self, and that can be good for you, because you're often burdened down with a lot of old baggage that you've collected through your life. And you see people who don't understand that, and die, because they've confused themselves with the object they're creating. If they think they are that object, it kills them. It's an interesting lesson to learn, and I've seen a lot of people do that."
"Slow-paced techno with lots of dirt and grit, thanks to the overdriven analog filter through which the drums are routed. Camera stopped recording beyond 10mins, but went on jamming anyway."
Hand crafted drone machine. Made with a vintage 1940's multimeter. All new electronics boasts 4 square wave oscillators, 1 gate oscillator, signal switches, output led monitor.
www.frankenmusik.blogspot.com
How to make interesting electronic music with old machines. Mr Müller (former assistant of Karl Heinz Stockhausen) performing on sine wave generator, fm radio and 3 tape machines – one used to gate the sound input and 2 used to make echo and reverb and overdub.
At the reconstructed original WDR studio für electronische Musik in Cologne Germany
thanks to Hubert Steins
part of Opekta residency and Boutique events
Another Acidlab Autobot little jam with the Korg electribe ER-1 mkII by Isotroposphere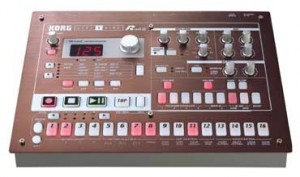 "Korg has created the ultimate analog beat machine. Simply by tweaking the knobs on the ELECTRIBE R, you have unlimited control over all the elements that make up the sounds – like pitch, modulation depth, waveform shape and much more. Drop these sounds into the built-in sequencer and you've got unique rhythms with your own creative signature. And with the ELECTRIBE R, you can hear every change you make as it happens, allowing you to mold the groove on the fly."
"The built-in step sequencer's 16 pad keys make it easy for you to produce rhythms from the sounds you create. Each pad keys lights up so you can easily see what rhythm a part is programmed to play. Plus, you can play in beats in real-time using the 12 trigger pads. Four of the pads are assignable to any analog modeling sound you come up with, two are reserved for controlling sounds accessed through the audio input, and the other four permanently control the indispensable PCM sounds. So you can tailor your own custom "kits" to fit each musical situation."
"To add even more life to your patterns you can record the real-time movement of any of the ELECTRIBE R's oscillator, amp or effect parameters as a Motion Sequence. This lets you change your sounds as your groove progresses in a way that more traditional drum machines just can't match! Plus, every sound or rhythm you create can be stored as a pattern that includes your knob movements. And you can save up to 256 1 to 4-bar patterns in internal memory."
"The ELECTRIBE R can also be controlled from an external sequencer, keyboard, or sampler to function as an analog sound rhythm tone generator, or set up to control or be controlled by other hardware or computer-based sequencers."
http://youtu.be/S-IecUvThXk
Background description for this video by Richarius Molindarius:
This is a very short video to give you a rough idea of what my latest noise machine can do! 😀 This one's a little different though! Not only is he PORTABLE and will be running on a pair of 9V batteries, but he also has STEREO speakers built into him and will have 2 stereo outputs as well! 😀
This is the prototype of my idea that I originally had for my 4th Deathlehem Machine that I built in the mid 90's. This guy though blows that one away, as this one is operating on 4 x Voltage Controlled Low Frequency Oscillators! 😀 (2 of them USED to be 1V/oct. VCOs in my modular. The other 2 x VCLFOs were taken from the same place.)
The 2 x former VCOs can play then entire audio range as well as drop down to almost pausing speed VCLFOs with the triangle waveform. They can also modulate the other VCLFOs with squarewaves
The 2 x VCLFOs can operate from almost pausing speed up the midrange of audio with either triangle or squarewaves.
Operationally:
Each of the 4 x VCLFOs have the following controls:
– Coarse tuning
– Fine tuning
– Control Voltage #1 amount
– Control Voltage #2 amount
– Triangle or Squarewave
– a speed LED
– a volume control
Each of the 4 x VCLFO's can modulate 2 others. The connections are:
VCLFO #1 is hardwired to modulate VCLFO #2 and VCLFO #3
VCLFO #2 is hardwired to modulate VCLFO #3 and VCLFO #4
VCLFO #3 is hardwired to modulate VCLFO #4 and VCLFO #1
VCLFO #4 is hardwired to modulate VCLFO #1 and VCLFO #2
There be some huge amounts of modulation potential in this guy as well as audio screaming that'll scare not one but BOTH of your grandmas! 😀 Lol.
I'm seriously debating putting this prototype up for sale on e-Bay once he's completed. I only have a couple of small things to do now to finish it up in a nice carry-around portable package.
Lemme know what you think he would be worth to anyone out there he gets a kick out of making sounds that you wont find everyday in your nearest CD store! 😀
Thanks for any input!

Bye buy boys and girl! 😉
Unkle Ryk
Background details for this video below:
Hello ladies and gentlemen,
we received many messages because of the first preview video for the new "SID".
Here we want to present the new product preview video in combination with the top seller "xoxbox MK2".
We work real hard to present the new SID as soon as possible.
The product video is coming real soon..
If there are any questions, please send us an e-mail: info@modemachines.com
More informations @:
www.modemachines.com