Youtune persona 'popitem' shared this OB-MX exploration:
Modular noise with my 2 voices OB-MX, notice the nice knobs, I try some differents types as the original ones are blank (no lines), these ones are a bit loose that's why one stays in my hand.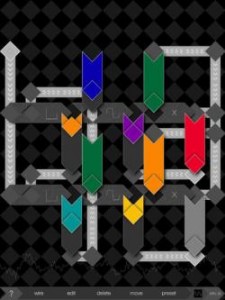 Alexey Nadzharov has introduced rrarrow – described as an 'experimental modular audio effect and noise machine' for the iPad.
Features:
Simplicity – The interface is simplified for faster assembly and more flexible connectivity – you can assemble your effect very fast and control all the processing parameters with the audio signal!
Feedback capabilities – You can add feedbacks to the audio chain to get some chaotic noise sounds .
Twelve blocks for audio processing:

Sine generator. Basic oscillator with sine waveform
Signal multiplier
Delay
Frequency shifter
Envelope follower
Lorenz attractor
Quantizer
Sample-and-hold
Reverb
Special Lowpass filter
Clipper
Nonlinear shaper (for self-oscillating circuit)

Audiobus support. Now you can stream live audio directly to other Audiobus-compatible apps! See http://audiob.us for more information. Works as input and filter.
Background audio support: enabled when connected to Audiobus and user switchable otherwise.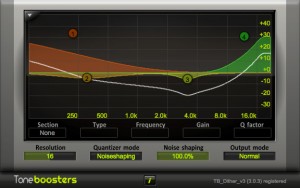 ToneBooster has announced the release of TB-Dither, a quantization and noise shaping plugin for Windows and Mac.
TB Dither is a plugin designed to modify the bit depth of audio signals, for example when authoring a CD or for archival purposes, with minimum quality degradation. Such process typically involves dithering, quantization, and noise shaping.

TB Dither supports industry-standard dithering noise types such as RPDF (rectangular probability density function, 1 LSB wide) and TPDF (triangular probability density function, 2 LSBs wide). A GPDF (Gaussian probability density function) is provided as well.
TB-Dither features
Zero-latency processing.
Support of all sampling rates from 44.1 to 192 kHz.
Supports industry-standard RPDF and TPDF dithering noise.
Unrivalled flexibility to shape dithering and quantization noise.
Suports any bith depth between 8 and 24 bits.
Dedicated modes to listen to quantization noise only.
Advanced noise-shaping overload protection algorithm.
TB-Dither for Windows and Mac (VST/AU) is available to purchase for 9.95 EUR.
ToneBoosters has also updated it's plug-in line to version 3.0.3.
Changes in v3.0.3
All plugins

Fixed a minor GUI memory leak.

Dither
Barricade

Improved accuracy of RMS output VU meter.
Improved quantization and noise shaping algorithm (derived from TB Dither).

EBULoudness

Fixed an issue causing the loudness history graph not displaying correctly when closing and re-opening the GUI.
Mitigated a crash due to a bug in Wavelab when using EBU Loudness on stereo tracks.

Module

Fixed a bug that could result in inresponsiveness of Module.

ReelBus

Added 'legacy' saturation mode to simulate v2.9 behavior.

BusCompressor

Added channel linking control and stereo gain meters.
Improvement in transient detection/compression algorithm.
Background video description:
Just having fun with the MFB Dual LFO, Make Noise Function, and Intellijel Korgasmatron. Noise source is MFB LFO set to S&H at audio rate. Enjoy the noise!
The undulating noise machine comes with 2 modules. A player which loops samples of white, pink and brown noise (the sound at the same speed as the resting human heart rate (60 bpm) ). The second module allows you to create an ambience by adding effects and rhythmic motions by simply drawing a motion on the dedicated pad. Unfortunately, there is no record feature, despite this I will rate it as a Killer App, because of its great UI and for the fun that you have in creating an ambience.
Whether under his artist moniker Hecq or as in-demand sound designer for film and tv, Ben Lukas Boysen has made a career out of transforming unusual sounds into compelling music. We visited Ben in his studio for a fascinating look at how he gathered and transformed the unconventional audio material for his latest endeavour, The Forge – a hugely versatile Pack that's part of the exclusive sound content in the upcoming Ableton Live 9 Suite.
The upcoming Ableton Live 9 Suite is packed with a huge variety of sounds, instruments, and effects. In a new video we spotlight a few of the devices that give you deep and precise control of your music. Check out the Buffer Shuffler, LFO and LFO MIDI, Mono Sequencer, Envelope Follower and XY Pad in action.
Experimental noise / ambient drone soundscape played live on Novation Supernova 2 keyboard synthesizer. Utilizing comb filter, reverb, Q Norm, resonance, LFO and filter adjustments.
Performed live, no external processing. Excerpt from a longer session.
Computer / chiptunes-style ambient drone soundscape music played live on Novation Supernova 2 keyboard synthesizer.
Utilizing LFO (sample & hold), reverb, resonance, and filter adjustments.
Performed live, no external processing. Excerpt from a longer session.
As falling sand interrupts the flow of a laser to a light-sensitive sensor (a photodetector), the circuit produces random oscillations of sound. It's the latest brilliant creation of the Dutch scientist Gijs Gieskes, the industrial designer-turned-musician whose inventions often center on some physical and mechanical apparatus. Just for good measure, the project is mounted to a clear frame so it can be fit to a Eurorack modular setup.
Youtube alias 'skrapadelix' takes us through the softer side of the Make Noise DPO:
I just wanted to share the softer side of the remarkable Make Noise DPO, the most organic and alive oscillator I have in my rack. This simple patch is just the Noisering into the uScale into the DPO in 'Lock' mode with a slow envelope softly plucking the Waveshaper 's vactrol. The result is a subtle mysterious timbre of understated beauty…