New EMW Eurorack module, the Voltage Controlled Digital Noise. Just reverb was added.
On this patch our Sequential Voltage and our Sample & Hold modules are controlling the VCF cutoff frequency. Later we used the second Sample & Hold output to modulate the Digital Noise frequency.
http://youtu.be/S-IecUvThXk
Background description for this video by Richarius Molindarius:
This is a very short video to give you a rough idea of what my latest noise machine can do!

This one's a little different though! Not only is he PORTABLE and will be running on a pair of 9V batteries, but he also has STEREO speakers built into him and will have 2 stereo outputs as well!


This is the prototype of my idea that I originally had for my 4th Deathlehem Machine that I built in the mid 90′s. This guy though blows that one away, as this one is operating on 4 x Voltage Controlled Low Frequency Oscillators!

(2 of them USED to be 1V/oct. VCOs in my modular. The other 2 x VCLFOs were taken from the same place.)
The 2 x former VCOs can play then entire audio range as well as drop down to almost pausing speed VCLFOs with the triangle waveform. They can also modulate the other VCLFOs with squarewaves
The 2 x VCLFOs can operate from almost pausing speed up the midrange of audio with either triangle or squarewaves.
Operationally:
Each of the 4 x VCLFOs have the following controls:
- Coarse tuning
- Fine tuning
- Control Voltage #1 amount
- Control Voltage #2 amount
- Triangle or Squarewave
- a speed LED
- a volume control
Each of the 4 x VCLFO's can modulate 2 others. The connections are:
VCLFO #1 is hardwired to modulate VCLFO #2 and VCLFO #3
VCLFO #2 is hardwired to modulate VCLFO #3 and VCLFO #4
VCLFO #3 is hardwired to modulate VCLFO #4 and VCLFO #1
VCLFO #4 is hardwired to modulate VCLFO #1 and VCLFO #2
There be some huge amounts of modulation potential in this guy as well as audio screaming that'll scare not one but BOTH of your grandmas!

Lol.
I'm seriously debating putting this prototype up for sale on e-Bay once he's completed. I only have a couple of small things to do now to finish it up in a nice carry-around portable package.
Lemme know what you think he would be worth to anyone out there he gets a kick out of making sounds that you wont find everyday in your nearest CD store!

Thanks for any input!

Bye buy boys and girl!

Unkle Ryk
Up early this (in Northern Europe) very windy Sunday morning – then go ahead and enjoy some modular synth noises from Lyonel Bauchet:
Twisted Waveform Generator + Harmonic Oscillator mastered by Complex Waveform Generator via Spectral Processors, through Time Machine and Frequency Shifter Twins.
A new video featuring the electro clash, punk, noise and electro act Malakwa, enjoy

Music Ipad App first look at this amazing collection of 3 synthesizers
Great for making strange sounds and odd noises. Get it for $0.99 from the itunes store.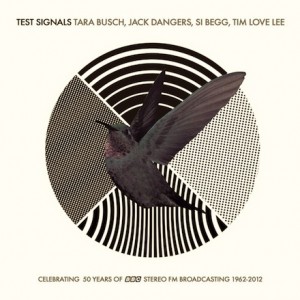 Absolutely fabulous

It was 50 years ago this week when the BBC began broadcasting regular experimental stereo FM broadcasts. While the musical climate and how we get our music has changed considerably since then, there's no doubt the BBC's influence on all subsequent media, and recording artists, has been tremendous, especially the far-out sounds that came from its Radiophonic Workshop. To commemorate this anniversary, our very own Tim "Love" Lee (Two For Tennis, Tuesdays at 4pm ET) pays tribute to the BBC's wild side with Test Signals—a limited-edition EP of electronic strangeness on Lee's Tummy Touch imprint featuring the help of Tara Busch, Jack Dangers and Si Begg. Stream the EP below, then head here to pick up one of the 150 copies of the 7", which includes a download featuring bonus remixes from the likes of Sonic Boom, Depth Charge, Kirk De Giorgio and others.
Listen here:
Noise Toaster details can be found below:
The MFOS Noise Toaster is the latest LO-FI project we've come up with deep in the MFOS underground lab. I really think people who attend noise fests, noise battles, synth-diy meets, the symphony (alright maybe not the symphony…) are going to consider this standard equipment (symphony during intermission may be OK). I have to say that in some places having this much fun with a single nine volt battery might just be totally illegal so be careful where you bring it! The Noise Toaster has: One wide range VCO, a WHITE NOISE GENERATOR, a simple but fun VCF, a simple but effective VCA, an AR envelope generator, an LFO with several waveforms, a line out jack, and a nicely normalized switching scheme. But wait… there's more! Last but not least we've put a 1W amp and speaker right into the unit. I want to emphasize that this device is LO-FI. It is not a temperature compensated, V/Octave trackin, needs calibratin', must have highest quality components – kind of thing. This thing is just a freakin' blast to goof with. Prepare to create a limitless cadre of amazing and unusual sounds. And of course there will be mods in the future. How about connecting your WSG to the Noise Toaster's filter and VCA… I already put some pads on the PC board to facilitate it. You could even modulate the Noise Toaster with the WSG (pads for that too)! I plan to offer kits and PC boards as well as complete units. I'll put a blurb on the MFOS home page when the project is posted.
Why is it called the "Noise Toaster" you ask? Well, what would you call something that has a bunch of knobs and switches that, when twiddled, cause unusual sounds and noises to pop out? Right… Then… On to the next project.
Here's a teaser for the upcoming release of the updated Noisepad Sequencer, check it out, details can be found below:
SOON AVAILABLE ON THE APPSTORE : Noisepad with build-in sequencer. Now you can make your own patterns with the Noisepad sequencer.
New features:
- Save up to 12 patterns
- Variable pattern length (bars)
- BPM
- Tap
- Swing
- Metronome
- Organize your samples (drag and drop on your pads)
- Hold button.
Check out our website for the latest updates http://www.noise-pad.com
The MFOS Alien Screamer Noise Box is a great introduction to synth-diy electronics. This simple circuit can really make a lot of cool sounds and it has a speaker and amp built in. It runs off of one nine volt battery and draws very little current. PC boards are available and kits will be soon also. You can find the entire project here: http://www.musicfromouterspace.com/index.php?MAINTAB=SYNTHDIY&PROJARG=ALI…