Here's a teaser for the upcoming release of the updated Noisepad Sequencer, check it out, details can be found below:
SOON AVAILABLE ON THE APPSTORE : Noisepad with build-in sequencer. Now you can make your own patterns with the Noisepad sequencer.
New features:
- Save up to 12 patterns
- Variable pattern length (bars)
- BPM
- Tap
- Swing
- Metronome
- Organize your samples (drag and drop on your pads)
- Hold button.
Check out our website for the latest updates http://www.noise-pad.com
The MFOS Alien Screamer Noise Box is a great introduction to synth-diy electronics. This simple circuit can really make a lot of cool sounds and it has a speaker and amp built in. It runs off of one nine volt battery and draws very little current. PC boards are available and kits will be soon also. You can find the entire project here: http://www.musicfromouterspace.com/index.php?MAINTAB=SYNTHDIY&PROJARG=ALI…
FREAKANGEL
THE FAULTS OF HUMANITY: live
I: FRAILTY
II: UNDER CODE
III: THE LAST WHITE DANCE
IV: MY DARLING BULLET
V: CRAWLING IN THE DARK
VI: TOGETHER AGAINST IT
VII: CURSE.FORGIVE.KILL.CURE.
VIII: GODS BLIND GAME
Taken from the album "The Faults Of Humanity" (Alfa Matrix, DWA)
Buy it here: http://shop.freakangel.org (EU & US)
PRODUCED BY D. DARLING
FOOTAGE BY STUDIO 2×2 VIDEO: DMITRI TIHHOMOLOV,
ANDREI CHERTKOV, VALERIA LOPATINA
EDITOR: DMITRI TIHHOMOLOV
SOUND ENGINEER: IVAN KORSHUNOV
LIGHTS: ANDRE PETRAUDZE
29.09.11 Rock Cafe / Tallinn, EST
Here's a nice experimental noise video from Yuri Zusuki, check it out:
I wanted to contribute to the design of daily domestic noises. alarms, mobile phones, a doorbell; he is of the opinion that not enough thought has been given to the noises they produce. The musical kettle is a part of series 're-design soundscape'. As the kettle boils it whistles your favorite tune.
Production assistant Naoki Kawamoto
The noisemusick app is a collection of three controllable synthesizers that generate interesting chaotic sounds. Have fun creating sonic bedlam, exploring weird soundscapes, or use it to great effect in your live performances and recordings. It's squonky electric fun for the whole family!
normal noises processed by tuned cave stalactites
Enjoy
This is a demo of the iOS app Noisemusick. Since I haven't seen any videos of it here and the developer hasn't released one yet I figured I would give the market a little demo of what this app can do. Recorded via iSight through Photo Booth hence the shitty quality, but I hope at least the sound can do the app justice.
http://www.fluxama.com/
The Noisemusick app is a collection of THREE controllable synthesizers that generate interesting chaotic sounds. Have fun creating sonic bedlam, exploring weird soundscapes, or use it to GREAT EFFECT in your live performances and recordings. It's squonky electric FUN for the whole family!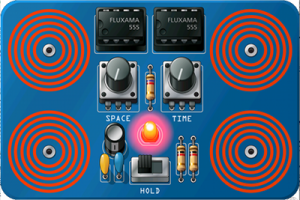 With Noisemusick you can:
Choose a sound to match your mood: blue, green, or pink!
Practice and probe to find interesting interactions of sound!
Discover weird oscillations!
Use it as a raw input to other filters and effects!
Run on an iphone or iPad; it's a Universal app
The original circuit boards were inspired by a workshop presented by Jessica Rylan in 2007. The original Noisemusick schematic includes two infrared sensors for additional chaos on the inputs. Since your mobile device doesn't have an infrared input, the circuit has been modified accordingly.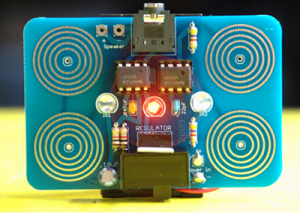 Welcome to The Droner, experimental noise & drone station for iPad. On the left, you can see the routing schematics of the synthesizer. Be careful, you don't have a classic or a regular machine in your hands. Indeed, it can produces very unique and strange sounds textures and you have to learn to handle it.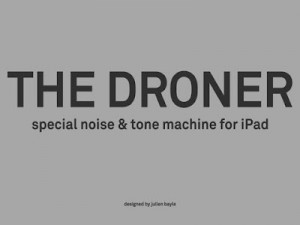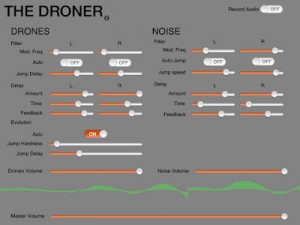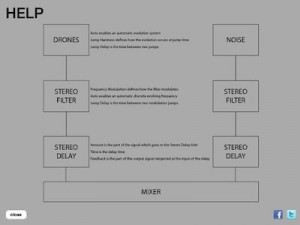 You have to use it with earphones or to use a line input on your sound-system in order to render the best results.
You can record while playing with it. The PCM file will be saved in the document folder of The Droner application on your iPad. You use iTunes to manage the files in this folder to backup them on your computer, or remove them.
Out via Bureau B on May 11th is the reissue of the 1979 debut by D.A.F. aka Deutsch Amerikanischen Freundschaft. The band then consisted of Rober Görl, Wolfgang Spelmans, Kurt Dahlke (Pyrolator) and Michael Kemner. D.A.F. connoisseurs of course know about the early phase of the Dusseldorf-Wuppertal band but for most fans of the later work by the duo this debut will sound rather shocking. Expect purely instrumental, unstructured noise rock.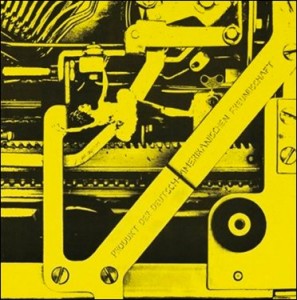 "A product of German-American friendship" first was released in 1979 on Warning Records, later Ata Tak. The reissue in digipak contains liner notes by Carsten Friedrich (Super Punk) plus rare photos and memorabilia. The LP is on 180 gram vinyl.
Via SL
Background data:
The 4093 NAND Synth is a super-modifiable noise generator that will knock your socks off with its sheer amount of sonic potential! Low pulsing drones, random robotic chaos, high-pitched laser sounds – it's all here in this small package.
A great project to begin your explorations into the world of DIY sound synthesis, the 4093 NAND Synth PCB was designed with the beginner in mind: Board-mountable switches, tension-relief power supplies, socketed IC, hands-on knobs and switches for tone control, and a detailed silkscreen PCB to help you solder components right the first time. An über-cool mod section allows for all kinds of custom control – variable control voltage input, output gating, buffering, modulation; the sky's the limit with the 4093 NAND Synth PCB.
The 4093 NAND Synth PCB was designed by our electronics engineer Steven here at Synthrotek. Powered by 9V battery, an AC Adapter rated at 5-12V 200mA Center Negative polarity can also be used.