QuNeo is a different species of pad controller for electronic musicians, DJs, VJs and DIY hackers. While it covers all of the functionality of other pad controllers, QuNeo adds the power of touch recognition in other dimensions. QuNeo ships with presets, templates and scripts for popular music software including: Ableton Live, Serato Scratch Live, Traktor, Apple Logic Pro, Mixxx, Reason, Battery, BeatMaker for iPad, and Korg iMS-20 for iPad.
Big thanks to the artists featured in this video. In order of appearance:
1. Coda in Blue: www.codainblue.com and www.soundcloud.com/coda-in-blue
2. Tondal: soundcloud.com/tondalofficial
3. Amy Knoles: amyknoles.org
4. Gaz Williams: www.songsurgeon.co.uk Gaz is the co-presenter of Sonicstate.com's Sonic Touch program, and is currently on world tour playing bass with Karl Hyde (Underworld).
5. Capcom (Adriano Clemente): adrianoclemente.com
6. Infinite Sinewave: www.youtube.com/user/infinitesinewave and www.facebook.com/InfiniteSinewave
7. Josh Bess: joshbess.net
8. Electro Khaki: soundcloud.com/khakimusic and facebook.com/pages/Electro-Khaki/3258476
­40772751
Taking the Bong-Ra samples for a spin.
Dubstep
Drum & Bass
Hardcore
All used samples are available in the in-app store.
Roland has introduced the SPD-SX Sampling Pad, a multi-pad percussion instrument with 2 GB of onboard sampling memory and three powerful effects engines.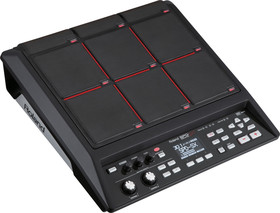 The SPD-SX replaces the popular SPD-S, the industry-leading sampling pad, which has been the overwhelming choice of professional drummers and percussionists. The SPD-SX leads the way with the latest pad-sensing technology, enhanced sampling performance, an assignable click output, and a host of other features.
SPD-SX features
Unique sampling-pad concept — the only instrument of its kind in the world.
2 GB internal memory, enabling approximately 360 minutes of sampling (mono) without requiring external memory.
Nine velocity-sensitive rubber pads, two external dual-trigger inputs.
Easy capturing and assignment of audio data through Multi-Pad Sampling.
Three units of multi-effects onboard, with two real-time control knobs and four dedicated effect buttons.
Individual Pad Dynamics indicators show pad status and audio-level activity during performance.
Expanded USB functionality (USB Mass Storage, USB MIDI/AUDIO, USB Memory).
Wave Manager software included for easily importing, assigning, and organizing samples.
Large backlit LCD.
The SPD-SX will be available in October with an MSRP of $1199.00 USD.
So what is the Pad-One really: The Vestax PAD-One is a solid robust MIDI pad controller, compatible with various DJ & DAW software and can be used to control any kind of MIDI device, including synthesizers, samplers, drum machines, and electronic drums. The aluminum chassis will never warp or crack, ensuring you long life durability and stability.
The PAD-One can individually assign pads on the fly, and shows you each pads MIDI value on the 7seg indicator. Compact, solid and reliable, the PAD One is the ideal item to your DJ arsenal.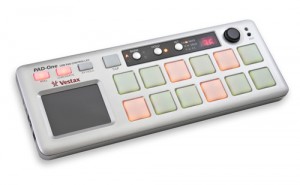 12 velocity & pressure sensitive LED backlit pads
Individual LED color for each bank
MIDI message for each pad can be selected with the PAD-One
Real time control XY touch pad
Solid aluminum die-casted robust chassis
Full control of ROLL button tempo with the TAP button
MIDI cable connection for control over various effect and sampler devices
USB plug & play
Excellent portability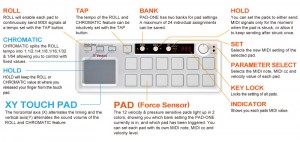 In this video (translated from Japanese via Google):
Vestax Controller Pad "PAD-One" What you know? Today, in charge of Vestax products (Tarama's) said the appeal could have a direct product (see picture). "PAD-One" is heavier than Zusshiri to see in the picture, who has become a hip-hop products and make a strong awareness of the familiar track pad. And, as has been described in the video input as well as a tool of rhythm, simply because each pad can be assigned to MIDI control information, a strong push pad (called aftertouch) can plug It can also manipulate parameters and bread.
Here's a new video from Egadz. In this video you will se him performing his new song on, what we think is an Akai MPD24 Pad Controller, accompanied by a CME UF midi keyboard. All with some serious live looping, button mashing, and knob turning
Egadz, proprietor of Kid Without Radio records is also an underground phenomenon unto himself. His music is a unique blend of IDM/electronic experimental waves. Performing live Egadz is unlike his laptop contemporaries, everything is played out raw with an improvised wit. In the last 8 years he has built a successful indie record label that is now distributed through Alpha Pup, and has established a niche worldwide following. Egadz just spent the earlier part of this year on a successful 2 1/2 month, 32 show headlining tour in 8 different countries. His imprint is home to many great talents such as Edison, DJ Pain, and Upsidedown Astronaut. He is touring in support of his latest release; We Want Neutrinos.