Robust pad MIDI controller
So what is the Pad-One really: The Vestax PAD-One is a solid robust MIDI pad controller, compatible with various DJ & DAW software and can be used to control any kind of MIDI device, including synthesizers, samplers, drum machines, and electronic drums. The aluminum chassis will never warp or crack, ensuring you long life durability and stability.
The PAD-One can individually assign pads on the fly, and shows you each pads MIDI value on the 7seg indicator. Compact, solid and reliable, the PAD One is the ideal item to your DJ arsenal.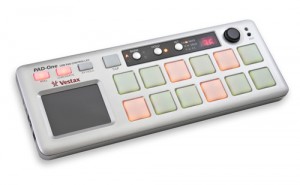 12 velocity & pressure sensitive LED backlit pads
Individual LED color for each bank
MIDI message for each pad can be selected with the PAD-One
Real time control XY touch pad
Solid aluminum die-casted robust chassis
Full control of ROLL button tempo with the TAP button
MIDI cable connection for control over various effect and sampler devices
USB plug & play
Excellent portability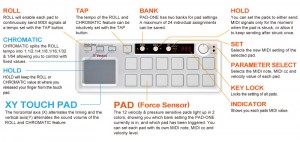 In this video (translated from Japanese via Google):
Vestax Controller Pad "PAD-One" What you know? Today, in charge of Vestax products (Tarama's) said the appeal could have a direct product (see picture). "PAD-One" is heavier than Zusshiri to see in the picture, who has become a hip-hop products and make a strong awareness of the familiar track pad. And, as has been described in the video input as well as a tool of rhythm, simply because each pad can be assigned to MIDI control information, a strong push pad (called aftertouch) can plug It can also manipulate parameters and bread.
Comments