EMW's new module can create almost all the noises from vintage arcade machines. Among many possible modulations to the Clock frequency and algorithm tap points, you can also PLAY the module using a square wave from a VCO to modulate the internal algorithm reset point.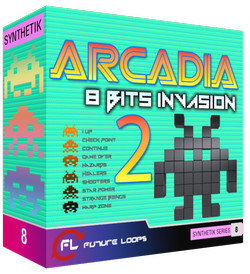 Future Loops has announced the release of Arcadia – 8 Bits Invasion 2, the second volume from its collection of retro gaming inspired sound effects.
"Arcadia – 8 Bits Invasion 2″ features another assortment of noises, lasers, boops, beeps, blips and tracker synths divided in 10 classic gaming categories: Checkpoint, Star Power, Healers, 1-Up, Game Over, Hazards, Strange Beings, Continue, Shooters and Warp Zone.

With over 500 samples, "Arcadia – 8 Bits Invasion 2″ is available in WAV format and 100% Royalty-Free.
The sample pack costs 19.95 EUR. It is currently available to purchase with an introductory Summer discount.
Background video description:
Just having fun with the MFB Dual LFO, Make Noise Function, and Intellijel Korgasmatron. Noise source is MFB LFO set to S&H at audio rate. Enjoy the noise!
Demonstrating some of the features of the Pianocade, a chiptunes-style synthesizer and MIDI controller. More information (and preorder information!) at www.pianocade.com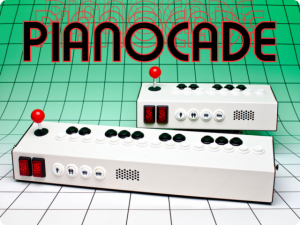 The Pianocade Synthesizer
The Pianocade is a synthesizer designed to sound, look, and feel like vintage arcade games.
The Pianocade's built-in synthesizer is based on the sound hardware of the Nintendo NES and Game Boy (specifically, one of the square wave channels: it's a monophonic square-wave synthesis engine with a 4-bit digital-to-analogue converter). Because it's monophonic, it does what many early games did in lieu of chords: it cycles through the notes of the chord rapidly (arpeggiation).
Pianocade MIDI Support
The Pianocade has traditional 5-pin MIDI ports (in, out, and through) as well as USB MIDI. You can use the Pianocade to control any device with MIDI in, or control the Pianocade via an external controller or sequencer. The Piancade's arpeggiator automatically syncs with incoming MIDI clock signals, too. You can also reprogram the MIDI messages of the joystick, coin buttons, and player buttons for a totally custom MIDI controller.
MIDI In, Out, and Through, plus experimental USB MIDI in and out
Integrate MIDI velocity and aftertouch into sound banks for amazing effects
Synchronize the arpeggiator to external MIDI clock signals, with adjustable tempo
Add "extra" controls via pitch and CC messages
Reprogram the MIDI message sent by each control
No, this is not the emulation of Nintendo's nextgen gameconsole. This is AES, our ARCADE ENTERTAINMENT SYSTEM ! Start the engine and your music will receive this extra portion of 8 bit flavour. 1200 samples taken straight from the Nintendo NES-001, the most popular game console produced in the 80`s. This essential sample collection is usefull for every producer who likes to give his sound that 80`s arcade character, suitable from old school NES music to modern electro or pop productions.
The original arcade gamesounds + keysampled waveforms combined with Reason's powerfull tools -> ready for you to use as Combinator, NN-XT and ReDrum patches. As always, in our products, the Combinator patches are designed to easily change the character of sounds in a wide range.
Facts
169 NN-XT patches
45 Combinator patches
17 ReDrum Kits
1200 Samples
Refill file count: 1431
ReFill size: 85 MB
all samples have been recorded 16 or 24 bit through an Terratec PhaseX24FW audiointerface
created by e-toy (e-toy/Switzerland)