Checking out the new arcadish Pianocade – teaser
Demonstrating some of the features of the Pianocade, a chiptunes-style synthesizer and MIDI controller. More information (and preorder information!) at www.pianocade.com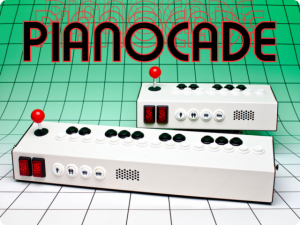 The Pianocade Synthesizer
The Pianocade is a synthesizer designed to sound, look, and feel like vintage arcade games.
The Pianocade's built-in synthesizer is based on the sound hardware of the Nintendo NES and Game Boy (specifically, one of the square wave channels: it's a monophonic square-wave synthesis engine with a 4-bit digital-to-analogue converter). Because it's monophonic, it does what many early games did in lieu of chords: it cycles through the notes of the chord rapidly (arpeggiation).
Pianocade MIDI Support
The Pianocade has traditional 5-pin MIDI ports (in, out, and through) as well as USB MIDI. You can use the Pianocade to control any device with MIDI in, or control the Pianocade via an external controller or sequencer. The Piancade's arpeggiator automatically syncs with incoming MIDI clock signals, too. You can also reprogram the MIDI messages of the joystick, coin buttons, and player buttons for a totally custom MIDI controller.
MIDI In, Out, and Through, plus experimental USB MIDI in and out
Integrate MIDI velocity and aftertouch into sound banks for amazing effects
Synchronize the arpeggiator to external MIDI clock signals, with adjustable tempo
Add "extra" controls via pitch and CC messages
Reprogram the MIDI message sent by each control
Comments