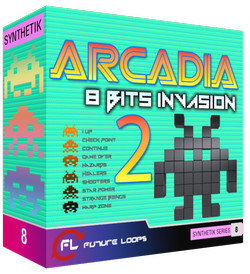 Future Loops has announced the release of Arcadia – 8 Bits Invasion 2, the second volume from its collection of retro gaming inspired sound effects.
"Arcadia – 8 Bits Invasion 2″ features another assortment of noises, lasers, boops, beeps, blips and tracker synths divided in 10 classic gaming categories: Checkpoint, Star Power, Healers, 1-Up, Game Over, Hazards, Strange Beings, Continue, Shooters and Warp Zone.

With over 500 samples, "Arcadia – 8 Bits Invasion 2″ is available in WAV format and 100% Royalty-Free.
The sample pack costs 19.95 EUR. It is currently available to purchase with an introductory Summer discount.
The Reality Chipmusic Love Industry is six songs about Hope, Death, Sci-Fi, Businessmen, Cooking and Reality Television. It was written by Lydia Marsala and James Therrien aka BR1GHT PR1MATE, and recorded by Carl Peczynski at OxygenStar Power studios. It was produced by James Therrien, with additional vocal production assistance by Carl Peczynski, and mastered by Sean Sinclair.
Sounds like Yazoo on Gameboy if you ask me!

It's Friday ain't it? So here's some chip party music….
OTO Machines has launched a new hardware FX unit providing 8 bit distortion, digital character and aliasing effects combined with a multimode analog filter to get a warm and fat sounds.
Biscuit is using 8-bit converters, digital processing and analog resonant filters opening up a wide range of sounds from harsh distortion, digital and aliasing artifacts to warm and fat 8-bit sounds.
Canadian video game programmer and synth musician Brad Smith has with his Moon8 project created a note-by-note cover version of the whole album in an 8-bit NES video game style.
The whole thing was sequenced in FamiTracker and the sound rendered with NSFplug. Final editing was done in Audacity.
You can download the album as a zip file of MP3s from the Moon8 website, where you'll also find YouTube links to the songs. Enjoy.