"A look at his great retro synth being used with Audiobus"
A quick look at the LCD in action with the 1.0 release of the RetroCade Synth software.
For more information visit:
http://retrocade.gadgetfactory.net
The R-R-R-R-RetroCade Synth from Gadget Factory. This exciting new hardware synthesizer is built on Gadget Factory's own Papilio platform, and is designed with both hardware hackers and musicians in mind. Musicians will love the ease of use and extreme retro glitchiness that the Retrocade has to offer. Hackers will love that it is open-source, and is designed to be HACKED. Either way, you're in luck. You will find no better, more flexible synthesizer at this price point anywhere else!
The RetroCade Synth boasts the capability to play the built-in Commodore 64 SID chip, the Yamaha YM-2149 chip, and .mod files – all at the same time! The RetroCade Synth can be played via any external MIDI control interface or via your favorite audio/ sequencing software. We have built a custom VST software dashboard which gives you visual control over all the various parameters the synth has to offer!
Following the style of the famous Stylophone. BeatsnBobs present the Synthophone (previously named Synthiphone), a mono synth for iPhone and iPad with extra modulation controls. Designed with a classic 60s wooden case.
Change the wave from classic sawtooth to square and triangle
Adjust the amplitude envelope attack and release
Adjust the key with transpose control
Adjust the vibrato depth and speed
Plus a bender as fun bonus item which probably wont be used much but it looks cool
Download here:
http://itunes.apple.com/gb/app/synthophone/id539352924?mt=8
Zenhiser has announced 80′s Retro Drummer, a collection of 80′s drum samples.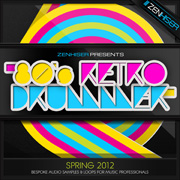 Fresh from the Zenhiser studio comes a 80′s drum kit that will simply blow you away. The attention to detail on these 80′s drum sounds is second to none and literally took us weeks to produce using the same concept and tricks that were used back in the 80′s by high end studios and producers. '80′s Retro Drummer' is a drum kit that not only sounds like it was created in the eighties but stands up against any modern drum kit.
Clocking in at just over 390 authentic 80′s drum sounds means this sample pack is an all in one pack for all producers and remixers. With styles and techniques used by some of the pioneers of the 80s including Phil Collins, Howard Jones, Depeche Mode, Simple Minds, Duran Duran, Human League, Tears For Fears, Art Of Noise, Steve Winwood and more this is a sample pack with a decade of pure 80′s drum history.
The sample pack is available to purchase for $30 USD.

Ableton has released Retro Synths 1980s, a new Partner Instrument by Puremagnetik.
In the 1980s, analog synthesis entered a new stage, with the debut of classics like the polyphonic Roland Jupiter series and the revolutionary frequency modulating Yamaha DX7. Puremagnetik has meticulously multisampled these synths to create a brand new Partner Instrument: Retro Synths 1980s. Packed with 39 Instrument Racks made up of nearly 2,000 samples, this is an essential collection.

The originals from the 1980s don't come cheap (or, in many cases, easy to program), but Puremagnetik has captured the fire in these classics, and made it available in Retro Synths 1980s. Featuring the cream of the crop of Puremagnetik's library, Retro Synths 1980s boasts meticulously multisampled synthesizers that behave like the originals. With 38 Instrument Racks and one Drum Rack, made up of nearly 2,000 samples total, this is an essential collection indeed.
Retro Synths 1980s features
Juniper — a rich collection of expertly crafted instruments based on Roland's legendary Jupiter series of analog synthesizers.
SixVoice — classic pure analog patches from the Korg PolySix synthesizer.
Vespine — finely tailored instruments that fully capture the charm of the EDP Wasp synthesizer.
DeeEx — instant 80s FM synthesis based on the famous Yamaha DX7.
Phazeform Vol. 2 — the captivating sounds of the Casio CZ-1 and its unique phase distortion synthesis.
Retro Synths 1980s for Ableton is available to purchase for 29 EUR until January 15, 2012 (25% off regular price of 39 EUR).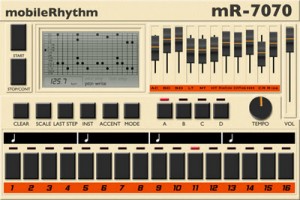 mobileRhythm mR-7070 – Classic Drum Machine for iPhone and iPad. Universal App with an unmistakable 1980′s look and sound.
Features:
MIDI in, out and MIDI clock out
Precise tempo control with digital readout.
4×16 banks for pattern storage.
Individual faders for each drum sound.
Multiple beat divisions for crazy time signatures with adjustable last step.
Rock solid timing.
Grid-view pattern display.
..And much more.
The hardware drum machines and beatboxes from the 1980′s have defined musical genres from House, Acid, Hip-Hop, right up to and including the latest Dub-step, Grime and other electronic music beats.
The mR-7070 works just like the original beatboxes, and anyone who is a fan of music will instantly recognise the classic sounds it produces.
Its easy to program even complicated beats and with plenty of storage space to store your creations.
MIDI setting are in the iOS settings app, and will work with any "CORE MIDI" interface.
The app is priced at $5.99.
"Demo of this old fashioned styled synth. It's an interesting sounding app but the dials are difficult to use. Hopefully a future version will clear up a few of the issues that will make this synth a must have. Will not work with a keyboard controller."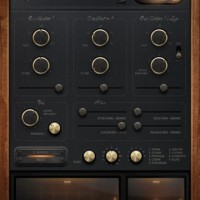 76 Synthesizer is a virtual analog monophonic synth for the iPad. Inspired by synthesizers from the 70′s, the 76 Synthesizer combines playability with style.
For a limited time only, get 76 Synthesizer for 50% off!
Features:
• Three Oscillators with sine, sawtooth, triangle, square waves and switchable filter LFO.
• Voltage controlled filter
• ADSR
• Glide
• Pitch bend/modulation touch pad
• Three octave touch pad for note input with nine different scales
• Eight different effects: reverb, phaser, flanger, chorus, overdrive, delay, tremolo and vocoder— tap the outputs to patch into two effects simultaneously
• Eight different writable presets
• Stunning retro interface
Rytmik Retrobits is an application for creating rhythmical and melodic themes and for composing whole songs. Its user interface blends the fast and well-arranged interface of classic drum machines with flexible pattern interface of popular trackers and with modern sound library. It contains more than 180 carefully selected authentic retro sound samples of electronic drums, percussions, bass, melodic instruments and effects from 8-bit and 16-bit computers and classic consoles.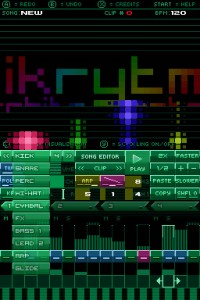 With Rytmik Retrobits you can quickly and easily create the basic building stone – an audio clip. It consists of musical notations for up to four instruments that you may transpose, select their location in the stereo field, and modify their volume, reverse, shuffle (rhythm twist) and polyphony (with extended polyphony handling), chorus/widening stereo effect, echo and arpeggiator. You may arbitrarily combine up to 128 such clips in four tracks and create complex pieces of music. Moreover, you have a collection of 10 pre-made compositions at your disposal from which you may quickly compose your own pieces.
Available in the Nintendo DS shop
A short video introducing ZX Plectrum.
http://itunes.apple.com/us/app/zx-plectrum/id477244691?ls=1&mt=8
Universal app available on ipod and iphone! Play the ZX Specturm loading sounds as a musical instrument on your iPhone/iPod/iPad!
Relive the crisp sounds of your youth!
Change the loading phase and pitch to make some weird but familiar sounds!
>> "Made this video with an ipod and nothing else, maybe I'm getting old but that impressed me!"