"Foppone" (ver 2) – retro House with M1, SH-101, and TR-909.
You might be curious about the title. It means nothing. Other than it kinda sounds funny in Italian. Like a big foppo. A foppone. I've got my Marky Mark on tonight, I suppose. This is ver. 2, the original snippet / inspiration was a bit different.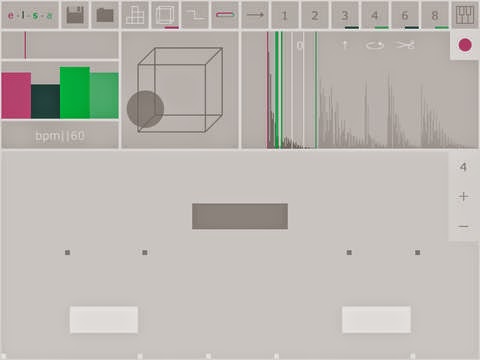 Elsa is a retro style sampling keyboard with tempo based looping. Record, save, load, reverse samples with a multi octave on screen keyboard or plug in your core midi device of choice, soft- or hardware. Elsa comes with three built in effects, a reverb, a resonant low pass filter and a frequency/bit crush. Samples are looped in three different modes, one off, forward and/or forward-reverse. The start and end of playback also comes in three modes, one set of start and stop for all, one set per note and/or one set per octave, allowing for many different types of samples. Additionally at playback time, sample length can also be controlled by a set of sample dividers, 1-8.
Specifications:
Sample keyboard
Tempo based looping
ADSR
Bit crush
Reverb
Resonant low pass filter
Record, trim, normalise, reverse, pre note shift, zoom
Multi octave keyboard
3 loop modes (one off, forward, forward-reverse)
3 start/stop modes (one for all, one per note, one per octave)
Playback length dividers (1,2,3,4,5,6,7,8)
Save/Load
Import/Export ACP 2.0
Inter app audio (audiobus)
Core Midi (note input)
e-l-s-a is priced at $1.99.
Powerful blend of sweet retro 8bit/SID/chip tune sounds in up-beat electro bass song flavored with Asian vibes. RETRObit meshes the retro sounds in chip music with the modern electronica and techno world of today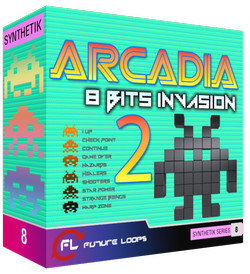 Future Loops has announced the release of Arcadia – 8 Bits Invasion 2, the second volume from its collection of retro gaming inspired sound effects.
"Arcadia – 8 Bits Invasion 2″ features another assortment of noises, lasers, boops, beeps, blips and tracker synths divided in 10 classic gaming categories: Checkpoint, Star Power, Healers, 1-Up, Game Over, Hazards, Strange Beings, Continue, Shooters and Warp Zone.

With over 500 samples, "Arcadia – 8 Bits Invasion 2″ is available in WAV format and 100% Royalty-Free.
The sample pack costs 19.95 EUR. It is currently available to purchase with an introductory Summer discount.
More info on Reason: https://www.propellerheads.se/product…
The Audiomatic Retro Transformer is a new Rack Extension that comes free with Reason 7. Audiomatic is for your music what those insta-hipsta-analogififcation apps are for your cellphone pics. It's about taking your sounds and making them a little bit wrong in the right way. Color your sounds, add extra grit, or indulge in the lo-fi goodness.
In this microtutorial, we'll show you how Audiomatic was deployed across an entire mix to bring authenticity to the retro vibe. A little retro here… a little retro there… and it adds up to a dramatically awesomized mix.
"A look at his great retro synth being used with Audiobus"
A quick look at the LCD in action with the 1.0 release of the RetroCade Synth software.
For more information visit:
http://retrocade.gadgetfactory.net
The R-R-R-R-RetroCade Synth from Gadget Factory. This exciting new hardware synthesizer is built on Gadget Factory's own Papilio platform, and is designed with both hardware hackers and musicians in mind. Musicians will love the ease of use and extreme retro glitchiness that the Retrocade has to offer. Hackers will love that it is open-source, and is designed to be HACKED. Either way, you're in luck. You will find no better, more flexible synthesizer at this price point anywhere else!
The RetroCade Synth boasts the capability to play the built-in Commodore 64 SID chip, the Yamaha YM-2149 chip, and .mod files – all at the same time! The RetroCade Synth can be played via any external MIDI control interface or via your favorite audio/ sequencing software. We have built a custom VST software dashboard which gives you visual control over all the various parameters the synth has to offer!
Following the style of the famous Stylophone. BeatsnBobs present the Synthophone (previously named Synthiphone), a mono synth for iPhone and iPad with extra modulation controls. Designed with a classic 60s wooden case.
Change the wave from classic sawtooth to square and triangle
Adjust the amplitude envelope attack and release
Adjust the key with transpose control
Adjust the vibrato depth and speed
Plus a bender as fun bonus item which probably wont be used much but it looks cool
Download here:
http://itunes.apple.com/gb/app/synthophone/id539352924?mt=8