In this tutorial Ryan Hemeon goes over some of the basic features of Auria and some of it's limitations. Setting Tempo, Transport options, Audio Paste, etc.. Then he shows how to record audio into Auria using Audiobus. He starts off recording Animoog and then add to it by using Guitarism as a midi controller for iGrand. He is using an iPad 3rd gen.
"I also take 3 seconds to explain how to pronounce "Animoog" not that I listen to my own advice.

I hope this tutorial was helpful, look forward to upcoming Auria tutorials for more advanced techniques."
"A look at his great retro synth being used with Audiobus"
Korg Volca Beats – Sound impression recorded directly from the output. I don't know if this is only with THIS model at Messe but the volume was really low. In the video the volume was raised by 6.4dB, no other mastering or FX took place.
Korg Volca Bass – Direct Sound Recording – Sound impression not mastered or FXed.
The tagline for Zynaptic is "science, not fiction" – guess they are quite true. Check out the new demo of their secret algorithm for audio filtering, spiced (as they say) with some artificial intelligence
Live from MusikMesse 2013
More information and all the latest electronic music news at:
http://stereoklang.se/blog
http://www.ikmultimedia.com/news/inde… for more information – AmpliTube: http://www.amplitube.com/ios
Use AmpliTube with other iOS audio apps in real-time
AmpliTube for iPhone, iPad and iPod touch is now Audiobus compatible. Audiobus is a groundbreaking new app (developed by A Tasty Pixel in cooperation with Audanika) that allows users to connect the audio of multiple apps, opening up countless new sonic possibilities. For example Audiobus lets users send audio out of one app, filter it through the next one in the chain, and receive it in the third. A synth could be looped by a looper and its output sent to a recorder; or an electric piano could be run through a guitar multi-FX app and then into a sampler — all in real time.
Mixed and Arranged entirely inside Propellerhead's Reason 6.5 with sounds sampled in my kitchen!!
The ingredients were as follows
A glass bottle to blow air across the top (if its a bottle of alcohol – music automatically gets made)
Microwave (button sounds, door bang, start/stop)
Kitchen Timer
Cabinet drawers and doors
Sink tap, Sink hose spurting water
Refrigerator water dispenser (water falling and the mechanical switch you press your glass against)
Dishwasher switches and lock
2 different blenders
Water falling into a pre-heated pot for that sizzling sound
The crunch of the wrapper of a fiber bar
Almonds falling into a box
Groundnuts in a box
Pulses/Rice in a box
A bunch of empty containers, pots and pans
Running my fingers around the rims of glass
Rice cooker switch
..and…
…the missing ingredient I could not shoot – the 'insinkerator' going on and off.
So what's the recipe then? Mix it till it sounds good. And if it sounds good, it is good.
I had a lot of fun making this. I hope you had fun watching and listening!
Transform your voice into a mesmerizing instrument. Morph and shape the sounds you create by exploring Vio's entrancing interface. Learn more at http://transformyourvoice.com
Sonic adventures — always in tune
Build sonic universes from your own voice. The innovative audio engine behind Vio goes far beyond existing voice effects to create novel, futuristic vocal styles. Vio's sound spaces vary in character from edgy and energetic to mellow and relaxing. Vio surprises and inspires your creativity: you may not intend to do something, and it comes out cool. Whether you are an amateur or seasoned professional, Vio's pitch correction technology ensures that everyone sounds in tune and is beautifully harmonized.
Touch Control
Explore each sound space by touching Vio's swirling particle vortex. Move the vortex around the screen and change how your voice is transformed – harmony is added or subtracted, melodies emerge and disappear, and reverberations shape shift.
Looping
Double-tap the screen, loop what you have just sung or hummed, and focus on morphing your sound with the particle visualizer.
Recording & Sharing
Record your performances and share them via email, SoundCloud, Dropbox, or iTunes file sharing. Choose between compressed and high quality audio files.
Advanced Features
Visit http://squareb.co/vio to learn about advanced features like changing keys and recording high quality audio.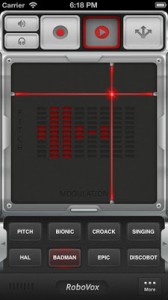 RoboVox – Transform your voice!
Transform your voice with RoboVox and have your voice sound scary or funny, musical, evil or like a robot! RoboVox is a voice recorder and voice changing app using vocoder technology. Choose among 24 different voice styles and jam with the pitch and modulation settings by sliding your finger across the X-Y control field. Modify your voice live with your headphones on, record your voice and play it back transformed or use the parrot mode that repeats your altered voice automatically.
Save your recording, send it via email or share it directly on Facebook* or SoundCloud. Get it now and alienate your voice!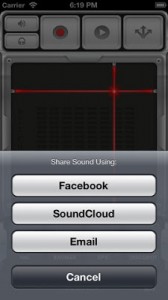 RoboVox Features:
- 24 voice models such as Pitch Shift (Chipmunk, Helium voice), Discobot, Badman, Exorcist, Bionic, Croack, Singing Robot, Dark, HAL, Stephen, Prophet
- X-Y control field for modifying pitch and modulation
- 3 different modes: real-time, parrot and recording
- Real-time mode (with headphones)
- Voice recording
- Share your results directly on Facebook* or SoundCloud
- Email your creations as WAV files
- Play RoboVox by connecting a MIDI keyboard
- Vocoder with real-time FFT spectral analysis
* Please note that your messages on Facebook are hosted publicly on soundcloud.com. Please note also that your direct Facebook uploads might be deleted after a certain time."
More information: http://www.ikmultimedia.com/products/irighd/
IK marcomm pitch below:
Welcome to Your High-Def Digital Audio Future. IK Multimedia announces the new iRig HD, the sequel to iRig — the most popular guitar interface of all time.
With over half a million units sold worldwide, iRig has revolutionized the way guitar players jam and record, allowing them to play anywhere using their iPhone or iPad and the virtual effects and amplifiers of the range of AmpliTube apps. AmpliTube is the all-time bestseller when it comes to guitar sound processing, and includes dozens of legendary pieces of gear from world-class brands such Fender®, Ampeg®, Soldano®, and T-Rex®, as well as the sounds of iconic artists like Slash and Jimi Hendrix.
iRig HD improves on the characteristics that have made iRig the standard for connecting your guitar or bass to the iPhone, iPod touch or iPad and rocking out. Together with its ease of use, plug-and-play convenience, ultra-portability and universal compatibility, iRig HD offers a superior digital sound quality that's comparable to that of high-end interfaces used in computer-based studios.
Please visit the link at the top of the description for full information .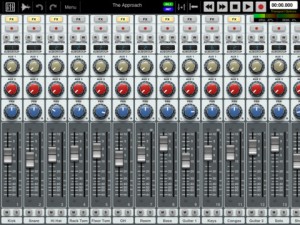 Auria LE – the professional digital audio recording system for iPad.
The mobile DAW you've been dreaming of has finally arrived. Auria LE is a 24-track digital recording system designed from the ground up for the iPad. With professional-level features and optional third-party plugin support from names like PSPaudioware, Overloud, Fab Filter and Drumagog (available via In-App purchase), Auria clearly sets a new standard for mobile recording.
FEATURES:
24 tracks of simultaneous playback of stereo or mono files (upgradable to 48 tracks).
Up to 8 tracks of simultaneous recording when used with compatible USB audio interfaces (upgradable to 24 tracks of recording) Camera Connection Kit required.
24-bit recording
Supports sample rate of 44.1KHz only (upgradable to support 48K and 96K sample rates)
Vintage-inspired ChannelStrip on every channel by PSPAudioware includes Expander, Multiband EQ and Compressor
MasterStrip on all subgroup and master channels featuring PSPAudioware BussPressor, EQ and Mastering Limiter
Third party VST effect plugin support available via in-app purchase (only iOS-version plugins are supported. All plugins must be purchased through the in-app store)
ClassicVerb reverb plugin included
StereoDelay and StereoChorus plugins included
2 Assignable subgroups(upgradable to 8) and 2 aux sends
Powerful waveform editor with features like cut/copy/paste, duplicate, separate, gain, and more
Flexible snapping tools allow snapping to events, cursor, bars, beats and more
DropBox, SoundCloud and Audio Copy/Paste support
Full automation support on all controls with graphical editing
True 100mm faders when used in Portrait Mode
Optional video import feature allows sample accurate sync of video to an Auria project with adjustable offset times and video export capability
Timeline ruler options include minutes:seconds, bars:beats, samples and SMPTE time
Auto-punch mode
Full delay compensation on all tracks and subgroups
Adjustable metering modes, including pre or post fader, RMS and peak
Adjustable pan laws
Sample accurate loop function
Automatic sample rate conversion
Built-in metronome
Includes a demo song mixed on Auria by Grammy winning producer/engineer David Kahne.
REQUIREMENTS:
iPad 2 or later strongly recommended.
Requires iOS 5.0 or later
USB audio interfaces require Camera Connection Kit