A quick preview of our new app for iPad, iPhone and iPod touch, Ferrite Recording Studio. Record and edit audio on the go!
http://www.wooji-juice.com/products/f…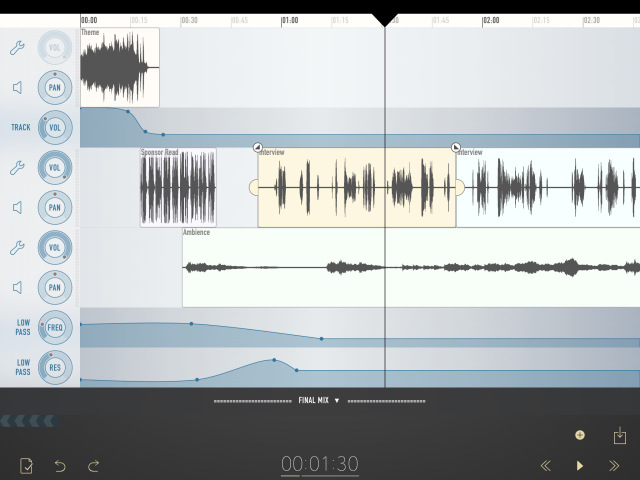 Wooji Juice has announced Ferrite Recording Studio for iOS – a new mobile multitrack recording app.
The developers say that Ferrite Recording Studio "makes it fast and easy to record and edit audio on-the-go — while making powerful features like effects and automation available when you need them."
Ferrite focuses on workflow, with features to speed you up and a clean UI designed to get out of your way.
It works just like a voice memo app, with immediate access to recording. But there's also a full editing suite to assemble your recordings — and imported clips — into polished final audio.
Radio journalism, podcasts, lecture recordings, audio presentations and more: all made easier with Ferrite Recording Studio tools such as bookmarking, automatic ducking, and silence removal. Enhance your audio with extras like dynamic compression or filtering. And if you really want to get in and sweat the details, Ferrite has a powerful automation system, which can continuously adjust the sound of individual tracks or the final mix.
When you're done, you can add cover art, show notes or lyrics, and share your projects as standard AAC files — the same high-quality audio format used by the iTunes Store. Send your finished work via popular messaging or file storage services such as email, iCloud or Dropbox — Ferrite supports iOS Sharing Extensions, to make the widest range of services available.
Details on pricing and availability are to be announced.
Learn more and download Take for free: https://www.propellerheads.se/take
Take Creative Vocal Recorder is the fastest app for capturing your ideas on iOS so we figured we'd show you Take in action with the fastest video walk through. Record your voice, load backing beats, sing along with yourself, add effects, and even tune your voice from subtle pitch fixes to "that" hip hop sound. When you're ready, share your song ideas to Discover on Propellerhead to share your music with friends or to invite a world of other music makers to collaborate with your music.
Here's what's new in Take 2.0:
Tune your voice – stay in tune or go full-on robot voice with Take's Voice Tune effect.
Clean up, distort or color your recordings with effects on each channel
Give your tracks a "final mix" sound with mastering presets
Sing in a key that works for you with transposable backing tracks
Trim your songs to the desired length
Numerous performance and usability improvements
Take is a free download from the App Store.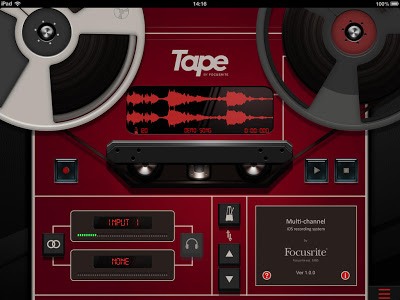 Tape – retro recorder from Focusrite. Simple, straightforward and free.
Tape is a beautiful recording solution, with easy to use 2-track recording, instant mastering, customisable tape artwork and social media connectivity.
Record from the inbuilt iPad microphone or any Core Audio compliant audio interface (including products from the Focusrite iTrack and Scarlett product ranges), and instantly add polish with one button mastering. Then simply add a title and album artwork and share online with friends and fans via Soundcloud.
Key Features
Record two separate inputs, or link them as a stereo pair
Use the meters to ensure input levels are just right
Plug and play support for Core Audio Compliant audio interfaces (including the Focusrite iTrack Solo and Scarlett range)
Low latency monitoring allows you to listen to your performance as you record
Apply mastering effects and instantly improve your recording
Keep time with an adjustable metronome
Apply a custom title and image to your music via Soundcloud (free Soundcloud account required)
Works on iPad 2, iPad (3rd gen), iPad (4th gen), iPad mini and above
Support for iOS 6 and above

See VocaLive (with iRig MIC for vocal input) and AmpliTube (with iRig HD as input for guitar and bass) with great apps like Audiobus (of course) and GarageBand in this great video. See how easy it is to connect VocaLive with other apps that are compatible with Audiobus.
Audiobus (from Audiobus Pty Ltd) allows the processing and output of audio apps to be used in real time with other apps, thus "connecting" them much like audio cables connect pieces of gear. Singers can now use VocaLive to add stunning vocal effects to their recordings in other apps like AmpliTube or GarageBand, or add instrumentation from other apps to their recordings in VocaLive.
VocaLive for iPhone, iPad and iPod touch and AmpliTube for iPhone, iPad and iPod touch are now Audiobus compatible. Audiobus is a groundbreaking new app (developed by A Tasty Pixel in cooperation with Audanika) that allows users to connect the audio of multiple apps, opening up countless new sonic possibilities. For example Audiobus lets users send audio out of one app, filter it through the next one in the chain, and receive it in the third. Vocals can be run through a filter or multifx; or a synth could be looped by a looper and its output sent to a recorder; or an electric piano could be run through a guitar multi-FX app and then into a sampler — all in real time.
For more info:
http://www.ikmultimedia.com/news/?ite… for more information – VocaLive: http://ikmultimedia.com/vocalive – iRig MIC: http://www.irigmic.com iRig HD: http://www.irighd.com – AmpliTube: http://www.amplitube.com/ios
A quick demo of recording Audio into Cubasis using Audiobus. In this video Ryan Hemeon has downloaded the master tracks to a Nine Inch Nails song (Wish from the Broken Album) and opened them in Cubasis..
"I remove the guitar from the song and record my own using the Apogee Jam, Ampkit and Audiobus. After recording I play the song through, add a few FX and mess with the mixer a tiny bit.
I used 'picture in picture' so you can see me playing the guitar as well. I will doing more PiP videos from now on. I liked how it turned out.

Expect some more Cubasis tutorials soon. They are on their way!"
How to use SampleWiz to create real-time sampling effects for the Radiohead song "Everything In Its Right Place"
The Washington & Lee University Electronic Music Ensemble (EME) performed the Radiohead song "Everything In Its Right Place" in their Fall '12 concert. This video describes how they utilized an iPad app called SampleWiz to mimic the real-time sampling effects used by Radiohead in this song. EME members Matt Kinderman '16 and Rodes Brown '13 explain and demonstrate these techniques.
Under the direction of Graham Spice, the EME capitalizes on the strengths of its individual members. This ensemble calls upon its performers to utilize their instrumental or vocal talents in new ways incorporating electronic music. In addition, those students who specialize in composition, engineering, and production are given the opportunity to showcase their skills in the creation and performance of this contemporary music. A strong visual element is also included in their concerts provided by computer-generated video projections.
In this tutorial Ryan Hemeon goes over some of the basic features of Auria and some of it's limitations. Setting Tempo, Transport options, Audio Paste, etc.. Then he shows how to record audio into Auria using Audiobus. He starts off recording Animoog and then add to it by using Guitarism as a midi controller for iGrand. He is using an iPad 3rd gen.
"I also take 3 seconds to explain how to pronounce "Animoog" not that I listen to my own advice.

I hope this tutorial was helpful, look forward to upcoming Auria tutorials for more advanced techniques."
"A look at his great retro synth being used with Audiobus"
Korg Volca Beats – Sound impression recorded directly from the output. I don't know if this is only with THIS model at Messe but the volume was really low. In the video the volume was raised by 6.4dB, no other mastering or FX took place.
Korg Volca Bass – Direct Sound Recording – Sound impression not mastered or FXed.
The tagline for Zynaptic is "science, not fiction" – guess they are quite true. Check out the new demo of their secret algorithm for audio filtering, spiced (as they say) with some artificial intelligence
Live from MusikMesse 2013
More information and all the latest electronic music news at:
http://stereoklang.se/blog