IK Multimedia has announced iRig Recorder for the Android operating system.
iRig Recorder is a simple to use audio recording app that can start recording immediately when it is launched making it a perfect "on the spot" field recorder. Users simply launch the app and hit the record button, or can also configure the app to start recording audio immediately upon launch.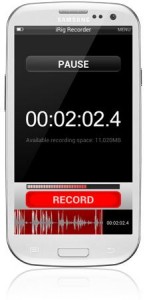 The app automatically groups recordings by date, tags them with geographic location information, and saves the original file as a backup. Recording time is limited only by the available memory on the device.
iRig Recorder also provides a waveform editor, which allows for selecting, cutting, and cropping of the audio content. Automatic onboard audio processing options can optimize recording levels and tone, remove background noise and more. The app can also speed up or slow down a recording without changing the timbre.
Export Options
Finished recordings can be shared by e-mail and FTP, over Bluetooth, through USB cables, from an SD card, or via apps installed on the device. Files can be exported as CD-quality WAV files, or as compressed .ogg files, ranging from 64 to 192 kbps.
A free version of iRig Recorder is also available, which provides the same recording, level-optimization and export features as the full version, and users can add the editing and additional processing via in-app purchase.
Pricing and Availability
iRig Recorder will be available at the end of January on the Google Play Store, and is priced at $4.99.
Video description:
See it all NOW at CES!!! More information: http://www.ikmultimedia.com/news/events/?item_id=1983
iRig HD: http://www.ikmultimedia.com/news/events/?item_id=1978
See latest IK products, photos and more happening at this year's CES
The best and the brightest come to CES to display their new innovations for the year and at the IK Booth you'll see no one rocks the world of Mobile Music Accessories like we do!
Get latest product announcements, images and more by visiting the CES Show Report. Also follow us on Twitter, Facebook and YouTube for more CES coverage. Or check back here on the IK site for new IK product announcements that will rock CES socks off!
Show attendants can also come by the IK Booths for hands on demonstrations of current and upcoming products.
Consumer Electronic Show (CES)
Las Vegas, Nevada
January 8-11, 2013
10am-6pm
North Hall, Booth 5625
Running a Texas Instruments "Speak & Music" keyboard through a Chamber of Sounds LSD (Light Sensitive Delay). Get your LSD on, only at chamberofsounds.com
Jordan Rudess explores Audiobus, details below:
AudioBus in Action on the iPad. Using my own Geo Synthesizer to run virtual midi into ThumbJam (which is the sound source!) and is in the background using the new and very cool Audiobus, which is routing the signal thru JamUp Pro and finally the DAW app which is ready to record if I want to! The iOS music world is reaching new heights people!
The TMR-50, which combines a chromatic tuner and metronome with a built-in recorder that can tape up to 20 minutes of audio.
Background description below (Googlish from Japanese):
Served as a lecturer at the University of Senzoku music, which is also the alma mater of his activities as a jazz flute player, and live support, Mr. Kobayashi Toyomi active in a wide range. Please try the TMR-50 of KORG her, but this time I was told we recommend recording function point your heart!
Tuner, metronome, and recorder can be used simultaneously or independently
Internal mic and speaker make it easy to record and play back your performance
Loop Play function lets you repeat a desired region of a recorded track
High-quality linear PCM recording/playback
Record up to 100 tracks (approximately total 20 minutes)
USB port lets you transfer recorded data and song files between the TMR-50 and your computer
Newly designed highly responsive LCD needle-type meter
Wide detection range from C1 to C8
The Sound Out function produces a reference tone in a three-octave range from the built-in speaker
The Sound Back function generates the reference tone that's closest to the input sound, while the meter indicates the pitch discrepancy between the reference and the input sound – a great function for ear training!
Calibration supports a range of concert pitches
Marks indicate pure major and minor third intervals
Wide tempo range of 30–252 beats per minute
15 rhythm variations let you practice with a broad range of musical styles
Easy tempo settings with two types of tempo step patterns plus a tap tempo function
Large LCD with backlight brightness that's adjustable over two levels for enhanced visibility
Your choice of body color: black or pearl white
Convenient key layout, and newly designed stand and battery cover
Memory Backup and Auto Power Off
Sebastian demonstrates how to use Audiobus to filter Loopy's output back into Loopy's input again, via NLog. What are you going to do with Audiobus? http://audiob.us
https://itunes.apple.com/app/loopy-hd/id467923185?mt=8
https://itunes.apple.com/app/nlogsynth-pro/id393879841?mt=8
Sebastian uses MultiTrack DAW to record SoundPrism PRO, Sunrizer and Funkbox, with some Virtual MIDI magic. What are you going to do with Audiobus?
http://audiob.us
SoundPrism PRO: https://itunes.apple.com/app/soundprism-pro/id425733007?mt=8
Sunrizer: https://itunes.apple.com/app/sunrizer-synth/id443663267?mt=8
Funkbox: https://itunes.apple.com/app/funkbox-drum-machine/id350437349?mt=8
MultiTrack DAW: https://itunes.apple.com/app/multitrack-daw/id329322101?mt=8
Sebastian uses Loopy HD to loop Sunrizer and FunkBox being filtered by NLog. Audiobus is a communications channel for sending live audio, like the audible output of a synthesizer app, or the output of a guitar amp effects app, for example.
http://audiob.us
Funkbox: https://itunes.apple.com/app/funkbox-drum-machine/id350437349?mt=8
NLog Synth PRO: https://itunes.apple.com/app/nlogsynth-pro/id393879841?mt=8
Sunrizer: https://itunes.apple.com/app/sunrizer-synth/id443663267?mt=8
Loopy: https://itunes.apple.com/app/loopy-hd/id467923185?mt=8
iOS developer Audiobus has now released a proper teaser video demonstrating the workflow of its potentially revolutionary inter-app audio routing device. Audiobus is an app designed to allow audio to be streamed between multiple iOS music making apps. No release date has been announced yet, but the app has been approved by Apple. For more info on the app, check out the Audiobus official site.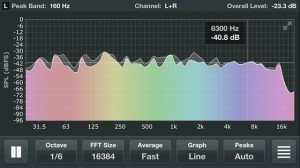 ONYX Apps has launched its Spectrum Analyzer for iOS, a powerful real-time audio analysis app.
Designed with musicians and recording engineers in mind, it can also be used by anyone interested in the world of sound. Ideal for room tuning or speaker tuning, the app enables portable, precision audio measurement and visualization.

Spectrum Analyzer harnesses the computational and graphical power of its host device to provide precision, real-time readouts that are smooth and responsive. It has been designed from the ground up to take full advantage of the newest features and capabilities of iOS 6. It is a completely integrated app – there are no plug-ins or in-app purchases available or required.
Spectrum Analyzer features
Octave Band Real Time Analyzer.
FFT Plot (Fast Fourier Transform).
Spectrograph module.
Test Tone and White/Pink Noise Generator.
Retina display and iPhone 5 ready.
http://youtu.be/gE2cBQH3l3c
More info here – http://www.image-line.com/documents/flstudiomobile.html (to be honest there isn´t much more additional info on this link, hehe, so stay tuned for more updates on FL Studio Mobile 2 right here at SBC)
FL Studio Mobile will allow you to create complete multi-track projects on your iPod, iPhone or iPad and, if you want, load mobile projects into FL Studio and take them to the next level. If it's a beat on the step sequencer, a melody on the piano roll or a full song on the playlist, FL Studio Mobile has you covered.