IK Multimedia Rocking the World of Mobile Music Accessories
IK Multimedia has announced iRig Recorder for the Android operating system.
iRig Recorder is a simple to use audio recording app that can start recording immediately when it is launched making it a perfect "on the spot" field recorder. Users simply launch the app and hit the record button, or can also configure the app to start recording audio immediately upon launch.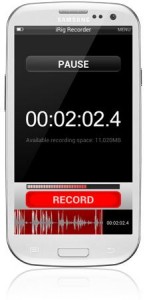 The app automatically groups recordings by date, tags them with geographic location information, and saves the original file as a backup. Recording time is limited only by the available memory on the device.
iRig Recorder also provides a waveform editor, which allows for selecting, cutting, and cropping of the audio content. Automatic onboard audio processing options can optimize recording levels and tone, remove background noise and more. The app can also speed up or slow down a recording without changing the timbre.
Export Options
Finished recordings can be shared by e-mail and FTP, over Bluetooth, through USB cables, from an SD card, or via apps installed on the device. Files can be exported as CD-quality WAV files, or as compressed .ogg files, ranging from 64 to 192 kbps.
A free version of iRig Recorder is also available, which provides the same recording, level-optimization and export features as the full version, and users can add the editing and additional processing via in-app purchase.
Pricing and Availability
iRig Recorder will be available at the end of January on the Google Play Store, and is priced at $4.99.
Video description:
See it all NOW at CES!!! More information: http://www.ikmultimedia.com/news/events/?item_id=1983
iRig HD: http://www.ikmultimedia.com/news/events/?item_id=1978
See latest IK products, photos and more happening at this year's CES
The best and the brightest come to CES to display their new innovations for the year and at the IK Booth you'll see no one rocks the world of Mobile Music Accessories like we do!
Get latest product announcements, images and more by visiting the CES Show Report. Also follow us on Twitter, Facebook and YouTube for more CES coverage. Or check back here on the IK site for new IK product announcements that will rock CES socks off!
Show attendants can also come by the IK Booths for hands on demonstrations of current and upcoming products.
Consumer Electronic Show (CES)
Las Vegas, Nevada
January 8-11, 2013
10am-6pm
North Hall, Booth 5625
Comments