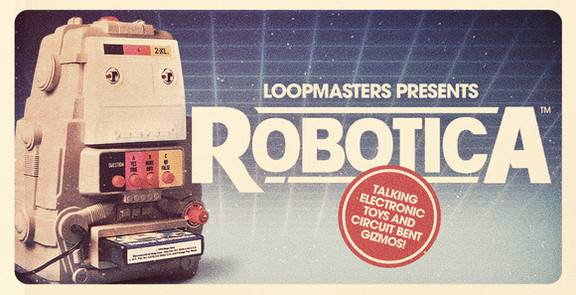 Loopmasters has launched Robotica, a sample pack featuring a collection of twisted and abused electronic talking toys by extreme samplist MIDI Error.
Mr Error is back to his old tricks tormenting innocent inanimate objects, this time armed with a PZ2 insulated screwdriver and a wet finger he has managed to coax strange garbled electronic noises and words from a collection of dusty electronic toys and games for your listening pleasure.

Every sound in this collection has come from genuinely abused toys mic-ed and hardwired to a chain of devastating audio effects including Bitcrushers, Watkins Tape Delay, Mooger Fooger Pedals and then plumbed into a vintage Reel to Reel tape machine for some warm Analog saturation.

During the last moments of their inevitable death and whilst under heavy interrogation these battery operated kid's companions spat out their entire vocal range and then some, luckily our sample hero was there to capture it all to tape.
The sample pack is available for purchase for £19.95 GBP.
The Automaphone is a robotic synth that scans a4 pictures and turns them into songs, each song is different but the Automaphone has a unique glitchy 8 bit sound at its heart.
More info here: http://grandtippler.wix.com/rarebeast…
The Automaphone is a robotic synth that scans a4 pictures and turns them into songs.
Toa Mata Band is known as the World's first LEGO robotic band controlled by Arduino Uno which is hooked up to a MIDI sequencer. In this video, the third episode, the robots are playing some unconventional drum-percussions made by some food packaging are captured by a contact microphone (piezo) and processed in real time in the D.A.W. Ableton Live. A brand new device appears for the first time, it's a moving platform on x-axis, made of Lego bricks, gears and servo motors that permits to move with semitones-steps the tiny synth.
The song is a cover of the famous synth-pop band Depeche Mode, it's a personal tribute to the band who made my days in the 80's.
The performance was recorded live in July 2014.
This video is only a showcase of my works, it's not for commercial
use.
Artwork:Giuseppe Acito
Camera: Luca Zanna for ZeD video project
Music: Martin Lee Gore
Performed: Acito & Toa Mata Band
opificiosonico@libero.it
http://www.opificiosonico.com
https://www.facebook.com/ToaMataBand
https://www.flickr.com/photos/opifici…
https://twitter.com/OpificioSonico
Vocoder bonanza

Трек 10 с альбома "Robotmetrobot" (2003)
http://www.myspace.com/robotiband
This is drum & bass piece performed live using an automated drum kit and other percussion, playing together with a selection of vintage and new analog synthesizers.
All the sound is being generated in real time, the analog synths coming through the main rack mixer and the robotic percussion being recorded by microphones.
List of the main gear used :
Modulars : Roland System 100m (sub bass), Roland System 700 (basses), Doepfer system (stabs and atmospheric sound).
Other Synths : Yamaha CS-10 (more basses), Studio Electronics Omega 8 (chords and atmospheric sound), Korg Monotron Duo (more basses).
If you would like to download the audio file, you can do so at kxnz.bandcamp.com where you can find it in high-quality formats on a pay-what-you-like basis. All proceeds will go towards supporting a trip to London to present a paper about musical robotics at NIME 2014.
KMel Robotics presents a team of flying robots that have taken up new instruments to play some fresh songs. The hexrotors create music in ways never seen before, like playing a custom single string guitar hooked up to an electric guitar amp. Drums are hit using a deconstructed piano action. And there are bells. Lots of bells.
Many thanks to Lockheed Martin and Intel Corporation for their support.
See this show and more live at the USA Science & Engineering Festival on April 26 & 27 in Washington, D.C.
http://www.usasciencefestival.org/
Lockheed Martin in the founding and presenting sponsor of the festival.
KMel Robotics (www.kmelrobotics.com)
Video Produced and Directed by Kurtis Sensenig (www.kurtisfilms.com)
Music Arrangement and Sound Design by Dan Paul (www.danpaulmusic.com)
Background video description below:
Robotic Drums is my favorite drum synth on iOS right now. It has a lot of features, and is fun… So Let's Play with it! If you enjoy these Let's Play videos please consider sponsoring them on Patreon:http://www.patreon.com/user?u=107612
Be sure to visit http://discchord.com for this and other music app news!
Art Rocks Athens: How Art Made Music In Georgia From 1975-85
https://www.kickstarter.com/projects/…
Fred's vocals by DECTalk Express which is also used by Stephen Hawking. Cindy and Kate's vocals utilized two HP Scanjet 3C flatbed scanners. The robot guitar, keyboard, snare and bass drum all are controlled with a couple of PIC16F84A microcontrollers.
special thanks goes out to:
Chris Rasmussen who offered to fly me and my robot band down to Athens, Georgia for the Art Rocks Athens Festival. Sadly due to my work schedule I could not make it. What he didn't know I was already secretly working on my next video so I offered to promote this great venue.
http://www.artrocksathens.com/
Pastor Snoopi Botten has provided great on-line material with respect to programming the DECTalk speech synthesizer.http://theflameofhope.co/DECTALK.html
Special thanks goes out to Greg Howley and without his help this project would of never seen the light of day.
http://www.skaface.ca/main.html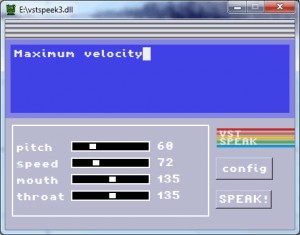 VST Speek is a free vocal synthesis VST plug-in for recreating the old skool robotic text to speech. You simply choose a preset, type any text and get the speech.
VST Speek – http://www.vstplanet.com/News/2014/Wa…
Developer: Wavosaur
Official audio demo!
– you can trigger the speech with MIDI keyboard (velocity sensitive)
– you can use MIDI pitchbend
– you can change original pitch or mouth/throat parameters while it's speaking
This is not a vocal synth like "Vocaloïd", it's intended to do crunchy robotic lofi techno voices! It's not intended for good quality speech synthesis too, better speech synthesis softwares exist now.
– 64 bit version
– MAC version
– ability to assign different text to MIDI notes
– ability to read longer text (and / or read from text file)
– assign pitchbend or midi CC to voice parameters.
– Android version ?
– more parameters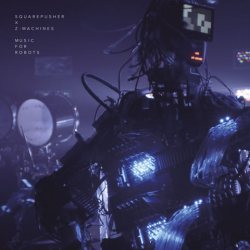 Warp Records has announced a new EP, composed by Squarepusher and performed by three music robots (the Z-Machines) will be released on 7th April (8th in North America).
Here's what Squarepusher has to say about the project:
The main question I've tried to answer is 'can these robots play music that is emotionally engaging?'
I have long admired the player piano works of Conlon Nancarrow and Gyorgy Ligeti. Part of the appeal of that music has to do with hearing a familiar instrument being 'played' in an unfamiliar fashion. For me there has always been something fascinating about the encounter of the unfamiliar with the familiar. I have long been an advocate of taking fresh approaches to existing instrumentation as much as I am an advocate of trying to develop new instruments, and being able to rethink the way in which, for example, an electric guitar can be used is very exciting.
Each of the robotic devices involved in the performance of this music has its own specification which permits certain possibilities and excludes others – the robot guitar player for example can play much faster than a human ever could, but there is no amplitude control. In the same way that you do when you write music for a human performer, these attributes have to be borne in mind – and a particular range of musical possibilities corresponds to those attributes. Consequently, in this project familiar instruments are used in ways which till now have been impossible.
The Robots:
MACH -Robot guitarist challenging the speed of over BPM1000
ASHURA -Robot drummer that can play the most complex rhythm on 22 drums
COSMO -Robot keyboard player resembling a future life form
78-finger Guitar, 22 Drums, Beyond-Human.
Squarepusher and robot band from Japan in Music of the Future collaboration.
Referred to as "an attempt to break new ground for emotional machine music" by its composer Squarepuhser, "Sad Robot Goes Funny" features the superhuman prowess of Z-MACHINES, showcasing in particular the stupendous chops of the guitarist playing multiple melody lines with 78 fingers and 12 picks at lightning speed in the latter half of the song.
This makes it a truly groundbreaking piece of music from Squarepusher to open the way for new music of the future.
MACH -Robot guitarist challenging the speed of over BPM1000
ASHURA -Robot drummer that can play the most complex rhythm on 22 drums
COSMO -Robot keyboard player resembling a future life form
movie director : Daito Manabe of Rhizomatiks
'Music For Robots' will be released 7th April 2014 via Warp Records, for more information head to http://bit.ly/1j4m4lm
The EP is available to pre-order from,
iTunes – http://smarturl.it/vrccrm
Bleep – https://bleep.com/release/49560-squar…