Interactive robot orchestra
more info and images – vtol.cc/filter/works/nayral-ro
The orchestra consists of 12 robotic manipulators of various designs, each of which is equipped with a sound-transmitting speaker. The manipulators, combined together, form a single multi-channel electronic sound orchestra. Due to constant displacement speakers in space, changing direction of the sound and the algorithms for generating compositions, the orchestra creates a dynamic soundscape. In order to interact with the orchestra, controller Leap Motion is used, that allows to control robots and sound by simple hands gestures in the air – similarly to conducting an orchestra.
The project is based on the idea of a combination of modern music, computer, interactive and robotic concepts and approaches for the creation of works of art. In many ways, it is inspired by well-known works that were presented in the recent past, such as Pendulum Choir (2011) and Mendelssohn Effektorium (2013). However, Nayral Ro is different from these projects in many ways. Its algorithmic system, in which sound and musical composition are being produced, is real time, and the acoustic environment also changes simultaneously with the process of creating the musical piece. Also, the whole process is completely subordinated by the "conductor", so this a role is similar to such of a composer, performer and operator at the same time.
Creation of more sophisticated versions, more subtly revealing the potential of Leap Motion for tuning to the movement and changes in sound, is being planned for the future development.
video by Nikolai Zheludovich
Great mesmo's Kraftwerk Klone,Roboticx (pronounced robotics).
Made in the late 90's with an Atari 1040ste and an Akai So1.Recorded onto a Tascam 8 track through a Spirit Soundcraft mixer (16:8:2) with effects from my rack.Drums were from my Korg 01/WR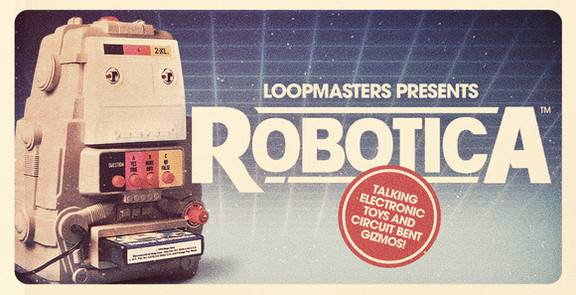 Loopmasters has launched Robotica, a sample pack featuring a collection of twisted and abused electronic talking toys by extreme samplist MIDI Error.
Mr Error is back to his old tricks tormenting innocent inanimate objects, this time armed with a PZ2 insulated screwdriver and a wet finger he has managed to coax strange garbled electronic noises and words from a collection of dusty electronic toys and games for your listening pleasure.

Every sound in this collection has come from genuinely abused toys mic-ed and hardwired to a chain of devastating audio effects including Bitcrushers, Watkins Tape Delay, Mooger Fooger Pedals and then plumbed into a vintage Reel to Reel tape machine for some warm Analog saturation.

During the last moments of their inevitable death and whilst under heavy interrogation these battery operated kid's companions spat out their entire vocal range and then some, luckily our sample hero was there to capture it all to tape.
The sample pack is available for purchase for £19.95 GBP.
The Automaphone is a robotic synth that scans a4 pictures and turns them into songs, each song is different but the Automaphone has a unique glitchy 8 bit sound at its heart.
More info here: http://grandtippler.wix.com/rarebeast…
The Automaphone is a robotic synth that scans a4 pictures and turns them into songs.
Toa Mata Band is known as the World's first LEGO robotic band controlled by Arduino Uno which is hooked up to a MIDI sequencer. In this video, the third episode, the robots are playing some unconventional drum-percussions made by some food packaging are captured by a contact microphone (piezo) and processed in real time in the D.A.W. Ableton Live. A brand new device appears for the first time, it's a moving platform on x-axis, made of Lego bricks, gears and servo motors that permits to move with semitones-steps the tiny synth.
The song is a cover of the famous synth-pop band Depeche Mode, it's a personal tribute to the band who made my days in the 80's.
The performance was recorded live in July 2014.
This video is only a showcase of my works, it's not for commercial
use.
Artwork:Giuseppe Acito
Camera: Luca Zanna for ZeD video project
Music: Martin Lee Gore
Performed: Acito & Toa Mata Band
opificiosonico@libero.it
http://www.opificiosonico.com
https://www.facebook.com/ToaMataBand
https://www.flickr.com/photos/opifici…
https://twitter.com/OpificioSonico
Vocoder bonanza

Трек 10 с альбома "Robotmetrobot" (2003)
http://www.myspace.com/robotiband
This is drum & bass piece performed live using an automated drum kit and other percussion, playing together with a selection of vintage and new analog synthesizers.
All the sound is being generated in real time, the analog synths coming through the main rack mixer and the robotic percussion being recorded by microphones.
List of the main gear used :
Modulars : Roland System 100m (sub bass), Roland System 700 (basses), Doepfer system (stabs and atmospheric sound).
Other Synths : Yamaha CS-10 (more basses), Studio Electronics Omega 8 (chords and atmospheric sound), Korg Monotron Duo (more basses).
If you would like to download the audio file, you can do so at kxnz.bandcamp.com where you can find it in high-quality formats on a pay-what-you-like basis. All proceeds will go towards supporting a trip to London to present a paper about musical robotics at NIME 2014.
KMel Robotics presents a team of flying robots that have taken up new instruments to play some fresh songs. The hexrotors create music in ways never seen before, like playing a custom single string guitar hooked up to an electric guitar amp. Drums are hit using a deconstructed piano action. And there are bells. Lots of bells.
Many thanks to Lockheed Martin and Intel Corporation for their support.
See this show and more live at the USA Science & Engineering Festival on April 26 & 27 in Washington, D.C.
http://www.usasciencefestival.org/
Lockheed Martin in the founding and presenting sponsor of the festival.
KMel Robotics (www.kmelrobotics.com)
Video Produced and Directed by Kurtis Sensenig (www.kurtisfilms.com)
Music Arrangement and Sound Design by Dan Paul (www.danpaulmusic.com)
Background video description below:
Robotic Drums is my favorite drum synth on iOS right now. It has a lot of features, and is fun… So Let's Play with it! If you enjoy these Let's Play videos please consider sponsoring them on Patreon:http://www.patreon.com/user?u=107612
Be sure to visit http://discchord.com for this and other music app news!
Art Rocks Athens: How Art Made Music In Georgia From 1975-85
https://www.kickstarter.com/projects/…
Fred's vocals by DECTalk Express which is also used by Stephen Hawking. Cindy and Kate's vocals utilized two HP Scanjet 3C flatbed scanners. The robot guitar, keyboard, snare and bass drum all are controlled with a couple of PIC16F84A microcontrollers.
special thanks goes out to:
Chris Rasmussen who offered to fly me and my robot band down to Athens, Georgia for the Art Rocks Athens Festival. Sadly due to my work schedule I could not make it. What he didn't know I was already secretly working on my next video so I offered to promote this great venue.
http://www.artrocksathens.com/
Pastor Snoopi Botten has provided great on-line material with respect to programming the DECTalk speech synthesizer.http://theflameofhope.co/DECTALK.html
Special thanks goes out to Greg Howley and without his help this project would of never seen the light of day.
http://www.skaface.ca/main.html