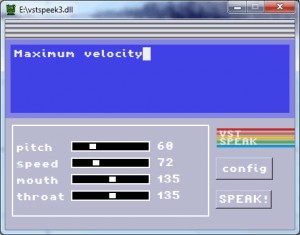 VST Speek is a free vocal synthesis VST plug-in for recreating the old skool robotic text to speech. You simply choose a preset, type any text and get the speech.
VST Speek – http://www.vstplanet.com/News/2014/Wa…
Developer: Wavosaur
Official audio demo!
– you can trigger the speech with MIDI keyboard (velocity sensitive)
– you can use MIDI pitchbend
– you can change original pitch or mouth/throat parameters while it's speaking
This is not a vocal synth like "Vocaloïd", it's intended to do crunchy robotic lofi techno voices! It's not intended for good quality speech synthesis too, better speech synthesis softwares exist now.
– 64 bit version
– MAC version
– ability to assign different text to MIDI notes
– ability to read longer text (and / or read from text file)
– assign pitchbend or midi CC to voice parameters.
– Android version ?
– more parameters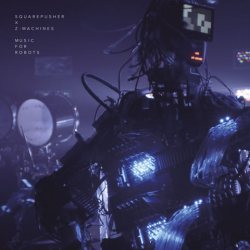 Warp Records has announced a new EP, composed by Squarepusher and performed by three music robots (the Z-Machines) will be released on 7th April (8th in North America).
Here's what Squarepusher has to say about the project:
The main question I've tried to answer is 'can these robots play music that is emotionally engaging?'
I have long admired the player piano works of Conlon Nancarrow and Gyorgy Ligeti. Part of the appeal of that music has to do with hearing a familiar instrument being 'played' in an unfamiliar fashion. For me there has always been something fascinating about the encounter of the unfamiliar with the familiar. I have long been an advocate of taking fresh approaches to existing instrumentation as much as I am an advocate of trying to develop new instruments, and being able to rethink the way in which, for example, an electric guitar can be used is very exciting.
Each of the robotic devices involved in the performance of this music has its own specification which permits certain possibilities and excludes others – the robot guitar player for example can play much faster than a human ever could, but there is no amplitude control. In the same way that you do when you write music for a human performer, these attributes have to be borne in mind – and a particular range of musical possibilities corresponds to those attributes. Consequently, in this project familiar instruments are used in ways which till now have been impossible.
The Robots:
MACH -Robot guitarist challenging the speed of over BPM1000
ASHURA -Robot drummer that can play the most complex rhythm on 22 drums
COSMO -Robot keyboard player resembling a future life form
78-finger Guitar, 22 Drums, Beyond-Human.
Squarepusher and robot band from Japan in Music of the Future collaboration.
Referred to as "an attempt to break new ground for emotional machine music" by its composer Squarepuhser, "Sad Robot Goes Funny" features the superhuman prowess of Z-MACHINES, showcasing in particular the stupendous chops of the guitarist playing multiple melody lines with 78 fingers and 12 picks at lightning speed in the latter half of the song.
This makes it a truly groundbreaking piece of music from Squarepusher to open the way for new music of the future.
MACH -Robot guitarist challenging the speed of over BPM1000
ASHURA -Robot drummer that can play the most complex rhythm on 22 drums
COSMO -Robot keyboard player resembling a future life form
movie director : Daito Manabe of Rhizomatiks
'Music For Robots' will be released 7th April 2014 via Warp Records, for more information head to http://bit.ly/1j4m4lm
The EP is available to pre-order from,
iTunes – http://smarturl.it/vrccrm
Bleep – https://bleep.com/release/49560-squar…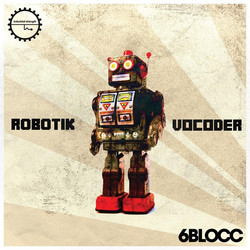 Industrial Strength Records has launched Robotik Vocoder, a sample pack by producer 6Blocc.
Master producer 6Blocc fires off another round ammo with 800 samples of pure vocoder madness. This Industrial Strength vocal pack is a one-stop sound source for red-hot robotic vocoder effects.

6Blocc Robotik Vocoder comes collect with short, medium, and long vocal phrases. All phrases were processed through the legendary Roland Vocoder, the machine that gained fame through antics in Electro and early West Coast Hip-Hop. From classic lines (we couldn't forget to drop the bass) to fresh new inventions of the vocal madmind, you'll find the words to carry the energy of your next production through any twist and turn.

These 24-bit, 44.1 kHz WAV files are ready to lock and load without a hitch. Hear them rip in any EDM, Electro, Techno, Trap, Hip-Hop and House production. We left plenty of headroom so you can add your own effects without maxing out the capacity for sheer craziness.
6Blocc Robotik Vocoder features
802 Vocal Samples (24-bit), 500 MB content in total.
Includes 51 Cities & Countries Vocal Samples, 71 Club Tools Vocals, 71 DnB Jungle Vocals, 32 DnB Jungle FX Vocals, 66 Dubstep Trap Vocals, 30 Dubstep Trap FX Vocals, 81 Electro Vocals, 28 Electro Fx Vocals, 93 Hardcore Techno Vocals, 37 Hardcore Techno FX Vocals, 127 House Funk Vocals, 81 House Funk FX Vocals, 33 Talking Synth Stabs.
The sample pack is available from Loopmasters for £19.95 GBP.
Introducing Robotic Drums, a new Universal iOS app by Big Robot Studios.
Robotic Drums is a drum synthesizer with a probability sequencer.
It features:
– 6 analog-modeled synth voices with realtime control
– A probability sequencer for each voice
– Dropbox support
– Midi-clock sync support
– AudioBus support
– Quantized patterns switching
– An optimized, simple UI
For more info see: http://bigrobotstudios.com or find it on the App Store.
Gravitation in Time (2013)
Composition for Orchestra, Robotic Instruments, Leap motion and Electronics
Composed by GayBird
Gravity Glock (robotic instrument) concept and design: GayBird, Thomas Ip
Engineering and programming: Thomas Ip
Gravity, as an ultimate natural force on Earth, people living there may easily neglect its presence, and not to mention to its influence in our seemingly ordinary everyday experience.
We are used to take such magical force for granted, however, the potential energy that it can generate is indeed powerful. My work – Gravitation in Time, is intended to draw our attention to such force again.
To perform this piece, I have custom-made two pieces of robotic instruments – Gravity Glock. They are activated by the gravitational force, and incorporate with mechanical engineering and electronic sound processing, to provide a breath-taking audio-visual experience to audience.
Musically, the constantly progressing serpentine melodies symbolised the state of unawareness presence of gravity. The piece is structured from scattered to polyphonic texture, and developed into an integrity ensemble of repetitive melodies, that demonstrated the weight of gravity in an abstract sense.
Great Violin Concertos – Iskandar Widjaja Plays Wieniawski
Presented by Hong Kong Sinfonietta
Date: 12 October, 2013
Venue: Concert Hall, Hong Kong City Hall
This system allows for Nintendo gameplay audio to be played through an acoustic player piano and robotically controlled percussive instruments. The piano and percussion play live during actual gameplay, mirroring the sounds that would normally be created electronically. All audio, including music and sound effects, is translated in realtime so that it is produced by the instrument most closely resembling the characteristics of the original electronic sound.
Playlist:
0:00 – Mario
0:53 – Mario 2
2:59 – Mario 3
4:06 – Zelda
6:02 – Mario 2 (End Theme)
For those interested in the technical details, both the piano and the percussion use solenoids to drive their player mechanisms. The piano uses Yamaha's Disklavier system to strike keys, and the percussion uses a custom solution to strike the drum sticks. Both the piano and percussion are each controlled by Raspberry Pis which have custom software to control each instrument. The software is responsible for translating the gameplay audio to instructions which ultimately define which solenoid should be actuated. In full disclosure, there is normally a half-second audio delay that was removed in editing, but it's still very playable live. The piano is controlled through the Disklavier's MIDI interface, while the percussion's solenoids are directly controlled through the Pi's GPIO interface.
Nice work on the Volca Keys
volca keysを「音源モジュール」として使ってみました。曲はKraftwerk(クラフ
­トワーク)の The Robots(ロボット)です。
せっかくなのでボコーダーを使って歌ってみましたよ〜
記事URL:http://info.shimamura.co.jp/digital/s…
Digiland
島村楽器株式会社のデジタルガジェット情報配信サイト
http://info.shimamura.co.jp/digital/
Rough Googlish translation below:
I tried to use it as a "sound module" the volca keys. Song Kraftwerk (Clough
The Robots of the network) is a (robot).
The ~ I tried to sing with a vocoder so much trouble
RB1robotto demo video 1
Basic configuration, manual playing of the robotic singer and connection to pitch, gate and modulation sources.
Keyboard playing of the module.
www.sound-machines.it
RB1robotto is a voltage controlled singer, an irresistible source of pitched vowels, and much more. The product, the first in our line, was born as a sunday afternoon project, by putting together our modular, ad arduino board and a speech chip. The blending of the 'voice' with the noises, tones, and buzz from the modular was so good that we built a company around that.

Now, the production unit is real. Lush steel panel with thick silkscreened prints and deep red tones. You control the 'voice' of the robotto with your well known CV sources. Pitch and Gate are the usual dishes, accompanied by vowel and consonant control. Each of those are playable also by hand, and there is a manual gate too, ORed with the jack input.