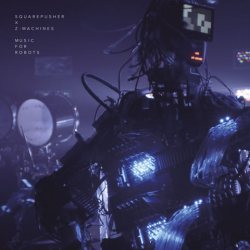 Warp Records has announced a new EP, composed by Squarepusher and performed by three music robots (the Z-Machines) will be released on 7th April (8th in North America).
Here's what Squarepusher has to say about the project:
The main question I've tried to answer is 'can these robots play music that is emotionally engaging?'
I have long admired the player piano works of Conlon Nancarrow and Gyorgy Ligeti. Part of the appeal of that music has to do with hearing a familiar instrument being 'played' in an unfamiliar fashion. For me there has always been something fascinating about the encounter of the unfamiliar with the familiar. I have long been an advocate of taking fresh approaches to existing instrumentation as much as I am an advocate of trying to develop new instruments, and being able to rethink the way in which, for example, an electric guitar can be used is very exciting.
Each of the robotic devices involved in the performance of this music has its own specification which permits certain possibilities and excludes others – the robot guitar player for example can play much faster than a human ever could, but there is no amplitude control. In the same way that you do when you write music for a human performer, these attributes have to be borne in mind – and a particular range of musical possibilities corresponds to those attributes. Consequently, in this project familiar instruments are used in ways which till now have been impossible.
The Robots:
MACH -Robot guitarist challenging the speed of over BPM1000
ASHURA -Robot drummer that can play the most complex rhythm on 22 drums
COSMO -Robot keyboard player resembling a future life form
78-finger Guitar, 22 Drums, Beyond-Human.
Squarepusher and robot band from Japan in Music of the Future collaboration.
Referred to as "an attempt to break new ground for emotional machine music" by its composer Squarepuhser, "Sad Robot Goes Funny" features the superhuman prowess of Z-MACHINES, showcasing in particular the stupendous chops of the guitarist playing multiple melody lines with 78 fingers and 12 picks at lightning speed in the latter half of the song.
This makes it a truly groundbreaking piece of music from Squarepusher to open the way for new music of the future.
MACH -Robot guitarist challenging the speed of over BPM1000
ASHURA -Robot drummer that can play the most complex rhythm on 22 drums
COSMO -Robot keyboard player resembling a future life form
movie director : Daito Manabe of Rhizomatiks
'Music For Robots' will be released 7th April 2014 via Warp Records, for more information head to http://bit.ly/1j4m4lm
The EP is available to pre-order from,
iTunes – http://smarturl.it/vrccrm
Bleep – https://bleep.com/release/49560-squar…
Lake Forest Academy Laptop Orchestra plays Squarepusher's "Hello Meow" during the Fall 2012 All School Concert. Members of the ensemble play iPads running various iOS performance/production apps including Animoog, iElectribe, iMS-20, Reactable, and Garageband. The 2 center players have synced their iPads using Korg's WIST protocol via iMS-20. The rest are playing free hand. Laptop Orchestra is offered as a class through the Fine and Performing Arts department alongside Orchestra and Choir and is a part of the school's electronic music program. Other courses include Electronic Music 1, Advanced Studies/Composition in Electronic Music, and independent studies.
Squarepusher is to release a new album in May through Warp Records, entitled Ufabulum. There's scant information available about what it will actually sound like, save this quote from the 'pusher himself, Tom Jenkinson: "I've started thinking about pure electronic music again. Something very melodic, very aggressive."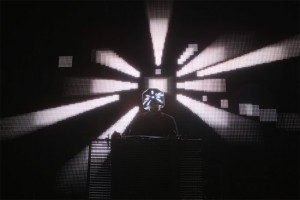 There's also an advance trailer, featuring music that does indeed sound, at least, very aggressive. You can watch it below. He's also set to perform Ufabulum live at a number of venues and festivals over the next few months, including Bloc in London on the weekend of July 6th-7th.
Squarepusher. http://warp.net/records/squarepusher/announces-ufabulum/
http://www.facebook.com/squarepusher
Following the release of a single on Ed Banger, Squarepusher (AKA Tom Jenkinson) has revealed that he'll be releasing a new full length album, Shobaleader\One – d'Demonstrator, on his usual label Warp.
This will be available from from October 18, with the tracklisting still to be confirmed. No tracklisting or further details at this stage, though if the video trailer above is anything to go by, this isn't going to be the moment that Squarepusher goes downtempo.