Lake Forest Academy Laptop Orchestra plays Squarepusher's "Hello Meow" during the Fall 2012 All School Concert. Members of the ensemble play iPads running various iOS performance/production apps including Animoog, iElectribe, iMS-20, Reactable, and Garageband. The 2 center players have synced their iPads using Korg's WIST protocol via iMS-20. The rest are playing free hand. Laptop Orchestra is offered as a class through the Fine and Performing Arts department alongside Orchestra and Choir and is a part of the school's electronic music program. Other courses include Electronic Music 1, Advanced Studies/Composition in Electronic Music, and independent studies.
Squarepusher is to release a new album in May through Warp Records, entitled Ufabulum. There's scant information available about what it will actually sound like, save this quote from the 'pusher himself, Tom Jenkinson: "I've started thinking about pure electronic music again. Something very melodic, very aggressive."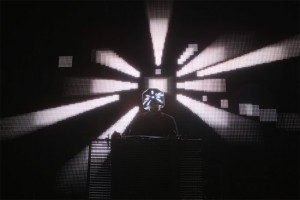 There's also an advance trailer, featuring music that does indeed sound, at least, very aggressive. You can watch it below. He's also set to perform Ufabulum live at a number of venues and festivals over the next few months, including Bloc in London on the weekend of July 6th-7th.
Squarepusher. http://warp.net/records/squarepusher/announces-ufabulum/
http://www.facebook.com/squarepusher
Following the release of a single on Ed Banger, Squarepusher (AKA Tom Jenkinson) has revealed that he'll be releasing a new full length album, Shobaleader\One – d'Demonstrator, on his usual label Warp.
This will be available from from October 18, with the tracklisting still to be confirmed. No tracklisting or further details at this stage, though if the video trailer above is anything to go by, this isn't going to be the moment that Squarepusher goes downtempo.