Background video description:
Primeaudial Reprise – (Part two of this music set – a take on Primordial) – Video is scrolling text with a story in two parts.
All music and Video is the Sole Property of myself, no one Else's music or media was used.
Music and Video is sole property of ©2013 Andy Barrow
New video from Halo Effect, details below:
Taken from the album "Recoding"
Directed, shot and edited by Antonio Levita @ K-Digital Film.
http://www.youtube.com/user/deusmax
Androids, virtual reality and rebelling machines, those are the themes for the return of Halo Effect. The new album will bring along new synthetic sounds, belonging to a travel towards distant and futuristic worlds, featuring a cross-over between synthpop and north-european electronic beats. Produced by Mika Rossi (Autodafeh / Endless Shame) who mixed the album giving an international flavor to the sound of the band.
The "RECODING" has already begun!
// Follow Halo Effect @ http://www.facebook.com/haloeffectband
Thiago Pinhero introduces AAS' electric piano.
Lounge Lizard EP-4 — Electric Piano
http://www.applied-acoustics.com/loungelizard/overview/
Background description:
In the studio
When time matters, simply pick from more than 100 custom electric piano presets. But when sound exploration is on the program, players will dig the real-time controls over hammer hardness, tine color and decay, damper noise, and pickup placement for an unsurpassed level of customization.
Live on stage
Gigging musicians will appreciate Lounge Lizard's small memory footprint, instant preset recalls, and stability. Furthermore, the huge library of Rhodes and Wurlitzer sounds as well as the complete selection of effects makes it easy to build a set list and get the perfect tone for each songs.
Alive beneath your fingers
There is something quite immersive when a connection develops between the player and the instrument. Whether it's the perfectly smooth velocity progression or the interactive reaction to your performance, Lounge Lizard makes that connection happen.
Beyond the electric piano
Lounge Lizard achieves convincing electric piano tones with less than twenty synth parameters. That's a quite a feat by itself, but pushed further, these parameters reveal a realm of other tones. Organs, bells, chimes, leads are all featured in the preset library's Experimental folder.
Custom tones
Even though famous players shared the same brand and models, they were all acheiving their own signature sound. Nevertheless, that usually meant spending many hours under the hood with screw drivers, wrenches, or even a solder iron. What's fun with Lounge Lizard is that whether you're looking to emulate a particular sound or simply find your own, all those tweaks are just a few knob turns away!
Composed by BakaOscillator
Use, KORG monotribe X3, VOX amplug (Bass,Lead,Night Train)
とにかく歪ませたかったのです。
Directed by Adolf Steinhimmel
Make Up & Style by Anna Steinhimmel & Koneko
Camera & Editing: Adolf Steinhimmel
While And One will probably soon announce its departure from SPV to launch the next material on the band's own label, it also found the time to announce a brand new video: "Aigua", which is Catalan for 'water'. The video was directed by Adolf Steinhimmel.
The track does not feature And One's Steve Naghavi but just guest singer Vivi on vocals. Nice song, nice video.
Directed by Adolf Steinhimmel
AND ONE – LIVE 2012:
09.11.2012 Mannheim – Alte Seilerei
10.11.2012 Rostock – Moya
16.11.2012 Leipzig – Haus Auensee
17.11.2012 Berlin – Columbia Halle
23.11.2012 Hamburg – Grosse Freiheit 36
07.12.2012 München – Backstage
08.12.2012 Dresden – Alter Schlachthof
09.12.2012 Hannover – Capitol
14.12.2012 Oberhausen – Turbinenhalle (FINALE!)
+ Special Guests:
Melotron
Welle:Erdball
+ Support: Distain
Tickets exklusiv nur bei http://www.bodypop-shop.de
Besuche AND ONE auch…
…zu Hause: http://www.andone.de
…auf Facebook: http://www.facebook.com/ANDONEofficial
…auf Twitter: http://www.twitter.com/ANDONEofficial
…auf YouTube: http://www.youtube.com/user/ANDONEofficial
Details from the band below:
official video of XP8 "Burning Down"
from the album "X: A Decade Of Decadence"
released in 2011 by 2393 Records / DWA
buy the song on iTunes here: http://bit.ly/Od7V4c
buy the song on Bandcamp here: http://bit.ly/rAUqvU
buy the full REMIX EP on Bandcamp here: http://bit.ly/SobJoe
check the XP8 official website @ http://www.xp8.org
for news, tour dates, lyrics and more music and videos!
http://youtu.be/ul5QTYgEeJc
From the the Album: Ødipus Rex 2012 (Buy the album) the orginal time on this Mix is 04.43.Have short down the mix to 02:37 so its fits to the video. All rights belongs to. Angst Pop & [Merlin] Phonofile,
Video Images: AngelsoulR & Lydverk
KLUTÆ "Bones in the furnace" (Official video)
From the KLUTÆ album "ELECTRO PUNKS UNITE"
USA: www.wtiirecords.com
EU: http://klutae.bandcamp.com/album/electro-punks-unite
www.facebook.com/KLUTAE
Concert Booking: leather_strip@vip.cybercity.dk
Video by Johan Strandgaard and Johan Oettinger
Directed by Johan Oettinger
©WiredFly 2012
contact WiredFly: johan@oettinger.dk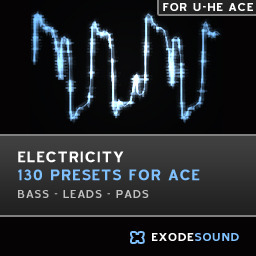 Exode Sound has announced the re-release of Electricity, a soundset for the u-he ACE virtual modular synthesizer for Windows and Mac.
130 inspiring presets spanning bass, lead and pads, these sounds are not genre specific, just a high quality collection of synth presets!
Electricity features
130 presets, including:

40 Bass presets
50 Lead presets
40 Pad presets

Requires ACE VST/AU plugin by u-he software.
The Electricity soundset is available to purchase for the (re)introductory price of $10 USD.