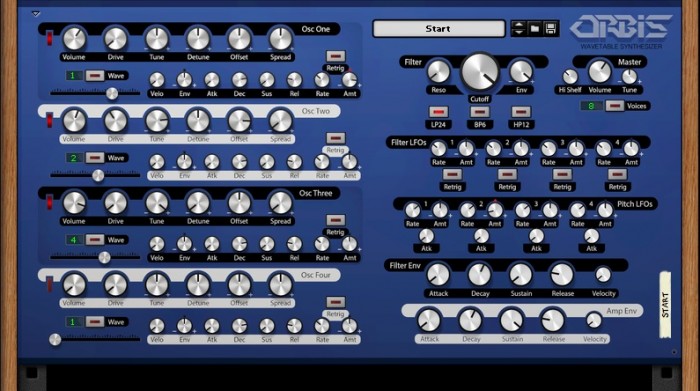 Skrock Music has released Orbis, a wavetable synthesizer Rack Extension for Propellerhead Reason.
Orbis Wavetable Synthesizer is a mono/poly wavetable synth. Orbis features 4 oscillators, each with a selection of 14 wavetables.
Orbis features
4 Oscillators with a selection of 14 wavetables each.
Oscillator 1/2/3/4 controls:

Volume, Drive, Tune.
Detune, Offset (wave start position).
Spread (Stereo spread depending on detune/offset setting).
Wavetable start position, Start velocity, Start ADSR, Start LFO. Pitch LFO (with attack control).

Filter Section:

LP24, BP6, HP12. All can be enabled simultaneously.
Filter ADSR, Filter LFO (OSC: 1,2,3,4).

Amp:

Master Volume, High Shelf, Amp ADSR.

Other:

Voices (Mono, 2, 4, 8), Master Tune.
Orbis is available for purchase at the Propellerhead Shop for 29 EUR.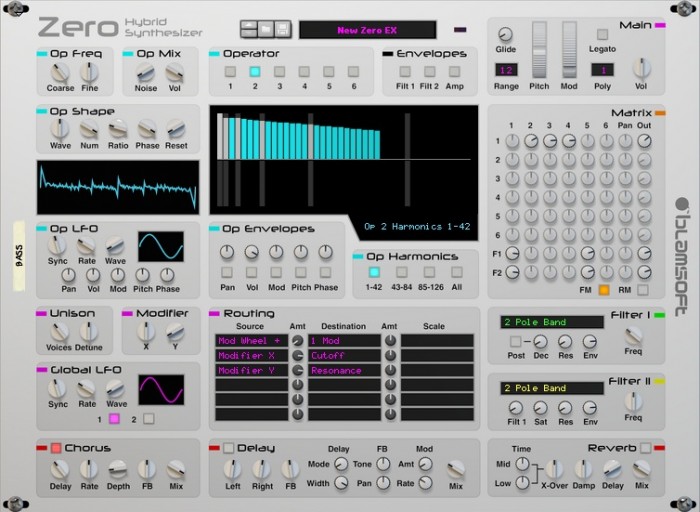 Blamsoft has launched Zero Hybrid Synthesizer, a Rack Extension synthesizer instrument for Propellerhead Reason.
Zero Hybrid Synthesizer brings modern FM synthesis to the Reason rack. Featuring six operators with tons of waveform possibilities, you can create unique FM sounds not previously possible in Reason.

But it's not just for FM.

Zero also packs additive, subtractive, and RM synthesis into one very flexible and powerful synth. Six additive waveform generators, called operators, can modulate each other through frequency or ring modulation. There are two multi-mode filters for subtractive synthesis. Low frequency modulation is available through dedicated LFOs and envelopes in the operators, two global LFOs, and a flexible mod matrix. Three high quality on-board effects; chorus, delay, and reverb, complete the signal path. Zero is a powerful beast, but still user friendly and fun for experimentation.

300 factory presets designed by Aiyn Zahev, eXode, and Navi Retlav Studio provide you quick access to a wide variety of sounds, like EDM plucks, lush pads, and aggressive bass.

Zero Hybrid Synthesizer is available as a Rack Extension that integrates seamlessly with Propellerhead Reason. Own Reason? Zero is available for free trial and purchase in the Propellerhead Shop.
Zero Hybrid Synthesizer is available for purchase for 99 EUR.
If you want to get up to speed on the new convolution reverb that's part of Reason 8.3's revamped RV7000 MkII reverb unit, then you've come to the right place. In this tutorial we'll take a look at the history of reverb to understand how convolution fits into the story, how it works, and how you can go about making your own presets with custom spaces.
Grab the free RV7000 MkII Patches ReFill: https://shop.propellerheads.se/produc…
Learn more about Reason:
http://propellerheads.se/tryreason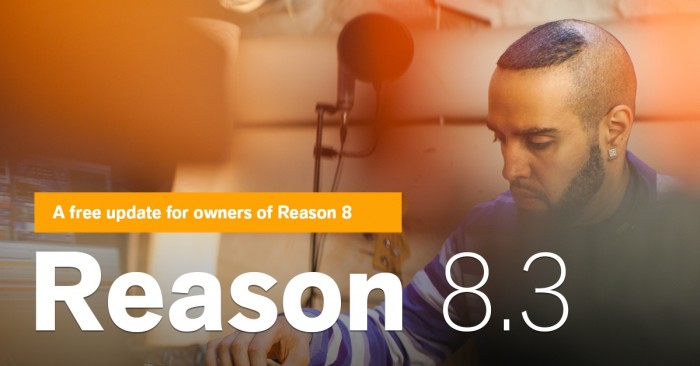 Propellerhead Software has updated its Reason and Reason Essentials software to version 8.3, which includes new features, improvements and bug fixes.
The new version of Reason packs a fantastic update to Reason's classic RV7000 Advanced Reverb, while also delivering a number of workflow enhancements that will help you work faster than before.

The RV7000 was praised for it's fantastic sound when it was introduced in Reason 2.5. Today it's getting an update with an advanced convolution mode that let's you use the reverb characteristics from actual spaces in your music. Or to go all experimental and conjure up your own reverb sounds based on any samples.
Changes in Reason 8.3
The detached rack window can now have a separate browser panel.
Added convolution mode to RV7000 reverb.
Zoom to Selection function for quickly zooming in on selected clips or notes.
Buttons for setting MIDI focus to a device directly from the rack.
The static value for an automated parameter is now adjustable in Arrange Mode.
Added fold button for Info area in browser.
Remote files for Akai MPK Mini added.
Removed outdated splashes shown when copying sound banks from DVD.
Increased horizontal zoom in Edit mode in all template songs.
In Manual Rec mode, Parameter Automation Rec Enables are no longer turned off when you select another track.
The template song chosen in the Setup Wizard should be set in the Preferences.
Mixer scrollbar no longer overlaps the channel strip name labels
Replaced "Beta Version" dialog on startup with label in splash (in Testing versions of the program).
Added tool tip for browse/clear button in Browser side panel.
Audio is now properly clipped to range [-1,1] when dropping to Propellerhead.
Assert Failure When Browsing Nested Folders Using Kong's NN-Nano Sampler Module.
Assert on duplicate many clips.
Authorizer could crash if it tried to start Codemeter service (Mac) and failed.
Assert on drag and drop of REX file to Dr OctoRex.
User statistics failed if Codemeter wasn't installed.
Reason and Authorizer now works with earlier versions of Codemeter (Mac).
Fixed a problem using network attached storage in Reason.
If Music folder was broken, Reason couldn't start (Unknown exception).
Corrected text field validation in Drop dialog.
3rd party RE patch files didn't show proper icons in Reason Essentials.
Having subfolders in the DiagnosticReports folder on Mac could cause Reason to crash.
New Authorizer version included (handles full disk better).
It wasn't possible to drop an NN19 patch on an NN-XT device in Reason Essentials.
The Windows installer now requires the channel.phat file to be present (avoiding broken auto-update).
Improved support for folder aliases and symbolic links.
Text parsing when importing MIDI files could cause unknown exceptions.
Reason 8 is available for purchase for 369 EUR. The Reason 8 Upgrade is 129 EUR. Reason 8.3 and Reason Essentials 8.3 are free updates to Reason 8 and Reason Essentials 8 users.

Kuassa has announced the release of Kratos 2 Maximizer, an updated version of the limiter/loudness maximizer effect plug-in for Windows and Mac.
The purpose of the original Kratos Maximizer VST / AU plugin was to make your mixes immediately LOUD.

In addition, the new Kratos 2 Maximizer also serves as a solid mix finalizer; aside from offering additional methods to manage your mixes' dynamics with Adaptive Mode, you can now push further than before without fear: Crank the Maximize knob, tune the unique Texture knob to taste, tweak Attack and Release for tighter or loose response, then adjust the Knee for harder / smoother limiting action.

Throughout, the signature Kuassa no-nonsense design will guide your hands, eyes, and ears, giving you the freedom to create your maximum sound.
Kratos 2 Maximizer features
Transparent, precision limiting / loudness maximizing.
Unique Texture knob for smooth or harder character.
Attack and Release parameter with the new adaptive option.
3 dithering options with 3 modes of bit depth to accommodate wide range of mastering needs.
Up to 4x oversampling mode.
CV Control Inputs.
Compact user interface, straightforward workflow.
Kratos 2 Maximizer for Windows and Mac (VST/AU/AAX) is available for purchase for $69 USD. Owners of Kratos Maximizer V1 can upgrade for $15 USD via the Member Area. A free upgrade is available for those who purchased the plug-in in March 2015 and after.
The Rack Extension Version is available via the Propellerhead Shop.
Preview patches of the Rob Papen Vecto synthesizer for Reason.
Release planned 10 June 2015
Release version holds over 600 presets and a few played in this video. More presets will follow after the release.
Driver is a 12-note polyphonic synth with up to 9 oscillators per note. It's perfect for electronic music production, specializing in rich basses and leads, and evolving sounds like swells, rises, and drops. With its intuitive direct editing of envelopes for every parameter, making complex sounds in Driver is surprisingly easy.
Driver is available from the Propellerhead Rack Extension shop.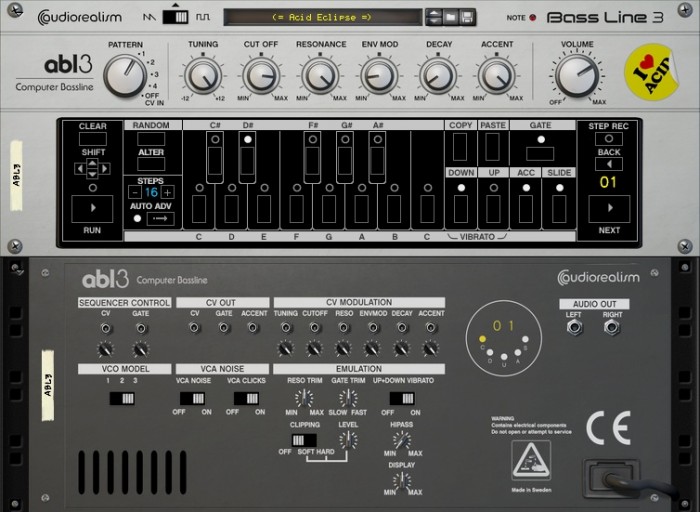 AudioRealism has announced the release of ABL3 Computer Bassline, a bassline instrument Rack Extension for Propellerhead Reason.
AudioRealism Bass Line 3 (ABL3) is an emulation of a classic pattern based bass machine from 1982.

The legendary silver box that is hallmark in electronic music has been recreated in ABL3 using analog modeling techniques to create a DSP-algorithm that accurately emulates every aspect of the original, from growling basses to hollow middles and beeping highs with metal rattling accents.

Patterns are composed in a fashion similar to the original using the integrated step sequencer with easy to use manipulation functions such as transpose and randomization.
ABL3 Computer Bassline features
Extremely authentic 303 emulation using our ABL3 engine.
Ultra natural knob response, scaled to match the original 303 precisely.
Built-in 303/Rebirth style step sequencer with 64 steps.
Hard sync to the host's transport.
Supports 4 patterns of 16 steps, 2 patterns of 32 steps or 1 pattern of 64 steps.
CV/Gate input to control the sound engine externally.
CV/Gate output to control other Reason devices from the step sequencer.
CV Modulation inputs for Tuning, Cut Off, Resonance, Envelope Modulation, Decay and Accent.
Resonance and Gate Time trimmers that allow tweaking the emulation.
Three different VCO Models.
Noise settings for VCA Clicks and VCA Noise.
Pattern modifiers with Random, Alter, Copy and Paste functions.
Unique vibrato which is activated by setting UP+DOWN on steps. This effect is one of the few extensions to the 303 that we are launching ABL3 with..
Full 48 and 96kHz support, which means the engine uses the full bandwidth of the project setting.
Step Record mode which allows recording patterns via MIDI or the On-Screen Piano Keys.
ABL3 Computer Bassline for Reason is available for purchase for the introductory price of 55 EUR (25% off regular).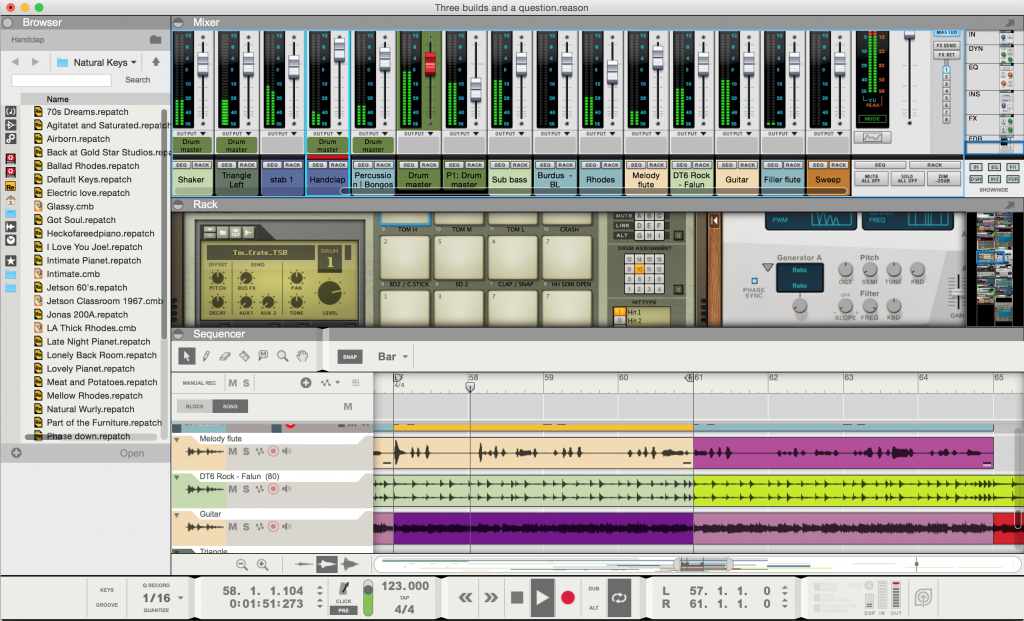 Propellerhead Software has announced the release of Reason 8.2, the most recent update of the award-winning Reason music production software.
The latest update makes it even easier for new and existing Reason 8 customers to download, install, and stay up to date with the latest version.
Eliminate the hassle of bulky manual installs with the new convenient auto-update feature. Reason now detects and downloads the most recent eligible software updates so you'll always have the latest and greatest version. Download and get up and running faster. A typical Reason update (minus the soundbanks) will now be around 100 MB—a tenth of its old size.

The Reason 8.2 update addresses many requested features including Revert browsing—a new workflow in Reason's browser that will be familiar to users of previous versions—more colors in the sequencer, expanded Remote support for Redrum Drum Machine, streamlined sound bank handling and more.

Reason 8.2 also gives you access to the newly introduced Propellerhead music-making service, which is continually updated with new features and functionality based on customer feedback. This free music making service connects the free Figure and Take mobile apps with the award-winning Reason music production software, so you can create, share, collaborate and remix with other musicians around the globe.
Reason 8 is available for purchase for MSRP 405 EUR/$449 USD. Reason Essentials 8 is 120 EUR/$129 USD. Reason 8.2 is a free downloadable update for Reason 8 owners.
For more info on Reason:
https://www.propellerheads.se/reason
Join the Music Making at Discover:
http://discover.propellerheads.se/
To hear more of Faustine's songs:
http://www.propellerheads.se/go/36668E6A
Hear the finished version of Ryan's Production:
http://phead.mu/s/WkwgxQnG
Add your own production to Faustine's already mapped song:
http://phead.mu/s/af3jVs5D
Propellerhead Discover is the central feed for your new musical ideas. Working with material from Discover in Reason happens with a single click and tempo information for ideas is preserved all along the way, making it easy to get going quickly adding your own production and music to the process. However, sometimes the greatest song ideas captured in Take might have been recorded by singers without a steady tempo or backing beat but that shouldn't stop us from being able to use them in Reason. In this tutorial, Ryan shows us the basics of finding inspiration from Discover but also an advanced technique for tempo mapping and fitting freely recorded material to a fixed tempo grid ready for Reason production.