More info on Reason: https://www.propellerheads.se/product…
The Reason Rack offers nearly endless sonic capabilities. But what if you just want the sound of your favorite hardware synth? Or that weird little drum machine you got half-price. In this tutorial we take a look at the External MIDI Instrument and how it can help you expand your Reason rack with your hardware.
New video merely stating the obvious I guess

Try Reason: http://www.propellerheads.se/tryreason
Reason is Propellerhead Software's flagship music production platform; a virtual studio rack full of synths, drum machines, samplers, and effects like reverb, delay, distortion, and much more. Add that all together with unlimited audio recording, legendary audio slicing/stretching, a professional mixer modelled after a big-studio classic… and you've got a powerhouse of a program with one central focus: making your music better than ever.
Whatever your music needs, Reason has a rack for that.
Music in this video: Syndrome by Mikkas: http://www.mikkasmusic.com/
Appearances by:
Jakwob – http://twitter.com/jakwob
Felix Cartal – http://www.felixcartal.com
Lucky Date – http://luckydateofficial.com
Want to create a fat, punchy Drum and Bass break? Then this new video tutorial from Dorincourt is one to watch! Some great tips on drum processing and mixing.
This is a demo and beta call for a new Reason Rack Extension called Repeat. It's a real-time, 4 channel, first-loop enabled looper.
Background video description:
Primeaudial Reprise – (Part two of this music set – a take on Primordial) – Video is scrolling text with a story in two parts.
All music and Video is the Sole Property of myself, no one Else's music or media was used.
Music and Video is sole property of ©2013 Andy Barrow
The big mixer in Reason is where your songs really find their full potential – sonically speaking. The powerful EQ, channel dynamics, bus channels, parallel channels, spectrum EQ, and oh-so-lovely Master Bus Compressor are all designed with one thing in mind: making you sound great!
In this walkthrough of the big mixer, we take a look at the major sections of the mixer and what they mean for your mix.
This video features "Outside In" by Atom, mixed by Gary Bromham inside Reason 7. The track is available for download as a Reason demo song here:
http://www.propellerheads.se/demo-songs/
Reason's virtual rack is the heart and soul of Reason. Synths, drum machines, samplers, effects, and little gadgets that tweak and freak one another are the building blocks of your music.
In this walk-through, we check out the Reason rack in more detail and get you up to speed on the powerful tools in your toolbox.
This video features "Syndrome" by Mikkas and "Bobo by Schpilka:
http://www.mikkasmusic.com
http://www.schpilkas.com
Inspiration can be a tricky thing. You either feel it or you don't. So much of music making is about either capturing inspiration when it happens or making it happen through new sounds, new techniques, or new ways of processing sound.
In this video, we take a look at all the ways that Reason can inspire your music.
This video features "Be Like You" by Olivia Broadfield and "English" by Ali Payami:
http://www.soundcloud.com/oliviabroad…
https://www.facebook.com/ali.payami.f…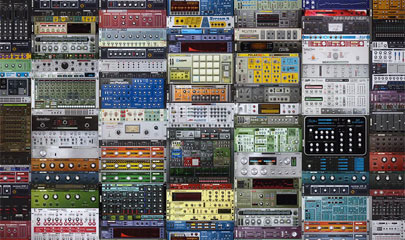 Today Propellerhead has released their latest incarnation of their popular DAW – Reason 7
Reason 7 brings tons of new improvements for the mixer, the rack and the sequencer. Integrate your instruments into Reason with MIDI out, audio slicing and audio quantize. Turn your recordings into REX loops. For mixing, we're introducing a spectrum analyzer with visual EQ, group and parallel channels and workflow improvements. To inspire, Reason 7 imports audio from your music library and web formats. The enhanced Factory Sound Bank comes fully loaded with tons of new loops and drum kits. The new Audiomatic Retro Transformer effect adds a futuristic-vintage sound to any tracks.
Reason Essentials 2 is a free upgrade for all owners of Reason Essentials, bringing audio slicing and quantizing to the sequencer. Create REX files from your recordings directly in Reason Essentials. Import audio files from your music library and the web with improved file format support. Workflow enhancements in the rack and sequencer make writing, producing and mixing music in Reason Essentials even faster, easier and more fun.
All details can be found here >>
Our Pyramind friends made this intro to getting the Midi Fighter Pro set up with Reason's Kong. Learn more about Pyramind's tutorials + download a Reason demo: http://bit.ly/15Y9wZ4
In this Micro Tutorial we take a look at audio slice markers in Reason 7. Whether you're quantizing your audio tracks for flawless timing, adjusting individual notes to re-imagine your phrasing, or just looking to experiment into unknown realms Audio Slice Markers are a powerful tool. And the best part? Thanks to Reason's legendary time stretch, it sounds amazing.
Ever since Reason 1.0 beatmakers, producers, and button-mashers alike have all loved the venerable old Redrum Drum Computer. And it's easy to see why. Step sequencing drum machines like Redrum or even the classic Roland 808 offer a nearly perfect layout for programming the rhythmic syncopated beats used in so many popular music genres. The 16 buttons, representing the 16 steps in the beat, provide the right blend of predictable beat construction and random experimentation when you want to spice up your beats.
In this micro tutorial, we'll get you started with drum step sequencing and get familiar with the Redrum's layout. You'll soon learn why producers the world over love Kong but also keep coming back to Redrum for that special creative simplicity.