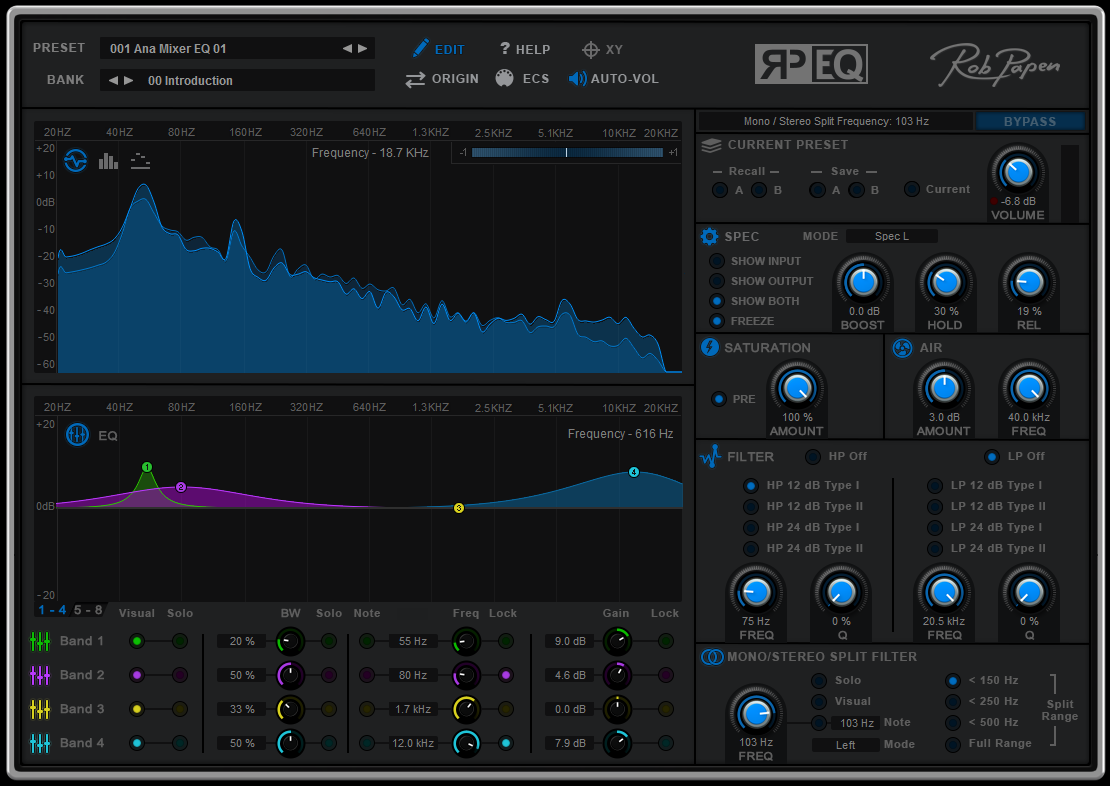 Rob Papen has launched RP-EQ, a new equalizer effect plug-in for Windows and Mac.
In the virtual music world there are a countless number of different EQ's available…so why another one? Well, Rob Papen is all about sound and he was convinced he could add something special to the EQ plugins.

When you first open RP-EQ in your DAW software you will see that it is far from a basic bread-and-butter equalizer. Unique elements were added to the core equalizer unit.
The toolbox includes a Mid/Side equalizer mode and Mono/Stereo split filter which is used frequently in modern EDM/Dance music styles. The Air section is fantastic on your master channel and the proven X/Y Pad adds a dynamic and creative edge to an already very musical RP-EQ.

In true Rob Papen style, RP–EQ comes with many great presets to get you started and with the 'sound' of RP-EQ you will have a great go to plug-in for your top notch music productions!
RP-EQ for Windows and Mac (VST/AU/AAX) is available for purchase for 79 EUR / $89 USD. The eXplorer-III bundle now also includes RP-EQ. The bundle now includes 14 plug-ins, and costs 585 EUR / $699 USD (over 50% off buying the plug-ins individually).
Preview patches of the Rob Papen Vecto synthesizer for Reason.
Release planned 10 June 2015
Release version holds over 600 presets and a few played in this video. More presets will follow after the release.
Rop Papen shows off their Raw software at the NAMM Show 2015.
Rob Papen Soundware has announced the availability of RAW.
RAW was designed with input from producers Sebastian Hoff and Freek Vergoossen (a.k.a. DJ Promo and DJ Free-K, respectively) who proposed a synthesizer that focused more on 'distorted' sounds with an easy-to-use layout.
RAW has a different signal setup, synthesizer-wise. It has two oscillators and a filter, but what is new when compared to other RP synthesizers is that there is an EQ that can be pre- or post-distortion. After that, there is a Waveshaper and dedicated Distortion module with several types of distortion, as well as a Low-Fi control. This is new to this synthesizer, and it's part of the concept that the distortions are on the voice level, so it's not just a case of a total signal going into the distortions, but rather each voice has its own Waveshaper, Distortion, and Lo-fi.
In addition to the flexible X/Y fields found in the OSC 1 and OSC 2 sections (which will already be familiar to refined Rob Papen Predator and BLUE-II soft synth users), RAW users can effectively draw their own 'waveforms' to be used as LFO waveforms, enabling the creation of unique 'wobble' sound movements — perfect for dubstep and other EDM styles. Other effects such as Chorus, Flanger, Phaser, and Stereo Delay Rob Papen's signature high-quality Reverb — all add to the superlative sound sculpting possibilities on offer, as does the super-cool step sequencer/arpeggiator, and many more fanciful features above and beyond. But mindful of that original easy-to-use layout request, a self-explanatory.
The presets include many by DJs and producers like Deathmachine, DJ Hidden, DJ Promo, DJ Thera, D-Passion, Ophidian, Mad Dog, Rob Fabrie, N-Vitral, The Playah, The Viper, Warface, and many more.
Price: € 149 |USD $179 – There is an introduction price until the 31th of December: € 119– | USD $149.
Find out more here – http://bit.ly/rob-papen
Due for release in December 2014, RAW is a brand new virtual synth plugin from legendary sound designer Rob Papen. It will work with all the major DAWs including Logic, Ableton, Cubase, and Fruity Loops.
RAW has two oscillators each with an X/Y field, (as included in Blade and BLUE-II) to distort the waveform using Phase Distortion.
But that's not all, you can also draw two of your own 'waveforms' and use them as LFO waveforms enabling the creation of unique 'wobble' movements that are perfect for for dubstep and other EDM styles.
RAW also features premium quality Rob Papen filters to shape your sound further, but in a refreshing twist, 'EQ', 'Waveshaper', 'Distortion' and 'LoFi' have also been added on a voice synthesis level.
Also included in the package will be an extensive collection of world class presets in a variety of styles including contributions from several well known DJs and producers.
Start your journey beyond the edge.
RAW Sneak preview about ModWheel controlling the Reverb FX
Sneak Preview on the new RAW synthesizer! VST/AU/AAX 32/64bit
Note this new synthesizer will also be part of eXplorer-III as well. So check out our complete bundle:
http://www.robpapen.com/explorer-3.html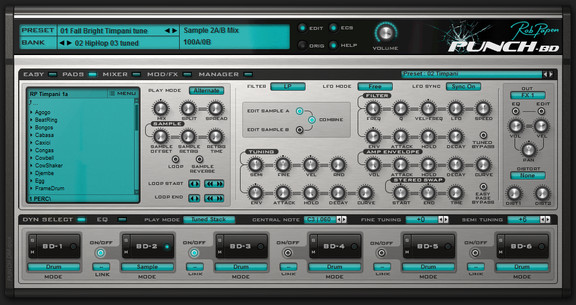 Rob Papen has introduced Punch-DB, a bass drum synthesizer and sample player plug-in based around the BD module of the multi award winning Punch virtual drum synthesizer.
Stacking bass drums is a popular technique used by today's music producers and Punch-BD gives you the ability to stack up to 6 in total. Divide the 6 BD pads over the keyboard or use them 'stacked' in tuned mode to produce creative new BD sounds for all styles of contemporary music.

Punch-BD delivers synthesized drums in the finest audio quality or you can choose to load in your own samples for complete flexibility. Each pad has its own distortion module with several distortion types as well as its own 3 band graphic EQ. What's more, each individual pad also has its own preset section next to the overall 'BD kit'.

Like its big brother, Punch-BD features four FX units each with many 31 types of top quality FX plus further filters, envelopes, modulation routings and more for crafting your own unique sound.

From Electronic Dance and Hip Hop to Soundtrack projects, Punch-BD provides a solid speaker-busting sound for your productions.
Punch-DB will be available soon for Windows and Mac (VST/AU/AAX), priced at 49 EUR / $59 USD.
Rob Papen demoing his Predator-PL software synthesizer.
Features:
A powerful software synthesizer that covers the bases of a wide range of electronic musical styles
Loaded with 4,400 presets arranged logically into banks to make finding the right sound easy
A simple set of subtractive synthesis elements let you tweak sounds and come up with your own presets
Three lush effects engines let you get even more out of your sounds
32/64-bit compatibility provides full support for the latest AAX, VST, and AU plug-in hosts on Mac and PC computers
No dongle required but supports eLicencer key/Syncrosoft/Steinberg Key
License allows 2 simultaneous activations at once
Predator-PL is a basic version of Papen's Predator virtual analog synthesizer, available via Sweetwater and MusicStore Koeln:
Introduction of some key-features of the Rob Papen BLUE-II.
A virtual super synthesizer for PC and Mac available in 32/64bit as VST/AU/AAX plug-in.
http://www.robpapen.com/blue2.html
Many people may have already noticed that we released BLUE-II about a week ago
Since we hadn't finished the introduction video for BLUE2 yet, we delayed the release of a newsletter. Even so, the word has already spread that this super synth has been released…

BLUE-II represents an amazing journey into "Cross-fusion synthesis" and quite simply, sounds stunning! So it's a good idea to check out the introduction video.
BLUE II for Windows and Mac (VST/AU/AAX) is available to purchase for 149 EUR / 179 USD.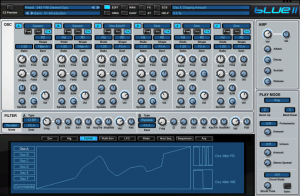 Rob Papen has announced Blue II – an update to his Blue 'cross-fusion' synthesizer.
First released in 2005, BLUE offered FM and subtractive synthesis, combined with Phase Distortion and wave shaping synthesis. Papen called it 'Cross-fusion synthesis', since it covered so much musical ground.
BLUE-II offers even more options, starting with six oscillators. These can be connected in various ways, together with two analogue-style modeled stereo filters with 27 different filter types, an enormous range of processing and modulation options, sequencer, and an incredibly powerful arpeggiator.
A new range of specially selected waveforms based on samples have been fashioned for creating 'fresh-sounding' synth sounds.
BLUE-II takes the XY pad features from its virtual instrument sibling Blade, perfect for time-based sound movements and vector pad-type sounds. All this is complemented by four FX processors, each offering 35 FX types,
Blue II is scheduled for release Monday 10 March 2014.