RAW Sneak preview about ModWheel controlling the Reverb FX
Sneak Preview on the new RAW synthesizer! VST/AU/AAX 32/64bit
Note this new synthesizer will also be part of eXplorer-III as well. So check out our complete bundle:
http://www.robpapen.com/explorer-3.html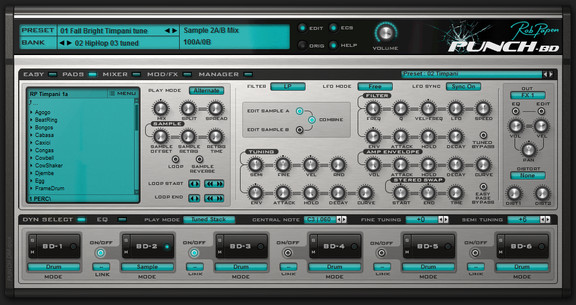 Rob Papen has introduced Punch-DB, a bass drum synthesizer and sample player plug-in based around the BD module of the multi award winning Punch virtual drum synthesizer.
Stacking bass drums is a popular technique used by today's music producers and Punch-BD gives you the ability to stack up to 6 in total. Divide the 6 BD pads over the keyboard or use them 'stacked' in tuned mode to produce creative new BD sounds for all styles of contemporary music.

Punch-BD delivers synthesized drums in the finest audio quality or you can choose to load in your own samples for complete flexibility. Each pad has its own distortion module with several distortion types as well as its own 3 band graphic EQ. What's more, each individual pad also has its own preset section next to the overall 'BD kit'.

Like its big brother, Punch-BD features four FX units each with many 31 types of top quality FX plus further filters, envelopes, modulation routings and more for crafting your own unique sound.

From Electronic Dance and Hip Hop to Soundtrack projects, Punch-BD provides a solid speaker-busting sound for your productions.
Punch-DB will be available soon for Windows and Mac (VST/AU/AAX), priced at 49 EUR / $59 USD.
Rob Papen demoing his Predator-PL software synthesizer.
Features:
A powerful software synthesizer that covers the bases of a wide range of electronic musical styles
Loaded with 4,400 presets arranged logically into banks to make finding the right sound easy
A simple set of subtractive synthesis elements let you tweak sounds and come up with your own presets
Three lush effects engines let you get even more out of your sounds
32/64-bit compatibility provides full support for the latest AAX, VST, and AU plug-in hosts on Mac and PC computers
No dongle required but supports eLicencer key/Syncrosoft/Steinberg Key
License allows 2 simultaneous activations at once
Predator-PL is a basic version of Papen's Predator virtual analog synthesizer, available via Sweetwater and MusicStore Koeln:
Introduction of some key-features of the Rob Papen BLUE-II.
A virtual super synthesizer for PC and Mac available in 32/64bit as VST/AU/AAX plug-in.
http://www.robpapen.com/blue2.html
Many people may have already noticed that we released BLUE-II about a week ago
Since we hadn't finished the introduction video for BLUE2 yet, we delayed the release of a newsletter. Even so, the word has already spread that this super synth has been released…

BLUE-II represents an amazing journey into "Cross-fusion synthesis" and quite simply, sounds stunning! So it's a good idea to check out the introduction video.
BLUE II for Windows and Mac (VST/AU/AAX) is available to purchase for 149 EUR / 179 USD.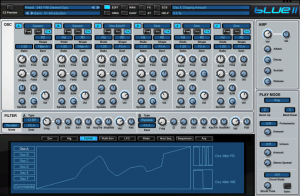 Rob Papen has announced Blue II – an update to his Blue 'cross-fusion' synthesizer.
First released in 2005, BLUE offered FM and subtractive synthesis, combined with Phase Distortion and wave shaping synthesis. Papen called it 'Cross-fusion synthesis', since it covered so much musical ground.
BLUE-II offers even more options, starting with six oscillators. These can be connected in various ways, together with two analogue-style modeled stereo filters with 27 different filter types, an enormous range of processing and modulation options, sequencer, and an incredibly powerful arpeggiator.
A new range of specially selected waveforms based on samples have been fashioned for creating 'fresh-sounding' synth sounds.
BLUE-II takes the XY pad features from its virtual instrument sibling Blade, perfect for time-based sound movements and vector pad-type sounds. All this is complemented by four FX processors, each offering 35 FX types,
Blue II is scheduled for release Monday 10 March 2014.
At first glance, Predator is a beast of a synth! But dont worry because starting with the first tutorial in this course Rishabh Rajan explains how all those knobs and parameters are visually linked and functionally organized to produce Predators leviathan sonics!
Deep down in the heart of Predator is an extremely powerful subtractive synth. Thats why Rishabh starts with an enlightening explanation of Predators unique approach to creating sounds. You learn the signal flow: from oscillators to filters to FX. You see how to magically morph between presets. You get a deep plunge into Predators plethora of modulators with their copious options and mappings. Then, after getting familiar with the FX and the inventive built-in arpeggiator, Rishabh unleashes Predators sonic passion with a series of tutorials on sound design – Rob Papen style.
So, learn synthesis, sound design and Predator all together in this course by the inspirational synthesist and music producer, Rishabh Rajan!
More info on this title: http://j.mp/15ee2mj
Additional videos for this title: http://j.mp/15ee2mj
Rob Papen: Predator: Unleashed by Rishabh Rajan
Video 1 of 22 for Rob Papen: Predator: Unleashed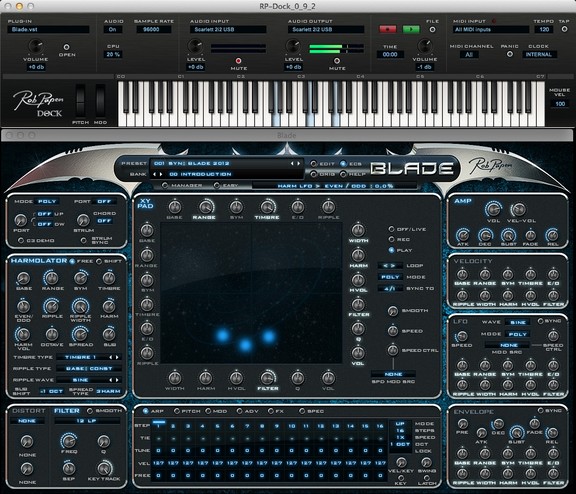 Rob Papen has announced the release of RP-Dock, a standalone host application for Rob Papen products.
There are handy features like tempo setting and an audio recording/playback facility. The audio setting for sample rate can be selected from 44.1Khz up to 96Khz (depending on your soundcard/device). Midi input offers merging of all connected Midi controllers and also included is an optional midi channel selector.

RP-Dock will host all current RP products and is completely free!
A great tool if you are playing live or in the studio or… simply cool if you just like to play around with the synthesizers or effects.
RP-Dock is currently available to download for Mac, free of charge. The Windows PC version is to be released soon.
You've spent hours on your track? Working and reworking every part to bring your musical vision to life. And you know that the quality of your reverb can be the difference between the rich sounding mix you're after and one that comes off as flat and artificial.

Face it: When it comes to pristine, authentic reverb, it's the algorithm that counts. RP-Verb is the fruit of Rob Papen's decades-long study of reverb and endless hours of exploring, testing, and tweaking by Rob and Jon Ayres. The result is exactly what you would expect: a stunning, musical reverb that brings unmatched dimension and fullness to your mixes.

RP-Verb is the reverb you've waited years to have in your Reason setup. Try it out for yourself and see why pros describe it with one word: amazing.

Introduction price until 30 April: Euro 49 / USD 59 (normal price Euro 65 / USD 79)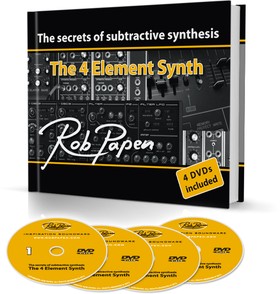 Rob Papen has announced The secrets of subtractive synthesis "The 4 Element Synth", a sound design book and DVD set.
Rob Papen is a globally renowned sound designer whose sounds and virtual synthesizers are used and loved by many synthesizer players and music producers.

This 200+ page book, which is accompanied by four DVDs with over 10 hours of content, gives an in-depth insight into his approach of working with subtractive synthesis.

In 2001, Rob Papen began giving exclusive masterclasses teaching 'synthesizer sound design" in his studio. For these training sessions, Rob developed his own method to explain the secrets of subtractive synthesis, called "The 4 Element Synth". This masterclass training is now transformed into a combined book and DVD package that also delivers numerous 'tips and tricks' which will help you to design and tweak your own sounds. Throughout the masterclass, a variety of hardware and software synthesizers are explored.

We are sure this synthesizer sound design training is an eye-opener for every synthesizer player, from novice to pro. A must have for everyone who takes his sounds seriously!
The secrets of subtractive synthesis is expected tho ship in November/Early December, 2012, priced at 74 EUR/$89 USD (excl. shipping).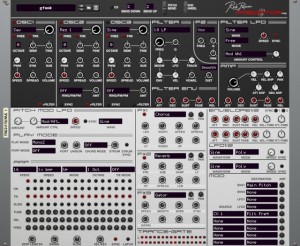 Rob Papen has announced that he is bringing RP Predator synthesizer to Propellerhead Reason as a Rack Extension, Predator RE.
Predator is a "phat sounding" killer synthesizer that combines inspiring presets and first-class features to make this your 'go-to' synth for contemporary music production.
The user interface has been designed so that almost all controls are visible on screen, making it fun and incredibly easy-to-use. And if you're unsure about a particular synth function, simply right click your mouse to access the help screen.

Predator is packed with powerful features such as Preset Quick Browser, Preset bank mananger, Preset Morphing, Intelligent Preset Variation, MIDI and Synth Controllable FX, Unison Detune, Chord Memory and an extremely versatile Arpeggiator.

Included preset banks: HipHop (NY, Club, DirtySouth and Gfunk) banks. Jump, hardcore, breakbeat, various Trance styles, DnB banks. Hardcore dance, House, SFX banks and much more…

Last but not least …Predator also includes PredatorFX, allowing you to use the incredible filters, modulations, effects and vocoder as an FX plug-in within your music host.

Predator 1.6 is out now with even more presets included klangMedium "Ambient bank/Downbeat bank" and JoMal bank.
Details are to be announced for Predator RE, but Papen says it will be available soon.