At first glance, Predator is a beast of a synth! But dont worry because starting with the first tutorial in this course Rishabh Rajan explains how all those knobs and parameters are visually linked and functionally organized to produce Predators leviathan sonics!
Deep down in the heart of Predator is an extremely powerful subtractive synth. Thats why Rishabh starts with an enlightening explanation of Predators unique approach to creating sounds. You learn the signal flow: from oscillators to filters to FX. You see how to magically morph between presets. You get a deep plunge into Predators plethora of modulators with their copious options and mappings. Then, after getting familiar with the FX and the inventive built-in arpeggiator, Rishabh unleashes Predators sonic passion with a series of tutorials on sound design – Rob Papen style.
So, learn synthesis, sound design and Predator all together in this course by the inspirational synthesist and music producer, Rishabh Rajan!
More info on this title: http://j.mp/15ee2mj
Additional videos for this title: http://j.mp/15ee2mj
Rob Papen: Predator: Unleashed by Rishabh Rajan
Video 1 of 22 for Rob Papen: Predator: Unleashed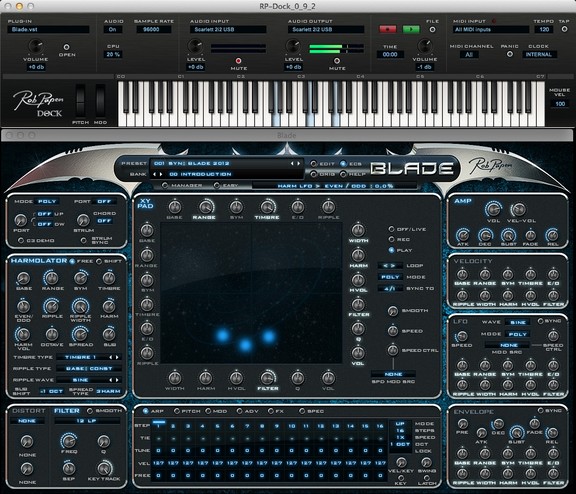 Rob Papen has announced the release of RP-Dock, a standalone host application for Rob Papen products.
There are handy features like tempo setting and an audio recording/playback facility. The audio setting for sample rate can be selected from 44.1Khz up to 96Khz (depending on your soundcard/device). Midi input offers merging of all connected Midi controllers and also included is an optional midi channel selector.

RP-Dock will host all current RP products and is completely free!
A great tool if you are playing live or in the studio or… simply cool if you just like to play around with the synthesizers or effects.
RP-Dock is currently available to download for Mac, free of charge. The Windows PC version is to be released soon.
You've spent hours on your track? Working and reworking every part to bring your musical vision to life. And you know that the quality of your reverb can be the difference between the rich sounding mix you're after and one that comes off as flat and artificial.

Face it: When it comes to pristine, authentic reverb, it's the algorithm that counts. RP-Verb is the fruit of Rob Papen's decades-long study of reverb and endless hours of exploring, testing, and tweaking by Rob and Jon Ayres. The result is exactly what you would expect: a stunning, musical reverb that brings unmatched dimension and fullness to your mixes.

RP-Verb is the reverb you've waited years to have in your Reason setup. Try it out for yourself and see why pros describe it with one word: amazing.

Introduction price until 30 April: Euro 49 / USD 59 (normal price Euro 65 / USD 79)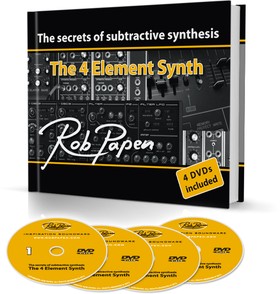 Rob Papen has announced The secrets of subtractive synthesis "The 4 Element Synth", a sound design book and DVD set.
Rob Papen is a globally renowned sound designer whose sounds and virtual synthesizers are used and loved by many synthesizer players and music producers.

This 200+ page book, which is accompanied by four DVDs with over 10 hours of content, gives an in-depth insight into his approach of working with subtractive synthesis.

In 2001, Rob Papen began giving exclusive masterclasses teaching 'synthesizer sound design" in his studio. For these training sessions, Rob developed his own method to explain the secrets of subtractive synthesis, called "The 4 Element Synth". This masterclass training is now transformed into a combined book and DVD package that also delivers numerous 'tips and tricks' which will help you to design and tweak your own sounds. Throughout the masterclass, a variety of hardware and software synthesizers are explored.

We are sure this synthesizer sound design training is an eye-opener for every synthesizer player, from novice to pro. A must have for everyone who takes his sounds seriously!
The secrets of subtractive synthesis is expected tho ship in November/Early December, 2012, priced at 74 EUR/$89 USD (excl. shipping).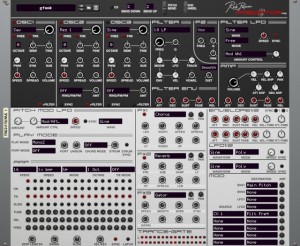 Rob Papen has announced that he is bringing RP Predator synthesizer to Propellerhead Reason as a Rack Extension, Predator RE.
Predator is a "phat sounding" killer synthesizer that combines inspiring presets and first-class features to make this your 'go-to' synth for contemporary music production.
The user interface has been designed so that almost all controls are visible on screen, making it fun and incredibly easy-to-use. And if you're unsure about a particular synth function, simply right click your mouse to access the help screen.

Predator is packed with powerful features such as Preset Quick Browser, Preset bank mananger, Preset Morphing, Intelligent Preset Variation, MIDI and Synth Controllable FX, Unison Detune, Chord Memory and an extremely versatile Arpeggiator.

Included preset banks: HipHop (NY, Club, DirtySouth and Gfunk) banks. Jump, hardcore, breakbeat, various Trance styles, DnB banks. Hardcore dance, House, SFX banks and much more…

Last but not least …Predator also includes PredatorFX, allowing you to use the incredible filters, modulations, effects and vocoder as an FX plug-in within your music host.

Predator 1.6 is out now with even more presets included klangMedium "Ambient bank/Downbeat bank" and JoMal bank.
Details are to be announced for Predator RE, but Papen says it will be available soon.
Rob Papen's additive synthesizer with unique XY pad and endless modulation possibilities.
A glimpse of the Hands On feature in the dawcontrol – Predator template for Lemur on iOS.
More info: http://dawcontrol.com/product/predator/
Predator is our most advanced Lemur template to date. It is created with the same care and understanding of user needs as all our templates but it just "feels" like there is more to it. We believe that it has something to do with the sound, Predator just sounds awesome!

The template also has beautiful pop-up menus with waveforms, sync modes and more. Instead of dragging a fader in search of the correct value you simply press a button and up comes a menu and you click a button with the option you want.

Hands on is great when you want to control several things at one once. It gives you 4 knobs and an X/Y-pad. All knobs can target a different controller, select it by clicking on the name under the knob. The X/Y-pad has two selectable controllers, one for the X-axis and one for the Y-axis, both selectable directly under the pad itself.
Note, this version of Blade with 'spectrum' display is released first week of April.
Rob Papen's brand new virtual synthesizer Blade released yesterday. The price is € 99USD 119 (introduction price until end of May) and is available http://www.robpapen.com/blade.html.
At the heart of BLADE, ready to twist and transform your musical mind, lies the Harmolator. An additive synthesis system, which rather than using the system of changing additive partials, uses global controls which capture the essence of additive synth in an intuitive way making the creation of sounds much easier than using other additive synths.
The nine Harmolator controls allow you to create a vast range of sounds so you get all the amazing sounds that additive synthesis can generate with the added simplicity of traditional subtractive synthesis.
The Harmolator allows oscillator spreading, fattening the sound and also square / sine wave sub-oscillator. What's more, the sound can be modified further by the 21 per-voice distortions types and 14 filter types.
Blade offers total control of the sound over time using an array of different modulation controls.
The most significant of these is the central XY screen. Here you can either alter things directly by moving the cursor around, or you can record paths which can be replayed.
The recorded path can be looped, bi-directional looped and tempo based as well. Even the speed of the XY recording can be modulated for dynamic changes!
So the XY pad is also an incredibly advanced "human input" modulation source.
Furthermore, Blade has the full range of other modulation sources, including a dedicated envelope, LFO and velocity as modulation source for Harmolator controls.
Two FX units featuring all the FX from other Rob Papen products, plus the Arp / Sequencer and an Easy page which allows you to easily control sounds, all add up to an amazingly flexible and useful instrument at the cutting edge of today's synthesizers!
The latest synth from extreme sound mangler Rob Papen is Blade –  an additive synthesis engine (around 100 partials) with a user friendly interface based around an XY interface and some cunning gesture based automation for interesting modulation and tonal variation.
Coming soon
More Information