Rob Papen's brand new virtual synthesizer Blade released yesterday. The price is € 99USD 119 (introduction price until end of May) and is available http://www.robpapen.com/blade.html.
At the heart of BLADE, ready to twist and transform your musical mind, lies the Harmolator. An additive synthesis system, which rather than using the system of changing additive partials, uses global controls which capture the essence of additive synth in an intuitive way making the creation of sounds much easier than using other additive synths.
The nine Harmolator controls allow you to create a vast range of sounds so you get all the amazing sounds that additive synthesis can generate with the added simplicity of traditional subtractive synthesis.
The Harmolator allows oscillator spreading, fattening the sound and also square / sine wave sub-oscillator. What's more, the sound can be modified further by the 21 per-voice distortions types and 14 filter types.
Blade offers total control of the sound over time using an array of different modulation controls.
The most significant of these is the central XY screen. Here you can either alter things directly by moving the cursor around, or you can record paths which can be replayed.
The recorded path can be looped, bi-directional looped and tempo based as well. Even the speed of the XY recording can be modulated for dynamic changes!
So the XY pad is also an incredibly advanced "human input" modulation source.
Furthermore, Blade has the full range of other modulation sources, including a dedicated envelope, LFO and velocity as modulation source for Harmolator controls.
Two FX units featuring all the FX from other Rob Papen products, plus the Arp / Sequencer and an Easy page which allows you to easily control sounds, all add up to an amazingly flexible and useful instrument at the cutting edge of today's synthesizers!
The latest synth from extreme sound mangler Rob Papen is Blade –  an additive synthesis engine (around 100 partials) with a user friendly interface based around an XY interface and some cunning gesture based automation for interesting modulation and tonal variation.
Coming soon
More Information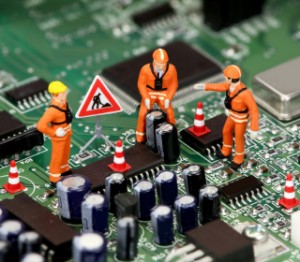 We apologize for the limited access to our site during the past 24 hours, our web hoster has had server problems – that has made our page slow to access or even unavailable.
With this being said the problem does not lie with us and we hope everything will be back to normal from now on.
Cheers Steelberry Clones
Now some more news before we close for today:
Rob shows us the features of his new synth Blade. Out Feb or early March. Each Note has its own XY pattern
mpressions of Waldorf Music @ Winter NAMM 2012. Come visit us at Booth A6624! Thank you to the musicians who played the Zarenbourg and let us use their footage. All music made using Waldorf keys, synths and plugins. Background music and video by Erik Heirman. Shot using a GoPro HD Hero 2
Sean from Arturia shows us their new software emulation of the Oberheim SEM. It has Dual VCO's and recreates the unique Oberheim SEM filter. It includes a noise generator and sub oscillator which were not available on the original SEM.
http://youtu.be/hzThggo7wVk
More stuff from NAMM – this time a short teaser from Rob Papen:
Rob Papen Blade
First few presets ahead of the NAMM show 2012.
Visual is the XY display field
Rob Papen Predator introduction.
Showing the power of Predator its user interface. Also a good starting point for working with Predator.
Predator is a "phat sounding" killer synthesizer that combines inspiring presets and first-class features to make this your 'go-to' synth for contemporary music production.
The user interface has been designed so that almost all controls are visible on screen, making it fun and incredibly easy-to-use. And if you're unsure about a particular synth function, simply right click your mouse to access the help screen.
Predator is packed with powerful features such as Preset Quick Browser, Preset bank mananger, Preset Morphing, Intelligent Preset Variation, MIDI and Synth Controllable FX, Unison Detune, Chord Memory and an extremely versatile Arpeggiator.
Included preset banks: HipHop (NY, Club, DirtySouth and Gfunk) banks. Jump, hardcore, breakbeat, various Trance styles, DnB banks. Hardcore dance, House, SFX banks and much more…
Last but not least …Predator also includes PredatorFX, allowing you to use the incredible filters, modulations, effects and vocoder as an FX plug-in within your music host.
Predator 1.6 is out now with even more presets included klangMedium "Ambient bank/Downbeat bank" and JoMal bank.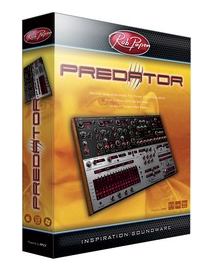 Here's what is new:
New oscillator modulation types: PM, Sign, Max, Min, S&H Mix.
New filter types: 12dB & 24dB LP/HP/BP and Notch (type 2), Comb – filter and two new formant filters.
Filter 2 with all filter types added included Q control.
Filter 2 panning moved into filter section (was advance panel).
Tempo sync Free Envelope 1&2.
New fx added: stereo tape delay, tape flanger and analogue phaser.
Alternative GUI color (more light grey color).
Optimized DC offset respond.
Back panel offers global tuning and tuning scales (.tun files).
Midi program change and midi bank select can be turned off.
New classic synth music by SYNTH.NL: 30 Synth NL bank.
New session presets with Gizeh (trance banks): 30 Gizeh Trance 2, 30 Gizeh Trance 3.
New presets inside these banks: 02 Predator dance 02, 03 Classic synth 03 and 04, 04 HipHop RnB 02, 05 Trance and PsyTrance 03, 12 DubStep 02, 11 all SFX 02, 20 all basses 04.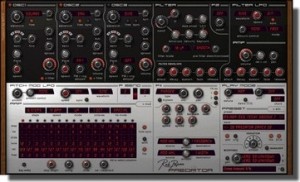 Here's a short video by synth.nl with Rob Papen in the studio talking synths and more:
A while ago Rob Papen visited my Apollo studio. Together with his crew he was filming some footage for his upcoming book and DVD about sound design on synthesizers. While they were filming in my studio I filmed them with my own camera. So this short movie is sort of a 'making of'. More info about the DVD will follow on http://www.robpapen.com. I made all the 3D animations in this movie with Cinema 4D.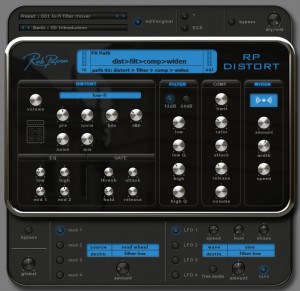 Rob Papen has announced RP-Distort, a new effect plug-in for Windows and Mac.
RP-Distort is not just a distortion unit, but much more. The distortion unit inside RP-Distort can be combined with an analog modelled filter, compressor and widener unit.

These units can be re-order, but also can be turned on or off. So in case you only want a great analog modelled filter… RP-Distort can offer this. Or only the unique widener unit which is great for widening a boring mono track.

On top of that, the controls can be modulated using midi sources or by one of the 4 build in LFO's that can sync to your host tempo..

The distortion unit offers 22 distortion types included ring modulator and lo-fi. Inside this section you can also find the EQ and noise-gate.

RP-Distort is in fact a wicked FX unit that will distort or alter your tracks in an inspirational way.
Artist testimonial by Rob Fabrie aka Waxweazle, aka Headbanger. Rob Papen's virtual synthesizers define the cutting edge of contemporary music production: powerful instruments and plug-ins that bring together innovative design, uncompromising sound quality, and musical, production-grade presets to make your tracks shine. At the age of 15 Rob started with the Korg MS-20 synthesizer and a SQ-10 sequencer. On these machines he learned how to program synthesizers and they inspired him to compose music. He did study also electronic organ and b.t.w. loves Bach….Through groups like Tangerine Dream, Kraftwerk and artist like J.M. Jarre, Georgio Morroder, Vangelis and Klaus Schulze he started making electronic music, also at the age of 15.
www.robfabrie.com
If we're talking about Rob Papen's Punch, then the answer is YES. Check out this video to see how to divide up your drum parts in Punch and process each individually.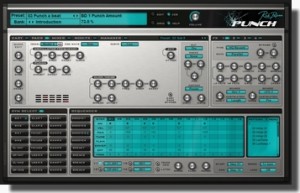 With Punch, Rob Papen delivers a brand new speaker busting, body rattling software instrument. Punch delivers synthesized drums in the finest audio quality and with breathtaking features for the contemporary producer.
You can can use synthesis and the build in samples to build your own unique sounding drum-kit, but also your own samples can be loaded into Punch to complete your kit. Your sounds can then be crafted using the stunning features, filters and huge synth power we all know from other RP synthesizers.
Punch has a unique sound but also built in sequencers, allowing you the user to have multiple patterns at your finger tips. These grooves can be triggered in a live environment to build a song, but are also great for just improvisation and jamming!
Also featured are a growing amount of drum-kits built by 3rd party designers and famous DJ's which complete the arsenal of power that is Punch…