Create beats in seconds and collaborate with others using Figure, the universally acclaimed music-making app for instant inspiration—now for Windows 10. Download from the Windows Store:
https://www.microsoft.com/store/apps/…
Gerry Bassermann from Propellerhead Software demonstrates how Reason DAW software can interact with Propellerhead's apps for tablets and smartphones. After the video, click the link above for all the info on Propellerhead's Reason software.
Learn more and download Take for free: https://www.propellerheads.se/take
Take Creative Vocal Recorder is the fastest app for capturing your ideas on iOS so we figured we'd show you Take in action with the fastest video walk through. Record your voice, load backing beats, sing along with yourself, add effects, and even tune your voice from subtle pitch fixes to "that" hip hop sound. When you're ready, share your song ideas to Discover on Propellerhead to share your music with friends or to invite a world of other music makers to collaborate with your music.
Here's what's new in Take 2.0:
Tune your voice – stay in tune or go full-on robot voice with Take's Voice Tune effect.
Clean up, distort or color your recordings with effects on each channel
Give your tracks a "final mix" sound with mastering presets
Sing in a key that works for you with transposable backing tracks
Trim your songs to the desired length
Numerous performance and usability improvements
Take is a free download from the App Store.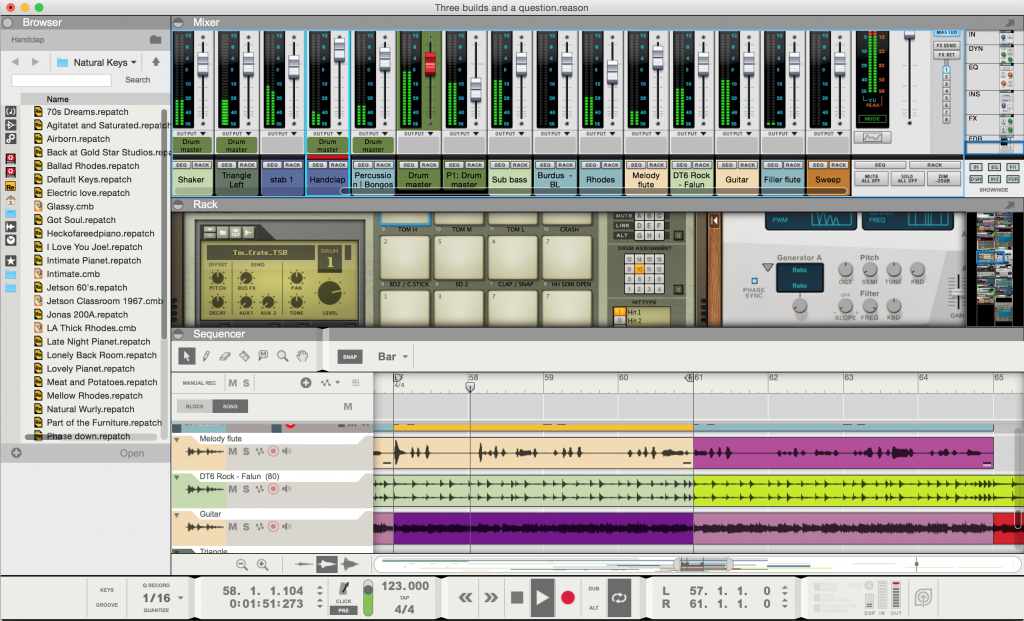 Propellerhead Software has announced the release of Reason 8.2, the most recent update of the award-winning Reason music production software.
The latest update makes it even easier for new and existing Reason 8 customers to download, install, and stay up to date with the latest version.
Eliminate the hassle of bulky manual installs with the new convenient auto-update feature. Reason now detects and downloads the most recent eligible software updates so you'll always have the latest and greatest version. Download and get up and running faster. A typical Reason update (minus the soundbanks) will now be around 100 MB—a tenth of its old size.

The Reason 8.2 update addresses many requested features including Revert browsing—a new workflow in Reason's browser that will be familiar to users of previous versions—more colors in the sequencer, expanded Remote support for Redrum Drum Machine, streamlined sound bank handling and more.

Reason 8.2 also gives you access to the newly introduced Propellerhead music-making service, which is continually updated with new features and functionality based on customer feedback. This free music making service connects the free Figure and Take mobile apps with the award-winning Reason music production software, so you can create, share, collaborate and remix with other musicians around the globe.
Reason 8 is available for purchase for MSRP 405 EUR/$449 USD. Reason Essentials 8 is 120 EUR/$129 USD. Reason 8.2 is a free downloadable update for Reason 8 owners.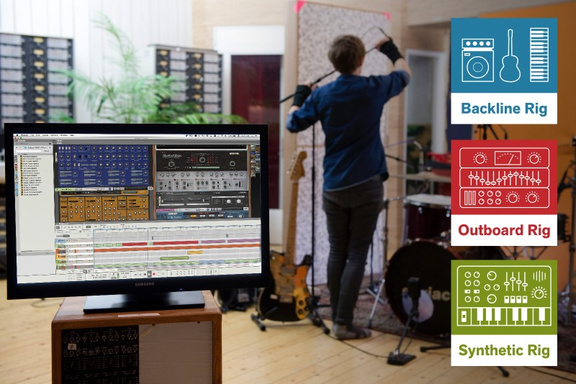 Expand your rack with hand-picked bundles of the top instruments, effects, and sample packs, made by leading developers such as Propellerhead, iZotope, Softube, Korg, Rob Papen, and more. Each bundle is designed specifically for the style of music you make and contains over $750 of Rack Extensions and ReFills for the unbeatable price of $199 each.
New Rig series collection
Backline Rig: Beef up your instrument collection with the Backline Rig bundle! Aimed at songwriters looking for playable, organic-sounding instruments and effects, the Backline Rig comes packed with guitars, electric bass, vintage keyboards, drums, and vintage effect units, all at a fantastic price.
Synthetic Rig: Add an outstanding collection of electronic instruments and effects to your Reason Rack. Tailored for electronic music producers, the Synthetic Rig bundle comes with a variety of synths, beatboxes and effects from leading Rack Extensions developers.
Outboard Rig: Perfect your mixes with this super-priced collection of outboard FX gear! With the Outboard Rig bundle, you get a fantastic collection of high quality studio outboard effect Rack Extensions from leading developers.
The bundles are available for purchase for $199 USD/159 EUR each.
For more info on Reason:
https://www.propellerheads.se/reason
Join the Music Making at Discover:
http://discover.propellerheads.se/
To hear more of Faustine's songs:
http://www.propellerheads.se/go/36668E6A
Hear the finished version of Ryan's Production:
http://phead.mu/s/WkwgxQnG
Add your own production to Faustine's already mapped song:
http://phead.mu/s/af3jVs5D
Propellerhead Discover is the central feed for your new musical ideas. Working with material from Discover in Reason happens with a single click and tempo information for ideas is preserved all along the way, making it easy to get going quickly adding your own production and music to the process. However, sometimes the greatest song ideas captured in Take might have been recorded by singers without a steady tempo or backing beat but that shouldn't stop us from being able to use them in Reason. In this tutorial, Ryan shows us the basics of finding inspiration from Discover but also an advanced technique for tempo mapping and fitting freely recorded material to a fixed tempo grid ready for Reason production.
Propellerhead Software has announced the release of Reason 8, a major new version of the award-winning Reason music production software which introduces a completely redesigned user interface and streamlined new workflow.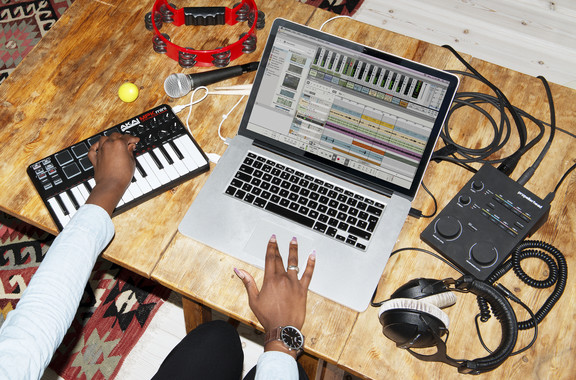 "Musicians and producers love Reason because it's both fun and inspiring," said Leo Nathorst-Böös, Propellerhead Product Marketing Manager. "For Reason 8, we've introduced a new creative flow that feels second nature to exploring sounds and developing songs. Whether you have lots of experience or just starting out, Reason is the fastest way to develop musical ideas and capture your inspiration."

Reason 8 introduces a redesigned user interface, fresh new look and even smoother creative flow. Quickly and easily access your sounds, loops and patches whenever you need them using a new browser and search window—a one-stop-shop for creative inspiration. Dial-in incredible guitar and bass tones with a collection of new amps from legendary circuit modeler Softube—simply plug in your instrument, crank up the volume and experience the uncompromising tone, response and dynamics of the world's finest classic amplifiers.

Reason 8 also features countless usability improvements that put the flow back in workflow. Drag-and-drop from anywhere to anything and work faster with fewer clicks. Edit your tracks quickly with more powerful sequence note editing. Reason 8 lets you flow seamlessly from initial idea to completed song. And, with an ever-expanding selection of Rack Extension plug-ins available in the Propellerhead shop, you can easily expand your rack to include everything your music needs—now and in the future.
Reason 8 is available for purchase for 405 EUR/$449 USD, Reason Essentials 8 is 120 EUR/$129 USD, and the Reason 8 Upgrade (from any previous Reason version) costs 129 EUR/$129 USD. Propellerhead is also offering a grace period for customers who purchased Reason 7 on or after July 1, 2014
Reason is the music software made with one thing in mind: you. And whatever music is on your mind, Reason makes it easier to bring it out. Version 8 brings a faster and easier interface with a whole new look and an even smoother creative flow. Drag and drop everything and everywhere. Find inspiring sounds instantly in the new, always open browser. Explore new amp and speaker models from Softube. Go faster from good ideas to great music than ever before. This is your Reason. This is Reason 8.
All details can be found here >>
Take is an app from the makers of Thor and Figure, Its a quick way to capture your song ideas anytime you may have one
For more about Take:
http://www.propellerheads.se/take
Sing, rap, hum, strum. Take lets you capture your musical ideas – anytime, anywhere. Take combines the drop-dead simplicity of your voice memos with features custom-tailored to vocalists' needs. Record harmonies along with your voice, blend in effects to sweeten the sound and sing along to inspiring beats and rhythms.
Sing, hum, rap, strum. Take captures your musical ideas—anytime, anywhere. With a single tap you'll be recording, beatboxing, overdubbing, riffing, writing, trying out song ideas that you'll want to share with the world.

Feel the groove. Stay on the beat. Keep in time. Inspiring built-in clicks, loops and beats to kick start your creativity.

Add new parts, double them up, create harmonies, sketch out the song

Three tracks to build on your tune and flesh out your ideas

Surprise yourself with how good you sound.

Processing and effects that make your iPhone's mic shine.

Share on Facebook, Twitter, email.

Designed by Propellerhead Software—makers of Figure, Apple App of the Year 2012—Take is a creative recorder for musicians. It's got the same drop-dead simplicity you've come to expect with your voice memos, with features custom-tailored to vocalists' needs—like the ability to record harmonies along with your voice, blend in effects to sweeten the sound and sing along to an array of beats and rhythms. Take will soon become your go-to sketchpad for musical ideas.

Note: Take is optimized for the built-in microphone on your iOS device. Wear headphones to hear your backing tracks. Best results come from using headphones (the ones without an integrated microphone) and recording into your iPhone/iPod/iPad mic directly.