Sonic explores Propellerhead's Thor alongside the CME Xkey, video description below:
I know its been a while, but we managed to get Gaz and Nick in the same room for long enough to shoot this episode in which we take a look at the CME Xkey which has affordable polyphonic aftertouch,plus we look at Propellerheads Thor Polysonic synthesizer
Background video description:
Do you find yourself exploding with creativity but unsure of how to get it out? Think you'd do a bang up job making beats that would be blowing up, if only you knew how to get started? Well we've got a dynamite new tutorial for you beginners called "Your First 10 Minutes in Reason." Carlo Nuevo (M.Born) will take you from the first launch of Reason, through setup, and right up to mixing his first track complete with drums, synths, and vocals. It all happens in just 10 minutes and it'll get you making music in no time. We think you'll agree. This tutorial is da bomb.
Review and audio demo of Propellerhead's brilliant Thor synth for iOS. For a full review of the app see the Music App Blog website at www.musicappblog.com
Demo of Thyses working with Cubasis and Thor. Thyses is used to send MIDI data to a Cubasis MIDI track. Via MIDI Thru, this MIDI data is passed to the Thor synth. The MIDI data can also be recorded in Cubasis.
A quick run through of some of the 1000 presets that come with this stunning synth from Propellerhead
Thor Polysonic Synthesizer (on the iPad) with Elektron Octatrack, Analog Four, Waldorf Rocket
Propellerhead has brought their massive Thor synth to the iPad! Although there are lots of Thor tutorials out there, this one focuses specifically on the app and its uses in an iPad environment, while figuring out what the fuck "Polysonic" actually means.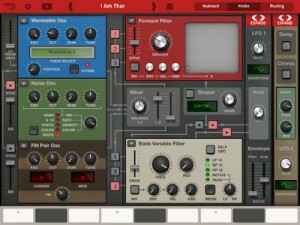 Propellerhead Software has launched Thor for iPad, a synthesizer app based on the flagship synthesizer in Reason. Here's all the detail:
Thor for iPad puts the mighty Thor synthesizer at your fingertips. Reason's legendary flagship synth delivers a thunderous sound, god-like sound sculpting capabilities and an innovative, lighting-fast keyboard designed for iPad. Thor is a synthesis playground, a flexible sonic workhorse, but above all, an expressive musical instrument for the iPad.
Thor highlights
Play Reason's Thor Polysonic Synthesizer on the iPad.
Load any of the 1000+ expertly crafted synth patches, or create your own from scratch.
Create your sounds using a palette of multiple oscillator and filter types.
Play Thor using an expressive touch interface keyboard with aftertouch and strumming.
Collapse the keyboard to a key and scale of your choice, just like in Figure.
Move your favourite patches from the iPad to your computer and use them with Thor in Reason
Thor sounds like no synthesizer you've ever heard before – and every single one of them. Where other synths use one specific form of synthesis and one single filter, the Thor polysonic synthesizer features six different oscillator types and four unique filters. What does this give you? Simply the most powerful synth ever created; an unstoppable monster of a sound generator that utilizes synthesizer technology from the last 40 years.
On the iPad, Thor comes with a specially designed interface that's optimized for touch control and the iPad screen. Cleverly designed panels expand and fold at the touch of a button to hide or reveal oscillators, filters, envelopes and more.
The app is divided into three main screens: Keyboard, Knobs and Routing.
Keyboard mode features:
Piano keyboard with transpose and range control
Modulation and pitch bend controls
Assist function lets you select key and scale to highlight chord notes or to collapse the keyboard to only show the chord notes of the selected scale.
Strum function lets you play arpeggios by holding a chord while strumming across the strum control.
Two assignable knobs and buttons acts like performance controls
Settings for polyphony and portamento
Knobs mode features:
Access to all of Thor's synthesis features
Three oscillator slots for Thor's six oscillator types: Analog, Wavetable, FM Pair, PhaseMod, Multi Osc and Noise
Three filter slots for for Thor's four filter types: Low Pass Ladder, State Variable, Comb and Formant
Three envelopes
Dual LFOs
Delay and Chorus
The Knobs screen is divided into panels that expand and collapse at the touch of a button
Miniature keyboard to audition your sounds as you are working on them
Routing features
Comprehensive but easy to use routing matrix lets you create complex modulation and signal flow setups
Step sequencer with 16-steps and six channels: Note, Velocity, Gate length, Step duration, Curve 1, Curve 2
General App features:
Patch compatible with Thor in Reason on your computer
Move patches to and from your iPad using iTunes or Dropbox
Sound bank with more than 1000 Thor patches from leading artists & sound designers (Kill the Noise, Richard Devine, Chris Petti and many more)
Gorgeous retina display interface
MIDI in – play Thor from an external MIDI source or from another app on the same iPad
Audiobus compatible – stream audio from Thor to another audio app on the same iPad
Audio in background option lets Thor keep playing in the background when working with other apps.
Note: We recommend using Thor for iPad with iPad 2 or later.
Thor is priced at $14.99.
More info on Reason: https://www.propellerheads.se/product…
Thor sounds like no synthesizer you've ever heard before – and every single one of them. Where other synths use one specific form of synthesis and one single filter, the Thor polysonic synthesizer features six different oscillator types and four unique filters. Unlimited sound design potential at your fingertips.
In this micro tutorial we'll take a look at how to maneuver this unstoppable force of synthesis and give you an overview of its main features.
Last week Sonic State had a visit from Ryan Harlin – he's the guy behind Propellerheads Music Making Month and also puts together the ongoing video content for Propellerheads.
"He showed us around the new features in the just released Reason 7, including (finally) the introduction of MIDI, some neat mixer functions – Spectrum EQ, bussing and parallel processing, plus the new audio processing module – Audiomatic."
New video merely stating the obvious I guess

Try Reason: http://www.propellerheads.se/tryreason
Reason is Propellerhead Software's flagship music production platform; a virtual studio rack full of synths, drum machines, samplers, and effects like reverb, delay, distortion, and much more. Add that all together with unlimited audio recording, legendary audio slicing/stretching, a professional mixer modelled after a big-studio classic… and you've got a powerhouse of a program with one central focus: making your music better than ever.
Whatever your music needs, Reason has a rack for that.
Music in this video: Syndrome by Mikkas: http://www.mikkasmusic.com/
Appearances by:
Jakwob – http://twitter.com/jakwob
Felix Cartal – http://www.felixcartal.com
Lucky Date – http://luckydateofficial.com
The big mixer in Reason is where your songs really find their full potential – sonically speaking. The powerful EQ, channel dynamics, bus channels, parallel channels, spectrum EQ, and oh-so-lovely Master Bus Compressor are all designed with one thing in mind: making you sound great!
In this walkthrough of the big mixer, we take a look at the major sections of the mixer and what they mean for your mix.
This video features "Outside In" by Atom, mixed by Gary Bromham inside Reason 7. The track is available for download as a Reason demo song here:
http://www.propellerheads.se/demo-songs/
Reason's virtual rack is the heart and soul of Reason. Synths, drum machines, samplers, effects, and little gadgets that tweak and freak one another are the building blocks of your music.
In this walk-through, we check out the Reason rack in more detail and get you up to speed on the powerful tools in your toolbox.
This video features "Syndrome" by Mikkas and "Bobo by Schpilka:
http://www.mikkasmusic.com
http://www.schpilkas.com
Inspiration can be a tricky thing. You either feel it or you don't. So much of music making is about either capturing inspiration when it happens or making it happen through new sounds, new techniques, or new ways of processing sound.
In this video, we take a look at all the ways that Reason can inspire your music.
This video features "Be Like You" by Olivia Broadfield and "English" by Ali Payami:
http://www.soundcloud.com/oliviabroad…
https://www.facebook.com/ali.payami.f…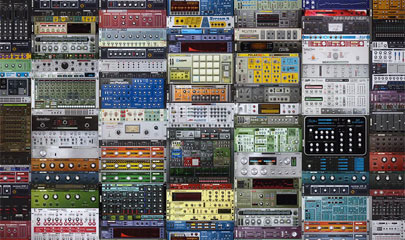 Today Propellerhead has released their latest incarnation of their popular DAW – Reason 7
Reason 7 brings tons of new improvements for the mixer, the rack and the sequencer. Integrate your instruments into Reason with MIDI out, audio slicing and audio quantize. Turn your recordings into REX loops. For mixing, we're introducing a spectrum analyzer with visual EQ, group and parallel channels and workflow improvements. To inspire, Reason 7 imports audio from your music library and web formats. The enhanced Factory Sound Bank comes fully loaded with tons of new loops and drum kits. The new Audiomatic Retro Transformer effect adds a futuristic-vintage sound to any tracks.
Reason Essentials 2 is a free upgrade for all owners of Reason Essentials, bringing audio slicing and quantizing to the sequencer. Create REX files from your recordings directly in Reason Essentials. Import audio files from your music library and the web with improved file format support. Workflow enhancements in the rack and sequencer make writing, producing and mixing music in Reason Essentials even faster, easier and more fun.
All details can be found here >>