Playing around with the figure app on the ipad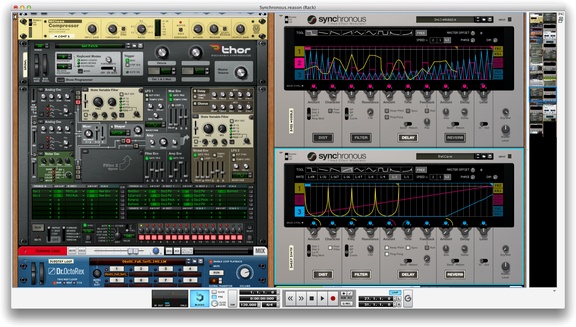 Propellerhead has released an update to its award-winning Reason software and Synchronous, a modulation Rack Extension plug-in for Reason.
Since its release in 2012, Propellerhead's Rack Extension platform has emerged as a powerful audio plug-in format currently with over 600 companies developing and over 200 instrument and effects devices available via Propellerhead's online store.
Rack Extensions blend seamlessly in the Reason rack offering great sound, smooth workflow, rock-solid stability, intuitive routing, automation, deep-editing and flexibility Reason users expect.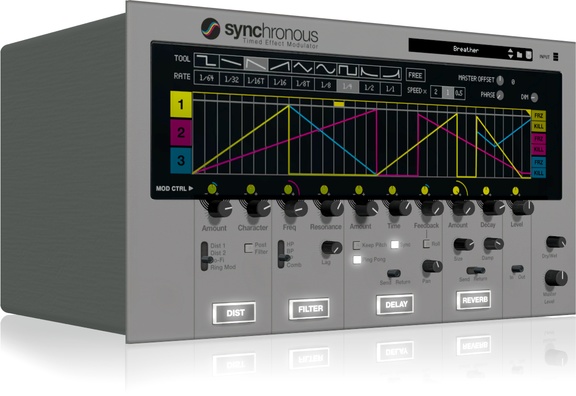 Highlighting new interactive graphic capabilities of the SDK2 technology, Synchronous is a Rack Extension plug-in for Reason that offers rhythmically synced effects that bring your music to life.
With a dynamic and intuitive graphic user interface and the ability to instantly recall over 100 patches, Synchronous is incredibly flexible.

With the built-in waveform tools, users can easily draw and dial in Distortion, Filter, Reverb, Delay and level for anything from side-chain pumping and tremolos to beat-repeating and tweaked out wobbles.
Reason 7.1 is a free downloadable update for all Reason 7 owners. Existing Reason upgrade pricing remain the same at $129 USD / 129 EUR. Synchronous is available for free for all Reason 7.1 customers up until June 30th, 2014.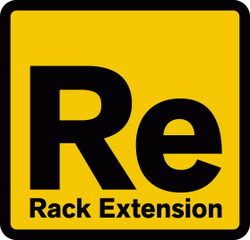 Propellerhead has announced further advancements to its software developer kit, that make it easier to build and sell Rack Extensions for its award-winning Reason platform.
Designed for both C++ engineers and sample instrument designers, the updated SDK2 and new Instrument Development Toolkit (IDT) have all the tools necessary to develop stunning instruments and effects and bring them to market with minimum effort.

"Our goal is to create a turn-key solution for developers to build, sell and market their Rack Extensions and extend the pool of instrument makers to content developers," remarks Timothy Self, VP Product Marketing.

Since its release in 2012, Propellerhead's Rack Extension platform has emerged as a powerful audio plug-in format currently with over 600 companies developing and over 200 instrument and effects devices available via Propellerhead's online store. Rack Extensions blend seamlessly in the Reason rack offering great sound, smooth workflow, rock-solid stability, intuitive routing, automation, deep-editing and flexibility Reason users expect.

Rack Extension SDK2 includes a programming interface to create custom interactive displays. The scriptable Instrument Development Toolkit allows developers build professional sample based instruments without writing C++ code and sell them directly in the Propellerhead Shop. In addition, instrument designers can quickly transfer existing Kontakt and NN-XT sound libraries into the Rack Extension instruments using the Toolkit.
Rack Extensions SDK2 is available today. The Instrument Development Toolkit is expected in May. Developers can sign-up now at Propellerhead's website.
Harmony Systems, Inc. announced the worldwide availability of Delora rsTouch Pro, a major upgrade to their iPad application that provides control surface functionality for the Propellerhead Reason music application on a Mac or PC. rsTouch Pro adds support for Reason Device Rack editing and a new 'perform' mode for sending MIDI to Reason instrument tracks.
rsTouch Pro works with Reason 6.5 or higher or Reason Essentials 1.5 installed on a Mac or Windows PC. It supports either "wired" MIDI connections using an iPad compatible USB MIDI interface, or "wireless" MIDI connections using iOS compatible network MIDI. Reason control surface support files are required and are available free from the Delora website,
www.delora.com
.
Features & Benefits
Control 40+ built-in Reason synthesizer, mixer, effects & utility devices using customized screens optimized for iPad use. Use the new keyboard and drum pad layouts to play Reason synths and drum machines, or to record into a sequencer track.
rsTouch Pro builds upon its existing support of Reason's Mixer and transport functions. Record and mix songs, and make sound setting and level adjustments easily with large, multi-touch, color-coded rotaries and faders.  Edit send effects, insert parameters, and EQ settings, as well as adjust channel, pan and dynamics levels.  A dedicated Master screen allows full adjustments of Reason's Main Mixer Master section.
Pricing & Availability
rsTouch Pro is available at a special sale price of $9.99 (USD) through December 29 on the iTunes App Store, and is a free upgrade for current rsTouch users.
I guess this one is a must have for anyone enjoying the Reason DAW, however it is expensive (as with everything else in the Prop Rack extension shop !!!) – its 99€
Parsec is available in the Propellerhead Shop
http://shop.propellerheads.se/product…
Propellerhead proudly presents Parsec Spectral Synthesizer—the futuristic sound of additive synthesis for the Reason Rack. With two independent sound engines, up to 1024 oscillators per voice, a wide range of sound sculpting tools, built-in effects and free modulation routing, Parsec won't leave you wishing when it comes to sonic horse-powers.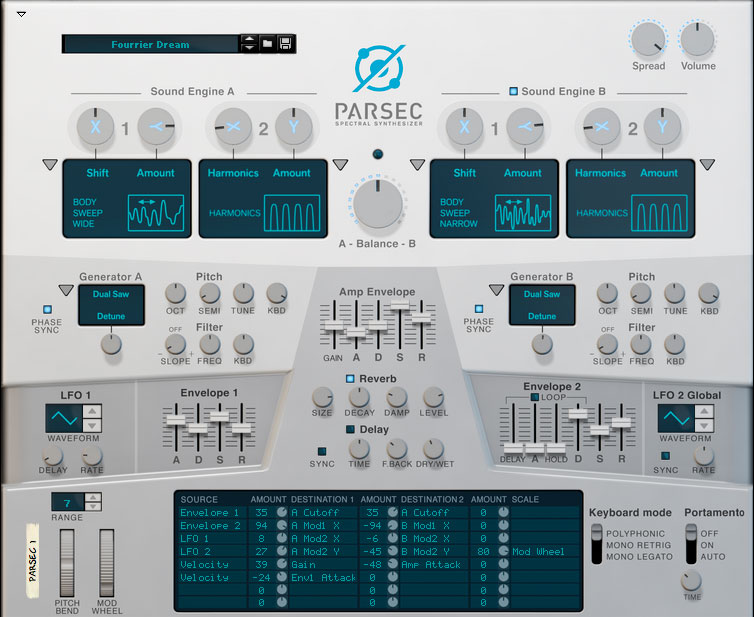 Boasting a state-of-the-art synthesis engine and an inviting user interface, Parsec was designed for the novice and the PhD of sound synthesis alike. The comprehensive sound bank with patches spanning everything from crisp, digital sounding leads to lush and evolving pad sounds, rich sonic textures and instrument sounds, will make an excellent starting point to explore the sounds of Parsec. Once you are ready to dive further, the easy to grasp interface will have you creating your own otherworldly sounds in no time.
Features:
– Extremely powerful and easy to use additive synthesis.
– Amazing sound bank with inspiring sounds for electro house, bass music, minimal techno, electronic indie and pop, far-out experimental, and more.
– Two sound engines that make up a single sound. Use one engine for the attack and another for sustain. Or use both at the same time for ultra thick tones!
– Up to 1024 oscillators per voice.
– It's a vocoder too, with modulation from Parsec's audio input.
– Built in high quality reverb and delay.
EQ is probably the most important tool to make sure your mix sounds good. But how do you know where to cut or boost? What frequencies are important? In this video Propellerhead product specialist Mattias lets you in on four EQ tips for a better mix. Learn basic EQ usage, what frequencies matter in a kick drum and more!
Mobile music maker Em One made this cover of his original track 'Jaded Mirrors' by using Figure as the only sound source besides the vocals, video details below:
I have to say, Figure is certainly more powerful than I thought. I was able to recreate this original of mine with ease with the incredibly intuitive interface and amazing sound bank.

Get to know more about Figure here, and then buy it! http://www.propellerheads.se/products…

Recorded, arranged, mixed and mastered in Propellerhead Reason 6.5
Filmed using a Canon EOS 650D
Footage edited with Sony Vegas
Working with Propellerhead Reason on iPad with Parallels Access app that allows to use iPad as wireless touch monitor for Mac/Win apps. The Propellerhead Reason is running on the Macbook pro but controlled from the iPad. Also the sound goes wirelesly to the iPad with just a little latency.
More info on Reason: https://www.propellerheads.se/product…
The RV7000 is a high quality stereo reverb that's all about embedding your sound in rich, sophisticated reverb. Regardless if you want the sound of a concert hall, a retro spring reverb or a cramped closet – RV7000 can handle it. In this tutorial we'll take a closer look at its features and what it can do to your music.

The RV7000 is a stereo effect unit dedicated to highquality reverberation.
This device is set on embedding your sounds in the kind of rich, transparent sounding reverb that only the most sophisticated reverb machines are capable of. In short, it sounds amazing. And despite its pro studio sound and million-dollar features, this machine is very easy to use. Your basic reverb controls are located on the main panel – for instant access and control – and the rest, eight separate knobs for algorithms and their parameters, can be accessed from a fold-out remote at the touch of a button.
The RV7000 is advanced and flexible without ever getting too complicated, and lets you dial in your desired reverb sound in seconds, and saving it as your own preset. The future of reverberation, only for Reason users.
The Sections
The RV7000 is made up of three separate sections whose controls and settings are easily accessed from the fold-out remote panel: the Reverb, the main workhorse in RV7000, always enabled. The EQ, for processing of the wet signal. And the Gate, which can be applied to any chosen reverb program or algorithm, allowing for very sophisticated gating effects.
The Reverb
The reverb engine consists of nine carefully crafted reverb algorithms, with seven individual parameters each: Small Space, Room, Hall, Arena, Plate, Spring, Echo, Multitap and Reverse, each with up to seven individual parameters.
Where some algorithms simply make up the basic reverb types, others are less traditional: Spring is a very accurate emulation of a classic spring reverb, and Echo is a Reverb/Delay combo that works wonders with vocal samples.
The EQ
Hitting the EQ switch on the front panel calls up a handy parametric and low shelving equalizer for additional tweaking of your reverberated signal. Combine this section with the HF Damp and HF Smooth knobs on the front panel, and be the master of your wet signal's every frequency.
The Gate
Instead of having a traditional gate algorithm squeezed in with the others, the RV7000 keeps it's gate on the outside, letting you apply gating to any and all reverb types. Ever heard a gated Spring Reverb? You have now. You are also free to trigger the gate with CV or MIDI, and to record and automate it as you desire. Which is of course the case with all the knobs and parameters inside and and outside of the RV-7000.
Sonic explores Propellerhead's Thor alongside the CME Xkey, video description below:
I know its been a while, but we managed to get Gaz and Nick in the same room for long enough to shoot this episode in which we take a look at the CME Xkey which has affordable polyphonic aftertouch,plus we look at Propellerheads Thor Polysonic synthesizer
Background video description:
Do you find yourself exploding with creativity but unsure of how to get it out? Think you'd do a bang up job making beats that would be blowing up, if only you knew how to get started? Well we've got a dynamite new tutorial for you beginners called "Your First 10 Minutes in Reason." Carlo Nuevo (M.Born) will take you from the first launch of Reason, through setup, and right up to mixing his first track complete with drums, synths, and vocals. It all happens in just 10 minutes and it'll get you making music in no time. We think you'll agree. This tutorial is da bomb.