The big mixer in Reason is where your songs really find their full potential – sonically speaking. The powerful EQ, channel dynamics, bus channels, parallel channels, spectrum EQ, and oh-so-lovely Master Bus Compressor are all designed with one thing in mind: making you sound great!
In this walkthrough of the big mixer, we take a look at the major sections of the mixer and what they mean for your mix.
This video features "Outside In" by Atom, mixed by Gary Bromham inside Reason 7. The track is available for download as a Reason demo song here:
http://www.propellerheads.se/demo-songs/
Reason's virtual rack is the heart and soul of Reason. Synths, drum machines, samplers, effects, and little gadgets that tweak and freak one another are the building blocks of your music.
In this walk-through, we check out the Reason rack in more detail and get you up to speed on the powerful tools in your toolbox.
This video features "Syndrome" by Mikkas and "Bobo by Schpilka:
http://www.mikkasmusic.com
http://www.schpilkas.com
Inspiration can be a tricky thing. You either feel it or you don't. So much of music making is about either capturing inspiration when it happens or making it happen through new sounds, new techniques, or new ways of processing sound.
In this video, we take a look at all the ways that Reason can inspire your music.
This video features "Be Like You" by Olivia Broadfield and "English" by Ali Payami:
http://www.soundcloud.com/oliviabroad…
https://www.facebook.com/ali.payami.f…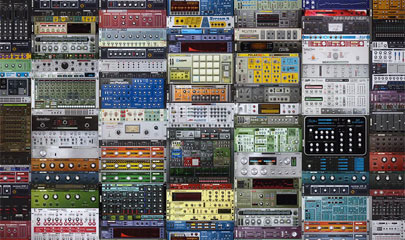 Today Propellerhead has released their latest incarnation of their popular DAW – Reason 7
Reason 7 brings tons of new improvements for the mixer, the rack and the sequencer. Integrate your instruments into Reason with MIDI out, audio slicing and audio quantize. Turn your recordings into REX loops. For mixing, we're introducing a spectrum analyzer with visual EQ, group and parallel channels and workflow improvements. To inspire, Reason 7 imports audio from your music library and web formats. The enhanced Factory Sound Bank comes fully loaded with tons of new loops and drum kits. The new Audiomatic Retro Transformer effect adds a futuristic-vintage sound to any tracks.
Reason Essentials 2 is a free upgrade for all owners of Reason Essentials, bringing audio slicing and quantizing to the sequencer. Create REX files from your recordings directly in Reason Essentials. Import audio files from your music library and the web with improved file format support. Workflow enhancements in the rack and sequencer make writing, producing and mixing music in Reason Essentials even faster, easier and more fun.
All details can be found here >>
Propellerhead has announced a new major version of its Reason music software. With over 90 third party Rack Extensions expanding Reason's rack of instruments and effects already available, Propellerhead has focused its attention on new creative and inspirational improvements for the mixer, the rack and the sequencer.
With Reason 7, users can integrate all their instruments into Reason with MIDI out, automatic audio slicing and audio quantize, and even convert their recordings into REX loops for further creative possibilities in the rack. For mixing, Propellerhead is introducing a spectrum analyzer with visual EQ controls; group and parallel mix channels; and many workflow improvements to help users sound better, easier. To inspire, Reason 7 makes it easier to import audio from users' music libraries and the web with support for mp3, aac, wma and more. The enhanced Factory Sound Bank comes fully loaded with tons of new loops and drum kits, while the new Audiomatic Retro Transformer effect unit adds a futuristic-vintage sound to any tracks, never more than a mouse-click away.
Reason users are invited to sign up for the limited public beta testing at the Propellerhead web site.
Pricing & Availability
Reason 7 and Reason Essentials 2 begin limited public beta testing today and will be available for purchase worldwide in Q2 of 2013 at the following suggested retail pricing:
Reason 7 €405 / $449.
Reason Essentials 2 €120 / $129.
Reason 7 Upgrade (from any previous Reason version) €129 / $129.
Reason Essentials 2 upgrade from previous versions free.
Balance (includes upgrade to Reason 7 for owners of previous versions of Reason) €429 / $449.
Propellerhead is also offering a grace period for purchasers of current versions of Reason, Reason Essentials and the Balance audio interface. Purchasing and registering a qualifying product today makes users eligible for a free upgrade to Reason 7. For details see: www.propellerheads.se/freeupgrade
Mixed and Arranged entirely inside Propellerhead's Reason 6.5 with sounds sampled in my kitchen!!
The ingredients were as follows
A glass bottle to blow air across the top (if its a bottle of alcohol – music automatically gets made)
Microwave (button sounds, door bang, start/stop)
Kitchen Timer
Cabinet drawers and doors
Sink tap, Sink hose spurting water
Refrigerator water dispenser (water falling and the mechanical switch you press your glass against)
Dishwasher switches and lock
2 different blenders
Water falling into a pre-heated pot for that sizzling sound
The crunch of the wrapper of a fiber bar
Almonds falling into a box
Groundnuts in a box
Pulses/Rice in a box
A bunch of empty containers, pots and pans
Running my fingers around the rims of glass
Rice cooker switch
..and…
…the missing ingredient I could not shoot – the 'insinkerator' going on and off.
So what's the recipe then? Mix it till it sounds good. And if it sounds good, it is good.
I had a lot of fun making this. I hope you had fun watching and listening!
More info on Reason: https://www.propellerheads.se/product…
Malström is a one-of-a-kind synth, begging to be explored. In this tutorial we'll learn the basics of this mean green machine by creating a synth pad sound from scratch. And once you've got a feel for what Malström can do, endless sound design possibilities are just around the corner!
"nice! nice update! Splendid sound quality. Splendid version upgrade"
What's New in Version 1.4
• SoundCloud Sharing – share your Figure tracks with access to Facebook, Twitter and more
• Introducing Audiobus support: Now you can stream live audio directly to other Audiobus-compatible apps! See http://audiob.us for more information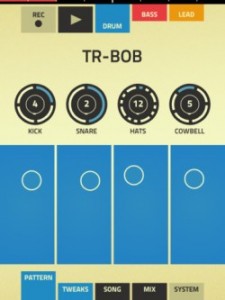 Propellerhead has updated Figure for iOS, adding some frequently requested features, like SoundCloud and AudioBus support.
Here's what's new in Figure 1.4:
SoundCloud Sharing – share your Figure tracks with access to Facebook, Twitter and more
Audiobus support: Now you can stream live audio directly to other Audiobus-compatible apps
Background audio (in device Settings)
Sort song list by Name/Date
Bug fixes and performance improvements
Figure is $.99 in the app store >>
The nitty gritty details:
• Bass & lead parts use Reason's Thor synthesizer
• Drums powered by Reason's Kong drum machine
• Play in different keys & modes. Set once or change on the fly.
• Increase the Shuffle to loosen up your beats
• Turn up Pump to add a club sound to your tracks
• Adjust levels using Propellerhead's legendary mixer
• Save, browse and load song files
• Set length of loop (1,2,4,8 bars)
• Export audio to iTunes File Sharing
Background video description:
This is my version of M83's "Midnight City", recreated (a "ReCover" as I call it) completely in Propellerhead's Reason. All custom patches, all original note data (no web download of MIDI files).
A nice review of the recently released PX7 FM synth for R6, details below:
More info: http://bit.ly/X3rh1F
Recently Propellerhead approached me about designing some sounds for a new FM synthesizer in Reason. As you may recall from some of my previous video tutorials, I showed you how to create an FM synth out of several Thors and a Combinator. The purpose was to demonstrate how to get some of the more modern, edgy FM sounds that we associate with dubstep and electro.
Although my method for creating FM sounds this way worked, Propellerhead have made this easier now with a new FM synthesizer engine, the PX7, now available as a Rack Extension for Reason 6.5. The PX7 is a true six-operator FM synth with some dazzling math behind it, resulting in a replica of the Yamaha DX7, the first commercially available FM synth from the early 1980s.
Just so you all know, the DX7 and I didn't have a great relationship when we first met. I first encountered it in the labs at Berklee when I was studying music synthesis. It was a million miles away from what I wanted to achieve soundwise. I was very into the big, fat, warm analog sounds that I was hearing in all the drum'n'bass tunes I was into at the time. The DX7 was also difficult to program at first. It didn't make sense to me and was really tedious. It had a very small display that required you to scroll through dozens upon dozens of parameters to create and edit a sound. More importantly to me at the time, it was seemingly not capable of producing the analog sounds I was into.
Years later, after a revival in software form, FM synthesis has found a very special place in my heart. I now find it to be very exciting as I am now very clear on what I can and can't do with it. I have developed an appreciation for the highly detailed and exotic sounds that FM can produce. So I hope you all enjoy and appreciate the irony of this situation and my love/hate relationship with FM throughout the years. Most importantly, I hope that you enjoy the lesson in the PX7 and ultimately FM synthesis. – Chris Petti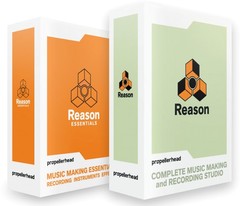 Propellerhead Software has announced updates to its Reason and Reason Essentials music production software.
Reason 6.5.3 and Reason Essentials 1.5.3 fix a few serious bugs, the most important being a problem where the program could crash under Mac OS X 10.8. These new versions replaces versions 6.5 and 1.5 of Reason and Reason Essentials. It is recommended that you update as soon as is convenient.
Changes in Reason / Reason Essentials
Fixed a problem related to scrollbars under Mac OS 10.8, where the program could crash.
Fixed a Create Menu bug, where sometimes the wrong device would be created.
Fixed a bug in how the Browser uses the registry under Windows. This could lead to situations where some file types couldn't be browsed and loaded.
The Download All function for Rack Extensions could cause the Authorizer to misbehave or fail.
The updates are now available to download.