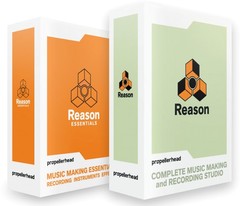 Propellerhead Software has announced updates to its Reason and Reason Essentials music production software.
Reason 6.5.3 and Reason Essentials 1.5.3 fix a few serious bugs, the most important being a problem where the program could crash under Mac OS X 10.8. These new versions replaces versions 6.5 and 1.5 of Reason and Reason Essentials. It is recommended that you update as soon as is convenient.
Changes in Reason / Reason Essentials
Fixed a problem related to scrollbars under Mac OS 10.8, where the program could crash.
Fixed a Create Menu bug, where sometimes the wrong device would be created.
Fixed a bug in how the Browser uses the registry under Windows. This could lead to situations where some file types couldn't be browsed and loaded.
The Download All function for Rack Extensions could cause the Authorizer to misbehave or fail.
The updates are now available to download.
James Bernard, master of all things Propellerhead Reason, is BACK! In this video James demonstrates using Buffre Rack Extension for Reason 6.5 as a performance tool to create stutter and pitch fade effects in real time using the Livid Instruments OHM64.
25% Holiday Discount Code: buffreholiday
http://shop.propellerheads.se/product/buffre-beat-repeater/
ReBirth for iPad: https://itunes.apple.com/us/app/rebirth-for-ipad/id401704148?mt=8
Figure: https://itunes.apple.com/app/figure/id511269223?ls=1&mt=8
What's better than making music? Making music with a friend of course! And doing it instead of working, like Kalle and Mattias…
With ReBirth for iPad's Duo mode two people can make squelchy techno music on the same iPad. Connect ReBirth to other equipment with MIDI Sync, or enable WIST sync to bring Figure or other WIST-enabled apps into the mix.
For more information: http://shop.propellerheads.se/product/px7-fm-synthesizer/
The PX7 FM Synthesizer is a six operator FM synth for the Reason rack. As a faithful recreation of the popular DX series keyboards, it provides a wealth of new sounds, ranging from classic 80's bass and brass to modern textures, leads and growls.
Propellerhead has announced the immediate availability of PX7 FM Synthesizer, a new six operator FM synth for Propellerhead's Rack Extension format. As a recreation of the popular DX series keyboards, PX7 provides a wealth of new sounds to the Reason rack, ranging from classic 80's bass and brass to modern textures, leads and growls.
Propellerhead has improved on the original too, with macro controls for easy tweaking of sounds and stereo panning as notable new introductions. PX7 is fully integrated with the Reason rack, allowing users to create layered sounds, combining it with effects, and even control operator levels through CV.
Included with the Rack Extension is a set of new patches for PX7 and Reason's Combinator, from "talking" bass sounds to evolving pads. Additionally, the PX7 FM Synthesizer is patch-compatible with the Yamaha DX7, and includes hundreds of patches originally created for the DX7. Propellerhead also provides an online patch converter that takes patches in Yamaha DX7 format and converts them to PX7 patches, giving users immediate access to tens of thousands of presets for PX7 covering all styles of music.
Features:
Six operator classic FM synthesis for the Reason rack
32 selectable algorithms
Advanced envelope generator
Includes tons of classic and vintage presets, ranging from 80's bass to keys and brass
Comes with a set of new, exclusive patches for modern music productions
PX7 does not require a full understanding of FM synthesis–the macro controls make tweaking sounds fast, easy and fun.
Propellerhead's online patch converter lets you convert any Yamaha DX7 patch to PX7 format.
CV control of operator levels lets you apply modulation from any device in the Reason rack.
Combine two PX7 synths with the Combinator to easily create layered sounds that never was possible with the hardware it's based on
Pricing and Availability:
PX7 FM Synthesizer is available for immediate purchase in the Propellerhead Shop, at a price of USD $99/EUR €79. Reason and Reason Essentials users can download a free, fully functional trial version for 30 days to try PX7 FM Synthesizer in their music.
More information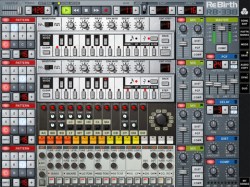 ReBirth – the seminal software studio  – has gotten some love from Propellerhead, with a new update.
Here's what's new in ReBirth 1.3:
Duo Mode – flip instruments around and jam with a friend on the same iPad
MIDI sync – sync ReBirth to your DAW, MIDI hardware or other apps
Background mode – keep ReBirth playing in the background when slaved to other apps
SoundCloud Sharing – share your ReBirth music on SoundCloud
iTunes export – export your track to iTunes on your computer
Various bug fixes and performance enhancements
Propellerhead describes ReBirth as a 'Techno Micro Composer', emulating three of the backbone devices of electronic dance music: the Roland TB-303 Bass synth and the Roland TR-808 and 909 drum machines.
Background description:
*Disclaimer* ReCap is not a product of or endorsed by Propellerhead Software AB
A lot happened this week in the Reason world. You could almost say that this weeks releases were the icing on the cake…walk.
Reason ReCap is a weekly YouTube show about what's new in the world of Reason!
Sources/Links:
Propellerhead: http://www.propellerheads.se/
RE-2A: http://shop.propellerheads.se/product/re2a-leveling-amplifier/
ReVolt: http://shop.propellerheads.se/product/revolt-cv-processor/
Yoko: http://shop.propellerheads.se/product/yoko-band-splitter/
Predator-RE: http://shop.propellerheads.se/product/predatorre-instrument/
CVTuner: http://shop.propellerheads.se/product/cv-tuner/
Uhbik-S: http://shop.propellerheads.se/product/uhbik-s/
Volt SH-1: http://shop.propellerheads.se/product/volt-sh-1/
——-Music———
Artist-Totigerus
Song Title-"I Do Not Know Who I Am"
http://soundcloud.com/totigerus
Submit a song for a chance to be featured in an episode of ReCap.* Send an mp3 to support@brandonsreason.com with the email subject line "Recap Song." Please include your artist name, the song name, and a cover photo (.jpg or .png please). You will be let known ahead of time when your song will be used.
*Official Song Submission Rules:
By submitting a song you agree that you own the rights to the song and MrBrandonPeoples obtains the right to use the submission in a single commercially published ReCap video.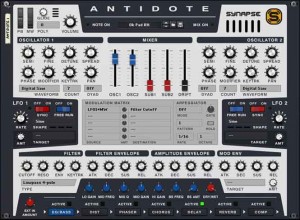 Synapse Audio has released Antidote, a new Rack Extension for Propellerhead Reason. Here's how they describe it in their own words:
Antidote is an exclusive virtual-analog synthesizer, which combines highest audio quality, flexibility and a fast work flow in an easy-to-use plug in. Antidote has been specifically developed to complement Reason, and to integrate well into its environment. It can be used both as an instrument, and as a powerful multi-effect unit.
Antidote comes with two stereo oscillator banks, each emitting a stack of high quality oscillator waveforms. The oscillators pass through the filter stage, which employ the latest zero-delay feedback designs. Envelopes and LFOs further shape the sound, and the powerful modulation matrix, which can modulate almost any sound parameter, adds the necessary depth to realize complex sounds.
The output of the synthesis stage finally passes through a big effect chain with Distortion, EQ, Phaser, Chorus, Delay, Reverb, Compressor and a unique Bass enhancement effect, which models the bass frequency response of some vintage analog gear.
Antidote ships with 300 Presets and 10 Combinator patches, covering a wide range of music genres.
Pricing and Availability:
Antidote is available at an introductory price of €79 until December 31st, 2012 (the regular price will be €119).
More information:
Fun with control voltage routings in Propellerhead Reason!
So you've installed Reason and don't know where to start? Got a trial of the software? Then this video is for you. In this seven minute introduction to Reason, Mattias will walk you through the different areas of the program—and even get you started working on your first song!
Propellerhead Software today announced the immediate availability of the Soul School 2 ReFill for Reason. They tell us that, as the sequel to its best-selling Soul School ReFill, Soul School 2 is an organic sounding and extremely flexible collection of soul loops and samples. They say that it's a perfect starting point for song creation, creating new instrument performances with a vintage sound, or adding "classic spice" to any style of music.
Here's more details:
Consisting of nine grooves, all recorded live without overdubs, broken up into individual instruments and tempo-independent loops, Soul School 2 is a playable collection of old school sounds, with tons of loop and sample content ready to be played, tweaked and turned into songs.
All the loop content in Soul School 2 comes readymade for Reason's Dr. Octo Rex loop player, for quick arranging of drum tracks, bass grooves and guitar licks on the fly. Additional construction kits for the Kong Drum Designer effectively turns the loops into playable building blocks for new performances. As a bonus, the Reason Soul Keys ReFill comes as a free download, with patches based on the Soul School sound for the Reason Factory Sound Bank, Propellerhead's free Electromechanical ReFill, Reason Pianos and the Radical Piano Rack Extension.
Pricing and Availability:
The Soul School 2 ReFill is available exclusively for download through Propellerhead's web shop today, at a price EUR €79 / USD $99.
The Soul School 1 & 2 ReFills are available together in a discounted bundle in the Propellerhead web shop.
More information: