A quick comparison of Retronyms TableTop TT-303 and Propellerheads ReBirth on the iPad.
"They sound like the same synth engine to me
What do you think?"
The Prop-guys provides an in-depth tutorial on acapella, perhaps might come in useful
What's the difference between a professional music producer and an amateur beat maker? Answer: Vocals. Vocals is what elevates a beat – no matter how cool it is on its own – to becoming a track that people can identify with, sing along to, and want to hear again. So what do you do if you aren't a rapper or vocalist? Fortunately, there's tons of acapella tracks out there just waiting to be worked with. In fact, many artists are releasing their acapellas in the hopes that people remix them in their own tracks.
In this video, James Bernard shows us how he's using vocals off Aesop Rock's latest album to create his own remix.
To check out Aesop Rock head over here:
iTunes:
http://bit.ly/LguVzs
Aesop Rock website:
http://www.rhymesayers.com/aesoprock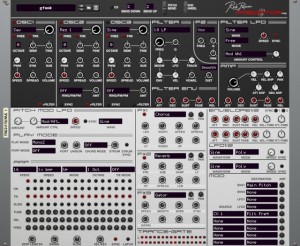 Rob Papen has announced that he is bringing RP Predator synthesizer to Propellerhead Reason as a Rack Extension, Predator RE.
Predator is a "phat sounding" killer synthesizer that combines inspiring presets and first-class features to make this your 'go-to' synth for contemporary music production.
The user interface has been designed so that almost all controls are visible on screen, making it fun and incredibly easy-to-use. And if you're unsure about a particular synth function, simply right click your mouse to access the help screen.

Predator is packed with powerful features such as Preset Quick Browser, Preset bank mananger, Preset Morphing, Intelligent Preset Variation, MIDI and Synth Controllable FX, Unison Detune, Chord Memory and an extremely versatile Arpeggiator.

Included preset banks: HipHop (NY, Club, DirtySouth and Gfunk) banks. Jump, hardcore, breakbeat, various Trance styles, DnB banks. Hardcore dance, House, SFX banks and much more…

Last but not least …Predator also includes PredatorFX, allowing you to use the incredible filters, modulations, effects and vocoder as an FX plug-in within your music host.

Predator 1.6 is out now with even more presets included klangMedium "Ambient bank/Downbeat bank" and JoMal bank.
Details are to be announced for Predator RE, but Papen says it will be available soon.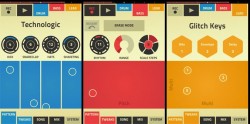 Propellerhead today updated Figure, its iOS beatmaking app, adding the most requested features.
Here's what's new in Propellerhead Figure 1.1:
Save, browse and load song files
Set length of loop (1,2,4,8 bars)
Export audio to iTunes File Sharing
Better recording. Tap record and then draw on the pad to start your recording. Or just press Play.
Performance and bug fixes
The update is free. Figure is $.99 in the App Store.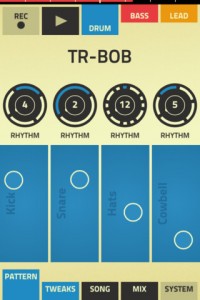 "Truly designed for mobile user on the go, Figure gives you drums, bass and lead synth, controlled by an incredibly easy to use touch interface that gets you sounding great literally in seconds. Slide your finger across the play pad and hear your bass line play. Tweak the Rhythm, Range and Scale Step wheels to get the result you're after. Programming drumbeats is just as easy. Set the rhythm and play the drums with your fingers. You won't want to stop. You won't believe how amazing you and your phone can sound."
Hal Leonard Books is now shipping Power Tools for Reason 6 by Andrew Eisele, described as a comprehensive book that provides a quick-start tutorial that not only gets you up and running quickly, but also delves into advanced sequencing and mixing techniques.
"With an unbelievable array of tools, Reason 6 gives you everything necessary to record, mix and produce music projects from start to finish. Reason 6 has the best of Propellerhead's Record and Reason, with the addition of some fantastic new features and effects, including the Pulveriser Demolition, Alligator Filter Gate, and the Echo tape delay. With the ability to record and edit audio directly into the arrangement window – and with audio time-stretching capabilities – it is now possible to record audio and adjust the tempo while keeping everything in sample accurate synchronization."
Inside Power Tools for Reason 6, you'll find:
How to set up your studio for Reason 6
An overview of the feature set
An explanation of MIDI concepts from signal flow and recording to hardware and instruments
A sound primer for digital audio concepts and recording
How to get the most out of the synths, effects, drum and percussion instruments, and routing capabilities of Reason 6
How to best use the sampler to capture, play back and manipulate digital audio
And much more
Hal Leonard tells us that Power Tools for Reason 6 includes video tutorials on an accompanying DVD-ROM that let you see and hear many of the most important tools and techniques now available in Reason.
About the Author:
Andrew Eisele is the author and host of the Music Pro Guides, a training DVD series spanning 40-plus titles covering all major music production software. His teaching credits include Full Sail Real World Education, the School of Audio Engineering and Dubspot. Currently, he works as a producer/DJ and is co-founder of the arts collective Tsunami Bass Experience and MorphSaru Productions.
Pricing and Availability:
$39.99
More information:
Tim Chandler form Nektar takes us through the use and applications of the new Panorama P4 MIDI controller. Designed to seamlessly integrate with Reason 6, the Panorama P4 will also offer control for any of the other major DAWs out there.
For more information or to buy a Panorama P4 today, please visit our store:
http://www.dv247.com/computer-hardware/nektar-panorama-p4-keyboard-controller…
Details:
The Nektar Panorama P4 49-Note Keyboard Controller has been custom designed for the user to have full control over all the functions and features in Propellerhead Reason. The Panorama is different to other generic controllers. It's sole purpose is to cater for Reason producers and musicians who have been looking for a controller that does it all.
The Panorama P4 from Nektar Technology uses a unique protocol custom designed to work flawlessly with Propellerhead's Reason 6. Its clever design and clear layout help put control at the fingertips exactly in the same way as hardware would. With its 49-note keyboard, 12 velocity-sensitive pads, a vast array of knobs and faders, and a white on black crystal clear display, the Panorama P4 provides everything required for hands on control of Reason on stage or in the studio.
The Panorama P4 layout is divided between the Mixer Section and the Channel Strip control Panorama let's you operate Reason like no other controller. The mixer section of the Nektar Technology's Panorama offers 9 faders (8 channel faders and a master fader) mirrored in the display controlling Volume, pan, inserts, send and returns, mute and solos.
The Channel Strip control gives all the control necessary to each channel strip in a clear layout. The channel Strip is broken down into the different sections, namely EQ, Dynamics, Inserts and Sends. Each section is easily accessible at the touch of the relevant button. Once selected the 8 encoders map to the relevant controls of the selected channel strip in the mixer.In addition, the Panorama features a silent multi-function, touch-sensitive motorised fader that can be used with any instrument, sequencer or mixer channel, delivering precise control of Propellerheads flagship DAW.
Korg Polysix for Reason is the latest addition to Propellerhead's Reason Rack Extensions store. As mentioned before I still feel that the Reason Rack Extensions are pretty hefty in price, ranging from 30-60€ each, personally and before this beauty came along I was most eager to get the Bitspeek, but now I guess that has to wait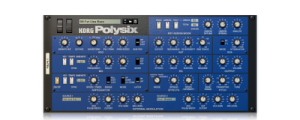 The instrument uses Korg's Component Modeling Technology to model the company's classic '80s six-voice analogue synth of the same name.
Along with the features of the original, the Reason version adds 32-voice polyphony, 16-voice unison (with detune/spread function), flexible external modulation settings, MIDI clock synchronization, and a spread function to the features list.
Polysix for Reason is available now from the Rack Extensions Store priced €39.
Original press release below:
Korg USA Announces Polysix for Propellerhead's Rack Extension Plugin Format
MELVILLE, NY, June 21, 2012 – Korg's original Polysix programmable six-voice polyphonic analog synthesizer was introduced in 1981. With a full-sounding voice structure, classic effects and performance functions, the Polysix became a world-wide hit. Its distinctive string and pad sounds are still often heard to this day.
Now Korg announces the Polysix for Reason, a software version developed for Propellerhead's new Rack Extension Plugin format for Reason. In addition to faithfully replicating the original sounds, the Polysix for Reason also adds enhancements such as 32-voice polyphony (max), up to 16-voice unison (with detune/spread function), flexible external modulation settings, MIDI clock synchronization, and a spread function that adjusts the spaciousness of the effects. This new functionality brings the classic Polysix up to date for use in modern music production.
The software interface provides reorganized knobs and switches that resurrect the Polysix in a contemporary "rack-mountable" form for intuitive operation and sound-creating versatility.
Polysix for Reason will be available for download at Propellerhead's web-shop shop.propellerheads.se on June 21st for U.S. $49.00 (additional product information can be found at: www.korg.com/polysixforreason)."
Learn more about the new Pulsar synth from Propellerheads:
Given Reason 6.5′s recent unveiling, the new Rack Extensions were, inevitably, a big topic for the event.

In the first of a series of tutorial videos from the event, resident Reason expert James Bernard shows us how to use one of those Rack Extensions – Propellerhead's own dual-LFO unit Pulsar – as a playable synth. See how he uses it to make a classic Reese-style bass sound above.

Incidentally, Pulsar is free to all Reason 6.5 and Reason Essentials 1.5 owners until 1 October – so go download it from the Rack Extensions store now.
Synapse Audio has released three new Rack Extension effects for Propellerhead Reason:
RM-1, above, is a virtual-analog ring modulator with a unique soft-saturation characteristic. Both an internal oscillator as well as mono and stereo side chains are available as a modulation source.

The AF-4 is a virtual-analog lowpass filter module, based on the well-known transistor ladder design. The filter can be driven into a warm, musical saturation, as well as into self-oscillation. Additionally, the resonant tuning is correct across the entire frequency range. The filter can be toggled between a 12dB/oct and 24dB/oct lowpass response, and supports both mono and stereo processing.
Full integration into the Reason enviroment and workflow is provided by the CV Inputs on the backside, allowing to control all front panel parameters.

The Synapse DC-2 dual chorus offers a warm, sweeping stereo chorus effect based on a classic two-stage design with matched delay times. Sound parameters include the delay time, modulation rate, depth and a bipolar feedback control.
The delay time, modulation rate and feedback parameters can be controlled via CV Inputs on the backside.

This tutorial describes how you try, buy and install Rack Extensions with Reason 6.5 and Reason Essentials 1.5.
Read more and visit the Propellerhead Shop: http://shop.propellerheads.se
>> One very common comment I get, looking at the Rack Ext shop is that it is nice, well designed and lots of good products, but that it is way to expensive – and to be honest I tend to agree; 50 € for an effect plug-in…Quite sure we will soon see some discounts and Sales in the Prop shop