Background description:
*Disclaimer* ReCap is not a product of or endorsed by Propellerhead Software AB
A lot happened this week in the Reason world. You could almost say that this weeks releases were the icing on the cake…walk.
Reason ReCap is a weekly YouTube show about what's new in the world of Reason!
Sources/Links:
Propellerhead: http://www.propellerheads.se/
RE-2A: http://shop.propellerheads.se/product/re2a-leveling-amplifier/
ReVolt: http://shop.propellerheads.se/product/revolt-cv-processor/
Yoko: http://shop.propellerheads.se/product/yoko-band-splitter/
Predator-RE: http://shop.propellerheads.se/product/predatorre-instrument/
CVTuner: http://shop.propellerheads.se/product/cv-tuner/
Uhbik-S: http://shop.propellerheads.se/product/uhbik-s/
Volt SH-1: http://shop.propellerheads.se/product/volt-sh-1/
——-Music———
Artist-Totigerus
Song Title-"I Do Not Know Who I Am"
http://soundcloud.com/totigerus
Submit a song for a chance to be featured in an episode of ReCap.* Send an mp3 to support@brandonsreason.com with the email subject line "Recap Song." Please include your artist name, the song name, and a cover photo (.jpg or .png please). You will be let known ahead of time when your song will be used.
*Official Song Submission Rules:
By submitting a song you agree that you own the rights to the song and MrBrandonPeoples obtains the right to use the submission in a single commercially published ReCap video.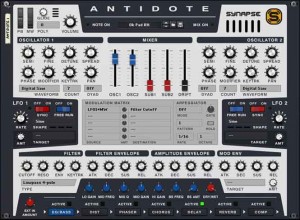 Synapse Audio has released Antidote, a new Rack Extension for Propellerhead Reason. Here's how they describe it in their own words:
Antidote is an exclusive virtual-analog synthesizer, which combines highest audio quality, flexibility and a fast work flow in an easy-to-use plug in. Antidote has been specifically developed to complement Reason, and to integrate well into its environment. It can be used both as an instrument, and as a powerful multi-effect unit.
Antidote comes with two stereo oscillator banks, each emitting a stack of high quality oscillator waveforms. The oscillators pass through the filter stage, which employ the latest zero-delay feedback designs. Envelopes and LFOs further shape the sound, and the powerful modulation matrix, which can modulate almost any sound parameter, adds the necessary depth to realize complex sounds.
The output of the synthesis stage finally passes through a big effect chain with Distortion, EQ, Phaser, Chorus, Delay, Reverb, Compressor and a unique Bass enhancement effect, which models the bass frequency response of some vintage analog gear.
Antidote ships with 300 Presets and 10 Combinator patches, covering a wide range of music genres.
Pricing and Availability:
Antidote is available at an introductory price of €79 until December 31st, 2012 (the regular price will be €119).
More information:
Fun with control voltage routings in Propellerhead Reason!
So you've installed Reason and don't know where to start? Got a trial of the software? Then this video is for you. In this seven minute introduction to Reason, Mattias will walk you through the different areas of the program—and even get you started working on your first song!
Propellerhead Software today announced the immediate availability of the Soul School 2 ReFill for Reason. They tell us that, as the sequel to its best-selling Soul School ReFill, Soul School 2 is an organic sounding and extremely flexible collection of soul loops and samples. They say that it's a perfect starting point for song creation, creating new instrument performances with a vintage sound, or adding "classic spice" to any style of music.
Here's more details:
Consisting of nine grooves, all recorded live without overdubs, broken up into individual instruments and tempo-independent loops, Soul School 2 is a playable collection of old school sounds, with tons of loop and sample content ready to be played, tweaked and turned into songs.
All the loop content in Soul School 2 comes readymade for Reason's Dr. Octo Rex loop player, for quick arranging of drum tracks, bass grooves and guitar licks on the fly. Additional construction kits for the Kong Drum Designer effectively turns the loops into playable building blocks for new performances. As a bonus, the Reason Soul Keys ReFill comes as a free download, with patches based on the Soul School sound for the Reason Factory Sound Bank, Propellerhead's free Electromechanical ReFill, Reason Pianos and the Radical Piano Rack Extension.
Pricing and Availability:
The Soul School 2 ReFill is available exclusively for download through Propellerhead's web shop today, at a price EUR €79 / USD $99.
The Soul School 1 & 2 ReFills are available together in a discounted bundle in the Propellerhead web shop.
More information:

u-he has announced the release of the Uhbik-F Rack Extension flanger effect unit for Propellerhead Reason.
Our flanger, from through-zero tape flanging (dramatic jet-effect!) to classic stomp-box type chorus, with LFO modulation and feedback / resonance.

Uhbik-F simulates two tape machines per audio channel, with recording and playback heads that can even occupy the same position if you want – impossible in the real world! Bass frequencies can bypass the effect ('bass sanctuary') to ensure LF-stability while the rest of the sound is swept around. Turn up the drive (2nd harmonic distortion), and your lead line will scorch its way through any mix!
The Uhbik-F Rack Extension is available to purchase for the introductory price of $19 USD until November 12th 2012 (regular $39 USD).
Here are the details to this new Reason tutorial:
More info on Reason: http://www.propellerheads.se/products/reason/
Max Rehbein (aka Dorincourt) joins us for a guest video, showing you how to create an aggressive, hard hitting dubstep bass. Using the standard Reason devices, learn how to really get your sound to roar by using effects and how to make it sit well in the mix.
After this, you'll be able to make that love-it-or-hate-it dirty wobble bass we all know!
http://ios-music.homewoke.net
It corresponded to AudioCopy with the latest update. You can use this in earnest.
Figure updates below:
That's a nice little update, here's what's new:
AudioCopy—enabling pasting of Figure audio directly into AudioPaste or Pasteboard compatible apps on iOS
WIST (Wireless Sync-Start Technology)—simultaneously start two iOS devices with compatible apps
Additional new atonal / chromatic scale mode
Performance pads now have a grid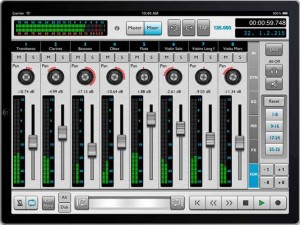 Harmony Systems, Inc. has announced the worldwide availability of Delora rsTouch, an iPad application that offers control surface functionality for the Propellerhead Reason music application on a Mac or PC. rsTouch emulates Reason's Mixer and transport functions, allowing nearly complete operation of Reason's transport controls and Main Mixer from the iPad.
rsTouch works with Reason 6.5 or higher, Reason Essentials 1.5, or Record 1.5 installed on a Mac or Windows PC. It supports either "wired" MIDI connections using an iPad compatible USB MIDI interface, or "wireless" MIDI connections using iOS compatible network MIDI. Reason control surface support files are required and are available free from the Delora website.
rsTouch expands the Delora Software line of music controller apps for iOS devices, including lpTouch for Logic, gbTouch and gbRemote for GarageBand, and vKiP and vKi for Kyma.
Record and mix songs, mute or solo any channel during playback. Channel fader meters, master volume meter, and "Big Meter" provide visual feedback to monitor audio levels. Set start and ending loop points and navigate through the song with the jog strip. Know where you're at with the timecode and bar-beat display, and channel name and number identification.

Sound setting and level adjustments are made easily with large, multi-touch, color-coded rotaries and faders. rsTouch's seven screens offer the ability to edit send effects, insert parameters, and EQ settings, as well as adjust channel, pan and dynamics levels. A dedicated Master screen allows full adjustments of Reason's Main Mixer master section.
rsTouch is available for $9.99 (USD) on the iTunes App Store.
More information:
In this video, Line 6's Propellerhead Product Specialist Matt Piper shows you how to use Propellerhead's new Radical Piano Rack Extension as a Send Effect for processing audio. Although the example in the video shows the effect being used on drums, this effect can also sound great on vocals or solo instruments.