Take it up a notch! http://tinyurl.com/lctm7ra
…by request!
*Watch in HQ for best video/audio quality!
Here's a recreation of the classic bass line from Depeche Mode's "Enjoy the Silence" (Violator!) using DM-style methodologies.
By utilising a step sequencer and a flexible analogue synth (Analogue Solutions Oberkorn & Telemark respectively), you can produce the moving / transitional effects inherent in a complex bass sequence such as this one.
Given the timing of the pattern, the Oberkorn was MIDI-stepped manually (see Midi-Stepping an Analogue Sequencer video for more information) and the pitch transposition was handled via MIDI as well. Alternatively, the pitch could be played live via MIDI.
The key is to take advantage of the precise opening and closing of the filter via Oberkorn CVB.
All settings will ultimately be approximate, as analogue synths will differ from machine to machine. Use the settings as starting points and then tweak away!
Enjoy (the Silence).
ADSR Sounds say that BASSIC is a Reaktor synth made with the modern electronic producer in mind. They say that they created BASSIC with one thing in mind – Simplicity.
"Stripped of all the things that can distract or confuse when designing killer bass music instruments, BASSIC has all the basic components needed to create professional sounds in just a matter of minutes! No more spending countless hours dialling in settings across parameters that aren't even necessary. No more complex routing decisions. And no more time spent on things that only seem to derail the creative process!"
Download BASSIC here – http://adsrsounds.com/product/presets…

In this video, I show how to use my newest ensemble, Bassic, which can be bought here:
This video covers the layout and use of the Voicing controls to create huge, aggressive, bass sounds with ease.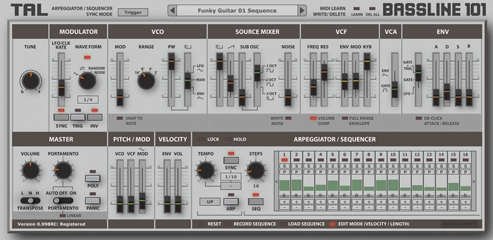 Togu Audio Line has announced the release of TAL-BassLine-101, a monophonic bass synthesizer with a classic analogue sound. The GUI is designed to be intuitive and easy to use.
TAL-BassLine-101 is designed to have a smooth and authentic analogue sounding 24dB zero feedback delay resonance low pass filter. Especially designed and calibrated for extreme settings, it sounds smooth with a lot resonance and a high oscillator pitch. Details such as envelope transitions between overlapping notes are carefully modeled. The oscillators do not use any samples. The plug-in generates all wave-forms in real time.
Features:
Self resonating zero feedback delay filter (24dB LP).
Calibrated and tuned after our hardware device.
MIDI learn / automation for all controls.
Alias free oscillators for an authentic sound also @ 44'100Hz sampling rate.
Arpeggiator with different sync modes (host, MIDI clock, not on).
Original (RC) and linear portamento mode.
Built in arpeggiator with some additional modes.
Powerful step sequencer with up to 64 steps and recording option.
6 voice poly mode.
Sequencer MIDI export with drag and drop.
Sequencer / arpeggiator MIDI out for VSTi version.
De-Clicker mode for slower envelopes :/.
More than 300 presets.
All sample rates supported.
Price: $40.
Covering the basic creation of a new pattern using the Quicksilver 303 CPU upgrade for the TB-303. Notice that the pattern can be programmed while the sequencer is running, which wasn't possible on the original 303.
Want to create a fat, punchy Drum and Bass break? Then this new video tutorial from Dorincourt is one to watch! Some great tips on drum processing and mixing.
Steelberry Clones at MusikMesse 2013
Taking a close look at the Novation Bass Station II
Copyright 2013 Stereoklang Produktion
Audio demo:
The full sounds of the new analog synth from Novation, live from MusikMesse 2013
Novation appears to have a bass synth in the making, teasers pics from thier Facebook site yesterday below:
Or perhaps a a two oscillator mono synth
MFB has introduced the Tanzbär Drumcomputer – a new analog drum machine.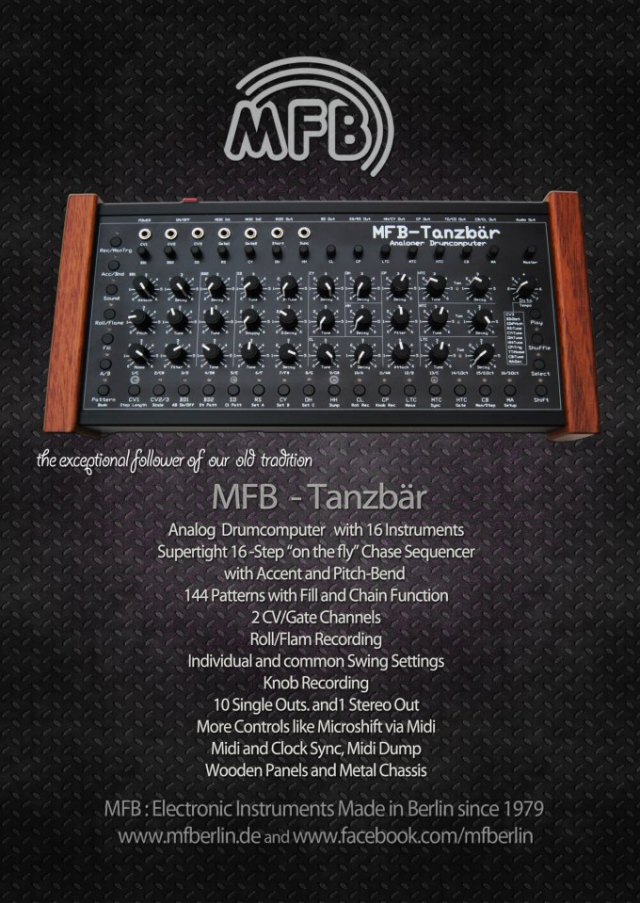 Audio demo below:
MFB Drum Computer Session 2 by Yapacc on Mixcloud
And finally a new electronic instrument from Dualo: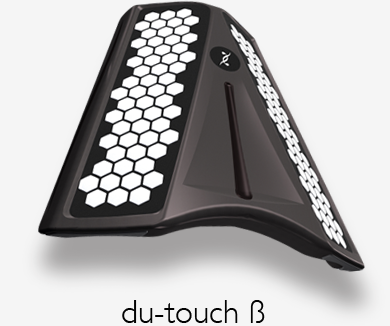 Dualo, a start-up company etablished in 2011 by two musicians and engineers, has designed a musical instrument based on a innovative and intuitive keyboard: the du-touch ß.
This original key layout, which is closer to harmony, is an alternative to the layout encountered in a piano, and is called the dualo keyboard.The manner in which the keys have been laid out has been validated by several musicians, and is designed to provide an opportunity to learn, to read and to play music faster than traditional instruments.
In Decembre 2012, after two years of extensive research and development, Dualo has released a limited edition of his first instrument, dualo du-touch ß, already sold-out. Several famous artists decided to support our project, including Cyril Atef (-M-, Bumcello, …), Fixi (Java) and Khalid K.
In view of the enthusiastic reception for our instrument, Dualo is now launching a crowd-funding campaign on KissKissBankBank.com to finance the professional edition, which will be delivered from Decembre 2013.
Our first instrument, "dualo du-touch ß" is designed for amateurs and professionals.
innovative : it's the first instrument in the world which use a layout of keys based on the dualo principle
compact, portable and featuring a wide tessitura : light, designed to come with you everywhere, 5 octaves for 29cm high
standalone : battery-powered, built-in synthesizer, built-in multi- effect processor, built-in multitrack looper ; audio line out and amplified audio headphones out
versatile : thanks to the built-in features which allows to play with a wide palette of sounds and to organize them in songs
original and allowing a wide stage presence : fitted with gesture and movement sensors offering a new generation of musical gesture, a new feel and a new phrasing
intuitive and instructive : thanks to the dualo principle and to the built-in help system : screen, light display
KORG pitchblack Portable :
http://www.korg.co.jp/Product/Tuner/pitchblackportable/
In Googlish from japanese:
pitchblack Portable is a polyphonic tuner for guitar / bass to be equipped with a high brightness LED display outstanding visibility, unparalleled tuning to achieve accurate and speedy. You can check visually the deviation of the pitch moment of each string, make ultra-high-precision tuning of ± 0.1 cent quickly. Also features Korg's proprietary cable checker to detect the disconnection of the cable, the stage is ideal for studio use of course. Lineup, the three models of aluminum black / red aluminum / silver aluminum Wearing a beautiful hairline. pitchblack Portable is presenting the guitar / bass tuning up a notch.
New tutorial using the Reason DAW to produce the classic 808 bass kicks, details below:
http://ohdratdigital.com This week we're looking at how to make a sound that's never been unpopular, but is absolutely everywhere at the moment. Don't rely on sample packs to create massive 808 style sub bass, do it yourself quickly and easily in a subtractive synth for an awesome sound!
Here are the details to this new Reason tutorial:
More info on Reason: http://www.propellerheads.se/products/reason/
Max Rehbein (aka Dorincourt) joins us for a guest video, showing you how to create an aggressive, hard hitting dubstep bass. Using the standard Reason devices, learn how to really get your sound to roar by using effects and how to make it sit well in the mix.
After this, you'll be able to make that love-it-or-hate-it dirty wobble bass we all know!