Get earth-shaking sub bass easily with this free Ableton Live Pack. It allows you to quickly drop any synth in the instrument rack, and adds heavy bass to get the floor moving.
Free Download @ http://bit.ly/freesynth63
Sub bass is an important part of many types of electronic music.  It is not so much heard as it is felt.  It can give a track tremendous power.  For this free Ableton Live Pack, I have created an instrument rack that features two different chains.  The first contains a simple sine wave synth that provides the sub bass. The second chain is almost empty, leaving room for you to drop any instrument you'd like to add a little sub bass to.

The first macro knob allows you to mix in the sub bass to the desired volume.  It is useful for balancing it with your main synth sound.  Next there is a macro that controls a low pass filter on the sub bass.  I  use this for preventing any higher pitched sounds from being heard.  Third, is an octave shifter for the sub bass.  This allows you to shift the pitch down by 1-3 octaves.  It's good for when you are playing higher notes, but still want the sub bass to be very low.  The final macro is an octave shifter for the main synth sound.  This allows you to get the relative octaves of the two synths exactly as you like.  I've left the last four macros open in case you'd like to map some of your synthesizers parameters to them.
Ira Wolf Tuton of Yeasayer produced some rich bass tones and melodic arpeggiation from the Slim Phatty using his MIDI Bass.
Learn more about the Slim Phatty at:
http://www.moogmusic.com/slimphatty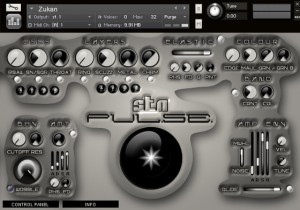 Stretch That Note has announced the release of PULSE, a bass instrument for Native instruments Kontakt.
The idea behind this particular module was quite simple: to create a bass module that not only boasts some very distinct oscillators but also provides 'layers' to ..er…layer the primary oscillators with. These layers have been processed with comb filtering and some specific phase cancellation to provide acres of scope for layering sounds.

Married to this 7 oscillator facility comes a ton of warping and mauling tools. Ring, Scuzz, Chrome, Colour and so on, describe beautifully what the functions do and they came from a very disturbed place. And if that wasn't enough, well, I threw in a detailed WOBBLE section for those of you that are into Dubstep. The rest is sheer saturation and distortion mayhem but in a clear kinda way…if you know what I ..er mean…
The Pulse library is available to purchase for $30 USD. Through June, 2012, a free bass module (LEWD or PULSE) is included with a purchase of the EPIC Series 1 bundle.
Ever wanted to find out how to create that effective glitch bass sound in Massive, then check this tutorial out:
BASS SOUND DESIGN COURSE: http://vespers.ca/shop/lessons-and-workshops/audio-weapons-ableton-live-inter… How to make a glitch hop style bass patch in Native Instruments Massive synth using a saw wave oscillator, unisono detuning and pan spreading, bandpass and daft filters, macros, pitchbends, and filter frequency automation. Using Ableton Live as a host. Tutorial by Vespers, Certified Ableton Trainer.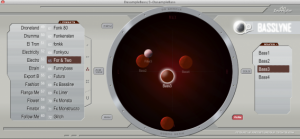 DaSample has released Basslyne, a new Bass plugin VST instrument for Windows and Mac OS X dedicated to electronic music.
Now you can easily create and shape your sound. Instant access to different presets is quick and easy. The ability to use multiple oscillators allows Basslyne to produce powerful electronic and virtual analog-bass instruments.
Features:
Powerfully simple interface.
Stack Module synthesis.
Easy To Use.
Sophisticated EQ Overdrive.
Advanced Automation.
User friendly interface.
Integrated, full-featured FX Racks.
Expandable sound architecture.
FM Oscillators.
Price: €39.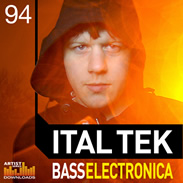 Loopmasters has released Ital Tek – Bass Electronica, a collection of bass driven samples and electronica from Ital Tek, an influential and current producer from the bass and dubstep scenes.
From Punchy Dubstep Beats, Dub Tech Synths, Slow Breaks, Drum Machine Beats, Dissonant Bells, Distorted Sequences, Moody Strings, Live Beats, Dub Sirens Lazers and more – this is a fantastic and unique collection from a producer whom we consider to be on top of his game and creating an influential sound which transcends genres.

Bass Electronica from Ital Tek weighs in at 955MB and includes 465 24Bit Samples, including 228 Loops between 80 – 140 Bpm, and 236 One Shot Sounds. Also included are no less than 120 ready to play patches for Reason NNXT, Halion, Kontakt, EXS and SFZ compatible soft samplers. Apple Loops, Reason Refill and Ableton Live versions are available to purchase separately.
Ital Tek – Bass Electronica is available to purchase for £29.95 GBP. The loops pack and single shot samples & sampler patches are also sold separately for £16.95 GBP each.
24Bit Qualty
955Mb
42 Bass Loops
90 Synth Loops
96 Drum Loops
6 Bass Hits
2 Multi Sampled Bass Instruments
100 Drum Hits
9 Mutli Sampled Synth Instruments
40 Fx Shots
11 Synth Hits
21 Pad Sounds
242 Rex2 Files
120 Soft Sampler Patches For Kontakt, Halion, Nnxt, Exs24 and SFZ Formats
"Hello this is the Koe mini modular, this time making some percussive and weird sounds.
KOE synth voice and KONEKO midi to CV eurorack modules."
"Hello, this is the Koe desktop mini modular from AtomoSynth, showing some bass and lead sounds.
Koe synth voice eurorack module and Koneko midi to CV interface module. UMX61 midi controller."
Background info:
This is the KOE module, it is japanese for "voice" because it is a complete synth voice in just one affordable module, it is 28 HP width and needs +/- 12V power.
Main features:
One VCO with square and ramp wavefoms with depth and tune controls, tune control is a ten turn potentiometer which allows you easily set octave, tune and fine tune with
just one knob.
Noise sourse, it can be set to affect the VCO frequency or it can be mixed with the VCO and audio input.
One LFO with square and triangle waveforms is can be set to affect the VCO frequency or the Filter cut off, it also features an output jack.
High pass and Low pass vactrol based filter with cutoff and resonance/peak control, it also features an input jack to control the cut off frequency.
Two Envelope generators: EG1 with decay control which is set to affect the cut off frequency of the filter and EG2 with attack and release controls, set to affect the volume, it has an output jack and input jack for the incoming gate signal.
Also it features an audio input, it allows process any axternal audio signal with the filter and envelopes.
Propellerhead Software's product specialist Mattias Häggström Gerdt shows you how to make a Bootsy Collins-style funky auto-wah effect for electric bass (but you can use it on anything, really!).
Link to download the featured patch this week (Reason 6 song file format): http://www.propellerheads.se/stuff/Andrew_Skelton-Fifth_house_bass_Twist.reason

This is a video demo of the Electro Bass MIDI loop pack by Audiovapor.
250 original, exclusive 16-step MIDI loops for electro, techno and house available for instant download for only $9.
In this video I use energyXT as my host sequencer but because these are MIDI loops they will work in all major DAWs (FL Studio, Logic, Sonar, Live, Reason, Cubase, etc.) My synthesizer in this demo is DUNE from Synapse Audio but any synth will work.
To download this MIDI pack go to my website: http://www.audiovapor.com/midi-sequences.html
Wide variety of keys and scales
All loops are exclusive to this product
Works in all DAWs that can import MIDI
Instant download after payment received
No filler! Each file has been carefully programmed by hand
Royalty-free to use in your own commercial or private compositions

WOK tells us that BassPlus is an enhancer for low frequencies that is intended for drums, but works on other signals too. It's not a fixed EQ, but has a detector for lower frequencies and enhances them and/or adds a new subtone.
Adjusting the amount of bass frequencies as well as the extra bass volume and frequency is quick and easy, the plugin can even be used in the end mix.
Unlimited, free version. Made with Synthedit 1.1 (no multicore bug).
Pricing and Availability:
Free download.
More information: