Sadowick has shared a free series of tutorial videos that explore how to make the most of Native Instruments Massive synthesizer.
The video series itself is massive – with three hours of videos, covering signal flow, oscillators, wavetables, morphing, filters, envelopes, modulators, FX and more.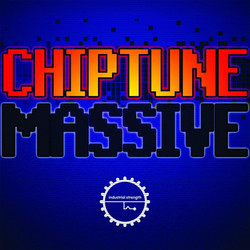 Industrial Strength has launched Chiptune Massive, a sound library featuring loops, samples, and patches for the Massive & FM8 synthesizer instruments by Native Instruments.
Our new collection was made from the ground up to provide you with a truly unique selection of quirky 24 Bit audio samples and game ready patches for Ni Massive and NI Fm-8. (Included in the Main Pack Only)

This pack is a one stop shop for sequences that you can play by just hitting one key on your midi keyboard Controller while using Ni Massive. Yes, all your favorite sounding old school video game style sequences all at just one finger tip.

We even thru in over 200 Chiptune Audio files and a dope set of Growls, Wobbles and Leads for you to rip apart. Each sample has loads of head room for you to rework and really use with your own Fx. Everything you here in the demo is in the pack and way more.
Chiptune Massive features
1.37GB content, 24 bit quality.
70 NI Massive Presets, 31 NI FM-8 Presets.
244 Apple Loops.
Includes 137 Chiptune Loops, 119 Drum Loops, 119 High Hat Loops, 25 Chiptune Bass Loops, 117 Chiptune Vocals, 24 Speak n Spell Vocals, 86 Bass Shots, 41 Mettel Synsonics Drums, 9 Virus TI Drums, 52 MT-52 Shots, 39 Casio Cz 101 Samples, 62 Moog Perc Shots, 11 Moog Fx, 60 Moog Lazors, 18 Long Moog Fx, 24 Moog White Noise Fx, 5 Edm Claps, 5 Edm Kicks, 10 Blips, 10 Closed Hats, 30 Kick Drums, 10 Open Hats, 20 Snare Drums, 26 ISR Fx.
7 Ni Battery 4 Kits, 1 Mattel NI Battery 4 Kit, 2 ISR Battery 4 Kits (96 Additional Samples), 1 Maschine Kit.
The sound pack is available to purchase for £24.95 GBP.
In this tutorial, electronic music producer Evan Sutton (a.k.a. Astrolith) shows you how to create synth lead sounds using 'sync modulation' technique in Native Instruments' Massive.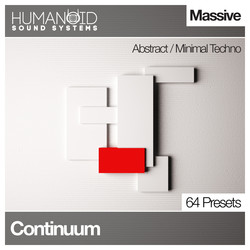 Humanoid Sound Systems has announced the release of Continuum, a new Abstract House/Minimal Techno soundset for the Massive software synthesizer by Native Instruments.
Continuum offers 64 inspirational patches for Native Instruments Massive, perfect for Abstract House, and Minimal Techno. You may also find this sound set perfect for chillout, and atmospheric music.

Special care was taken in designing these patches with forward abstract thinking in mind. We hope you find that little bit of character in each and every patch.
Continuum features
64 patches for Massive (NMSV).
Includes 18 basses, 9 FX, 11 leads, 5 pads, 21 sequences.
Suitable for Abstract House, Minimal Techno
Sounds designed by Hermie.
Requires NI Massive 1.3.0.
The soundset costs $19.95 USD.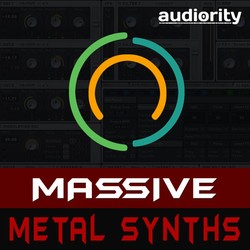 Audiority has introduced Massive Metal Synths, a soundset for the Massive software synthesizer by Native Instruments.
Designed for the most demanding metal keyboardists, Massive Metal Synths brings you the essential must have presets for rock/metal shredders.

50 Massive presets including snarling basses, lush pads, sharp synth stacks and an amazing collection of 25 stunning leads for your best shredding solos.
Massive Metal Synths features
50 presets for NI Massive

25 Leads.
4 Bass.
7 Keyboards.
6 Pads.
5 Organs.
3 Strings.

Requires Native Instruments Massive 1.3+ full version.
The soundset costs 12 EUR. It is available for the introductory price of 10 EUR until July 31st, 2013.
Background details below:
Get the full track @ https://itunes.apple.com/us/album/not…
OR share on your social networks and I'll send you the track. (Message me for details)
Ever wanted to find out how to create that effective glitch bass sound in Massive, then check this tutorial out:
BASS SOUND DESIGN COURSE: http://vespers.ca/shop/lessons-and-workshops/audio-weapons-ableton-live-inter… How to make a glitch hop style bass patch in Native Instruments Massive synth using a saw wave oscillator, unisono detuning and pan spreading, bandpass and daft filters, macros, pitchbends, and filter frequency automation. Using Ableton Live as a host. Tutorial by Vespers, Certified Ableton Trainer.
Make a Classic Chip Tune Videogame Sound (Deadmau5 and Madeon Style) in NI Massive!:
"I got a few requests asking how to get that classic N64-ish sound so I decided to make a video on it. This patch is great for adding fills into your songs as shown by Madeon in many of his hits. Deadmau5 also used this chip tune sound in his track, "Meowtingtons Hax More". I personally love this sound, though I have not yet been able to use it in my tracks… (I'm sure I will when I need to fill in my high frequencies with something)."
Quick overview of the Synth Pack Massive Tech Blips.
Meyer Musicmedia has released a new Synth Pack for Native Instruments MASSIVE Synthesizer.
A Meyer Musicmedia spokesman told us, "This time it's a creative Tech Blip macro preset collection of 32 presets. It's designed to produce this modern driving Tech House and Minimal blip loops."
32 Tech Blip Presets for Tech House and Minimal.
Requires: Version 1.2.1 of the NI MASSIVE Synthesizer.
Macro Control optimized
Pricing and Availability:
$9.50
More information:
Featuring Massive:
I've been enjoying playing with the Reaktor ensemble Massive lately, thanks in no small part to bkallmer's tutorials on bluewatervst.com. In this sketch I'm using a beat written with the Gogood snapshot ran thru Audio Damage's Automaton effects device – one of my favorites!