Make a Classic Chip Tune Videogame Sound (Deadmau5 and Madeon Style) in NI Massive!:
"I got a few requests asking how to get that classic N64-ish sound so I decided to make a video on it. This patch is great for adding fills into your songs as shown by Madeon in many of his hits. Deadmau5 also used this chip tune sound in his track, "Meowtingtons Hax More". I personally love this sound, though I have not yet been able to use it in my tracks… (I'm sure I will when I need to fill in my high frequencies with something)."
Quick overview of the Synth Pack Massive Tech Blips.
Meyer Musicmedia has released a new Synth Pack for Native Instruments MASSIVE Synthesizer.
A Meyer Musicmedia spokesman told us, "This time it's a creative Tech Blip macro preset collection of 32 presets. It's designed to produce this modern driving Tech House and Minimal blip loops."
32 Tech Blip Presets for Tech House and Minimal.
Requires: Version 1.2.1 of the NI MASSIVE Synthesizer.
Macro Control optimized
Pricing and Availability:
$9.50
More information:
Featuring Massive:
I've been enjoying playing with the Reaktor ensemble Massive lately, thanks in no small part to bkallmer's tutorials on bluewatervst.com. In this sketch I'm using a beat written with the Gogood snapshot ran thru Audio Damage's Automaton effects device – one of my favorites!
Unleash the power of delay in Native Instruments REAKTOR's Massive to take your sounds in wild new directions. Seriously powerful stuff…
Part 2 of Bluewater VST's Massive Essentials puts you in the driver's seat with Edit Modes, the basis of total drum-computer domination…
Let's dig in with Massive's Control Section, starting with the Edit Modes at the left of the panel. The chooser offers four distinct ways of editing the sequencer and modulation patterns that make and sculpt Massive's sound.
Copy – Click and drag your cursor (from left to right) across the modulation/sequencer lane that contains the pattern you want to copy. Notice that the edit buffer top right will follow your mouse movements, recording all of the step/velocity data you cover.
Paste – Enable Paste after you have copied your desired pattern to the edit buffer. Now click and drag your cursor across the destination lane (where you want to place the pattern).
Remote – Use Remote mode when you want to use your computer or MIDI keyboard to copy and paste patterns (Remote mode activates separate copy and paste buttons to the right of the chooser). Hold down the key—[C] to copy and [V] to paste—while moving your cursor across the sequencer/modulation lane. If you are using a MIDI keyboard, key 52 enables the copy function and 53 enables the paste function.
Lock –When you want to make subtle changes to a particular step in a sequencer or modulation track, activating Lock will keep your cursor from straying into the lanes on either side. Because very small changes in step velocity often result in large changes to the resulting sound (especially if velocity is set to modulate sample pitch), this is a surprisingly useful feature.
Sonic Drive Media has released a new dubstep soundset for Native Instruments Massive, Dubstep for NI Massive Vol. 1.
Does it deliver the massive wobble bass? Check out the demo video above and decide for yourself.
Dubstep for NI Massive Vol. 1
This new patch preset bank contains 31 dubstep presets to be used with NI Massive.
Download Contains:
25 Basses, Wobbles and SubBass' patches
4 ethereal FX patches
2 leads / keys patches
All presets take full use of Massive's 8 Macro controls, all programmed and ready for easy manipulation.
Instant download available for $19.95. See the Sonic Drive Media site for details.
Tutorial on how to create basslines using NI's Massive
Shared via samplemagic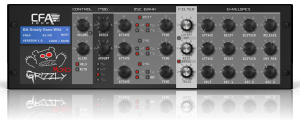 Free mini soundset for NI Massive released and MonoGrizzly – CFA-Sound`s first VST-synth announced
MonoGrizzly is a powerful monophonic synthesizer delivering nasty and raw bass and synth sounds, right next to smooth resonant sounds using the smooth and charming filter. Up to 12 waveforms at once, the sonic possibilities are simply outstanding sounding. A clear and intuitive GUI allows for easy and fast use.