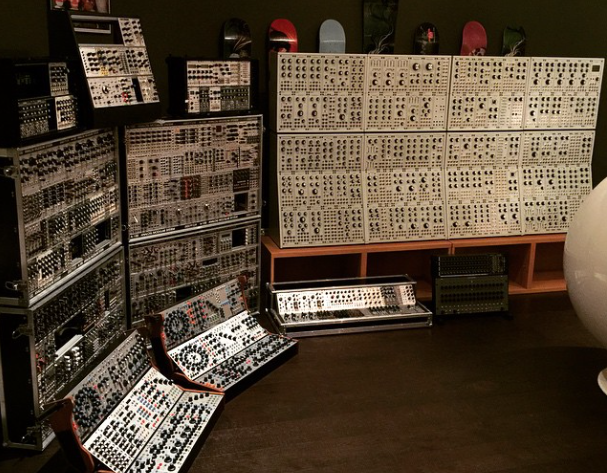 Deadmau5 (Joel Zimmerman) says that he is 'Building an analog modular fort in the basement for the production of the Seven Virtues.'
Background video details:
Buy "Telemiscommunications" at iTunes: http://smarturl.it/TELEMISIT
deadmau5 & Imogen Heap – Telemiscommunications (Official Video) from Ultra Music
http://ultramusic.com
http://deadmau5.com
http://imogenheap.com
Credits:
Video Creative Direction — Imogen Heap and Colin Gordon
Project Coordinator — Colin Gordon
Editor — Alexander Goodman
Choreographer — Gabriel Ciulli
Competition Website — Andy Carne
Animators — Eoghan Kidney, Jake Zhang, Alex Aguilar-Rudametkin, Eric Spivey, Marc Fleps, Kat Michaelides, Sitji Chou, Mayra Hernández Ríos, Ewen Farr, Eric Funk, Rory Waudby-Tolley, Dru Henderson, Oana Nechifor, Paloma Dawkins, Djoh Djoh (Joe DeMarie), Alexandre Siqueira, Stella Salumaa, Chris Butcher, Ty Coyle
Subscribe to Ultra Music – http://www.youtube.com/subscription_c…
Subscribe to UltraTV – http://www.youtube.com/subscription_c…
Ultra Music is an American independent electronic music record label based in New York City.
Background description:
http://www.facebook.com/kebunator
http://kebu.fi
I just discovered "The Veldt" by Deadmau5 and really enjoyed it. I noticed that I could recreate the riff with my Mono/poly, with the TR-808 trigging the gate of it, and off I went!
Equipment used: Roland TR-808 (drums and trigger for the Mono-poly), Juno 60, Alpha Juno; Korg Mono/Poly, Polysix; Electro Harmonix Small Stone; Boss DD-3; Lexicon MPX500, MPX110; Allen & Heath GS1; Tascam 38, DX-4D; Alesis iO26 & Izotope Ozone 5 for mastering
Only analog synths used, recorded to tape, and mixed with an analog mixer. No computers or MIDI used during recording and mixing. Only the final stereo track was mastered using Izotope Ozone 5 (AAAD).
The tune is written by Joel Zimmerman and Chris James.
Learn how to recreate the classic tones of Deadmau5's The Veldt
For more information:
Pre-order this magazine from http://bit.ly/T4mr6w or purchase digitally from http://bit.ly/vTsHr2 On Sale 27/9/12
Time's are changing – recently DJs had a pretty nice travel set, a couple of USBs and some DJ decks, now deadmau5 shows perhaps the future of DJ-ing on stage.
Deadmau5's new live touchscreen setup @ Veld Music festival.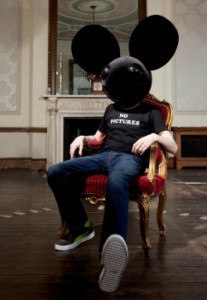 Deadmau5 shared some advice at his tumblr sitefor musicians wanting to make a career in the music business. He offers three recommendations, whether you're a musician with 10 fans or 10 million:
You need to make a world. So you have a rollercoaster in your backyard. And it'll be the hot thing in the neighborhood for about a week. But once everyone's had a go… they'll lose interest, go home n play Sega instead. What you need then, is a fuckin' theme park… and you AND your music are the theme. People come into your theme park…..check out all this shit… buncha rides, no 2 the same, some merch here and there, special events, dolphins through hoops and all that whack shit. You want people to come to your theme park and feel like they're a part of this world of yours.
Don't overkill 900 on the promotional shit. – I don't read spammed to death fucking promo shit, so, the type of people i'd like to have in my theme park don't either. Nor do i come blaring on the theme parks PA system every fucking 20 seconds hyping the same fucking ride over and over again. Also a bad look to take flyers to other peoples theme parks and start plastering posters all over the place.
Avoid being invisible. Get out there and immerse yourself in the world you created, youll have fun, it's your place for fuck's sake. If you're not having fun in the world you created, then you fucked something up and did it wrong. Go jump on a few rides with your fans.
Make a Classic Chip Tune Videogame Sound (Deadmau5 and Madeon Style) in NI Massive!:
"I got a few requests asking how to get that classic N64-ish sound so I decided to make a video on it. This patch is great for adding fills into your songs as shown by Madeon in many of his hits. Deadmau5 also used this chip tune sound in his track, "Meowtingtons Hax More". I personally love this sound, though I have not yet been able to use it in my tracks… (I'm sure I will when I need to fill in my high frequencies with something)."
"Drum Bloop – Testing the Buchla drum presets. You can find them on page 247 of the user manual…"
Via It's full of stars
"Vegas Buchla and OP-1 Sunset – Chillin at Encore waiting for Deadmau5 making lots of noise"
And here's the Nokia pitch:
On Monday 28th November Nokia Lumia 800 with Windows phone http://nokia.ly/uBVXxw brought deadmau5 and the world's most advanced 4D technology together and created an amazing free light show at Millbank Tower, London.
Millbank was plunged into darkness with the iconic tower acting as the canvas for a never-before-seen spectacular. Each of the 120 metre high building's 800 windows were covered with vinyl as 16 powerful projectors, stationed 300 metres away on the other side of the river, beamed 3D images onto the structure. Huge butterflies flew across the London skyline and the tower was twisted, pulsated and even fell down. Billed as the "future of live events" the spectacular show was accompanied by music from super producer deadmau5, who created exclusive remixes for the performance — adding the 4th dimension.
The much-anticipated Nokia Lumia 800 is here. View all your texts and chats in one seamless conversation. Take, tag and upload photos to Facebook in seconds, and browse the web like you're on a PC. Find your way with satnav that even works without a signal. Nokia Lumia 800 makes the everyday amazing.