Quick demonstration of a few ways to sync the Volca Beats to my modular:
1. Using arpeggio notes of the Korg Microstation to trigger the Volca Beats (trigger in) via a midi to cv convertor (Kilpatrick in this case)
2. Midi clock in the Volca Beats (midi through on the Kilpatrick)
3. Using trigger out of the sequencer (clock out works also)
More "Space Exploration"

Retro electronic Sci-Fi improv………
All sounds straight out of the instrument- no external processing.
The little volume jumps are caused by the 266 QRV affecting a one of the 227 channel inputs.
Just a simple tutorial on the Buchla Music Easel Envelope Detector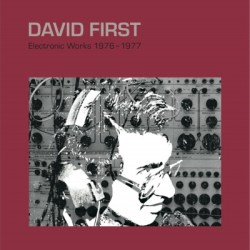 DAIS Records has an upcoming release that features vintage Buchla works by composer David First. Here's what they have to say about the album, David First: Electronic Works 1976 - 1977:
During his time at Princeton, First was introduced to the classical electronic music studio there, a lonely outpost of the famed Columbia-Princeton Electronic Music Center which housed one of the very first Buchla 100 series systems acquired by Vladimir Ussachevsky & Otto Luening.
Due to the introduction of digital technology within the music world, this system was left to languish in the studio unattended and nearly forgotten. First fell in love with this equipment and seized the opportunity to compose using the Buchla 100 synthesizer, at first experimenting only with electronic synthesis but later adding in his signature guitar stylings to make these compositions unique to the academic output typical of university music.
Thankfully, these compositions were recorded by First at Princeton on various reel to reel tapes and stored away for over 35 years. It wasn't until the summer of 2012, when David First and Ryan Martin (of Dais Records) decided to revisit and transfer these reels to compile an album presented here as a selection of genuine, uninhibited exploration into modular electronic synthesis.
The release is limited to an edition of 500 copies, with liner notes by David First. The release/shipping date is Jan 21, 2014.
A cellular automaton consists of a regular grid of cells, each in one of a finite number of states, such as on and off (in contrast to a coupled map lattice). The grid can be in any finite number of dimensions. For each cell, a set of cells called its neighborhood is defined relative to the specified cell. An initial state (time t=0) is selected by assigning a state for each cell. A new generation is created (advancing t by 1), according to some fixed rule (generally, a mathematical function) that determines the new state of each cell in terms of the current state of the cell and the states of the cells in its neighborhood. Typically, the rule for updating the state of cells is the same for each cell and does not change over time, and is applied to the whole grid simultaneously, though exceptions are known, such as the stochastic cellular automaton and asynchronous cellular automaton.
What is Cellular Automata?
http://en.wikipedia.org/wiki/Cellular…
http://mathworld.wolfram.com/Elementa…
The idea is to let the individual cells interact with one another.
Patterns change with minimal external intervention
This is what happens when you put a Buchla modular and an Arp 2600 together. At the Modular Synth Meet at Robotspeak in San Francisco.
Some experiment with the K4816, Time Machine and 287e Frequency Shifter
Benge rocks some modulars, details below:
vintage Serge and Buchla 100 modular synths swinging together. See http://myblogitsfullofstars.blogspot…. for more
Buchla's instruments, such as the Music Easel, use a different method of timbre generation than Moog synthesizers. Moog units use oscillators with basic function generator type waveshapes and rely heavily on filtering with 24dB resonant low-pass filters, while Buchlas are geared toward complex oscillators using frequency modulation, amplitude modulation, and dynamic waveshaping to produce other forms of timbre modulation. Many of Don Buchla's designs, including the Low-Pass Gates (later called Dynamic Managers) contain vactrols, photoresistive opto-isolator employed as voltage-controlled potentiometers, which contribute to a very "natural" Buchla sound.
At the January, 2012 NAMM show, Buchla & Associates announced new ownership, retaining Don Buchla as Chief Technology Officer and investment in the design, manufacturing, and marketing of Buchla products and the development of an expanded product line, and the company moving forward under the name Buchla Electronic Musical Instruments. One year later, Buchla Electronic Musical Instruments re-introduced the Buchla's Music Easel.
Todd Barton plays the Buchla Easel
"using the keyboard's arpeggiator to drive the on board Sequential Voltage Source — some fun little patterns and timbres. . ."
"just another "getting my ya-yas" out and havin' fun. enjoy!"
About the Buchla Easel:
The Music Easel is a highly evolved electronic musical instrument. It maintains many of the design philosophies and functional characteristics of its predecessors, the 100 series Modular Electronic Music System and the 200 series Electric Music Box. The Music Easel introduces some substantial innovations in electronic instrument design – innovations that make it a truly expressive real-time instrument for composition and performance.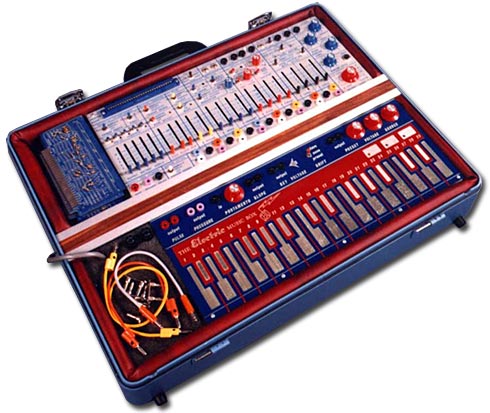 The Music Easel contains many of the elements commonly used to generate and process sound: a keyboard, sequencer, pulser, preamplifier, envelope detector and balanced modulator; oscillators, gates, envelope generators and filters; facilities for mixing, monitoring and reverberating. Many of these elements possess an unusual degree of sophistication. The keyboard is solid state, with touch sensitive, chromatically organized keys, accurate and reproducible pressure output, tactile feedback, octave shifting, and voltage controlled portamento. A complex oscillator, developed through computer aided simulation studies, is a rich source of complex audio spectra. featuring voltage control of pitch, timbre and waveform, this oscillator provides the Music Easel with a timbral range unapproached by other musical instruments.
The connectives are as important as the elements to be connected. Interconnection within the Music Easel is accomplished with a combination of switching and patching, a system which is flexible, expedient, and open ended. Logical, compact organization and color coded graphic feedback facilitate rapid and effective interaction. Multiple correlations between a performer's actions and the Music Easel's responses are readily implemented, enabling a degree of expressive articulation heretofore impossible with electronic instrumentation.
Further augmenting the Music Easel's real time performability is the capability of permanently storing and immediately retrieving complete instrument definitions (patches) or portions thereof. (An "instrument definition" includes settings of parameters, degrees of articulation, switch positions and interconnections.) Storage entails the installment of resistors on program cards; retrieval is accomplished by plugging in a desired program card and activating a switch.
With its extended timbral resources, unusual expressive capability, and its facility for storage and recall of instrument definitions, the Music Easel opens new horizons to the composer and performer. To appreciate its potential as a new musical instrument the Music Easel must be seen, heard and played.